Istanbul, Turkey Map
Welcome to Istanbul, one of the world's most fascinating cities, located at the crossroads of Europe and Asia.
Today, we will show you our Istanbul map collection. This set of 3 maps contains highways/roads, reference information, things to do, and much more.
So get ready to explore Istanbul's rich tapestry of cultures, traditions, and sights, and discover why it is one of the world's most captivating destinations.
Jump To: Interactive Map | Printable Road Map | 10 Things to Do | Reference Map
Istanbul map collection
Interactive Map of Istanbul
With a rich history that spans over 2,500 years, Istanbul has been the capital of three empires, and today it is a lively metropolis that blends the old and the new. This city is a true cultural and historical masterpiece, with stunning landmarks, crowded bazaars, and delicious cuisine that showcase its diverse influences. If this is your first time navigating this enchanting city, this interactive map highlights its most iconic sites, offering insights into its active neighborhoods and distinctive charm.
Istanbul Road Map
This road map is designed to help you navigate the enchanting streets of Istanbul. It contains motorways, major routes, street names, and highway numbers. By using this map, you can discover the city's rich history, admire its stunning landmarks, and immerse yourself in its unique culture.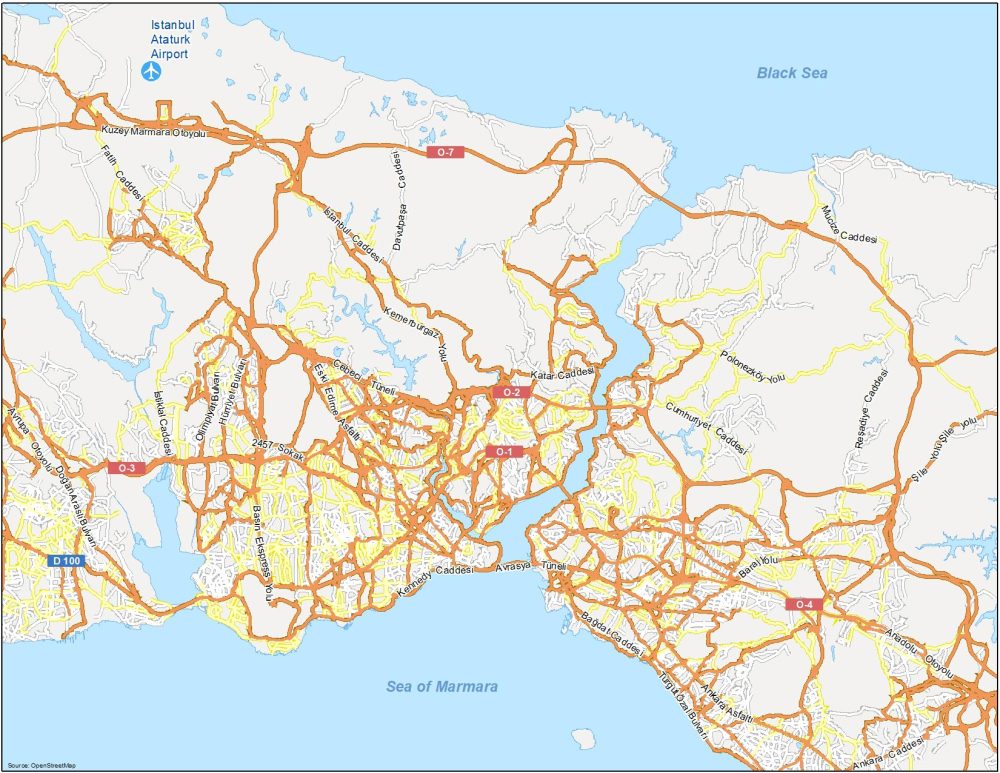 Highways: D 100, O-1, O-2, O-3, O-4, O-7
Major Roads: Cebeci Tüneli, Eski Edirne Asfalt, Kemerburgaz Yolu, İstanbul Caddesi, Cumhuriyet Caddesi, Polonezköy Yolu, Kennedy Caddesi, Avrasya Tüneli, Bağdat Caddesi, Doğan Araslı Bulvarı, Ankara Asfalt, Hürriyet Bulvarı, Olimpiyat Bulvarı, Baraj Yolu, Ankara Asfalt, Polonezköy Yolu
10 Things To Do in Istanbul
This attractions map of Istanbul showcases the diverse attractions that make this city a must-visit destination for travelers from around the world. From the famous Hagia Sophia and Blue Mosque to the bustling Grand Bazaar and colorful Spice Market, Istanbul offers a multitude of sights and experiences that will leave you enchanted.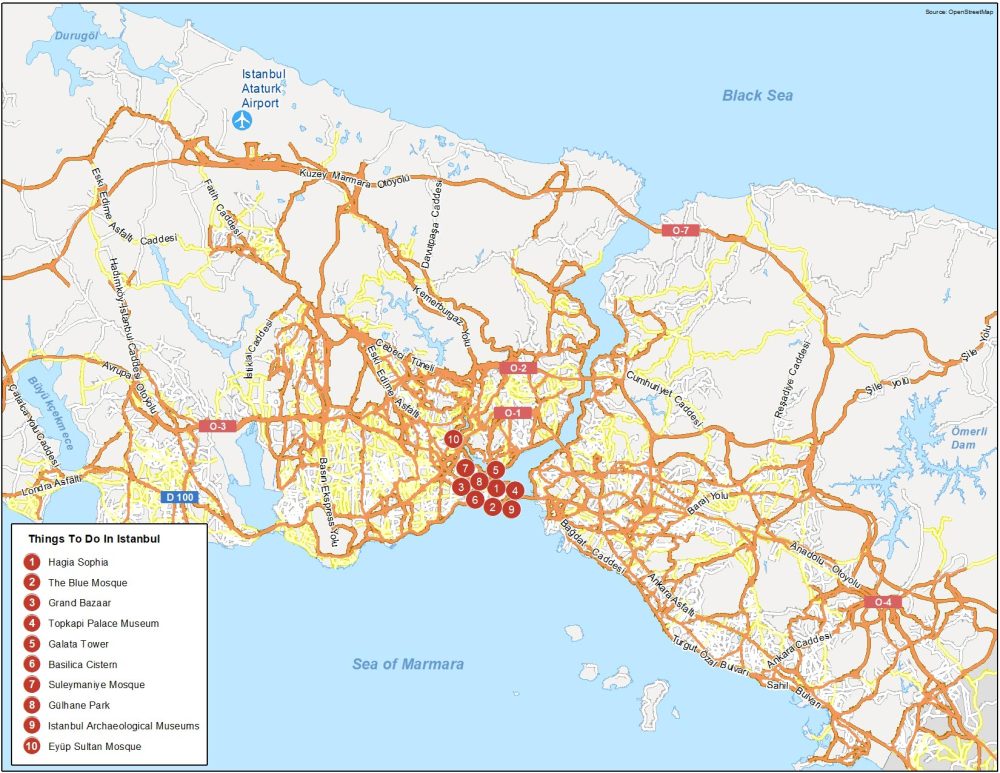 Here are the top 10 things to do that we recommend seeing in Istanbul, Turkey.
Hagia Sophia
The Blue Mosque
Grand Bazaar
Topkapi Palace Museum
Galata Tower
Basilica Cistern
Suleymaniye Mosque
Gülhane Park
Istanbul Archaeological Museums
Eyüp Sultan Mosque
Istanbul Reference Map
This reference map is perfect for getting yourself acquainted with the suburbs and localities of Istanbul. Its strategic location straddling Europe and Asia has made it a melting pot of cultures and traditions, which is evident in its neighborhoods. So, pack your bags, put on your walking shoes, and get ready to embark on a journey of a lifetime in this fascinating city.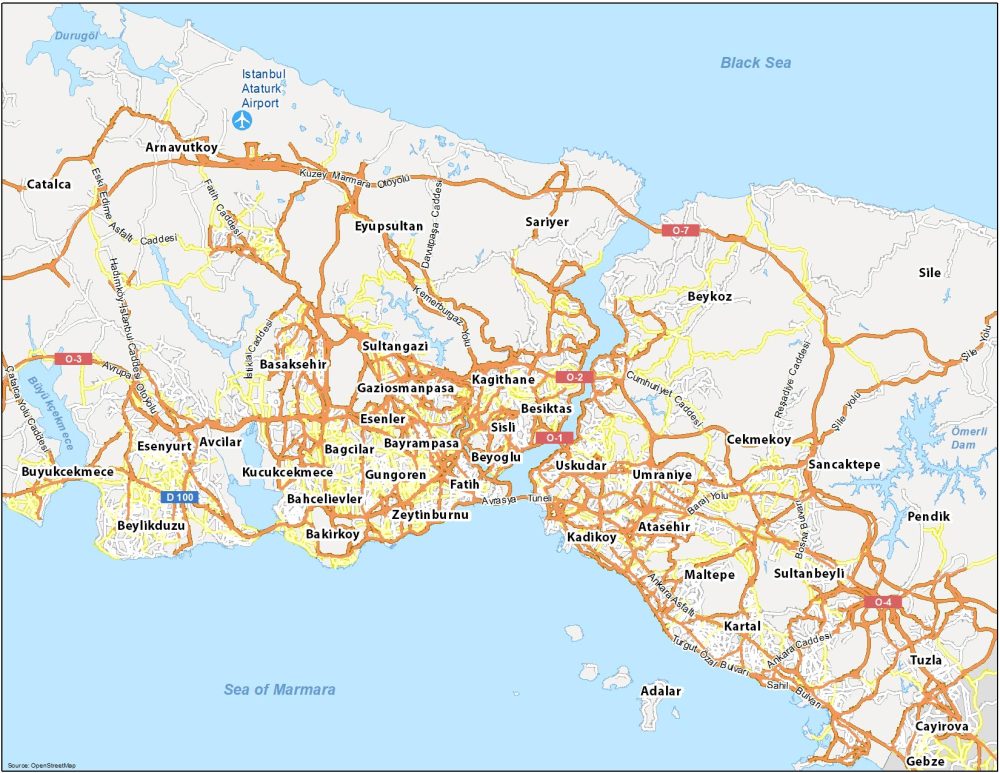 Airports: Istanbul Airport
Water Features: Sea of Marmara, Black Sea, Omerli Dam
Parks: Parc Natural del Túria, Parc Natural de l'Albufera
Communities: Besiktas, Sisli, Kagithane, Beyoglu, Uskudar, Umraniye, Kadikoy, Sultangazi, Gaziosmanpasa, Esenler, Bayrampasa, Fatih, Gungoren, Zeytinburnu, Atasehir, Umraniye, Cekmekoy, Maltepe, Kartal, Basaksehir, Kucukcekmece, Bahcelievler, Bakirkoy, Avcilar, Esenyurt, Beylikduzu, Buyukcekmece, Sancaktepe, Cekmekoy
References