Map of the US Virgin Islands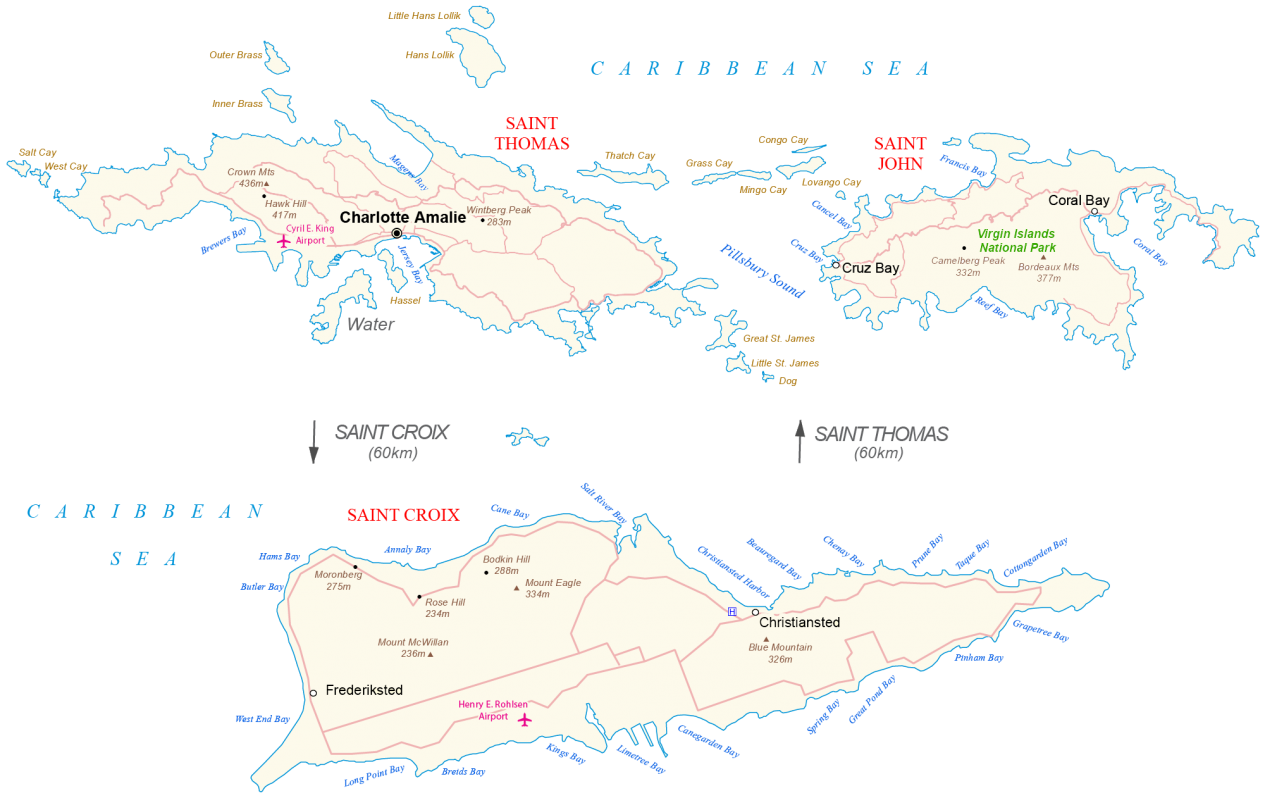 A map of the US Virgin Islands that features its groups of islands in the Caribbean Sea with satellite imagery, settlements, roads, points, bays, and islands.
You are free to use our US Virgin Islands map for educational and commercial uses. Attribution is required. How to attribute?
IMAGERY
US Virgin Islands Satellite Map
The US Virgin Islands (the Virgin Islands of the United States) is a group of islands in the Caribbean Sea administered and overseen by the U.S. federal government. It consists of two separate groups of islands including Saint John and Saint Thomas in the north as well as Saint Croix in the south. The two groups of islands are separated by a distance of 60 kilometers (37 mi) from north to south.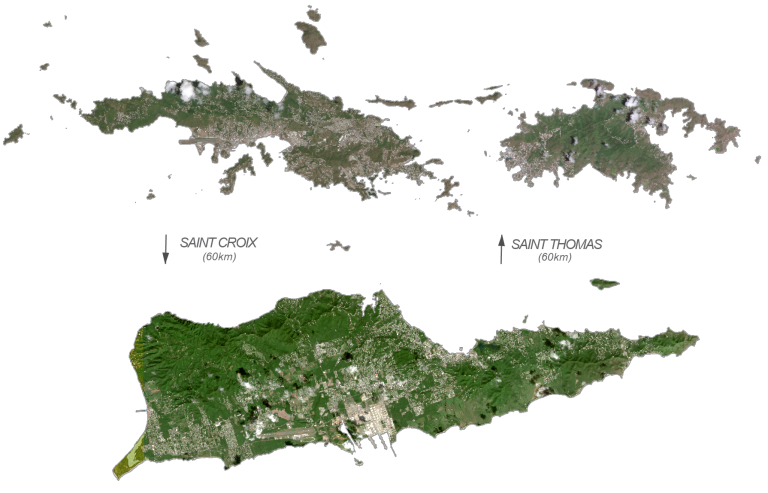 The US Virgin Islands are directly beside the British Virgin Islands to the east and Puerto Rico to the west. Although these main islands account for the majority of the population and area, there are also 50 other surrounding minor islands and cays. Charlotte Amalie is the capital and largest city. Additionally, other major settlements are St. Croix and Cruz Bay. The US territory is known for its white sandy beaches, national parks, coral reefs, and its pirate haven history.
The US Virgin Islands occupy a total area of 346 square kilometers (133.7 sq mi). In comparison, it's larger than Grenada but smaller than Saint Vincent and the Grenadines. St. Croix is the largest of the U.S. Virgin Islands and is flatter because of its coral origin. Whereas St. Thomas is volcanic and hilly. At 474 meters (1,555 ft), Crown Mountain is the highest point and is located on St. Thomas. Overall, they are part of the Virgin Islands archipelago within the Leeward Islands of the Lesser Antilles.
The US Virgin Islands lie between 17°N and 18°5′ N so the climate is tropical with little seasonal temperature change during the year. Although its climate is ideal, several natural hazards occur in the US Virgin Islands such as earthquakes, hurricanes, and tsunamis.