Vienna Map
Vienna, the capital city of Austria, is a cultural, historical, and artistic hub in the heart of Europe.
In this map of Vienna, you'll be able to see everything that makes Vienna, Austria such a special place to travel.
For example, you'll find highways, roads, attractions, neighborhoods, and much more.
Jump To: Interactive Map | Printable Road Map | 10 Things to Do | Reference Map
Vienna map collection
Interactive Map of Vienna
As one of the most visited cities in the world, Vienna offers an abundance of architectural landmarks, museums, galleries, and cultural events. This interactive map is perfect for exploring all the intricate information. You'll find restaurants, cafés, and bars, making it a perfect tool for travelers of all ages and interests.
Vienna Road Map
As the largest city in Austria, it is easy to lose track of your bearings in Vienna. That's why you can download and print our road map so you can find your way around the city. You'll be able to visualize its color-coded routes and motorways, which you can use to guide your way around the city.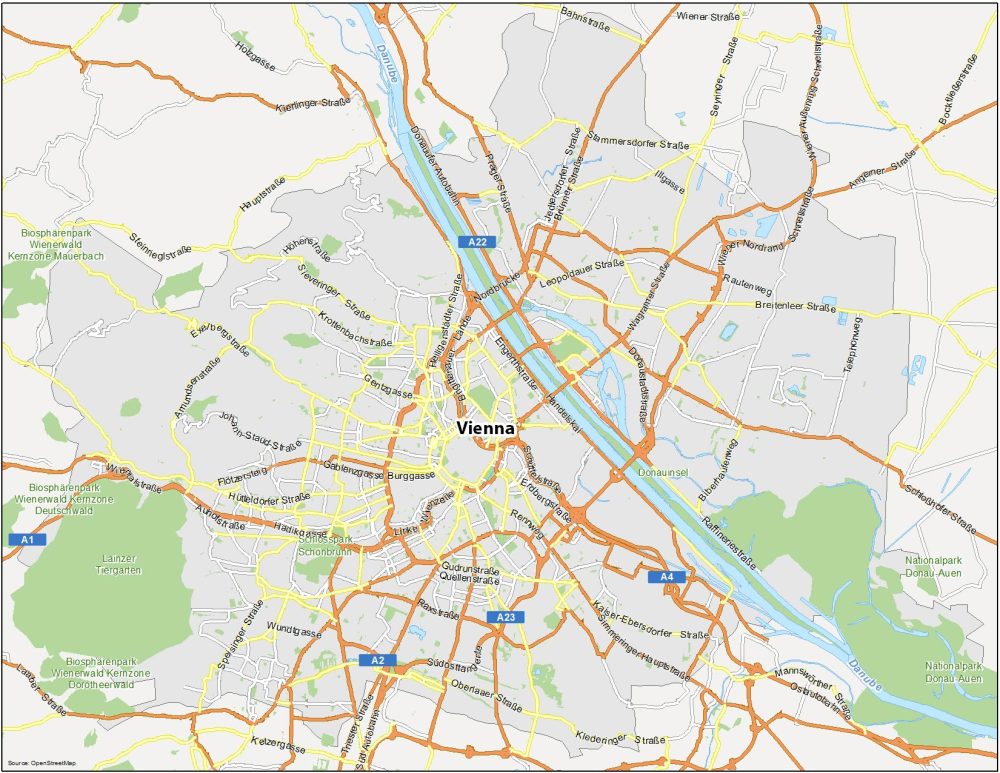 Highways: A1, A2, A4, A22, A23, Donauufer Autobahn
Major Roads: Gablenzgasse Burggasse, Krottenbachstraße, Gentzgasse, HeiligenstädterStraße, Erdbergstraße, Schüttelstraße, Raxstraße, Oberlaaer Straße, Speisinger Straße, Wientalstraße, Nordbrücke, Prager Straße, Rautenweg, Schloßhofer Straße, Raffineriestraße, Illgasse, Wiener Nordrand Schnellstraße
10 Things To Do in Vienna
Exploring Vienna can be a fascinating experience, with its rich history and diverse cultural heritage that spans centuries. From the opulent baroque palaces of the Habsburg dynasty to its contemporary art scene, Vienna is entirely unique city to visit.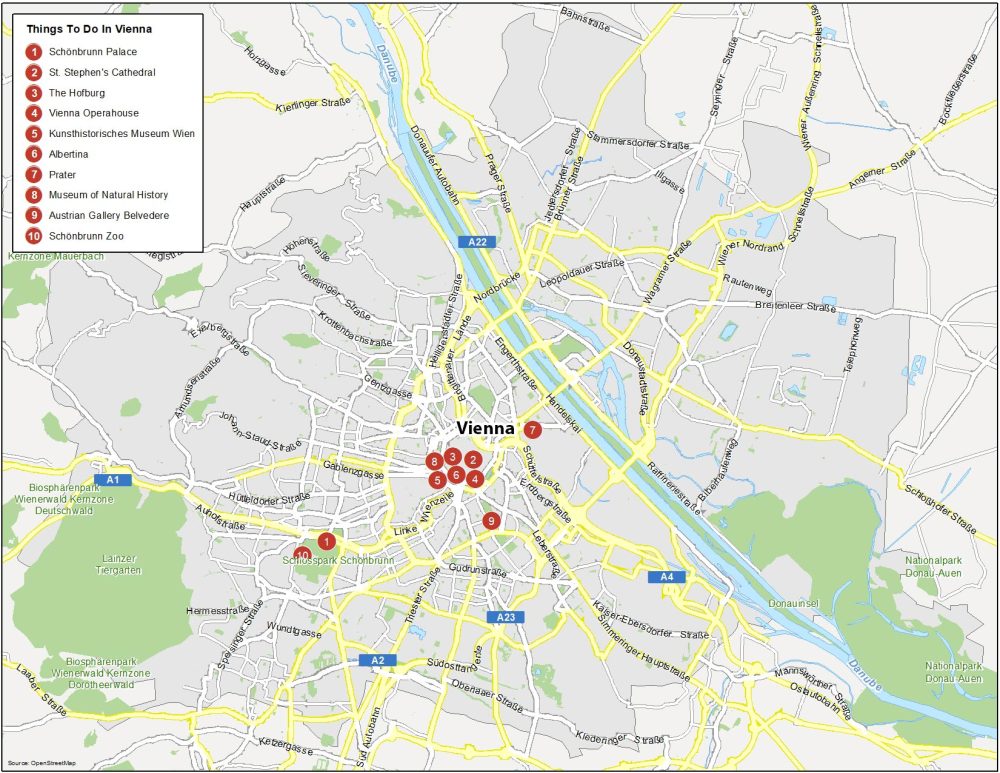 Vienna is the most populous and capital city of Austria. Here are the top 10 things to do that we recommend seeing.
Schönbrunn Palace
St. Stephen's Cathedral
The Hofburg
Vienna Operahouse
Kunsthistorisches Museum Wien
Albertina
Prater
Museum of Natural History Vienna
Austrian Gallery Belvedere
Schönbrunn Zoo
Vienna Reference Map
To make the most of your visit to Vienna, we've built this map so you can navigate the city's streets and neighborhoods. In this map of Vienna, you will find everything you need to plan your trip and discover the best that Vienna, Austria has to offer.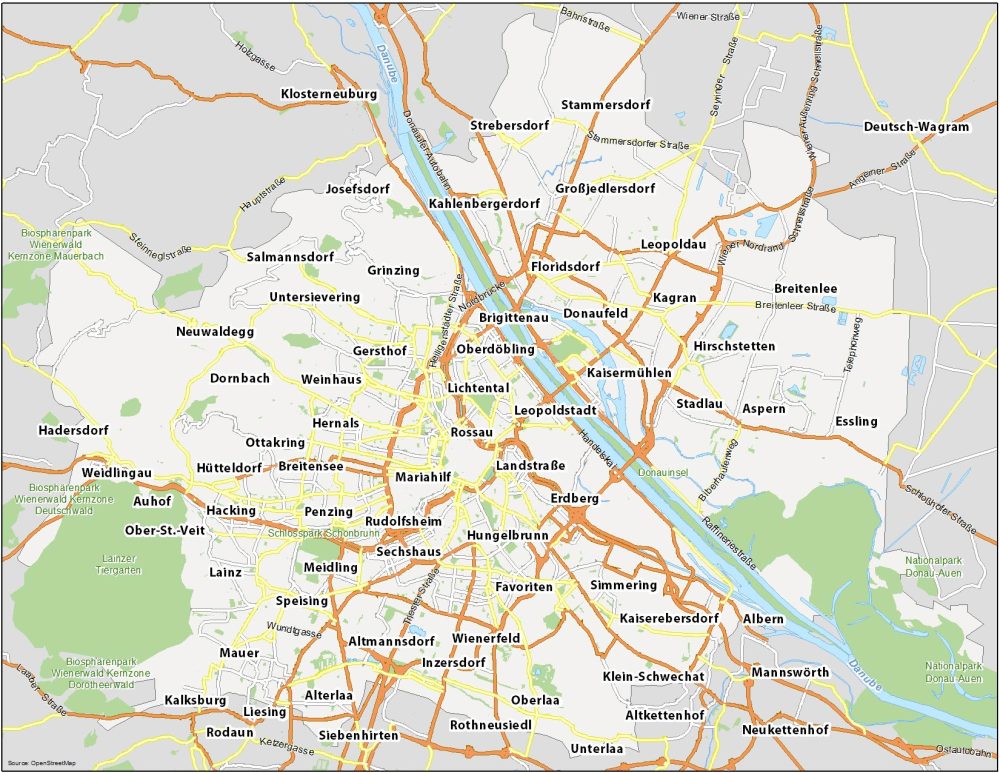 Water Features: Danube River
Parks: Donau-Auen National Park, Lainzer Tiergarten,
Communities: Oberdöbling, Brigittenau, Lichtental, Leopoldstadt, Kaisermühlen, Donaufeld, Floridsdorf, Rossau, Gersthof, Weinhaus, Hernals, Mariahilf, Hungelbrunn, Rudolfsheim, Stadlau, Hirschstetten, Kagran, Leopoldau, Großjedlersdorf, Kahlenbergerdorf, Sechshaus, Favoriten, Simmering, Wienerfeld, Altmannsdorf, Inzersdorf, Alterlaa
References