Warsaw, Poland Map
Welcome to the capital and largest city of Poland, Warsaw. In this Warsaw map collection, we will provide you with a set of 3 maps.
Each map contains information about highways, important places, things to do, and more.
So if you're interested in traveling around Warsaw, Poland, make sure to get yourself a copy of one of our free maps.
Jump To: Interactive Map | Printable Road Map | 10 Things to Do | Reference Map
Warsaw map collection
Interactive Map of Warsaw
Located in the heart of Europe, Warsaw is a city rich in culture, history, and art. With a population of over 1.7 million people, Warsaw is one of the largest and most diverse cities in the region. This interactive map will provide you with detailed information on key landmarks, public transportation routes, and popular tourist destinations.
Warsaw Road Map
This map of Warsaw is an indispensable tool as you navigate the city's streets and neighborhoods. It contains motorways, roads, street names, and highway numbers. So make sure to download this city map to make the most of your time in this wonderful city.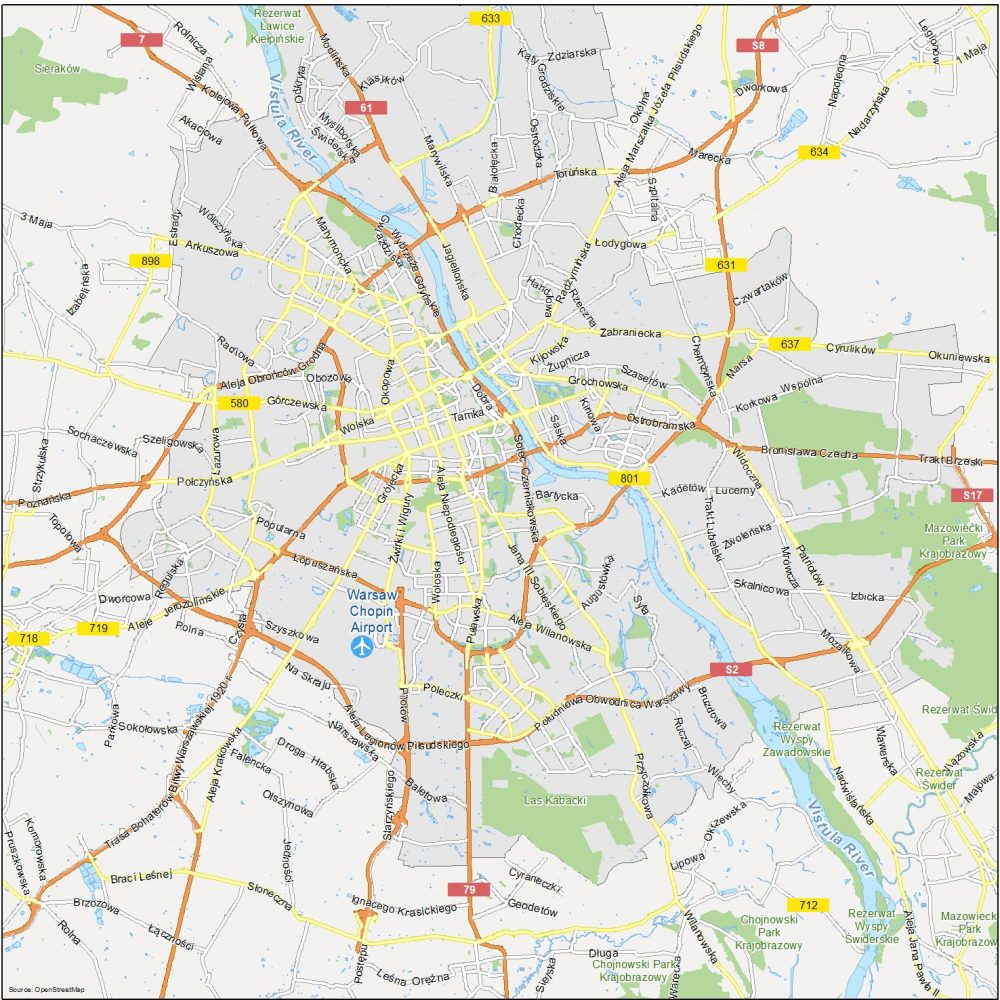 Highways: S2, 7, S17, 58, 61, 79, 580, 631, 633, 634, 637, 712, 718, 719, 801
Major Roads: Wybrzeże Gdyńskie, Okopowa, Grójecka, Aleja Niepodległości, Żwirki i Wigury, Łopuszańska, Jana III Sobieskiego, Aleja Obrońców Grodna, Szaserów, Południowa Obwodnica Warszawy, Górczewska, Szeligowska, Grochowska, Marymoncka, Aleja Legionów Piłsudskiego, Saska, Kinowa, Radzymińska
10 Things To Do in Warsaw
As you explore Warsaw, you will discover a unique blend of modern architecture and ancient landmarks that reflect its rich and varied past. From the iconic Royal Castle and the beautiful Old Town to the bustling streets of the city center and the greenery of Lazienki Park, it's truly a unique place to visit with all the amenities you could possibly ask for.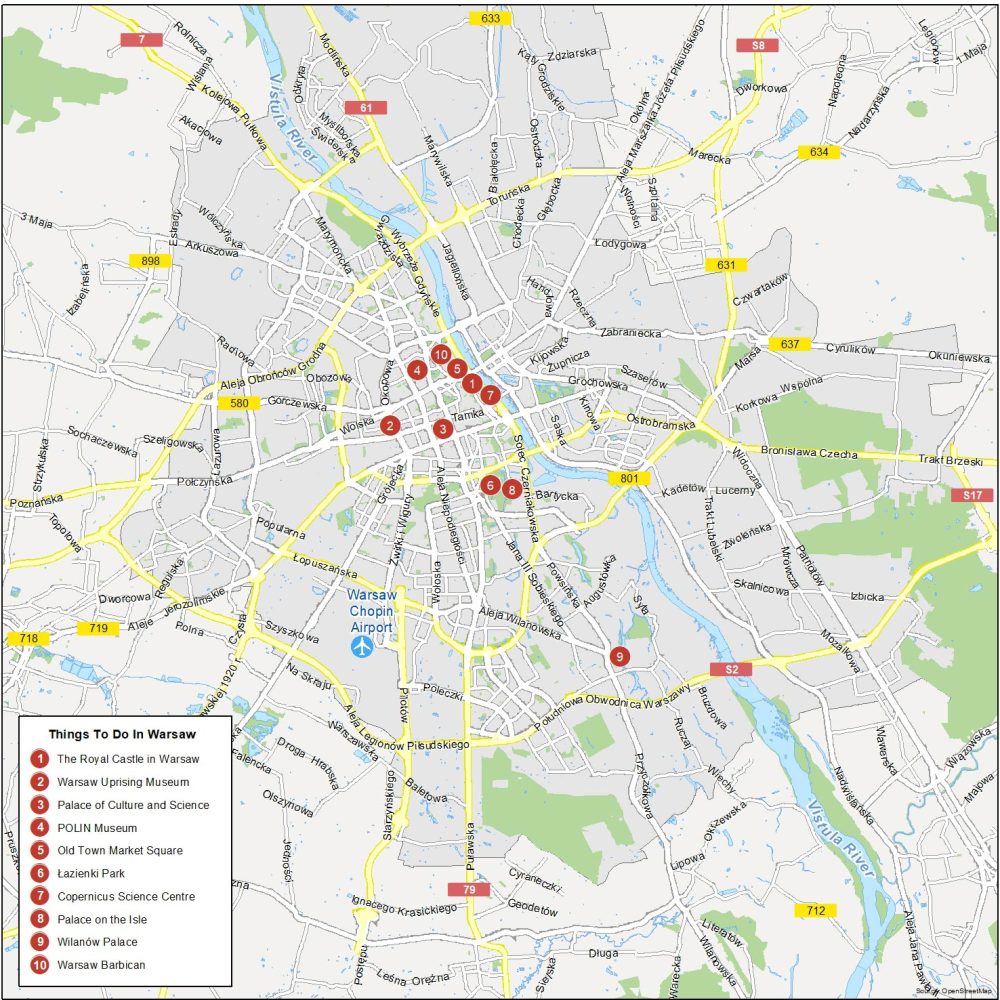 Warsaw is the capital city and the most populous city in Poland. Here are the top 10 things to do that we recommend seeing.
The Royal Castle in Warsaw
Warsaw Uprising Museum
Palace of Culture and Science
POLIN Museum
Old Town Market Square
Lazienki Park
Copernicus Science Centre
Palace on the Isle
Wilanów Palace
Warsaw Barbican
Warsaw Reference Map
Our reference map of Poland contains neighborhoods, nearby towns, waterways, and much more. Use this map to get acquainted with all the localities in Warsaw, Poland. So grab your map and get ready to explore "Paris of the North".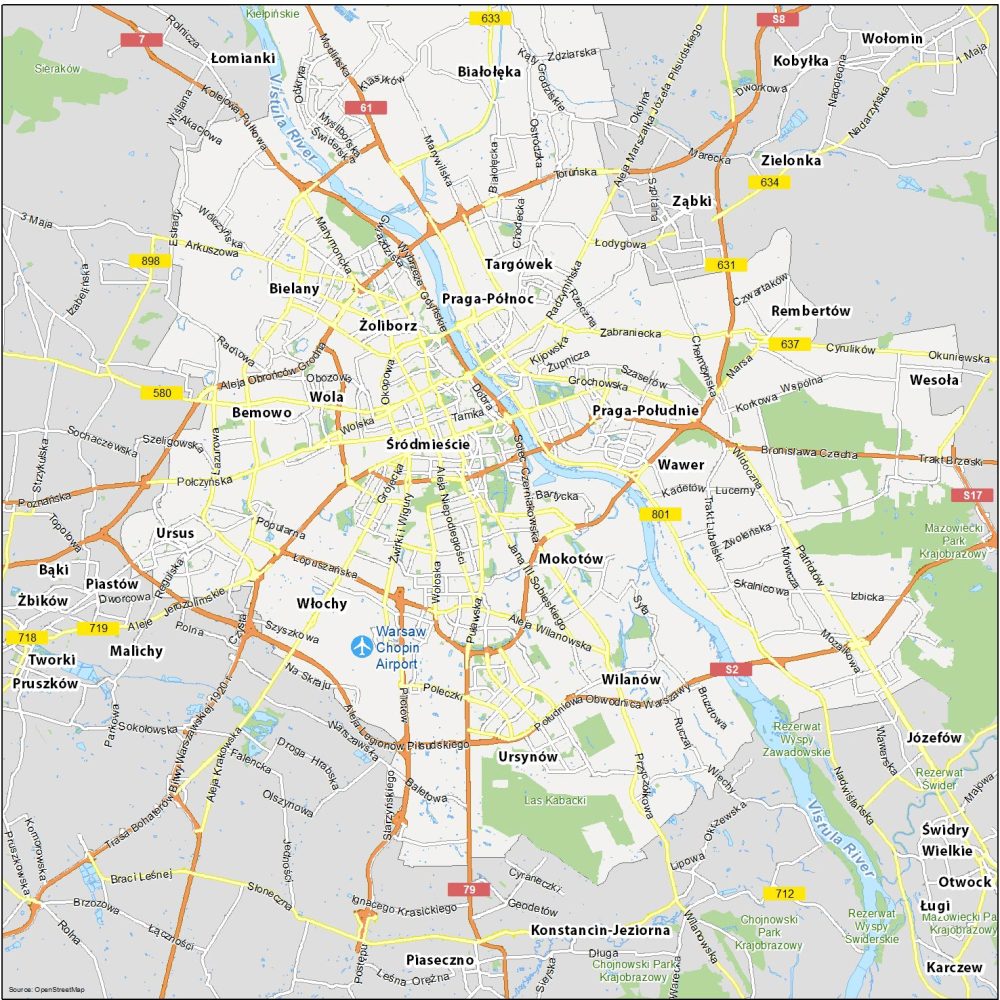 Airports: Warsaw Chopin Airport
Water Features: Vistula River
Parks: Mazowiecki Park Krajobrazow, Kabaty Woods, Sieraków Landscape Park, Chojnowski Park Krajobrazowy
Communities: Śródmieście, Żoliborz, Praga-Północ, Targówek, Praga-Południe, Wawer, Mokotów, Włochy, Wola, Bemowo, Ursus, Bielany, Białołęka, Ząbki, Rembertów, Wesoła, Wilanów, Józefów, Tworki, Łomianki, Wołomin, Zielonka
References