Amsterdam Map
Welcome to the city of Amsterdam, one of the most unique destinations in all of Europe.
Known for its picturesque canals, historic architecture, and cultural scene, Amsterdam is a city that captures the hearts of visitors from all over the world.
Our Amsterdam map collection will provide you with a solid overview of everything you need to know about the capital and largest city of the Netherlands.
Jump To: Interactive Map | Printable Road Map | 10 Things to Do | Reference Map
Amsterdam map collection
Interactive Map of Amsterdam
This interactive map is your guide to exploring the many wonders of Amsterdam. From the appealing cafes and boutique shops of the Nine Streets to the extravagant nightlife of the Leidseplein, Amsterdam is an absolute tourist hub. To pique your interest, scroll around the map so you can find out the latest geographic information on this Dutch city.
Amsterdam Road Map
Our road map of Amsterdam can provide you with the transportation network of this global city. You'll find motorways and major routes so you can find your way around the city. It also displays highway numbers and street names to be able to travel around with confidence.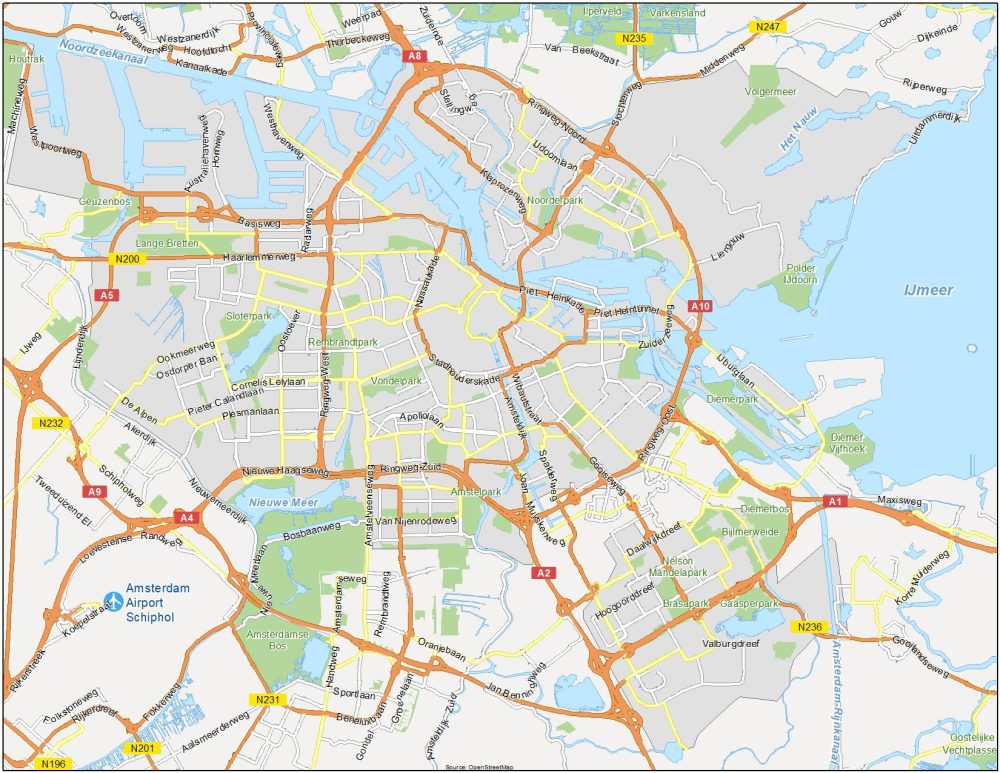 Highways: A1, A2, A4, A5, A8, A9, A10, N196, N200, N201, N231, N232, N235, N236, N247
Major Roads: Ringweg-Zuid, Ringweg-Noord, Klaprozenweg, Piet Heinkade, Amsteldijk, Wibautstraat, Loevesteinse Randweg, Beneluxbaan, Westpoortweg, Van Nijenrodeweg, Ookmeerweg, Daalwijkdreef, Thorbeckeweg, Provincialeweg, Hoofdtocht, Kanaalkade, Machineweg, Westhavenweg, Middenweg, Liergouw, Rijkerstreek
10 Things To Do in Berlin
Whether you're strolling through the Jordaan district in the city center, admiring the masterpieces at the Van Gogh Museum, or enjoying a leisurely bike ride along the city's iconic canals, this map will help you navigate your way through the city's many attractions.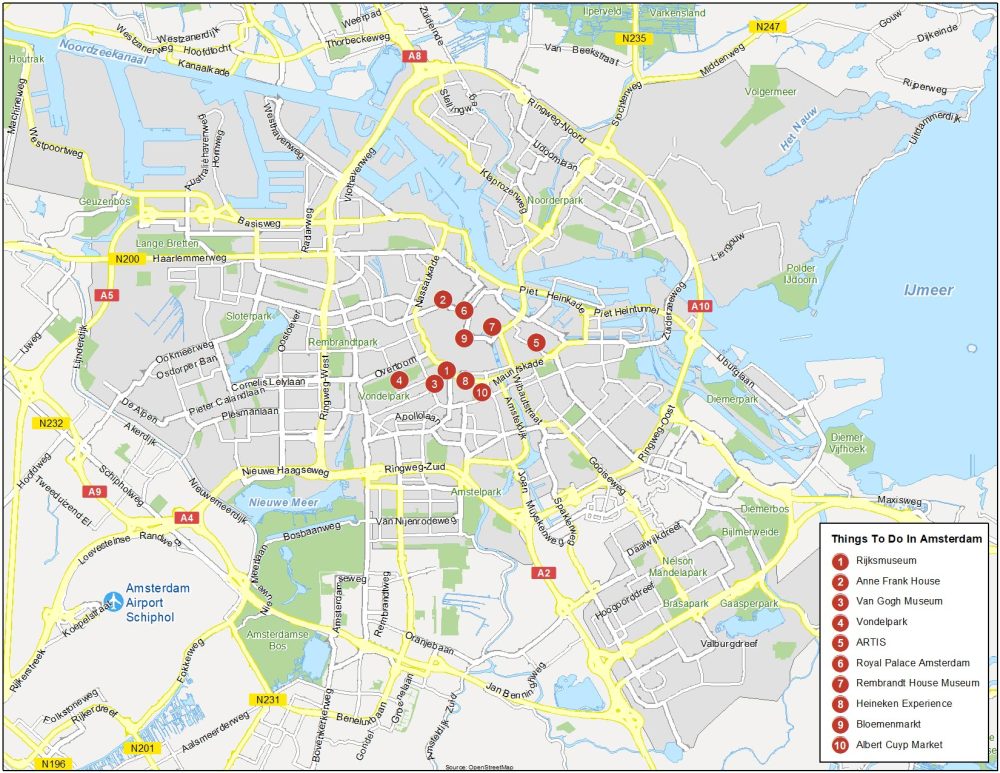 Amsterdam is the most populous and capital city of the Netherlands. Here are the top 10 things to do that we recommend seeing.
Rijksmuseum
Anne Frank House
Van Gogh Museum
Vondelpark
ARTIS
Royal Palace Amsterdam
Rembrandt House Museum
Heineken Experience
Bloemenmarkt
Albert Cuyp Market
Amsterdam Reference Map
Our reference map is perfect for those who want to learn about all the significant areas in Amsterdam. It also includes the names of populated places just on the outskirts of the city. So grab your map and get ready to discover the magic of Amsterdam for yourself.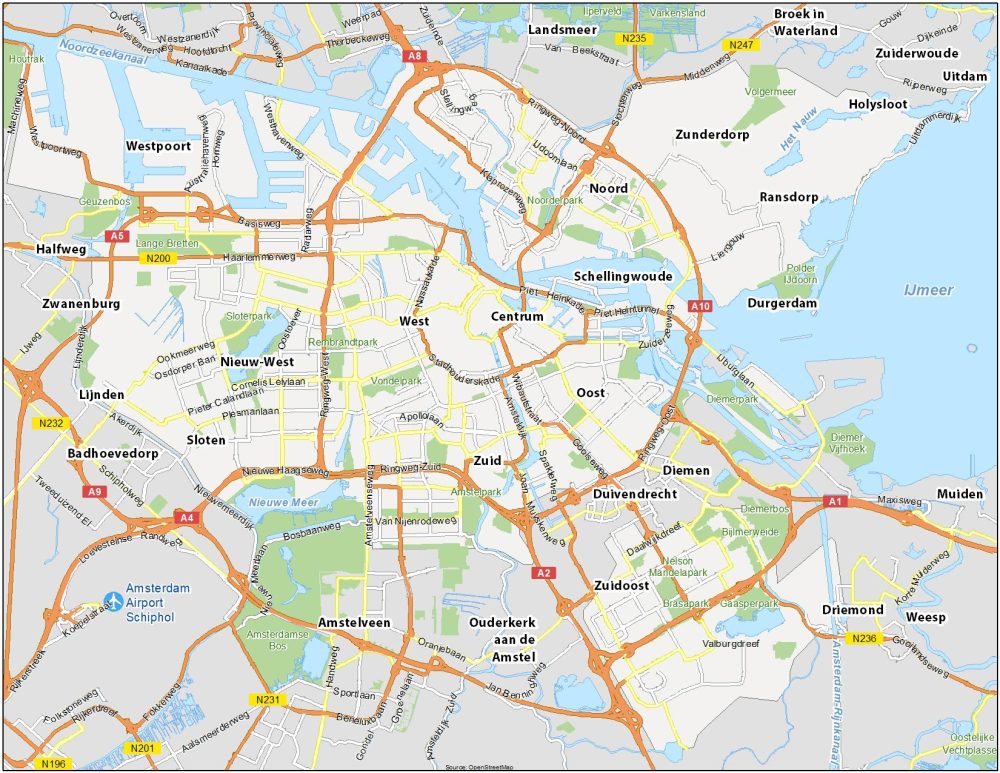 Airports: Amsterdam Airport Schiphol
Water Features: IJmeer, Noordzeekanaal, Nieuwe Meer, Amsterdam-Rijnkanaal
Parks: Amsterdamse Bois, Diemerbos, Bijlmerweide, Nelson Mandelapark, Brasapark, Gaasperpark, Ilperveld, Varkensland, Geuzenbos, Houtrak
Communities: Schellingwoude, Sloten, Zuid, Diemen, Duivendrecht, Zuidoost, Zunderdorp, Ransdorp, Westpoort, Zwanenburg, Halfweg, Lijnden, Badhoevedorp, Ouderkerk aan de Amstel, Driemond, Weesp, Muiden, Uitdam, Zuiderwoude, Holysloot, Landsmeer, Broek in Waterland
References