Map of Netherlands – Cities and Roads
This map of the Netherlands features its major cities, rivers, and highways. It includes a satellite and elevation map to see its physical features such as its mostly low coastal plain and higher terrain in the southeast.
You are free to use our Netherlands map for educational and commercial uses. Attribution is required. How to attribute?
About the map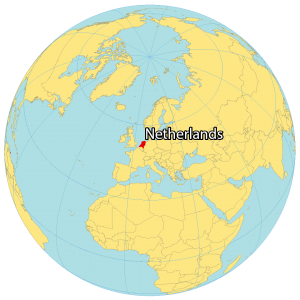 The Netherlands (also known as Holland) is located in Western Europe along the North Sea. It borders just two other European countries. Belgium is situated in the southwest and Germany is in the east. Also, it shares a maritime border with the United Kingdom to the west.
The Netherlands contains several islands like the West Frisian Islands, as well as in IJsselmeer, Markermeer, and in the Caribbean. Amsterdam is the capital and largest city, located in the west. A key characteristic of the country is its windmills which pumped water for drainage and farming.

The Netherlands in Google Maps
IMAGERY
Netherlands Satellite Map
The Netherlands occupies an area of 41,865 square kilometers (16,164 sq mi), almost identical in size to Denmark. The climate in the Netherlands is very mild. Its weather is heavily influenced by the North Sea and the Atlantic Ocean, so it experiences cool summers and mild winters.
The Wadden Sea is a UNESCO World Heritage Site because of its unbroken mudflats and intertidal sand. Rivers in the Netherlands include Lek, Waal, Maas, and IJssel.
HILLSHADE
Netherlands Elevation Map
The Netherlands consists of mostly coastal lowlands and flat, low-lying terrain. But it transitions to hilly terrain in the southeast. Specifically, this includes its highest point in the continental Netherlands, Vaalserberg, at 322 meters in height.
The coastline of the Netherlands is constantly changing due to the dike system used to reclaim the land. Although about one-quarter of the Netherlands is below sea level, coastal regions have become artificial land for agriculture and for people to live.
ADMINISTRATION
Netherlands Provincial Map
There are 12 provinces in the Netherlands, which are divided administratively and geographically. These administrative units are subdivisions after the national and before local municipalities.
The provinces are Drenthe, Flevoland, Friesland, Gelderland, Groningen, Limburg, North Brabant, North Holland, Overijssel, South Holland, Utrecht, and Zeeland. Additionally, there are special municipalities for the Dutch Territories in the Caribbean Sea.