Antarctica Map and Satellite Image [Free]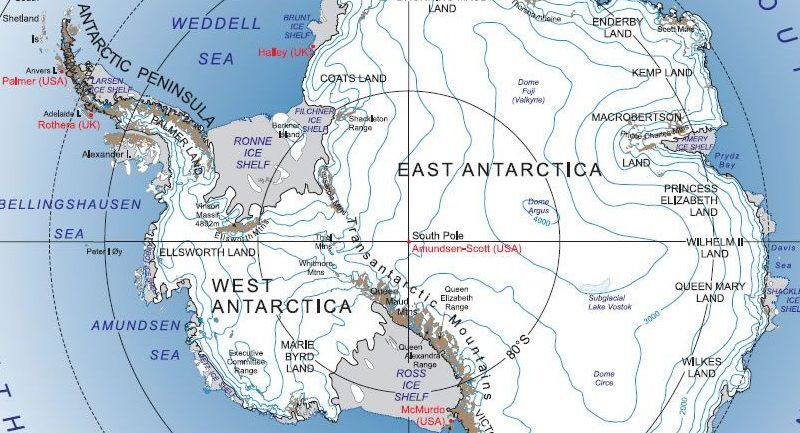 The Antarctica Map Collection
If you're searching for an Antarctica map to hang on your wall, then we just may have the trick for you.
Today, we'll unveil some of the best maps of Antarctica including:
Antarctica without ice
Major landmarks of Antarctica
An Antarctica satellite map
Let's dive right in.
1. Antarctica Map with Landmarks
Antarctica is unique because it's still relatively unchanged. For example, you'll mostly find massive ice shelves, mountains, and subglacial lakes.
No one permanently lives in Antarctica. The only residents are temporary researchers and travelers.
So, Antarctica doesn't have any populated places with official "city" status. But it does have some notable landmarks.
2. Süd-Polar-Karte
In 1912, August Petermann drafted this vintage map of Antarctica called "Süd-Polar-Karte". The purpose was to trace out Antarctic expeditions with dates.
In a southern polar projection, thirteen inset maps surround the main map. Each one displays the surrounding islands of Antarctica.
I'm at a loss for words for how stunning it looks. Language is in German at a scale of 1:40,000,000.
3. Blue Marble Antarctica Satellite Map
Introducing: NASA's Blue Marble of Antarctica. This cloudless composite displays the prestigious continent of Antarctica.
You probably know Antarctica as that big, cold, white continent at the bottom of the world. And you're right! It's 98% ice. If you compare this on a global scale, it holds 90% of the world's ice!
In this selfie of the South Pole, you can see how the "white continent" earned its nickname.
Pixels are 1km resolution. It uses MODIS with an orthographic projection. Astonishingly, you can even get better detail in Blue Marble Next Generation. It sharpens pixels to 500m pixels.
4. Map of Antarctica Research Stations
Antarctica is just a bunch of research stations (115 or so) scattered across the continent. Each staff has about 50-150 people. As mentioned, it doesn't have any cities whatsoever. Popular travel facilities include Halley, Port Lockroy, and Villa Las Estrellas.
The most renowned research bases are Amundsen-Scott and McMurdo stations:
AMUNDSEN-SCOTT: Amundsen-Scott is just a couple hundred meters away from the true South Pole.
MCMURDO: McMurdo is the largest research facility located at the tip of Ross Island.
5. Antarctica Without Ice
Introducing: The Bedrock Beneath. This 3D map is the only one that shows Antarctica without ice.
NASA built it with over 25 million observations and named it BEDMAP 2.
Knowing bedrock is the only way we can measure ice thickness, melting, and flow. Over time, we can better understand ice melt and climate change.
6. LANDSAT Antarctica Satellite Map
LIMA stands for Landsat Image Mosaic of Antarctica. This mosaic stitches 1000+ Landsat scenes creating the most complete map of Antarctica.
If you want an interactive version, you can view it on the USGS Atlas of Antarctica.
This Antarctica map has everything from geographic names to hydrography, and elevation.
7. Ozone Map of Antarctica
The ozone hole map of Antarctica isn't flashy or full of color. It's boring and bland. But that's how I like it because it means the hole in the ozone layer is shrinking.
In fact, NASA states the ozone hole is the smallest it's ever been on record. So, the ozone hole is one of the rare good news stories we need. This is all thanks to science and taking action on CFCs.
8. Territories Map of Antarctica
In 1959, 12 countries signed the Antarctic Treaty. Some of the important points in the treaty include:
Researchers can freely conduct investigations.
Antarctica shall be for peaceful purposes.
Countries cannot recognize claims.
So, even if you're born in Antarctica, no person can lay claim to sovereignty. There are still people of "Antarcticans" descent. But they are a rare bunch. Just 10 people or so were born there.
This Antarctica political map shows all recognized national claimants including:
9. Ice Flow Antarctica Map
Geographically, Antarctica is surrounded by water. The Southern Ocean envelops it along with several seas. Argentina and Chile are the closest countries. But they are still a good 5,000+ km away.
Miles of ice blanket Antarctica. But when the ice melts, how does it flow? As a system of tributaries, this map shows Antarctica as a system of rivers and creeks. Colors represent the velocity of ice flow.
10. Antarctic Animals Map
One of the surprising things about Antarctica is that it has a real diverse ecosystem. In fact, it has things you wouldn't expect like microbes.
Antarctic animals have adapted to living under the harshest conditions. Penguins, seals, and whales are all warm-blooded. But they all have a thick layer of blubber to protect them from the cold.
In this Antarctica map, the paths show animal movement. See how they travel around the frozen terrain and ocean. The tracks include emperor penguins, seals, and important bird areas.
Conclusion
GIS fueled the creation of these maps.
If you want to learn more about the data behind some of these maps, be sure to check out Quantarctica. Or better yet, read our article on Antarctica data sources.
Now, we want to hear from you:
How did you like the Antarctic maps? Is there anything we missed? Please let us know with a comment below.
References
Petermann, A. (1912) Süd-Polar-Karte. [S.l] [Map] Retrieved from the Library of Congress, https://www.loc.gov/item/2002624041/.
Council of Managers of National Antarctic Programs (COMNAP) Listed Facilities, 2017.
LIMA Landsat Image Mosaic of Antarctica (15/240m) USGS / Rem. Sens. Environ., 2008. Bindschadler et al.
RAMP RADARSAT mosaic (100m) NSIDC, 1999/2013. Jezek et al.
MEOP CTD-Equipped Seal Tracks. GRL, 2013. Roquet et al.
Emperor Penguin Colonies. PLoS ONE, 2012. Fretwell et al.
Important Bird Areas (IBAs) BirdLife International, 2016. Harris et al.
MODIS mosaic (125m) NSIDC, 1999/2013. Haran et al., Scambos et al.
BEDMAP2 (1km) BAS/The Cryosphere, 2013. Fretwell et al.