Athens Map
Here is your map of the modern-day city (not the ancient version) of Athens, Greece.
Athens is a destination that delivers a perfect mix of history, culture, and modernity.
Explore everything that the birthplace of Western civilization has to offer with this map of Athens.
Jump To: Interactive Map | Printable Road Map | 10 Things to Do | Reference Map
Athens map collection
Interactive Map of Athens
Get to know Athens, Greece with this interactive map. Whether you're wandering through the neighborhoods of Plaka and Monastiraki, shopping in the trendy boutiques of Kolonaki, or taking in the breathtaking views from the top of Lycabettus Hill, Athens has something for everyone. Because remember that Athens isn't just a city of ancient wonders – it's also a modern metropolis with a thriving arts scene, world-class restaurants, and lively nightlife.
Athens Road Map
This Athens road map is your guide to navigating the transportation network of Athens. You'll find motorways and major routes with highway numbers and street names. So if you're looking to travel around Athens, make sure to download this road map before you go.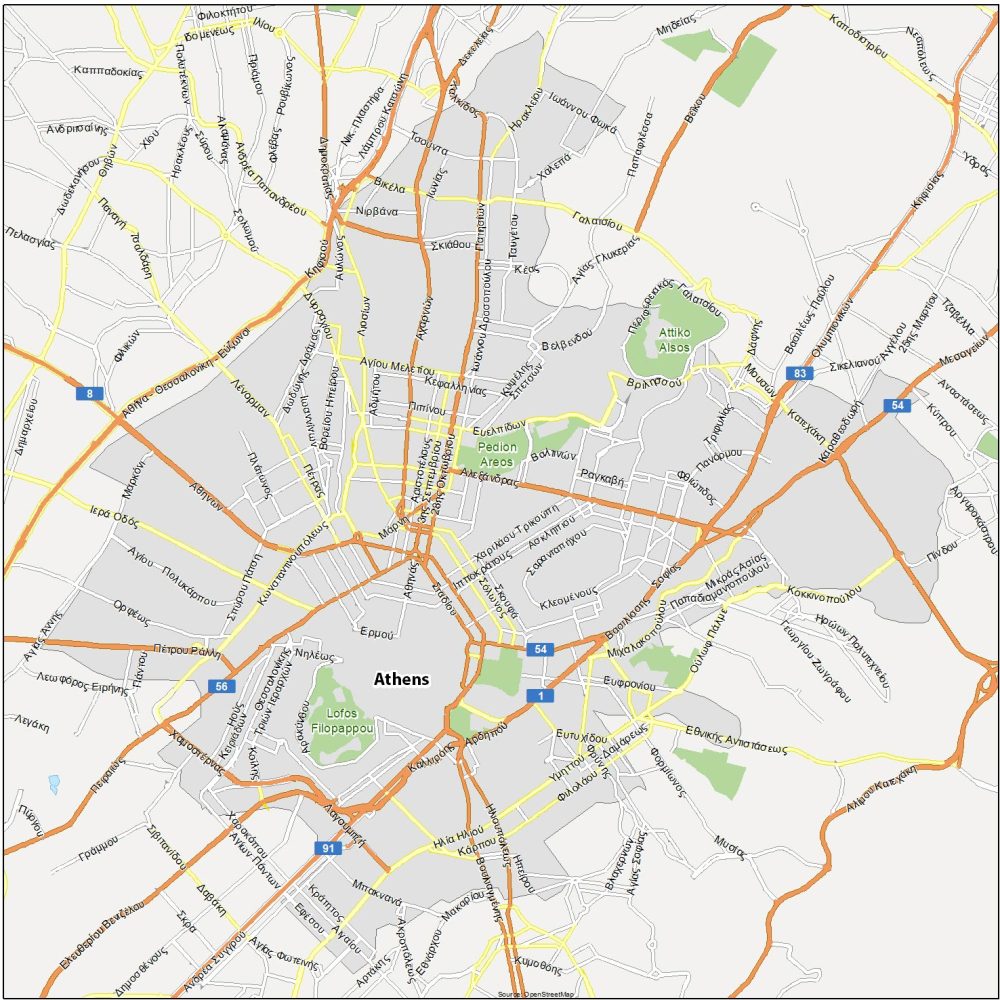 Highways: 1, 8, 54, 83, 91
10 Things To Do in Athens
This attraction map will help you navigate your way through the city's plethora of historical sights. As you explore Athens, you'll find yourself surrounded by impactful examples of ancient Greek architecture, including the iconic Parthenon, the Temple of Olympian Zeus, and the ancient Agora.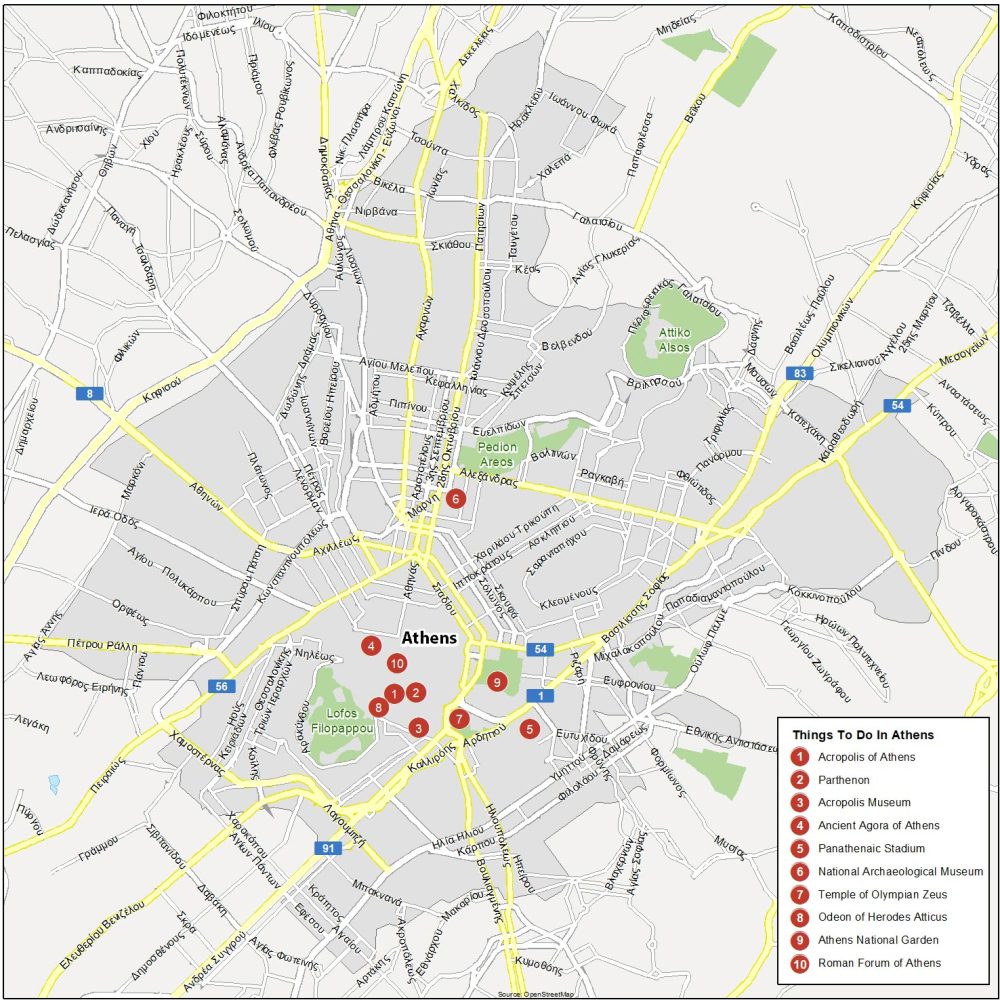 Athens is the most populous and capital city of Greece. Here are the top 10 things to do that we recommend doing.
Acropolis of Athens
Parthenon
Acropolis Museum
Ancient Agora of Athens
Panathenaic Stadium
National Archaeological Museum
Temple of Olympian Zeus
Odeon of Herodes Atticus
Athens National Garden
Roman Forum of Athens
Athens Reference Map
This reference map features neighborhoods, waterways, parks, and more. Download your map and get ready to explore the city where democracy was born and where the legacy of ancient Greece lives on in every corner.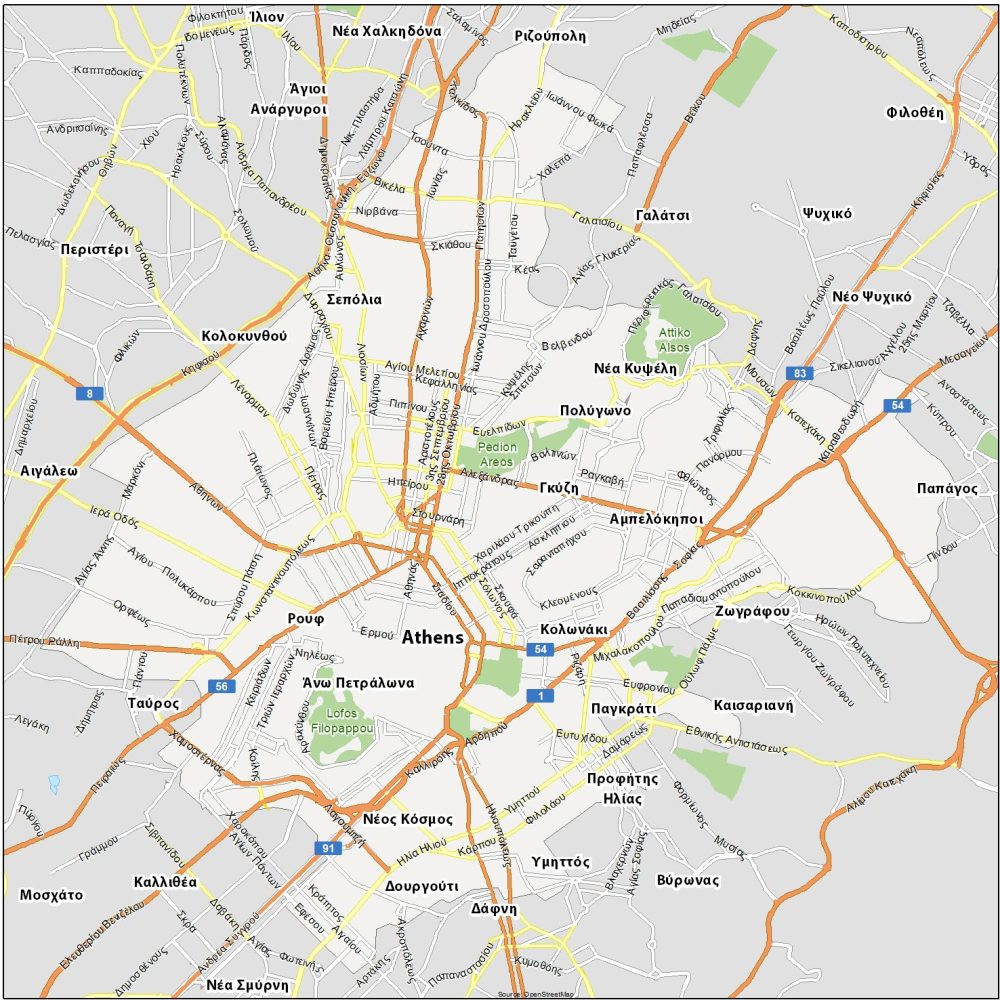 Parks: Lofos Filopappou, Pedion Areos, Attiko Alsos
References