Map of Auckland, New Zealand

Auckland, New Zealand Map
Welcome to Auckland! Located on the North Island of New Zealand, this Auckland map collection is a set of 3 maps.
You'll be able to explore highways/roads, things to do, and reference information.
So if you want to learn more about Auckland, NZ, you are welcome to download and keep a copy for yourself.
Jump To: Interactive Map | Printable Road Map | 10 Things to Do | Reference Map
Auckland map collection
Interactive Map of Auckland
Auckland is the largest and most populous city in the country of New Zealand. The city boasts a rich cultural heritage, stunning natural beauty, and a bustling cityscape. This interactive map displays the latest sights and sounds for adventure around Auckland.
Auckland Road Map
Looking for a road map of Auckland? We've put together a road map with highways, roads, street names, and highway numbers so you can better navigate Auckland. So come and explore the city with us, as we take you on a journey through the diverse and fascinating landscape of Auckland, New Zealand.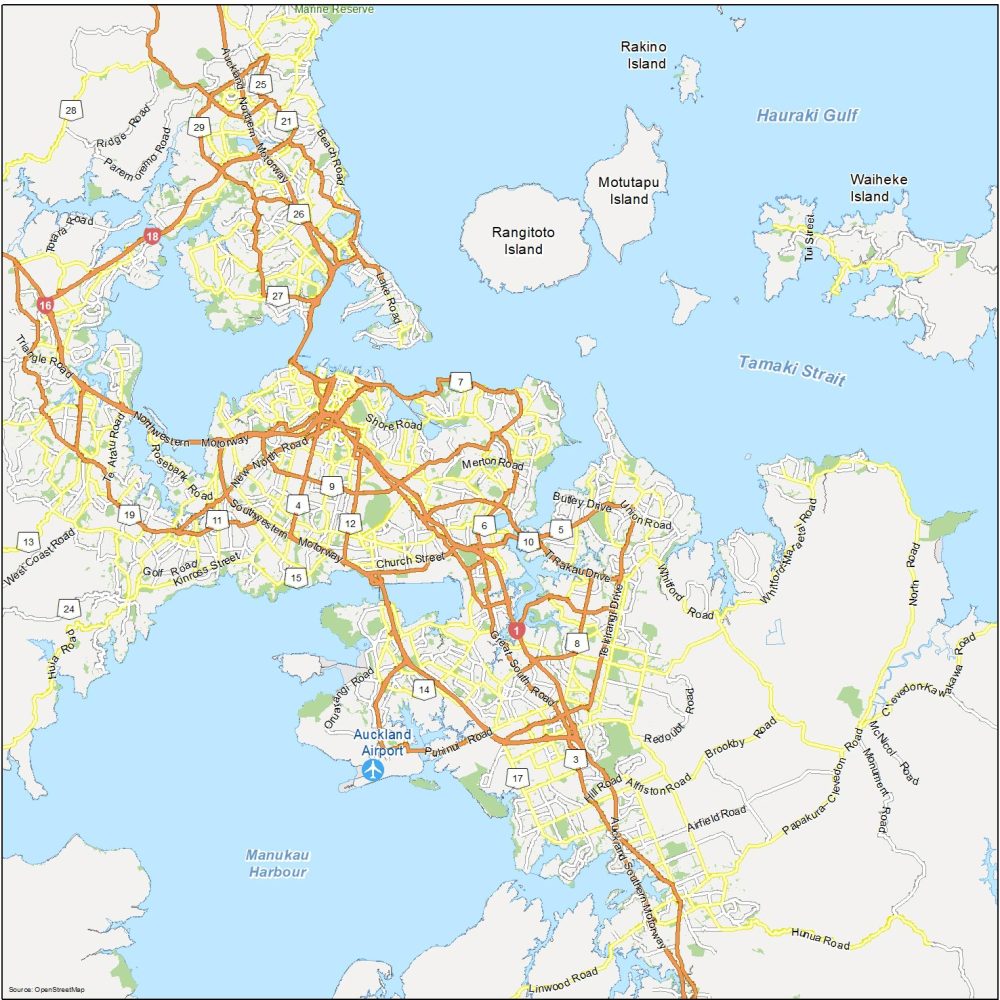 Highways: 1, 3, 4, 5, 6, 8, 10, 11, 12, 13, 14, 16, 18, 19, 21, 24, Southwestern Motorway
Major Roads: New North Road, Church Street, Shore Road, Lake Road, Merton Road, Butley Drive, Ti Rakau Drive, Union Road, Great South Road, Whitford Road, Kinross Street, Puhinui Road, Hill Road, Triangle Road, Golf Road, Oruarangi Road, Alfriston Road, Redoubt Road
10 Things To Do in Auckland
From the stunning Auckland Harbour to the towering Sky Tower, and from the bustling central business district to the tranquil green spaces of Waiheke Island and the Auckland Domain, there is something for everyone to enjoy in Auckland. Use this map to find the best attractions to check out in Auckland.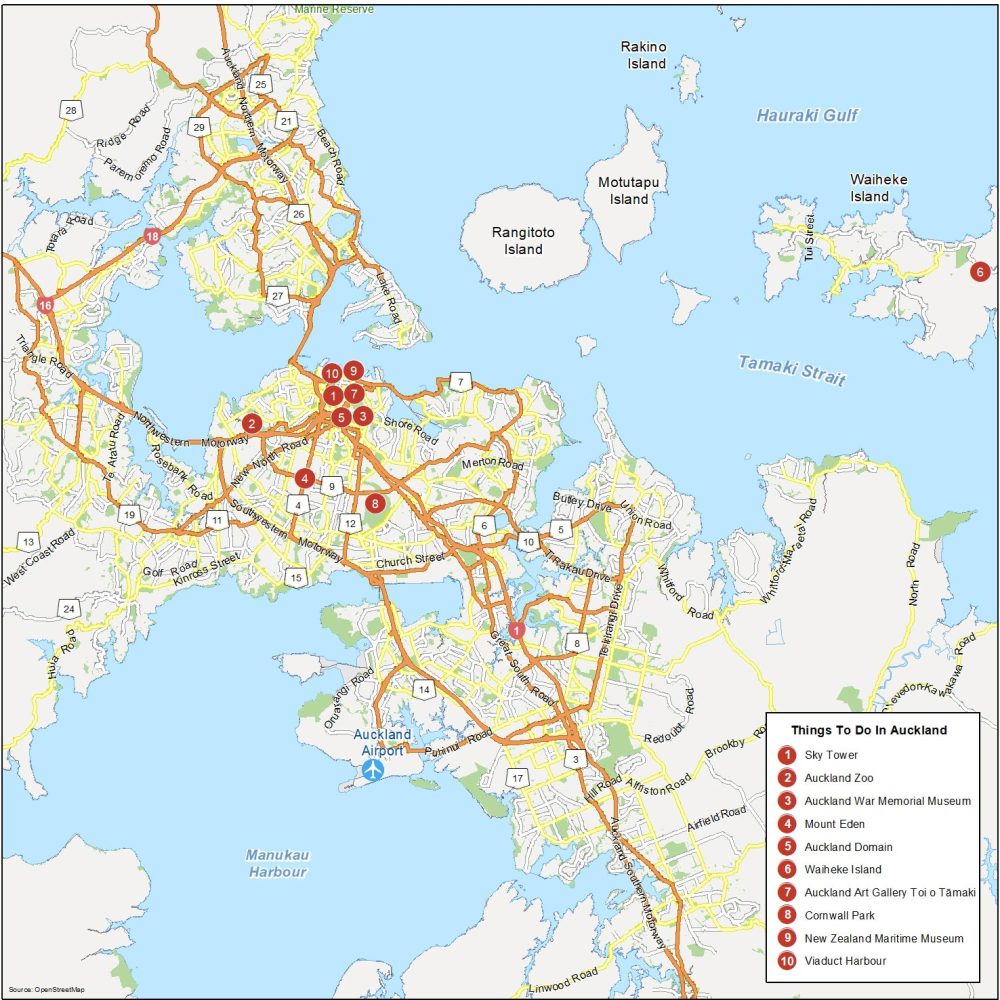 Auckland is the most populous city in New Zealand and is the fifth most populous in Oceania. Here are the top 10 things to do that we recommend seeing.
Sky Tower
Auckland Zoo
Auckland War Memorial Museum
Mount Eden
Auckland Domain
Waiheke Island
Auckland Art Gallery Toi o Tāmaki
Cornwall Park
New Zealand Maritime Museum
Viaduct Harbour
Greater Auckland Map
This Auckland New Zealand map provides a comprehensive guide to the city. It highlights its major landmarks, neighborhoods, parks, and other points of interest. By using this map, you'll be able to familiarize yourself with the "City of Sails".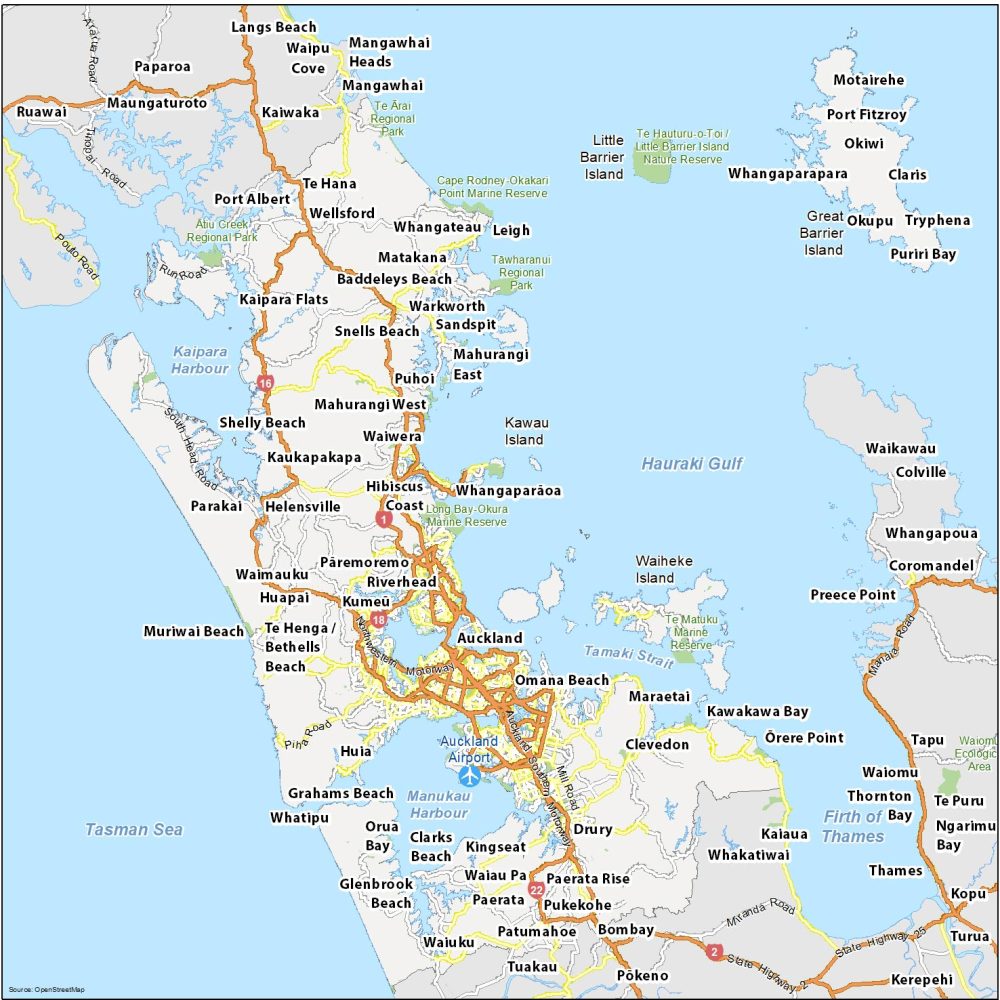 Airports: Auckland Airport
Water Features: Tasman Sea, Hauraki Gulf, Firth of Thames, Tamaki Strait, Manukau Harbour, Kaipara Harbour
Parks: Long Bay-Okura Marine Reserve, Tāwharanui Regional Park, Cape Rodney-Okakari Point Marine Reserve, Te Matuku Marine Reserve, Ātiu Creek Regional Park
Communities: Whangaparāoa, Hibiscus Coast, Waiwera, Kaukapakapa, Waiwera, Mahurangi West, Pāremoremo, Helensville, Waimauku, Omana Beach, Maraetai, Clevedon, Kawakawa Bay, Ōrere Point, Huia, Port Albert, Kingseat, Drury, Clevedon, Bombay, Orua Bay, Tuakau, Paparoa
References