Bristol, England Map
Check out our map collection of Bristol that displays motorways, things to do, waterways, and much more.
From its rich maritime history to its thriving cultural scene, Bristol is a city full of charm and character.
So if you're in need of a map and in search of excitement, download this Bristol map so you can experience the city nicknamed "Brizzle".
Jump To: Interactive Map | Printable Road Map | 10 Things to Do | Reference Map
Bristol map collection
Interactive Map of Bristol
Whether you're a visitor or a resident of Bristol, having a good road map can make all the difference in navigating the city's many streets and neighborhoods. This interactive map of Bristol contains all the latest information. You'll find everything you need including restaurants, shopping, museums, and much more.
Bristol Road Map
With so much to see and do, a Bristol road map is an essential tool for any traveler looking to get the most out of their time in the city. You'll find color-coded highways with their respective street names and highway numbers. So whether you're a local or a first-time visitor, navigating the streets of Bristol can be made much easier with the help of this Bristol road map.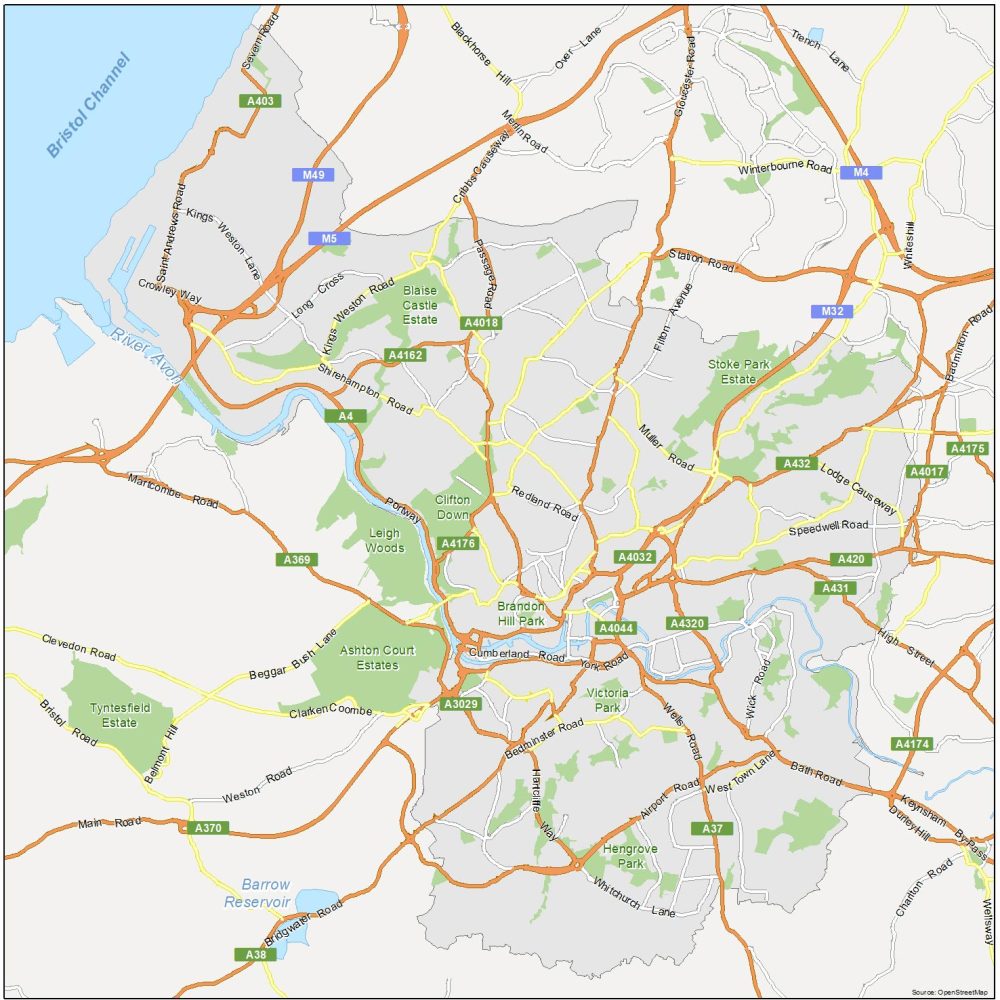 Highways: A4, A37, A38, A369, A370, A420, A431, M4, M5, M32, M49
Major Roads: Redland Road, Shirehampton Road, Kings Weston Lane, Muller Road, Bedminster Road, North Street, Cumberland Road, York Road, Long Cross, Bath Road, Hartcliff Way, Filton Avenue, Speedwell Road, Lodge Causeway, Station Road, Clarken Coombe, Portway
10 Things To Do in Bristol
Bristol is a city that can captivate and charm any visitor. With this map, you can find its many historic landmarks such as the Clifton Suspension Bridge, the Bristol Cathedral, and the iconic SS Great Britain ship (once the largest passenger in 1845, now a museum you can explore).
The city is also surrounded by natural scenery, including the picturesque Avon Gorge and the expansive Ashton Court Estate. Using our list of things to do will leave a lasting impression on you or any traveler.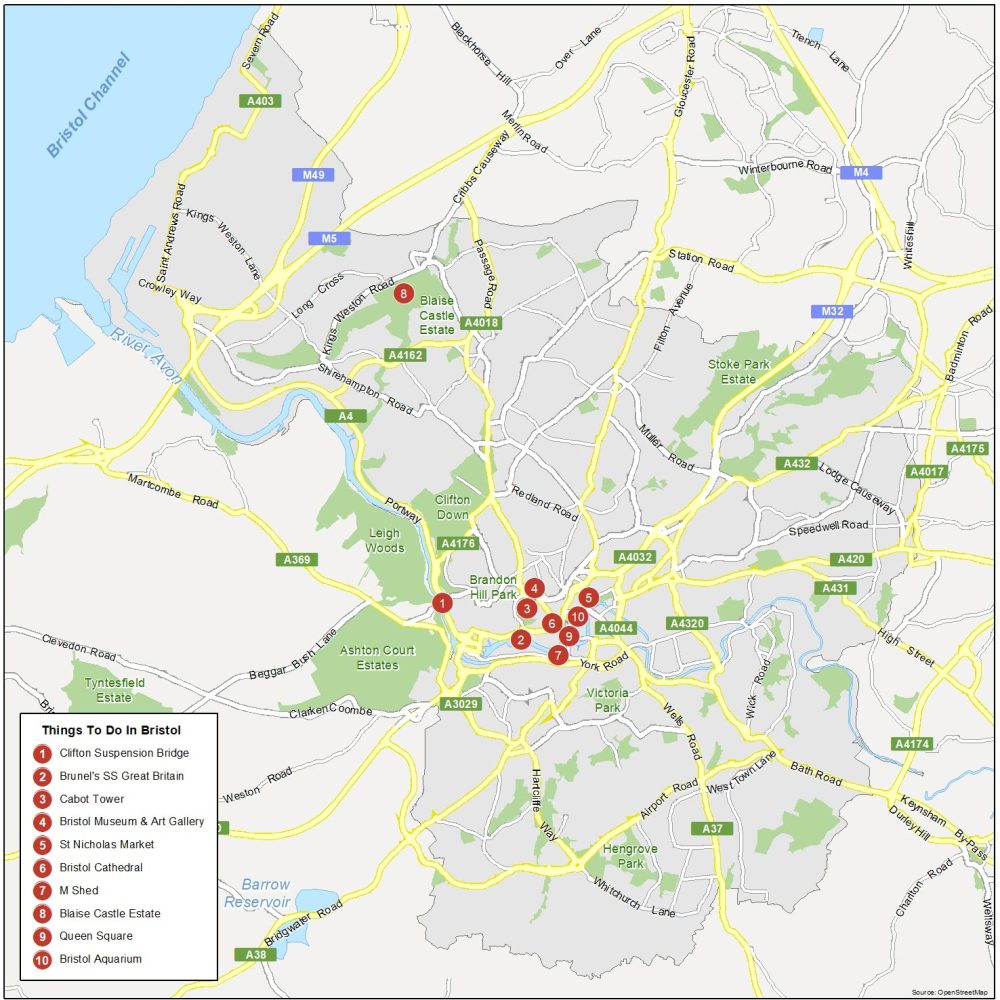 If you plan on visiting Bristol, here are the top 10 attractions that we recommend checking out.
Clifton Suspension Bridge
Brunel's SS Great Britain
Cabot Tower
Bristol Museum & Art Gallery
St Nicholas Market
Bristol Cathedral
M Shed
Blaise Castle Estate
Queen Square
Bristol Aquarium
Bristol Reference Map
This Bristol reference map not only helps you to locate your destination but also helps you to discover new areas of the city that you might not have otherwise stumbled upon. It can help guide you around this wonderful city and explore it with confidence.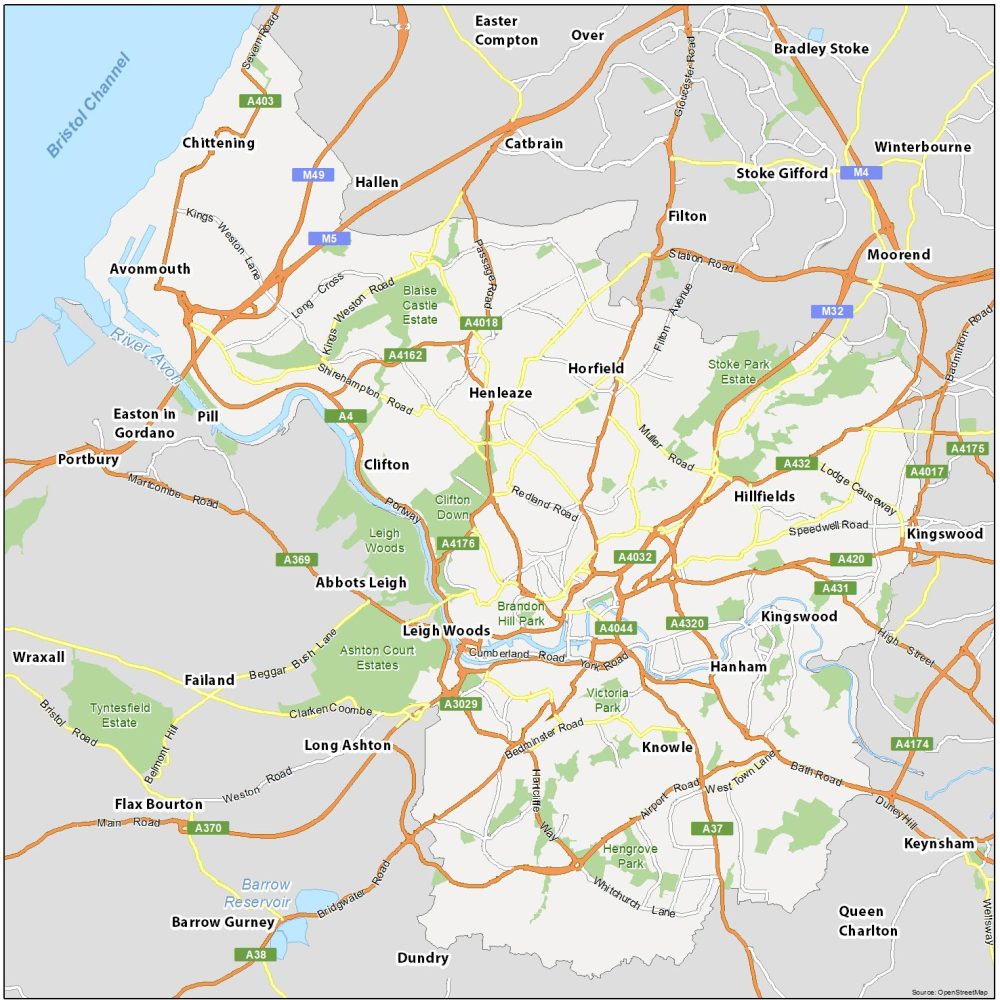 Water Features: Bristol Channel, River Avon, Barrow Reservoir
Parks: Brandon Hill Park, Victoria Park, Blaise Castle Estate, Stoke Park Estate, Clifton Down, Leigh Woods, Ashton Court Estate, Tyntesfield Estates
Communities: Clifton, Henleaze, Horfield, Hillfields, Kingswood, Hanham, Knowle, Avonmouth, Chittening, Hallen, Catbrain, Filton, Stoke Gifford, Winterbourne, Moorend, Flax Bourton, Failand, Keynsham, Dundry