London, England Map
This London map collection displays highways, roads, neighborhoods, and things to do in the global megacity of London.
Make this map of London your travel companion and plan your trip to the capital city of the United Kingdom with ease.
You can download, print, and use any of these three maps at your convenience. Travel London with this printable map.
Jump To: Interactive Map | Printable Road Map | 10 Things to Do | Reference Map
London map collection
Interactive Map of London
Before we get into the map collection, check out this interactive map. As you can see, London is a world-class metropolis city, considered one of the world's oldest and most influential cities.
In fact, Greater London boasts a population of over 9 million people (top 50 cities for population). This interactive map has it all. Find restaurants, shopping, museums, and a whole slew of things to do using the map below.
London Road Map
Driving in London isn't for the weak. You might just need a bottle of antacids to survive. But if you plan on traveling by car, this London road map can help you navigate around its immense transportation system. You'll find all the major highways and roads. Print it out and keep it in a safe place so you never get lost.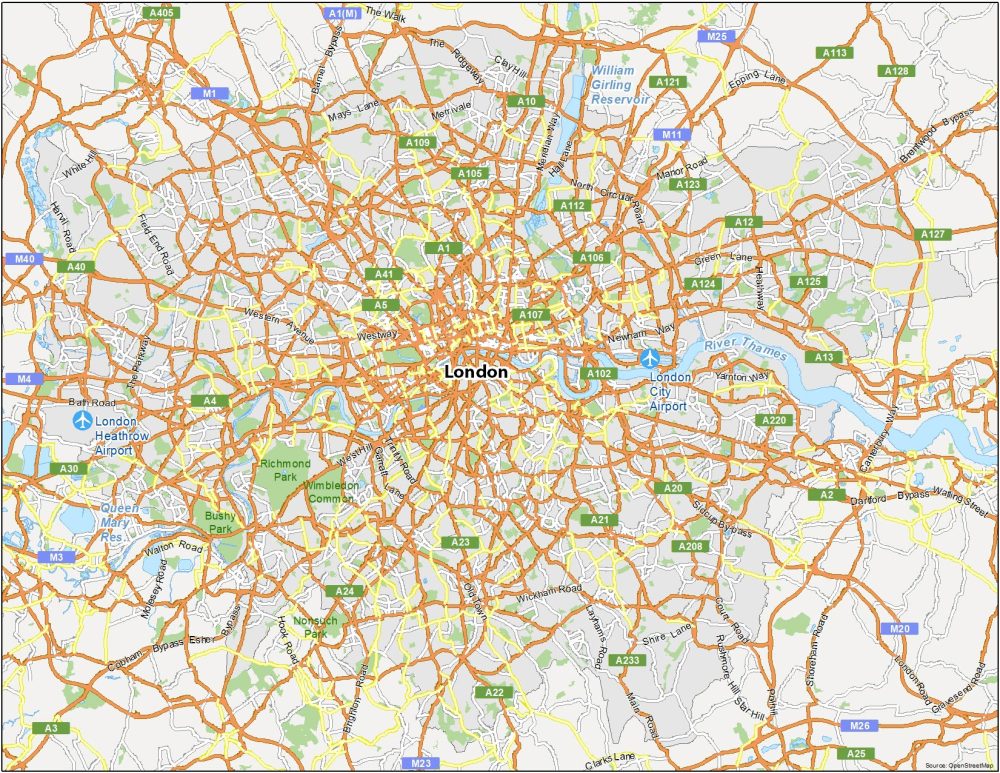 Highways: A1, A2, A3, A4, A5, A12, A13, A20, A22, A23, A24, A30, M1, M3, M4, M11, M20, M23, M26, M40
Major Roads: Western Avenue, Westway, Trinity Road, Garratt Lane, West Hill, Newham Way, Meridian Way, Hall Lane, North Circular Road, Wickham Road, The Ridgeway, Court Road, Green Lane, Heathway, Shire Lane, Canterbury Way, Watling Street, Manor Road, Epping Lane
10 Things To Do in London
There are countless things to do in the bustling metropolis city of London. In fact, it features a whopping 236 museums and 4 UNESCO heritage sites to grab your attention. Westminster Abbey, Big Ben, and Buckingham Palace are all iconic attractions that top our list of things to do.
Along with its historical sights, you can also enjoy its signature London Eye for a full panoramic view of the city. Whether you want to enjoy its cultural heritage or its modern tourist destinations, London is a top tourist destination for anyone seeking adventure.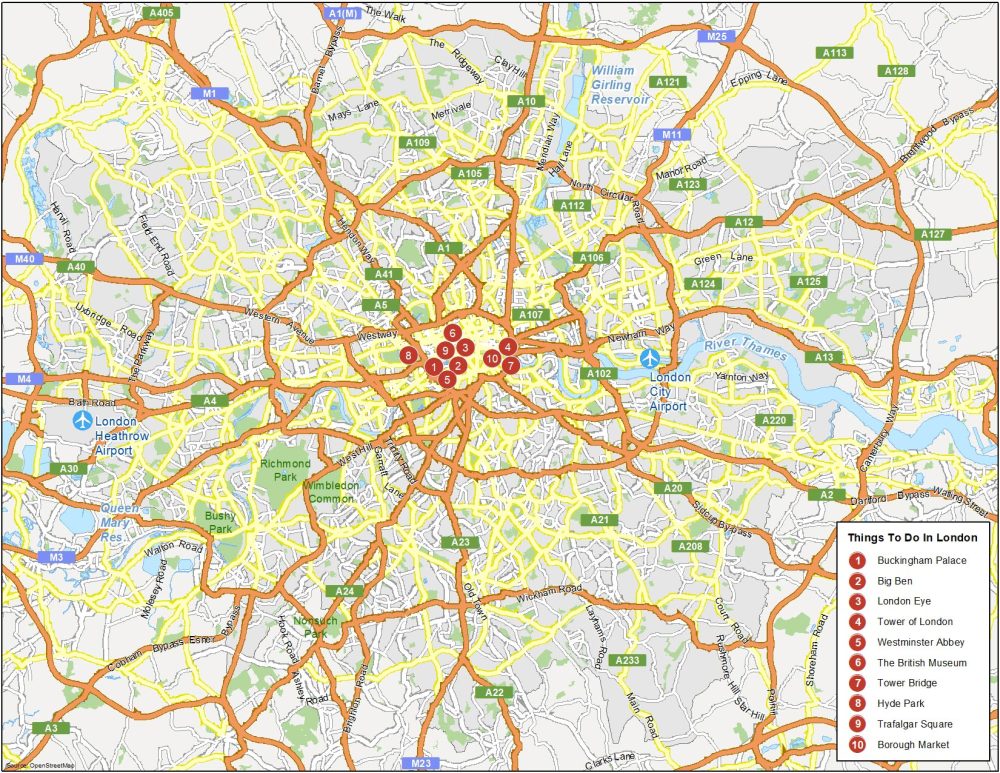 London is the most populous and capital city of England. If you plan on visiting London, here are the top 10 things to do that we recommend seeing.
Buckingham Palace
Big Ben
London Eye
Tower of London
Westminster Abbey
The British Museum
Tower Bridge
Hyde Park
Trafalgar Square
Borough Market
London Reference Map
Navigating London, England can be overwhelming, especially if you're not familiar with its layout. Fortunately, this reference map of London makes the perfect overview to get familiar with Greater London.
You'll find airports, highways, rivers, and neighborhoods so you can get better acquainted with the capital city of England. No matter how you want to use it, feel free to download and print it to find your way around the big city.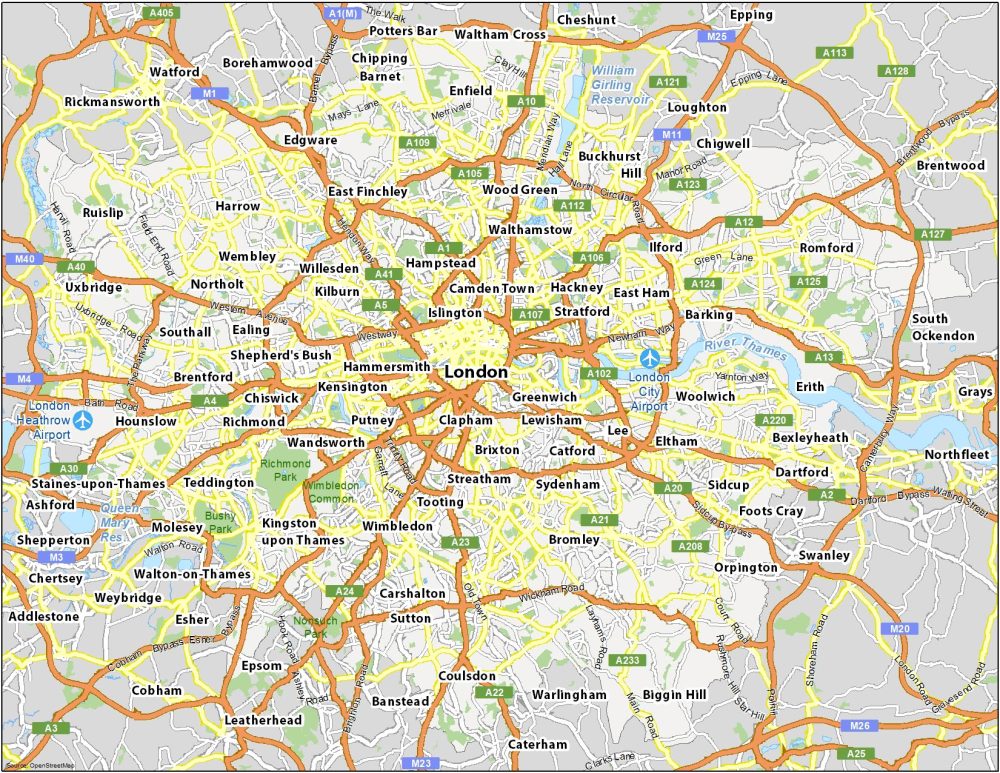 Water Features: River Thames, Queen Mary Reservoir, William Girling Reservoir
Park: Wimbledon Common, Richmond Park, Bushy Park, Nonsuch Park
Airports: London Heathrow Airport, London City Airport
Communities: Hammersmith, Kensington, Wandsworth, Brixton, Lewisham, Catford, Lee, Greenwich, Hampstead, Hackney, Stratford, Barking, Eltham, Wimbledon, Tooting, Streatham, Putney, Fulham, Richmond, Chiswick, Brentford, Sydenham, Streatham, Bromley, Woolwich, Walthamstow, Harrow, Wembley, Northolt, Teddington, Orpington, Swanley, Romford, Harrow, Ruislip, Uxbridge, Edgware, Enfield, Kingston-Upon-Thames, Coulsdon, Ashford, Banstead