Brussels Map
Download our free Brussels map to explore the capital city of Belgium and the important economic and cultural center in Europe.
Brussels is also the administrative center of the European Union, with many important institutions located in the city.
For these reasons, Brussels is a popular destination for tourists, business travelers, and EU officials.
Jump To: Interactive Map | Printable Road Map | 10 Things to Do | Reference Map
Brussels map collection
Interactive Map of Brussels
This interactive map provided by Google has all the latest information about the top places to check out in Brussels. In addition, it's extremely helpful if you are driving or using public transportation in the city because it can help you identify the different neighborhoods, streets, and metro stations, and plan your route accordingly.
From world-class museums and galleries to its lovely neighborhoods, this map is all you need to dive into this cosmopolitan city.
Brussels Road Map
If you are visiting Brussels for the first time, this attractions map can help you navigate the city and find your way around. You'll learn about its motorways, major routes with street names, and highway numbers. So get better acquainted with Brussels, Belgium with this road map of the city.
Highways: N1, N2, N3, N5, N6, N8, N24, E19, E40
Major Roads: Chaussée Romaine – Romeinsesteenweg, Pontbeek, Ninoofsesteenweg, Bergensesteenweg, Chaussée de Waterloo – Waterloosesteenweg, Drève de Lorraine – Lorreinen Dreef, Avenue de Tervueren – Tervurenlaan, Brusselbaan, Boulevard Leopold II-laan, Tramlaan, Woluwelaan, Luchthavenlaan
10 Things To Do in Brussels
This custom map will help you locate important landmarks, attractions, and places of interest, such as the Grand Place, the Atomium, or the Royal Palace of Brussels. This map can also help you plan your itinerary, avoid getting lost, and find the best routes to your destination. So download our map for free and start your adventure today.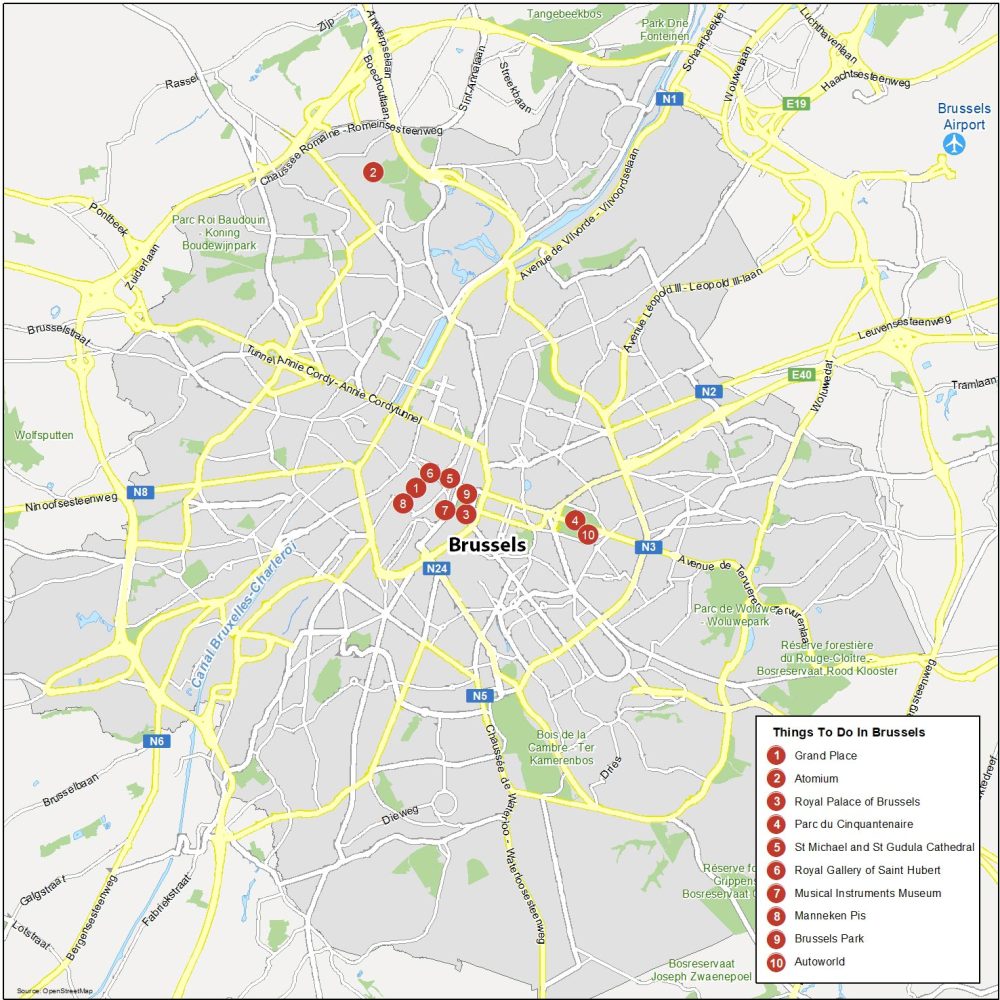 Brussels is the capital city of Belgium and the headquarters of the European Union and NATO. Here are the top 10 things to do that we recommend doing.
Grand Place
Atomium
Royal Palace of Brussels
Parc du Cinquantenaire
St. Michael and St Gudula Cathedral
Royal Gallery of Saint Hubert
Musical Instruments Museum
Manneken Pis
Brussels Park
Autoworld
Brussels Reference Map
Our reference map is one of the best ways to get familiar with the surroundings of Brussels. For instance, it includes neighborhoods and nearby populated areas. You'll also get a sense of greenery and nature in the city with its major parks, waterways, and much more.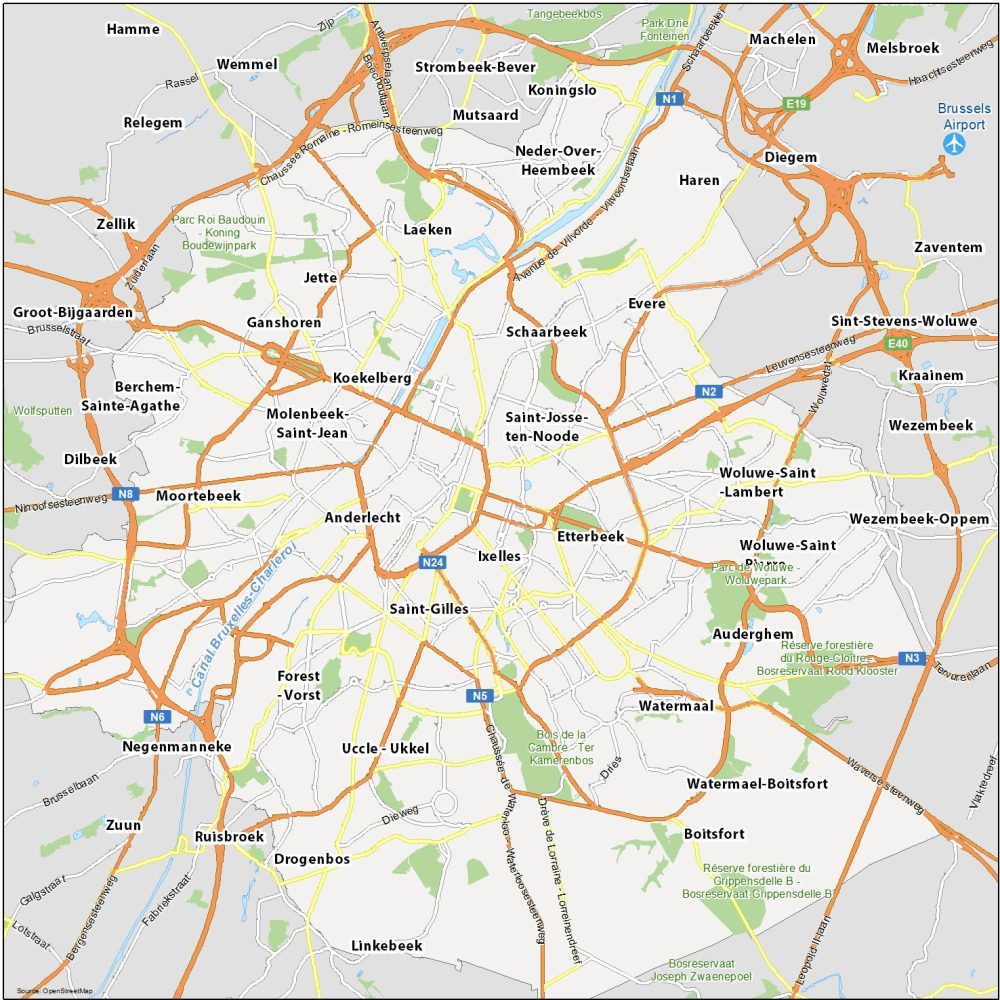 Airports: Brussels Airport
Water Features: Canal Bruxelles-Charleroi
Parks: Bois de la Cambre, Parc de Woluwe, Parc Roi Baudouin, Park Drie Fonteinen
Communities: Saint-Josse Ten-Noode, Koekelberg, Molenbeek Saint-Jean, Anderlecht, Ixelles, Saint-Gilles, Etterbeek, Schaarbeek, Evere, Haren, Neder-Over Heembeek, Mutsaard, Laeken, Jette, Ganshoren, Ganshoren, Moortebeek, Forest-Vorst, Uccle, Watermaal, Auderghem, Woluwe-Saint-Lambert, Boitsfort, Drogenbos
References