Budapest Map, Hungary
Welcome to the historic city and the capital of Hungary, Budapest!
Known as the "Pearl of the Danube", Budapest is a metropolis that blends a rich history, and breathtaking architecture with its strengths in commerce and technology.
This Budapest map collection is your guide to exploring the city's many wonders. Download our maps today.
Jump To: Interactive Map | Printable Road Map | 10 Things to Do | Reference Map
Budapest map collection
Interactive Map of Budapest
This interactive map will help you navigate the city's diverse streets, discover its exciting neighborhoods, and make the most of your time in one of Europe's most captivating cities. You'll find everything from its quaint neighborhoods to bustling markets, and scenic viewpoints. You can also find your way to popular destinations like the Chain Bridge, Heroes Square, and St. Stephen's Basilica.
Budapest Road Map
This Budapest road map is your guide to navigating the city's streets, highways, and byways. In a single convenient map, you'll find highway numbers and road names for busy streets in the city. So get behind the wheel, or hop on a bike or scooter, and get ready to discover Budapest's unique natural beauty from the road.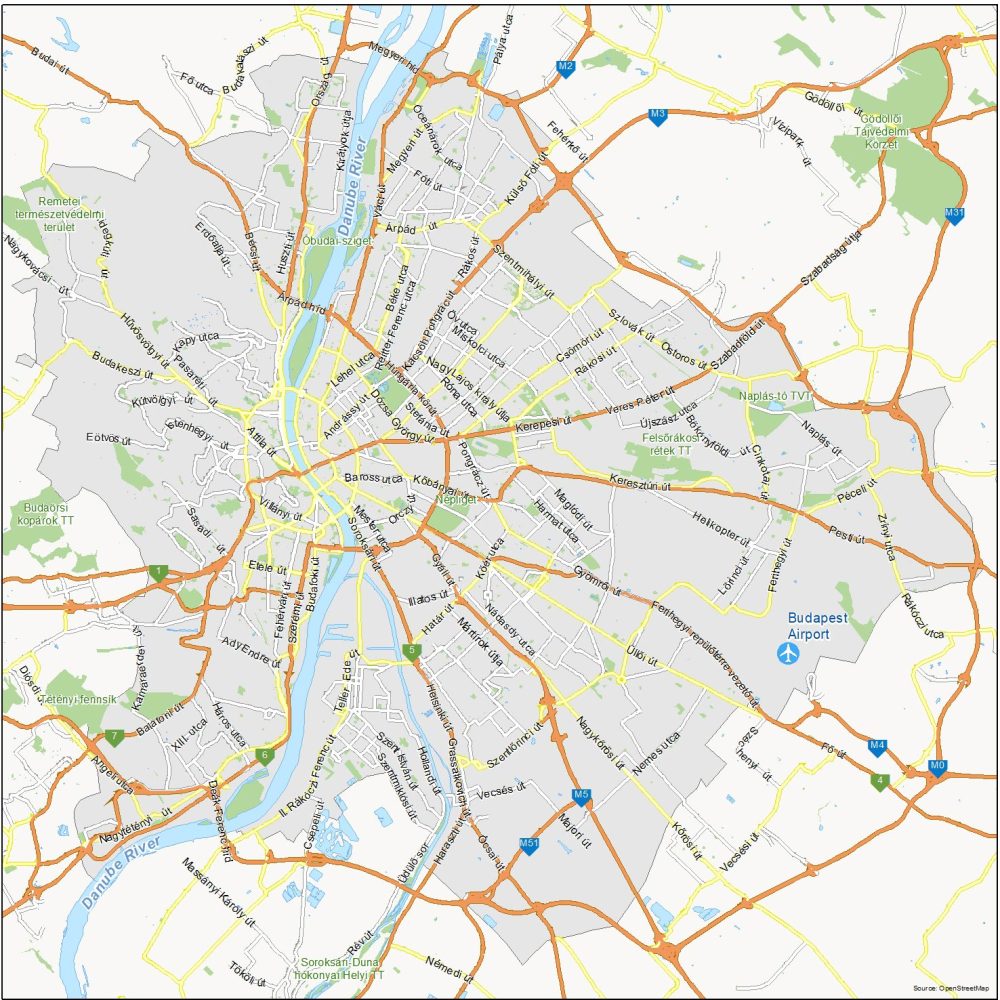 Highways: 1, 4, 5, 6, 7, M0, M2, M3, M4, M5, M31, M51
Major Roads: Kerepesi Út, Ferihegyi Repülőtérre Vezető Út, Veres Péter Út, Kacsóh Pongrác Út, Gyáli Út, Szerémi Út, Bécsi Út, Nagytétényi Út, Helsinki Út, Szabadföld Út, Budafoki Út, Soroksári Út, Ócsai Út, Etele Út
10 Things To Do in Budapest
From its iconic landmarks like the Parliament Building and Buda Castle to its hidden gems like the Fisherman's Bastion and Shoes on the Danube Bank, this map shows you everything you can do in Budapest.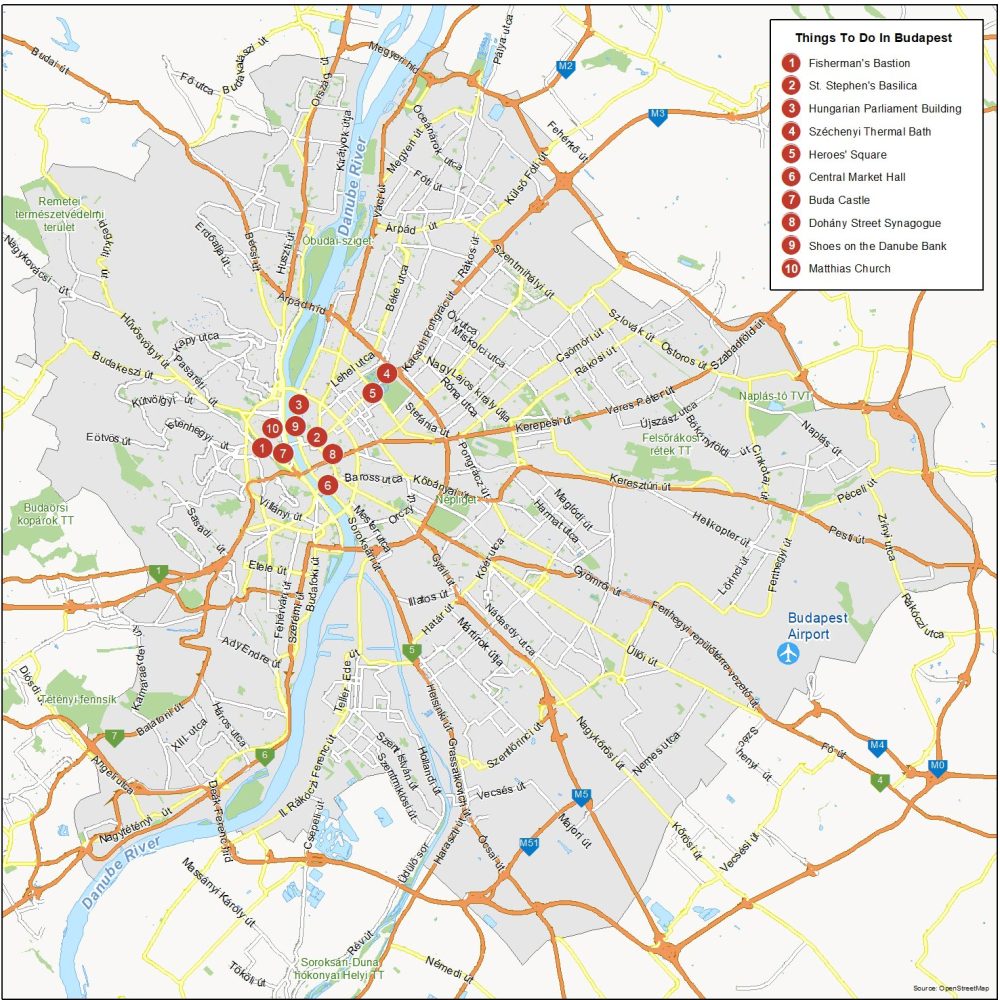 Budapest is the largest city and capital of Hungary. Here are the top 10 attractions that we recommend checking out in Budapest.
Fisherman's Bastion
St. Stephen's Basilica
Hungarian Parliament Building
Széchenyi Thermal Bath
Heroes Square
Central Market Hall
Buda Castle
Dohány Street Synagogue
Shoes on the Danube Bank
Matthias Church
Budapest Reference Map
Do you need a map of the districts of Budapest? With its clear and detailed layout, this map will help you plan your routes, discover new places, and avoid getting lost. So grab our map and get ready to explore Budapest's unique blend of old-world charm and modern energy!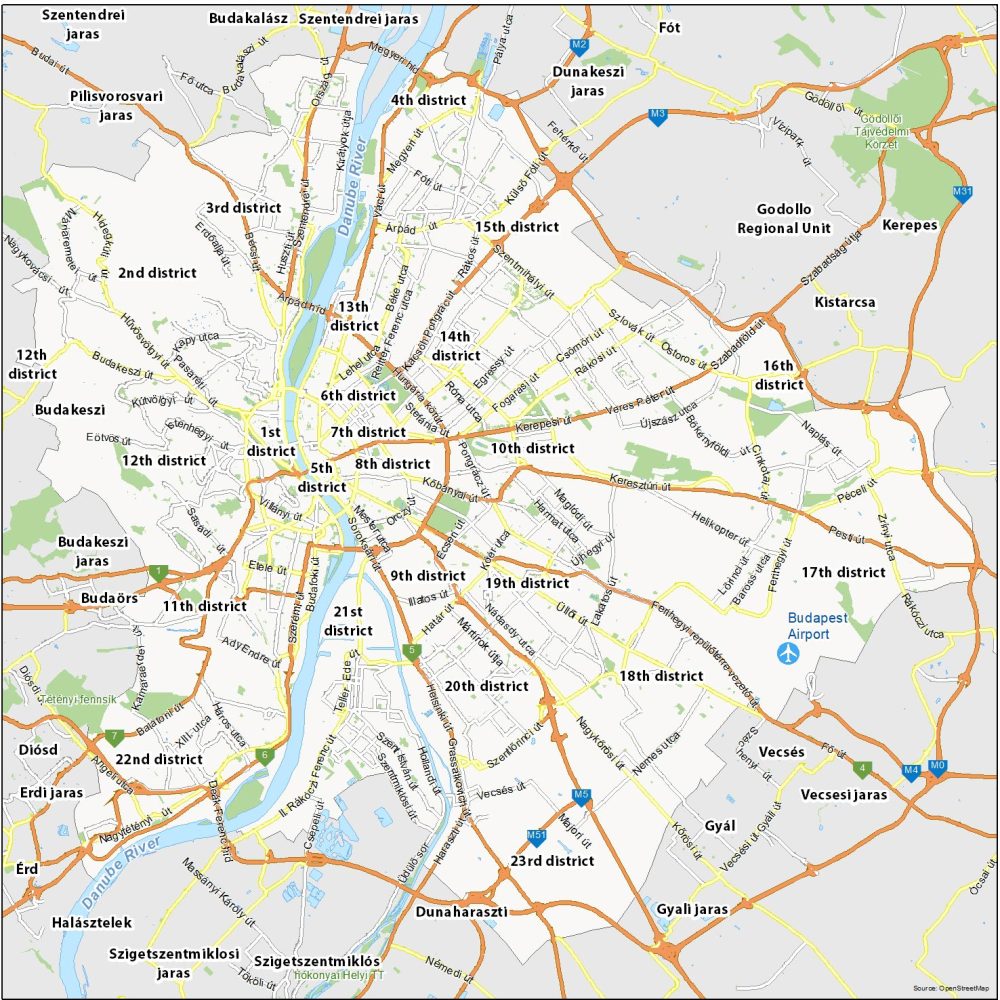 Airports: Budapest Airport
Rivers: Danube River
Communities: Budakeszi, Kerepes, Kistarcsa, Vecsés, Vecsesi jaras, Gyali jaras, Gyál, Dunaharaszti, Szigetszentmiklós, Halásztelek, Szigetszentmiklosi jaras, Diósd, Erdi jaras, Budaörs, Pilisvorosvari jaras, Szentendrei jaras, Szentendrei jaras, Dunakeszi jaras