Download
This map of Hungary contains major cities, rivers, and highways. It also features a satellite and elevation map. Each map shows Hungary's unique terrain from the flat Great Hungarian Plains in the southeast to the Matra Hills in the north.
You are free to use our Hungary map for educational and commercial uses. Attribution is required. How to attribute?
About the map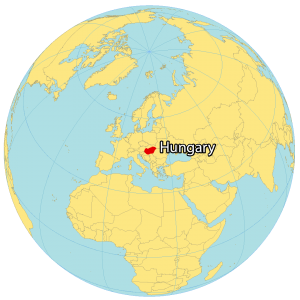 Hungary is a landlocked country located in central Europe. It borders seven other European countries including Ukraine to the northeast, Romania to the east, Serbia to the south, Croatia and Slovenia to the southwest, Austria to the west, and Slovakia to the north.
Budapest is the capital and most populous city in Hungary with the Danube River cutting through it from north to east. The country is known for its folk art, architecture, spas, cuisine, festivals, and the Great Hungarian Plains.
Hungary has a varied landscape, with the Great Plains in the east, the Transdanubian Mountains in the west, and the North Hungarian Mountains in the north. The Danube River runs through the country, and there are also several large lakes, including Lake Balaton, the largest lake in Central Europe.

Hungary in Google Maps
IMAGERY
Hungary Satellite Map
One of Hungary's most notable water bodies is the 77 km-long freshwater Lake Balaton. This enormous freshwater lake is the largest in Central Europe with an area of 231 square miles. Altogether, there are more than 1,000 lakes in Hungary.
The longest rivers in Hungary include the Danube, Tisa, Mureș, Drava, and Mur. Forests blanket approximately 22.5% of Hungary with approximately 1.7 million hectares of forest. Because of the vast amount of plains and rich soils, agricultural land covers about 58% of its area.
HILLSHADE
Hungary Elevation Map
Although Hungary is mostly flat, the country has a diverse topography. For example, rolling plains and the Matra Hills occupy the northern region of Hungary. At 1,014 meters (3,327 ft) in height, Hungary's highest point is the mountain peak known as Kekes in the Mátra range.
Whereas the terrain in Hungary is mostly flat in the southeast with the Great Hungarian Plains dominating the landscape. Hungary occupies an area of 93,030 square kilometers (35,920 sq mi), which is almost identical in size to Portugal.