Guam Map – Cities and Roads
You are free to use our map of Guam for educational and commercial uses. Attribution is required. How to attribute?
About the map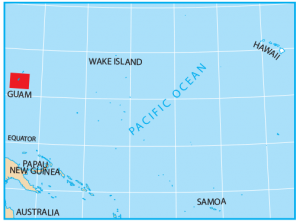 This Guam map shows it all. It displays cities, towns, roads, lakes, rivers, capes, and mountain peaks. Similar to Puerto Rico, Guam is an island territory of the United States. It's located in Micronesia in the Western Pacific Ocean near the Philippines Sea.
The island is split into two distinct geographic regions. In the north, a limestone plateau is where the majority of the population lives in Guam. The southern region consists of a rugged volcanic highland, where you can find its highest peak, Mount Lamlam. Overall, Guam occupies an area of 544 square kilometers.
Guam has a larger military presence as about ¼ of the territory is owned by the US Navy and Air Force. Previously, the island was occupied by the Spanish for about 300 years. The Chamorro people are the indigenous people from Guam with their own language and set of customs still recognized today.
Guam capital
Hagåtña (Agana)
Major cities and towns
Talofofo
Inarajan
Merizo
Umatac
Agat Santa Rita
Yona
Apra Heights
Piti
Asan
Sinajana
Agana Heights
Ordot
Chalan
Pago
Mangilao
Barrigada
Tamuning
Mongmong
Maite
Yigo
Dededo
Oceanview
Lockwood Terrace
Astumbo
Lupog
Agafo Gumas
Lakes, Rivers, and Reservoirs
Pacific Ocean
Philippine Sea
Fena Valley Reservoir
Ylig River
Agat Bay
Tumon Bay
Pago Bay
Cocos Lagoon
Ugum River
Talafofo River
Apra Harbor
Pago River
Points, peaks, and islands
Cocos Island
Aga Point
Facpi Pt
Orote Pt
Oca Pt
Pagat Point
Pati Pt
Ritidian Pt
Cabras Island
Mt Lamlam
Mt Bolanos
Mt Sasalaguan
Mt Alutom
Mt Machanao
Mt Santa Rosa
References