Lisbon Map
Located on the western coast of Europe, Lisbon is a dynamic city with a rich cultural heritage and modern amenities.
In our Lisbon Map collection, you'll find a road map, things to do list, and a reference map.
Start exploring Lisbon, Portugal with our set of maps.
Jump To: Interactive Map | Printable Road Map | 10 Things to Do | Reference Map
Lisbon map collection
Interactive Map of Lisbon
As the capital of Portugal, Lisbon is a hub for commerce, culture, and tourism, offering visitors a unique blend of old-world heritage and contemporary style. This interactive map has everything you need to find the latest information. It includes the most detailed roads and points of interest so you know the best things to do.
Lisbon Road Map
With its winding streets, colorful neighborhoods, and stunning architecture, Lisbon is a city that is best explored by car or on foot. Download our road map of Lisbon to see all the most important routes you can travel on. Never get lost again and know where you have to go in the capital city of Portugal.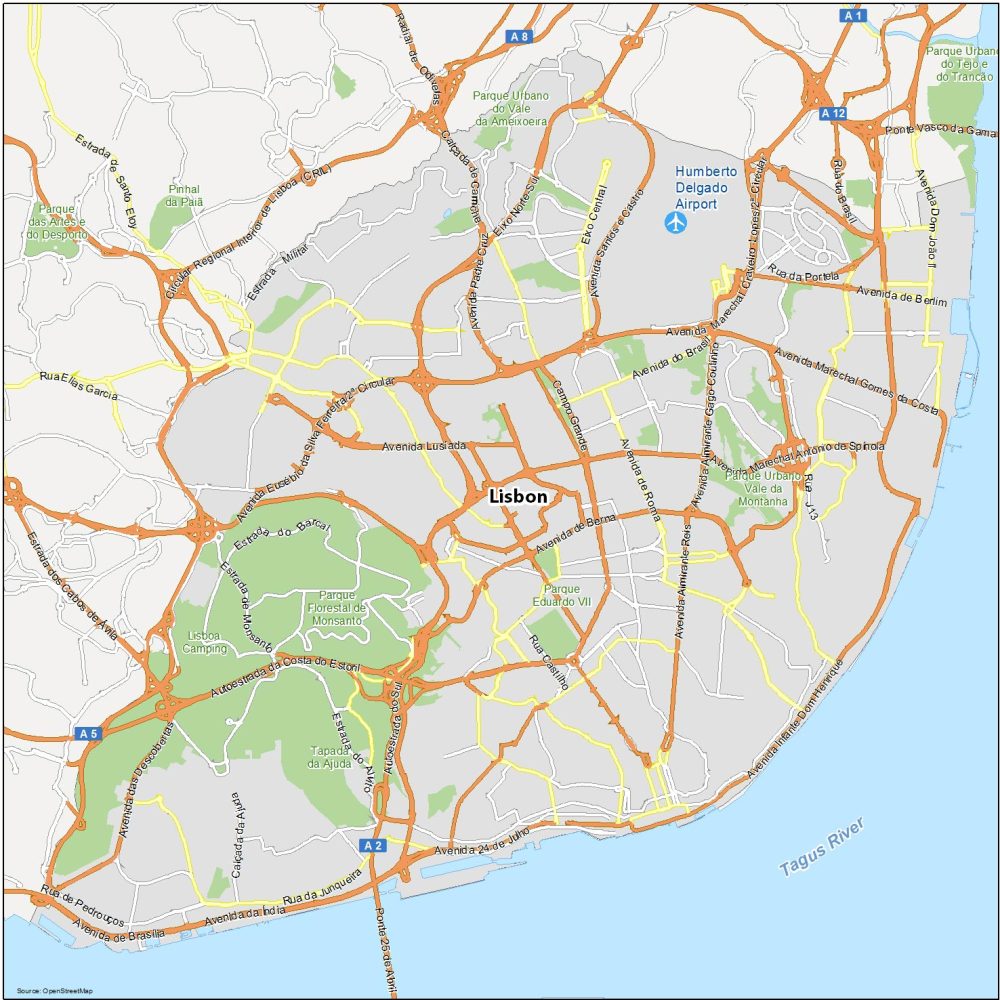 Highways: A1, A2, A5, A8, A12
Major Roads: Avenida Eusébi o da Silva Ferreira, Avenida de Berna, Avenida Lusíada, Autoestrada da Costa do Estoril, Estrada dos Cabos de Ávila, Marechal António de Spínola, Eixo Norte-Sul, Radial de Odivelas, Avenida de Berlim, Rua do Brasil, Avenida Marechal Gomes da Costa, Avenida de Roma, Rua Castilh
10 Things To Do in Lisbon
This map will help you navigate Lisbon's many sights and sounds, from the iconic landmarks to the essential attractions that make this city so special. For instance, it displays everything from the Belém Tower to Praça do Comércio. Use this attraction map as your guide to the city.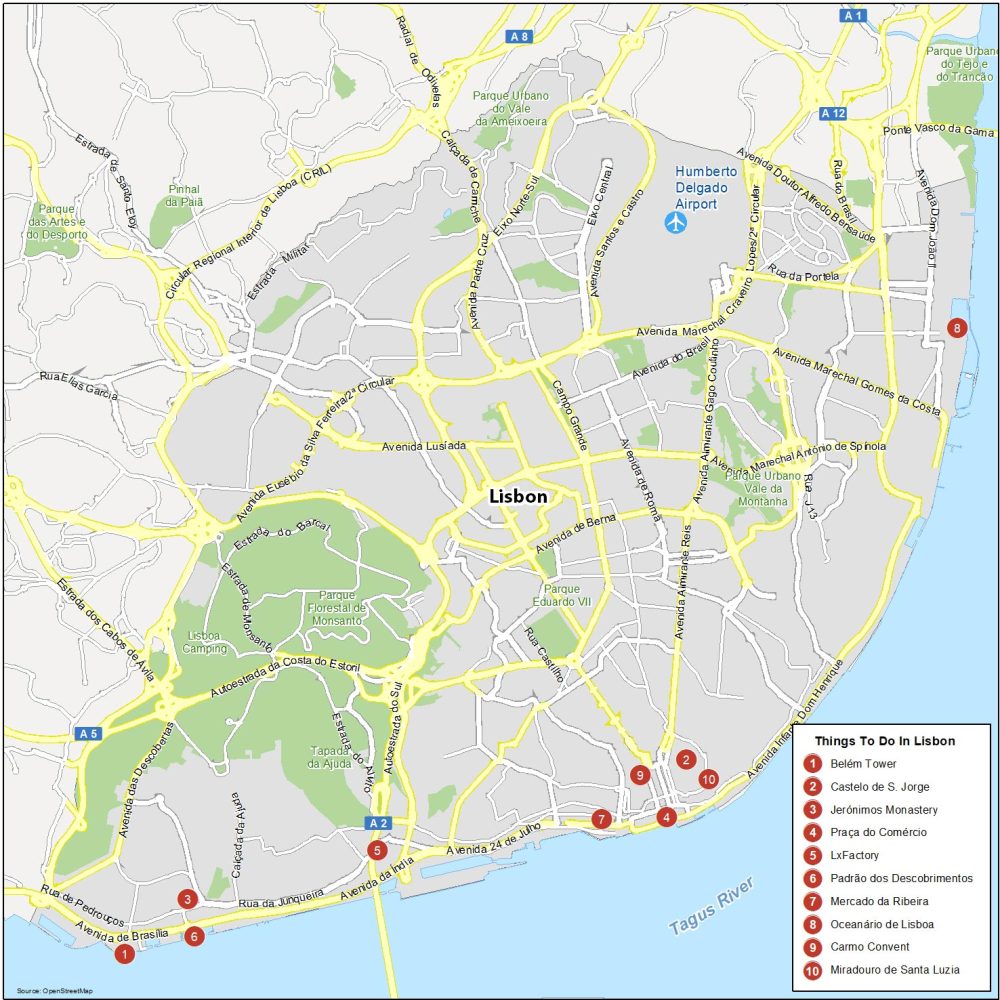 Lisbon is the most populous and capital city of Portugal. Here are the top 10 things to do that we recommend doing.
Belém Tower
Castelo de S. Jorge
Jerónimos Monastery
Praça do Comércio
LxFactory
Padrão dos Descobrimentos
Mercado da Ribeira
Oceanário de Lisboa
Carmo Convent
Miradouro de Santa Luzia
Lisbon Reference Map
Our reference map features neighborhoods and nearby populated places. You'll also be able to view waterways, parks, and the entire transportation network. So whether you're here for a short visit or a long stay, we hope this map will help you make the most of your time in this beautiful city.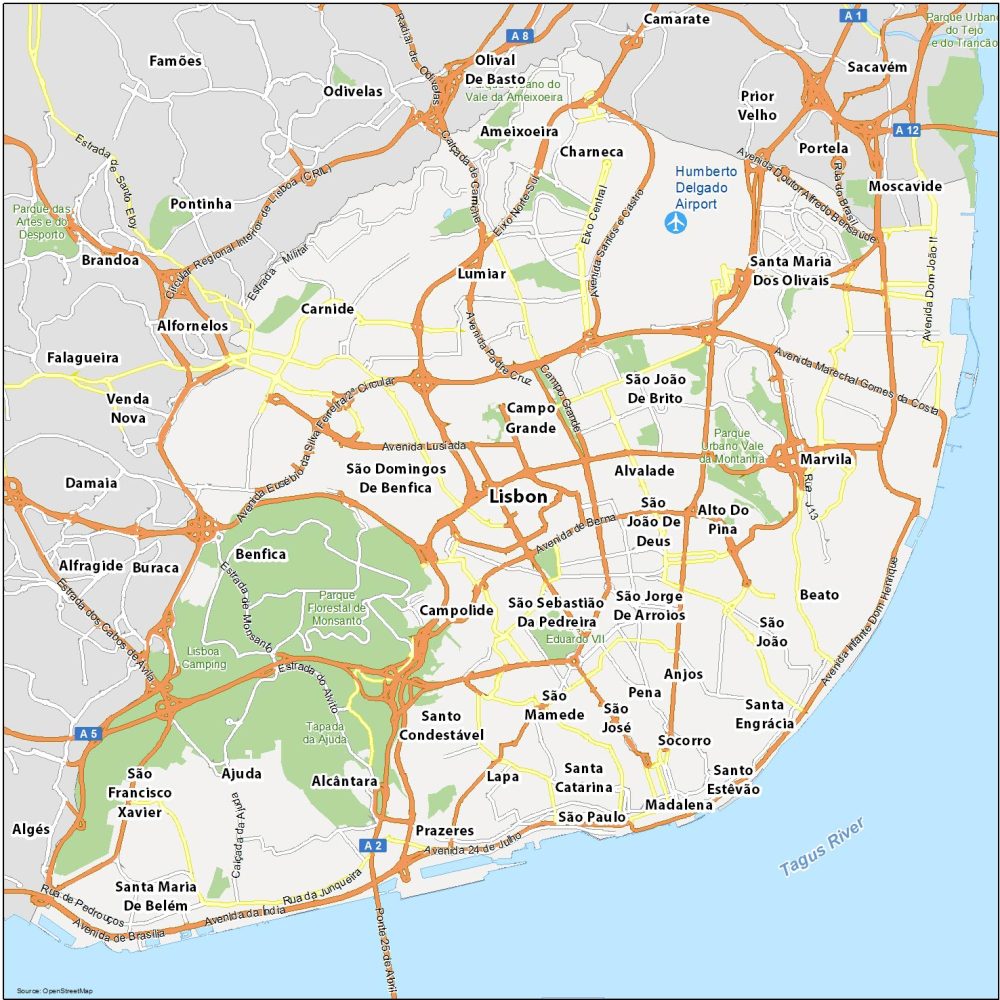 Airports: Humberto Delgado Airport
Parks: Parque Florestal de Monsanto, Parque Urbano Vale da Montanha, Tapada da Ajuda, Parque das Artes e do Desporto
Communities: São Domingos De Benfica, São João De Brito, Alvalade, São Jorge De Arroios, Santo Condestável, Carnide, Alfornelos, Santa Maria Dos Olivais, Beato, São João, Santo Estêvão, Madalena, Portela, Sacavém, Prior Velho, Olival De Basto, São Sebastião Da Pedreira, Algés, Santa Maria De Belém, São Francisco Xavier