New Hampshire map collection
You are free to use our map of New Hampshire for educational and commercial uses. Attribution is required. How to attribute?
About the map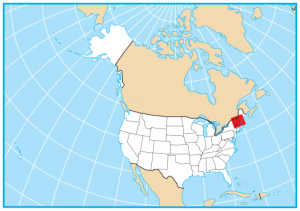 A New Hampshire State Map that displays major landmarks and places. For example, it includes national forests, national wildlife refuges, and other federal lands.
Take in the fall foliage, explore the caves of New Hampshire's rugged landscape, and enjoy the culture of the state's historic cities. Overall, New Hampshire is a photographer's dream come true.
New Hampshire has one national forest, which spans a considerable size. White Mountain National Forest is 750,852 acres in area within the White Mountains' north-central part of New Hampshire. Furthermore, New Hampshire has 3 national wildlife refuges including Lake Umbagog, Great Bay, and Wapack National Wildlife Refuge. Each one is designed to preserve fish, wildlife, and plants.
Federal lands
National Forests (NF)
White Mountain National Forest
National Wildlife Refuge (NWR)
Lake Umbagog National Wildlife Refuge
Great Bay National Wildlife Refuge
Wapack National Wildlife Refuge
New Hampshire lakes and rivers
Lakes and reservoirs
Hopkinton Lake
Rivers and streams
Connecticut River
Lake Winnipesaukee
Merrimack River
Populated places
Manchester
Concord
Nashua
Portsmouth
Lebanon
Laconia
Littleton
Berlin
Exeter Keene
Claremont
Hanover
Franklin
Conway
Lancaster
State capital
Concord
Download our satellite map of the United States. It's free to use for any purpose. Or choose from any of the 50 states for more satellite maps of the USA.
References
US State Maps
Select a state to view its map