Oslo Map
Looking for a map of Oslo, Norway? We have a set of 3 maps that you can download today.
Oslo, the capital city of Norway, is situated on the southeastern coast of the country, surrounded by hills, forests, and fjords.
But before we show you our maps, let's take a look at an interactive map from Google.
Jump To: Interactive Map | Printable Road Map | 10 Things to Do | Reference Map
Oslo map collection
Interactive Map of Oslo
Oslo, Norway is known for its beautiful waterfront, numerous parks, museums, and historic buildings. This interactive map has it all. The city center (Sentrum) is located in the heart of Oslo and is home to many of the city's major tourist attractions. From its numerous parks and green spaces (including Frogner Park) to its famous Vigeland Sculpture Park and panoramic views at Ekeberg Park, you'll get the latest information about Oslo.
Oslo Road Map
Transportation is an essential aspect of life in Oslo, and the city boasts an extensive public transportation system, including buses, trams, and a metro. This Oslo road map serves as a visual of the transportation network throughout Norway and beyond. You'll find motorways and major routes with street names and highway numbers.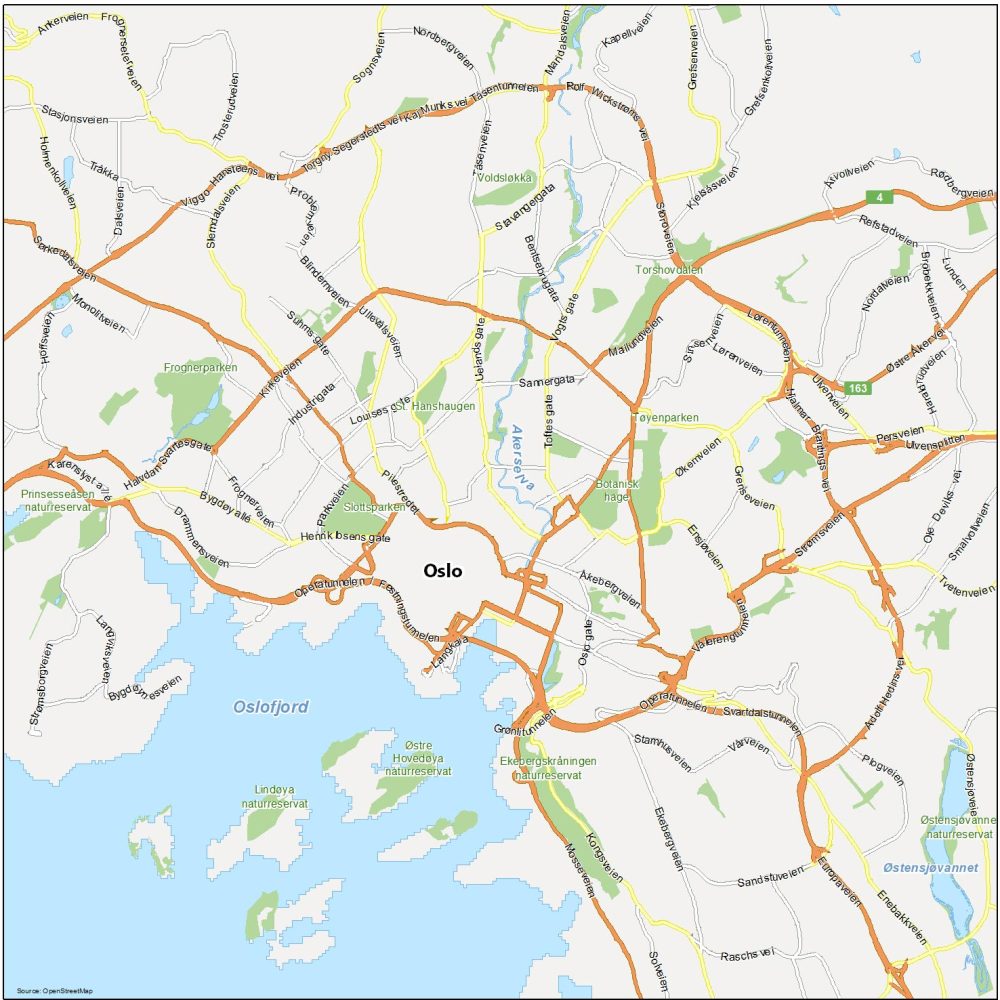 Highways: 4, 163
Major Roads: Operatunnelen, Mailundveien, Kirkeveien, Sørkedalsveien, Karenslystallé, Lørentunnelen, Strømsveien, Svartdalstunnelen, Adolf Hedins vei, Sannergata, Uelands gate, Stavangergata, Ensjøveien, Økernveien, Grenseveien, Ensjøveien, Sognsveien, Industrigata, Slemdalsveien, Mosseveien, Europaveien, Enebakkveien
10 Things To Do in Oslo
This map shows you the top things to do in Oslo. One of the most notable landmarks on an Oslo map is the Oslo Fjord, which cuts through the city center and provides stunning views of the water and surrounding hills.
Other notable landmarks on our Oslo map include the Royal Palace, which is located in the western part of the city center, and the Akershus Fortress, a medieval castle located on the waterfront.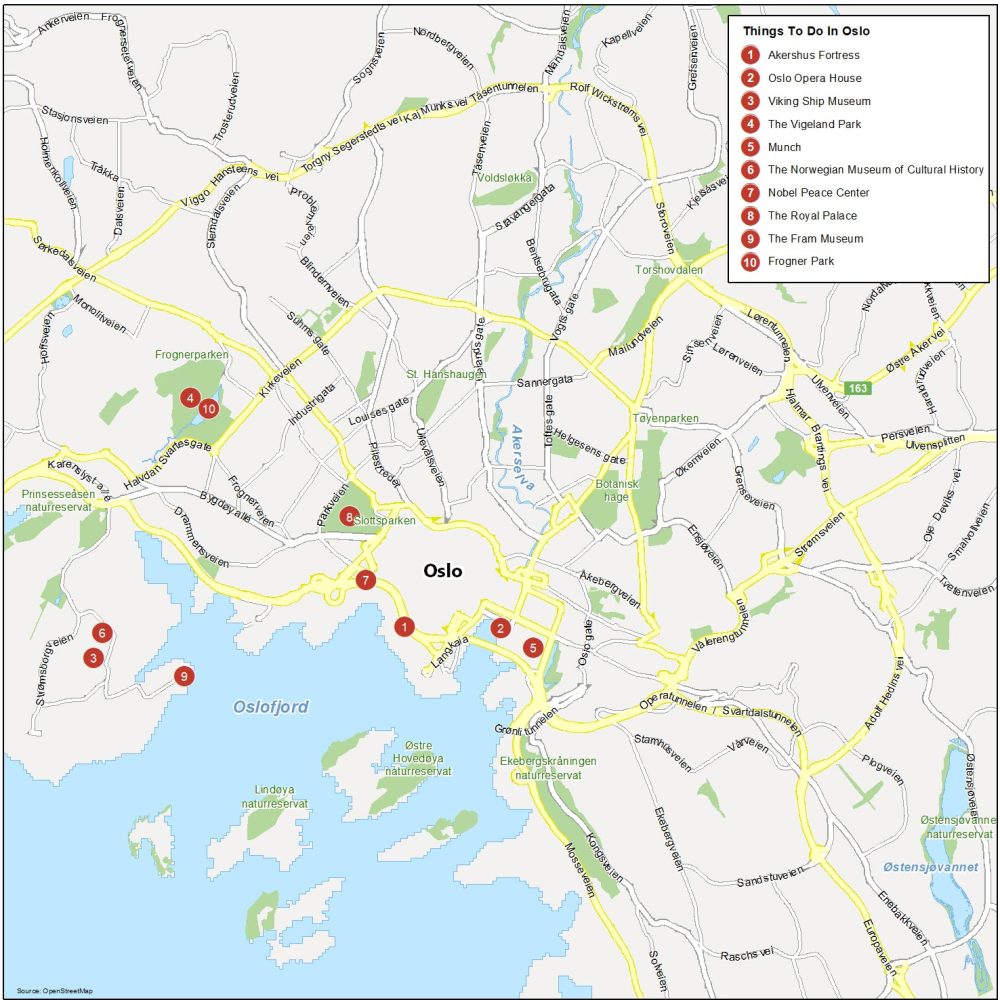 Oslo is the most populous and capital city of Norway. Here are the top 10 things to do that we recommend doing.
Akershus Fortress
Oslo Opera House
Viking Ship Museum
The Vigeland Park
Holmenkollen Ski Museum
The Norwegian Museum of Cultural History
Nobel Peace Center
The Royal Palace
The Fram Museum
Frogner Park
Oslo Reference Map
Our Oslo reference map showcases the suburbs and nearby towns of Oslo, Norway. You'll also find major waterways, parks, and highways so you can get more familiar with Oslo, nicknamed the "Tiger City".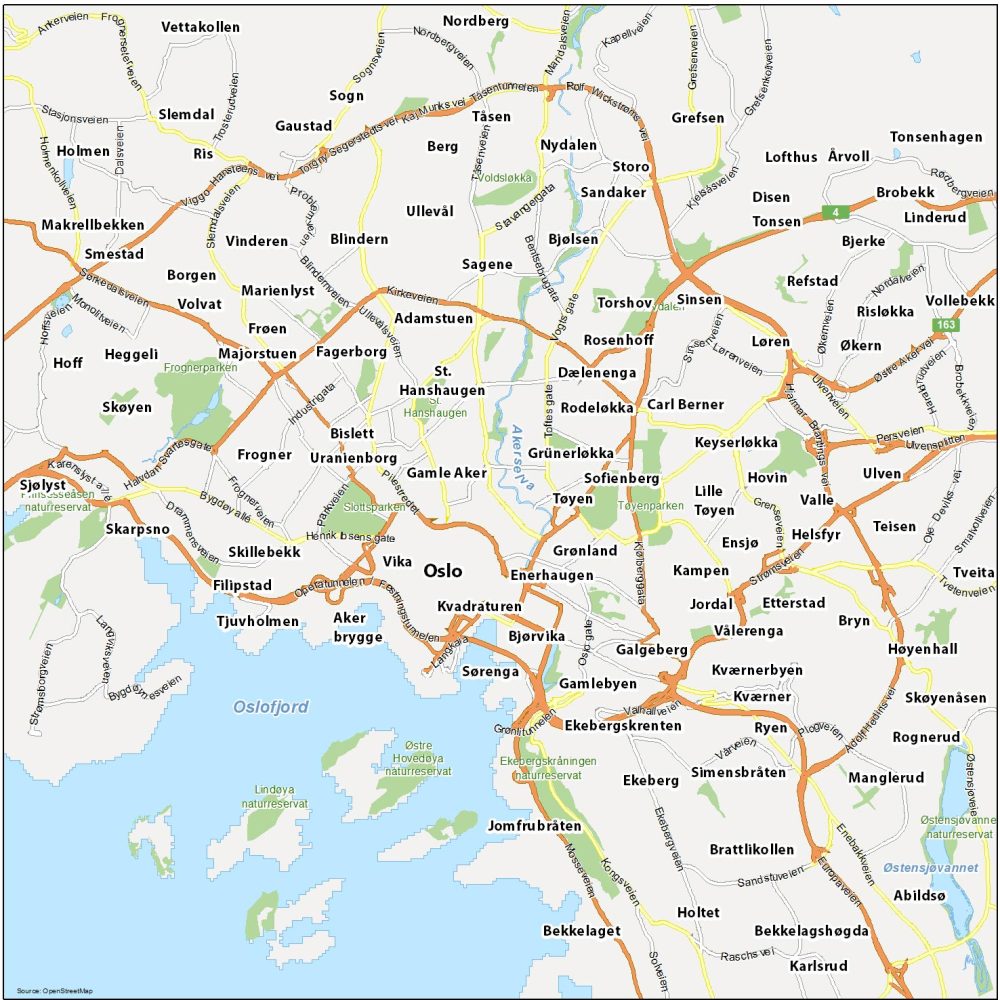 Water Features: Oslofjord Inlet, Østensjøvannet Lake, Akerselva River
Parks: Slottsparken, Tøyenparken, Frognerparken, Voldsløkka, Lindøya Naturreservat, Østre Hovedøya Naturreservat
Communities: Kvadraturen, Enerhaugen, Bjørvika, Grønland, Tøyen, Vika, Gamle Aker, Uranienborg, Frogner, Skillebekk, Filipstad, Tjuvholmen, Aker Brygge, Bislett, St. Hanshaugen, Dælenenga, Adamstuen, Fagerborg, Skøyen, Heggeli, Marienlyst, Blindern, Sinsen, Etterstad, Sørenga, Jomfrubråten, Høyenhall, Bekkelagshøgda, Nydalen, Brobekk