Paris, France Map
Paris is a city that rewards those who take the time to explore it in depth, and a good map is the key to unlocking its many secrets.
Our Paris map collection features a highway/road map, a list of things to do, and a reference map.
From the Eiffel Tower to the Louvre Museum, Paris is a city that never fails to leave a lasting impression on those who visit.
Jump To: Interactive Map | Printable Road Map | 10 Things to Do | Reference Map
Paris map collection
Interactive Map of Paris
Paris is a city of immense beauty, culture, and history. Known as the City of Light, it has long been a center of artistic and intellectual life, attracting visitors from all over the world. Whether you're interested in art, history, or simply soaking up the atmosphere, this interactive map can help you plan your itinerary and find that Michelin restaurant that you want to visit.
Paris Road Map
Paris is undoubtedly one of the most beautiful and captivating cities in the world, attracting millions of visitors every year. However, with its winding roads and numerous attractions, it can be challenging to navigate for first-time visitors. This is where a Paris road map comes in handy. Our Paris road map contains motorways, major routes, notable street names, and highway numbers.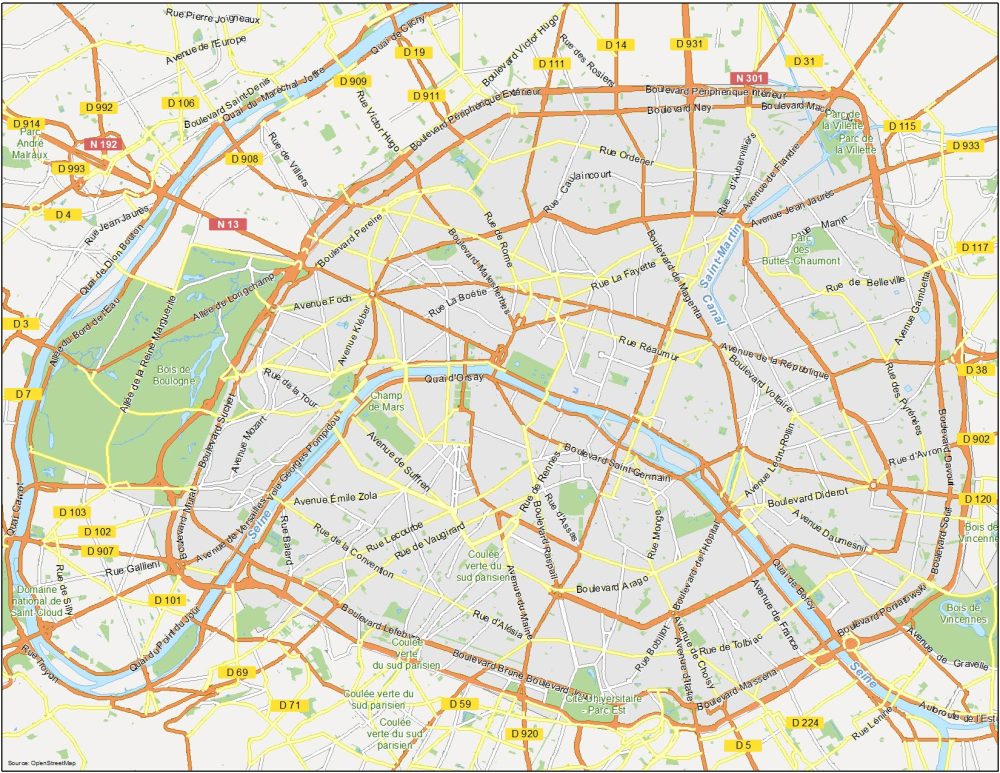 Highways: D 3, D 4, D 5, D 7, D 14, D 19, D 31, D 38, D 59, D 69, D 71, D 101, D 102, D 103, D 106, D 111, D 115, D 117, D 120, D 224, N 13, N 192, N 301
Major Roads: Boulevard Périphérique Extérieur, Boulevard Périphérique Intérieur, Rue La Boétie, Rue La Fayette, Avenue de la République, Boulevard Voltaire, Boulevard Saint-Germain, Quai d'Orsay, Rue de Rennes, Avenue Foch, Alléede Longchamp, Rue Lecourbe, Rue de Vaugirard, Rue de la Convention, Boulevard de l'Hôpital, Boulevard Diderot, Boulevard Brune, Avenue de Versailles, Rue de Rome
10 Things To Do in Paris
From the charming cafés to the picturesque streets, this map allows you to find your way around the city, and discover top attractions that you may not have otherwise found. Our list of things to do starts at the Eiffel Tower and ends at the arch bridge known as Pont Alexandre III. With this Paris map in hand, you can confidently explore this beautiful city and experience the city like never before.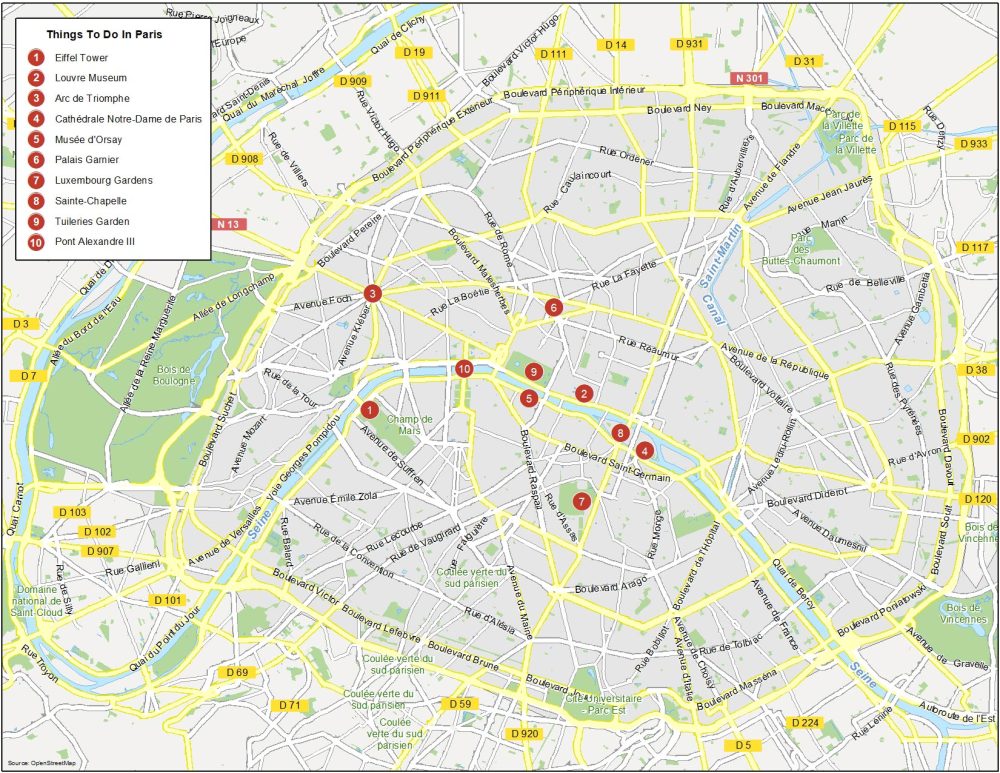 Paris is the capital city and the most populous city in France. Here are the top 10 things to do that we recommend seeing.
Eiffel Tower
Louvre Museum
Arc de Triomphe
Cathédrale Notre-Dame de Paris
Musée d'Orsay
Palais Garnier
Luxembourg Gardens
Sainte-Chapelle
Tuileries Garden
Pont Alexandre III
Paris Reference Map
Our well-designed map of Paris can make exploring the city more manageable. It provides a clear overview of the streets, neighborhoods, and key attractions. With its winding streets, grand boulevards, and sprawling parks, make sure to download and print it out so you never get lost.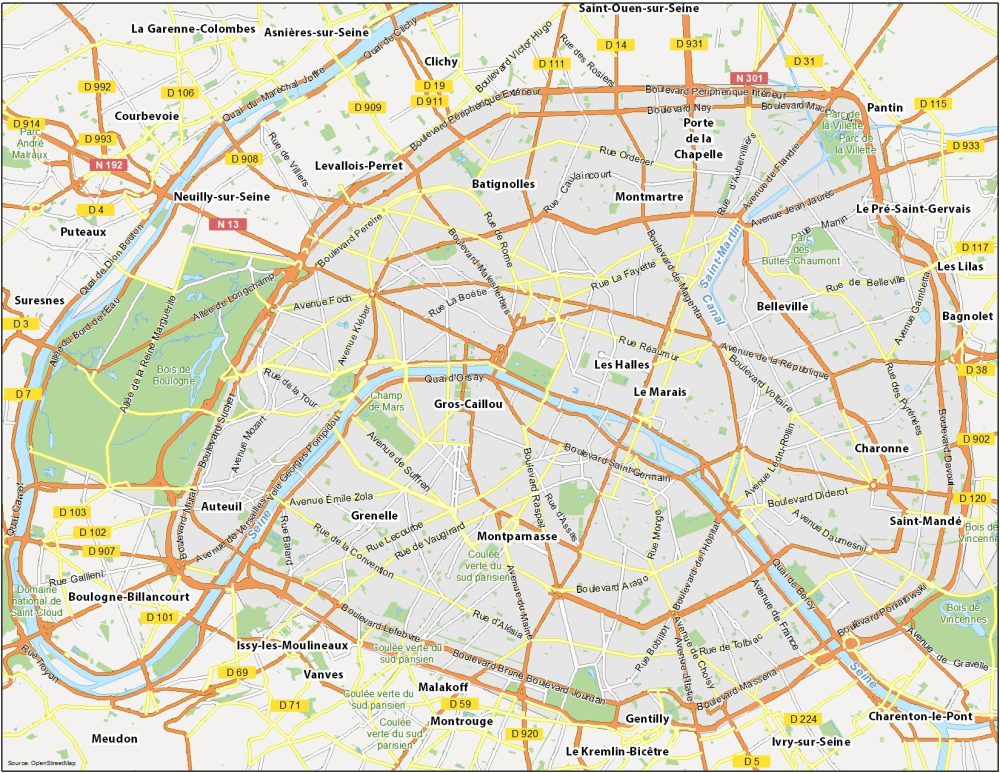 Water Features: Seine River, Canal Saint-Martin
Parks: Bois de Boulogne, Bois de Vincennes, Parc des Buttes-Chaumont, Parc de la Villette
Communities: Les Halles, Le Marais, Gros-Caillou, Montparnasse, Batignolles, Montmartre, Porte de la Chapelle, Batignolles, Charonne, Saint-Mandé, Malakoff, Gentilly, Issy-les-Moulineaux, Auteuil, Grenelle, Courbevoie, Asnières-sur-Seine, Boulogne-Billancourt, Vanves, Puteaux, Suresnes