Map of France – Cities and Roads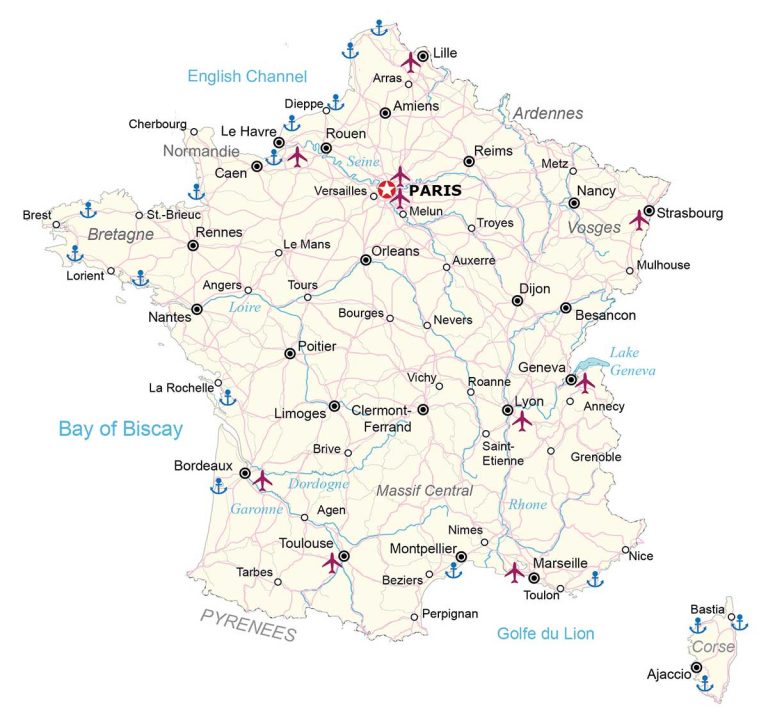 Download
This map of France displays some of its major cities and geographic features. We also feature a satellite and elevation map to uncover France's unique topography and highest peak.
You are free to use our map of France for educational and commercial uses. Attribution is required. How to attribute?
About the map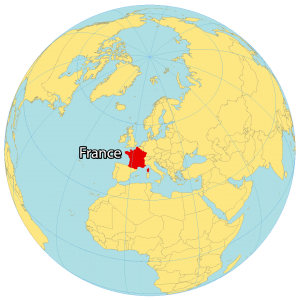 France is the largest country in Western Europe (followed by Spain) and is often considered the gateway to Europe. It's the most popular tourist destination in the world, which includes the Eiffel Tower in Paris.
It borders several European countries including Belgium, Germany, Luxembourg, Switzerland, Italy, and Spain. The United Kingdom is also accessible by France via the English Channel. France is also located in western Europe next to the Bay of Biscay, the English Channel, and the Mediterranean Sea.
The geography of France is quite varied, with different regions offering different landscapes and experiences. In the north, there are the rolling hills of the Picardy and Normandy regions, while in the south there are the sun-drenched beaches of the Cote d'Azur. Central France is home to the picturesque wine country of Burgundy and the majestic mountain range of the Alps to the east.

France in Google Maps
IMAGERY
France Satellite Map
Forests cover approximately 31% of France so this makes it the fourth-most forested country in the European Union, after Sweden, Finland, and Spain. Major rivers in France include the Seine, Rhone, Dordogne, Garonne, and Loire.
Lake Geneva (or Lac Leman) is the largest lake in France. But it shares a border with the neighboring country of Switzerland and contains about one-third of the shoreline in France. Another notable region in northwestern France is Normandy known for everything from its prehistoric sites up to its German occupation during the Second World War.
HILLSHADE
France Elevation Map
The terrain of France is mostly flat plains or gently rolling hills in the north and west. The remaining sections of France are mostly mountainous. For example, the Alps are situated in the east, and the Pyrenees mountain range is in the south.
Whereas the Ardennes are the remnants of a mountain range, similar to the Massif Central which is the Highland region in south-central France. Overall, the highest point in France is Mont Blanc at 4,810 meters in height, along its eastern border with Italy.
ADMINISTRATION
France Regions Map
There are eighteen regions in France, which are the first-level administrative unit in the country. Altogether, thirteen of the regions are a part of metropolitan France. Whereas five are regions within overseas territories including French Guiana, Guadeloupe, Réunion, Martinique, and Mayotte.
The main role of regions in France is to govern infrastructure spending, education, and public transit. Regions are subdivided into departments, followed by arrondissements and cantons.