Prague Map, Czech Republic

Prague Map
Prague is the capital and largest city of the Czech Republic, located in the heart of Central Europe.
It is known for its stunning architecture, rich history, and spirited cultural scene.
Our map of Prague can assist anyone visiting this beautiful city and finding what they're looking for.
Jump To: Interactive Map | Printable Road Map | 10 Things to Do | Reference Map
Prague map collection
Interactive Map of Prague
This interactive map of Prague will show the city's many districts and neighborhoods, including the Old Town, New Town, Lesser Town, and Castle District. Each of these areas has its unique character and attractions, making them well worth exploring. So before you head out to Prague, start with this interactive map to find everything you need to know.
Prague Road Map
Our road map of Prague will help you navigate your way around its many streets and highways. Prague, the capital of the Czech Republic, has an extensive network of roads that connect it to other parts of the country and beyond.
This road map shows the major highways and freeways that run through the city, including the E50 and E65 highways. These roads are essential for getting in and out of Prague and connecting it to other major cities in the Czech Republic, such as Brno, Plzen, and Ostrava.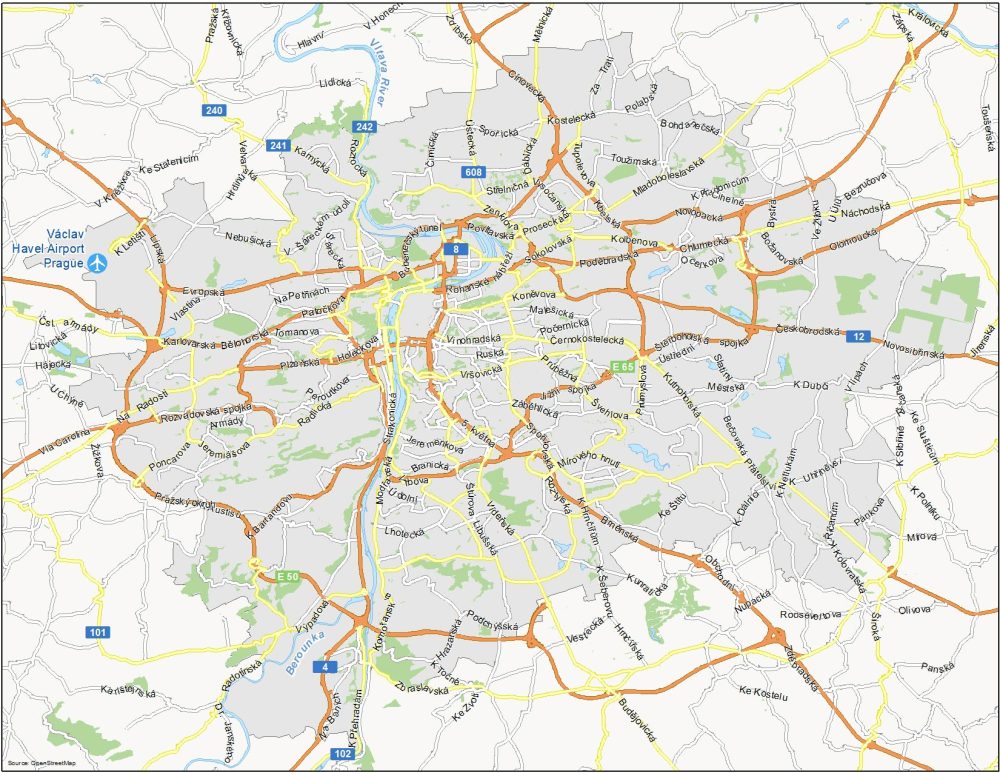 Highways: 4, 8, 12, 101, 102, 240, 241, 242, 608, E50, E65
Major Roads: Rohanské nábřeží, Povltavská, Poděbradská, Novopacká, Plzeňská, Rozvadovská spojka, Evropská, Brněnská, Strakonická, Kutnohorská, Vídeňská, Cínovecká, Švehlova, Kamýcká, Tupolevova
10 Things To Do in Prague
Our attractions map of Prague indicates the most important landmarks and attractions, such as the Charles Bridge, Prague Castle, and Old Town Square. These attractions are often located in the city's older, historic areas and can be difficult to navigate by car, so this map can be very helpful to get you there.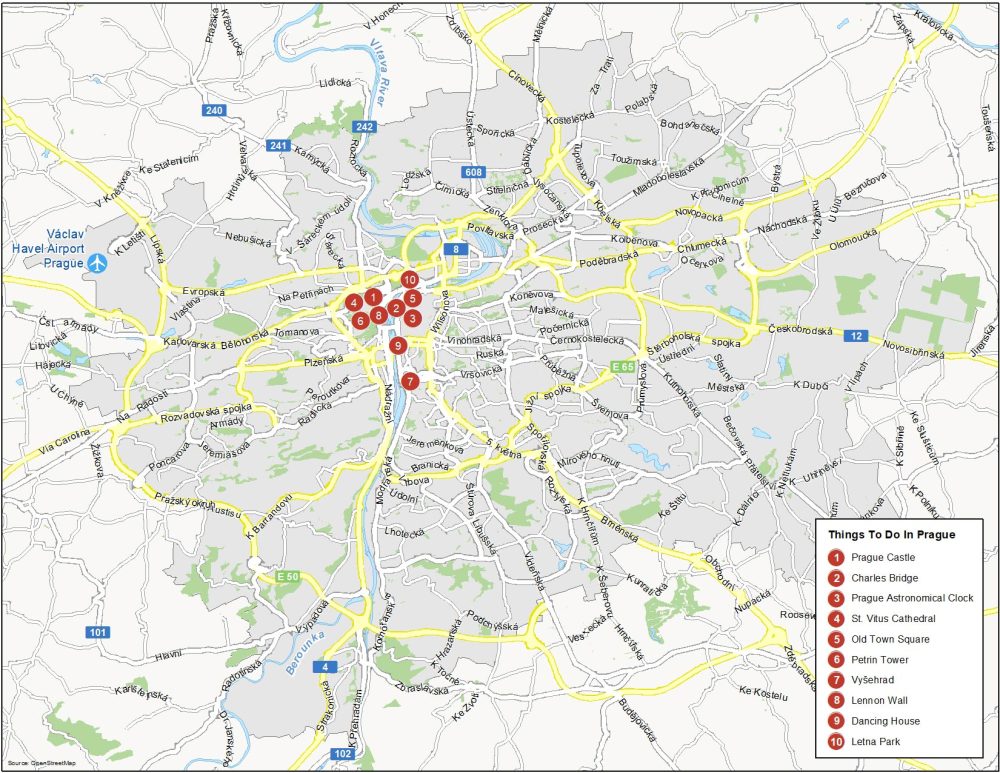 Prague is the most populous and capital city of the Czech Republic. Here are the top 10 things to do that we recommend seeing.
Prague Castle
Charles Bridge
Prague Astronomical Clock
St. Vitus Cathedral
Old Town Square
Petrin Tower
Vyšehrad
Lennon Wall
Dancing House
Letna Park
Prague Reference Map
Prague has an extensive public transportation system, and a map can show visitors how to navigate the different routes. In addition to these major motorways, this map of Prague will also show the location of important neighborhoods and surrounding areas. With this map of Prague, you'll be sure to make the most of your time in the city.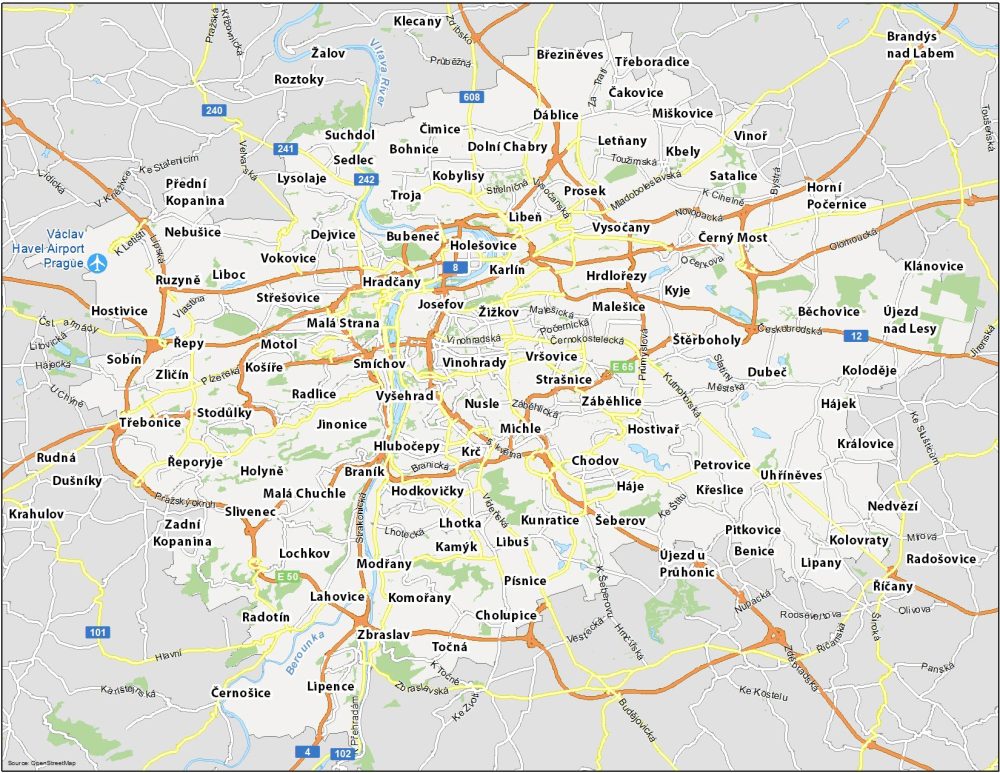 Airports: Václav Havel Airport Prague
Water Features: Vltava River, Berounka River
Communities: Vinohrady, Žižkov, Josefov, Karlín, Holešovice, Hradčany, Malá Strana, Smíchov, Vyšehrad, Jinonice, Radlice, Braník, Krč, Hodkovičky, Strašnice, Michle, Záběhlice, Hostivař, Kunratice, Lochkov, Stodůlky, Zličín, Ruzyně, Nebušice, Suchdol, Ďáblice, Prosek, Satalice, Štěrboholy, Běchovice, Pitkovice, Říčany