Reykjavik Map
Reykjavík might not be one of the largest cities in the world. But it's got a lot of character.
Our page provides you with an overview map of Reykjavik including its road network, attractions, and neighborhoods.
So if you plan on visiting the capital city of Iceland, then download and make use of our Iceland map.
Jump To: Interactive Map | Printable Road Map | 10 Things to Do | Reference Map
Reykjavik map collection
Interactive Map of Reykjavik
This interactive map of Reykjavik shows the city's major landmarks, neighborhoods, and transportation options. If you want to explore the city's cultural landmarks, try out some of its delicious cuisines, or just take in the amazing natural surroundings, this map of Reykjavik is an essential overview for any visitor.
Reykjavik Road Map
Reykjavik has a comprehensive public transportation system that includes buses and taxis. In this road map, you'll be able to find all the major highways and routes of the city. Download it today and keep it somewhere safe so you don't get lost.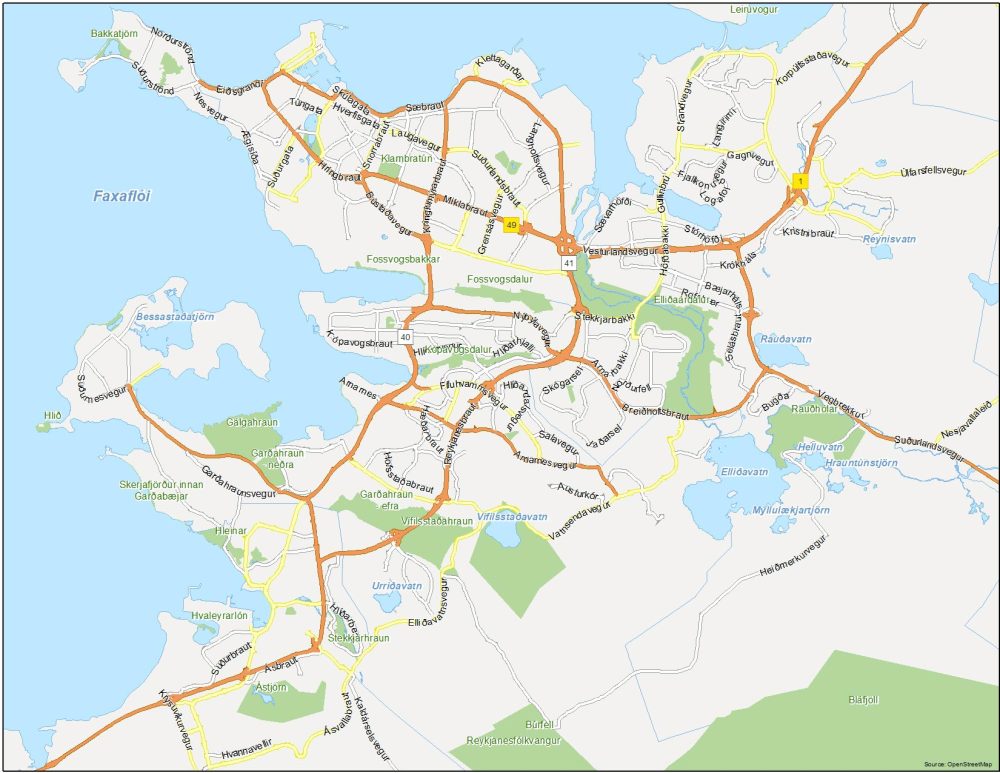 Highways: 1, 40, 41, 49
Major Roads: Miklabraut, Sæbraut, Reykjanesbraut, Arnarnesvegur, Elliðavatnsvegur, Hæðarbraut, Nesjavallaleið, Gullinbrú, Suðurlandsbraut, Suðurgata, Höfðabakki, Suðurströnd, Norðurströnd, Ægisíða, Úlfarsfellsvegur, Strandvegur, Víkurvegur, Langirimi
10 Things To Do in Reykjavik
This list of things to do points out the top 10 recommended sights in Iceland's capital city. Reykjavik harbor is definitely worth a look, with boats coming and going regularly to nearby islands and the ocean. It's also home to several popular tourist attractions, including the Harpa concert hall and the Sun Voyager sculpture.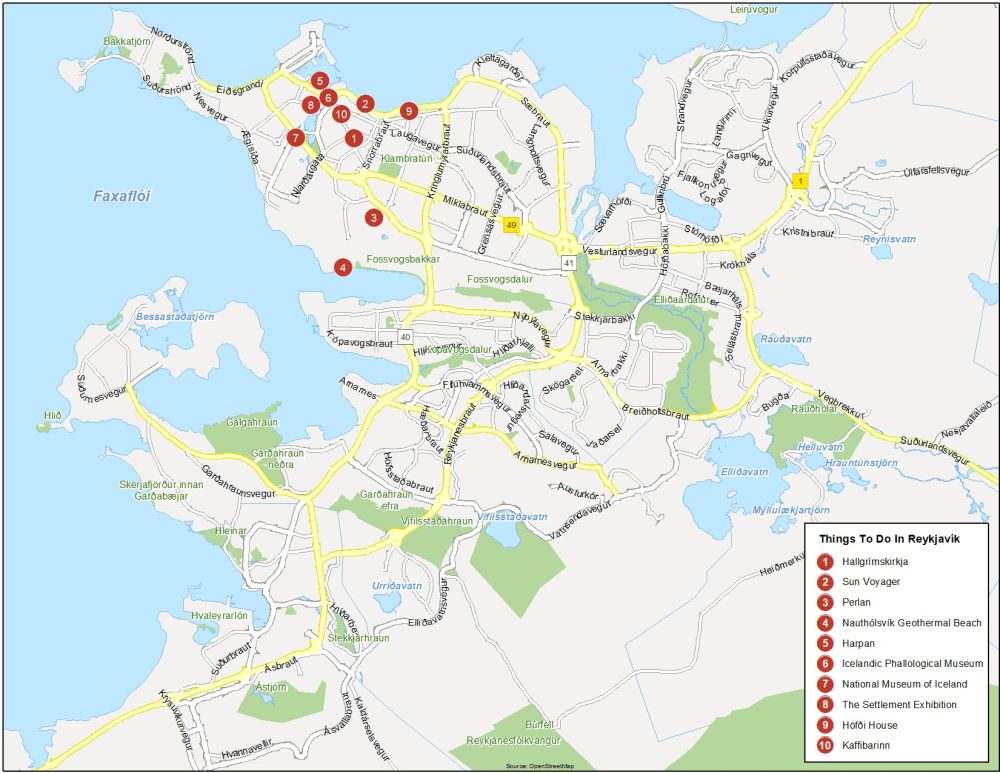 Reykjavik is the capital and largest city of Iceland, located on the southwestern coast of the country. Here are the top 10 things to do that we recommend doing.
Hallgrímskirkja
Sun Voyager
Perlan
Nauthólsvík Geothermal Beach
Harpan
Icelandic Phallological Museum
National Museum of Iceland
The Settlement Exhibition
Höfði House
Kaffibarinn
Reykjavik Reference Map
Reykjavik is divided into several neighborhoods, each with its own distinct character. Some of the most popular neighborhoods for visitors include the trendy 101 district (in the downtown area), which is known for its nightlife and art scene, and the peaceful and upscale Vesturbær neighborhood. The main shopping street, Laugavegur, runs through the heart of the city and is a popular spot for both locals and tourists.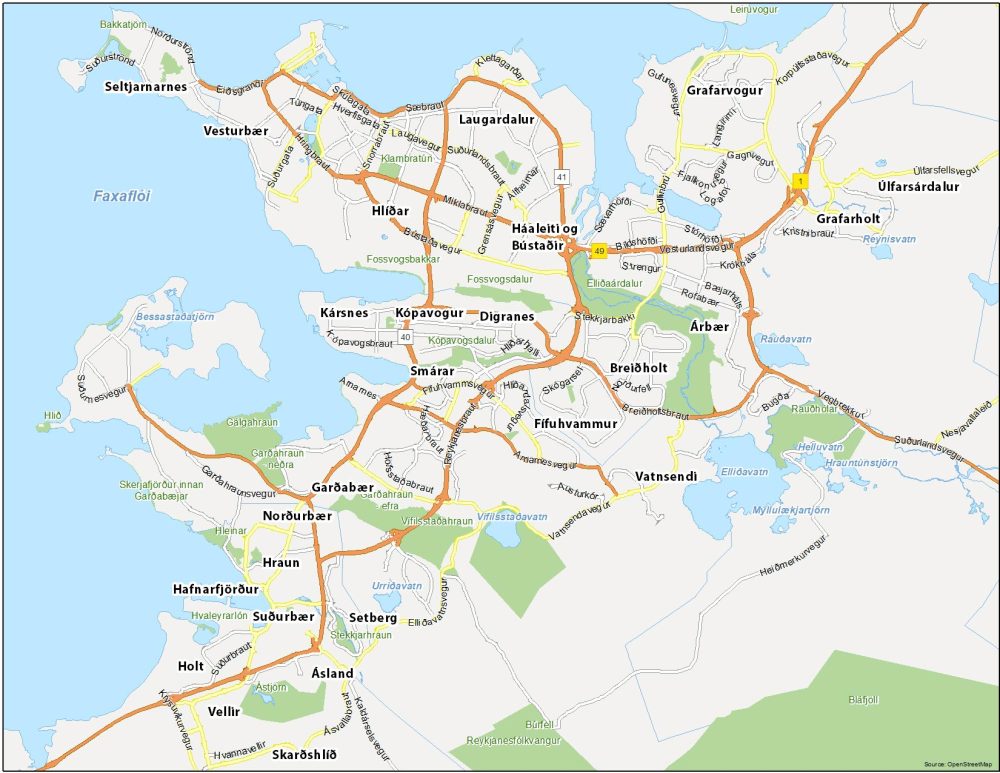 Water Features: Faxaflói, Rauðavatn, Elliðavatn, Vífilsstaðavatn, Urriðavatn, Myllulækjartjörn, Hrauntúnstjörn, Reynisvatn
Parks: Gálgahraun, Ástjörn, Garðahraun, Vífilsstaðahraun, Bláfjöll, Búrfell, Fossvogsdalur, Fossvogsbakkar, Klambratún, Bakkatjörn
Communities: Háaleiti og Bústaðir, Laugardalur, Seltjarnarnes, Vesturbær, Grafarvogur, Úlfarsárdalur, Grafarholt, Árbær, Breiðholt, Digranes, Kópavogur, Kársnes, Smárar, Fífuhvammur, Vatnsendi, Garðabær, Norðurbær, Hraun, Hafnarfjörður, Suðurbær, Setberg, Ásland, Holt, Vellir, Skarðshlíð