Map of Iceland – Cities and Roads

Download
This map of Iceland shows its roads and cities that are mostly situated along its borders. It includes a satellite and topographic map of Iceland that shows its unique geological formations and landscapes.
You are free to use our Iceland map for educational and commercial uses. Attribution is required. How to attribute?
About the map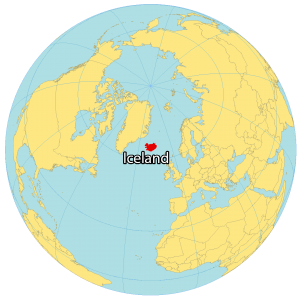 Iceland is a Nordic island country in the North Atlantic, with a population of around 370,000 and an area of 103,000 km2, making it one of the most sparsely populated countries in Europe. It's situated just below the Arctic Circle and is situated northwest of the United Kingdom.
Greenland is its closest neighboring island, which is a distance of about 300 kilometers away. Iceland is the westernmost European country with Reykjavik being the northernmost capital in the world.
The capital and largest city is Reykjavík, with Reykjavík and the surrounding areas in the southwest of the country being home to over two-thirds of the population. Iceland is volcanically and geologically active. The interior consists of a plateau characterized by lava fields, mountains, and glaciers, while many glacial rivers flow to the sea through the lowlands.

Iceland in Google Maps
IMAGERY
Iceland Satellite Map
Iceland is known for having more glaciers than all of continental Europe combined. They stand out clearly in white. For example, Vatnajökull, Hofsjökull, Langjökull, and Mýrdalsjökull Glacier are the largest in Iceland.
The country is geologically unique with approximately 130 active and inactive volcanoes in all parts of the country. Despite being located at a high latitude, its climate is temperate because the Gulf Stream brings heat through its ocean currents.
HILLSHADE
Iceland Elevation Map
Iceland's terrain is mostly plateau with a mix of mountain peaks, coastal bays, fjords, and ice fields. At 2,109.6 meters (6,921 ft) in height, Hvannadalshnjúkur is the highest point in Iceland.
This mountain peak is part of the ice-covered volcano Öræfajökull within Vatnajökull National Park. There are over 4000 named mountains in Iceland. Mount Esja is also a popular mountain for hiking because of its close proximity to Reykjavik.
ADMINISTRATION
Iceland Regional Map
There are eight regions in Iceland, which are the first-level administration unit. Next, regions are broken down further into municipalities, which are the second-level administration unit. Regions are mainly for statistical purposes and health.
But they also roughly follow postal code divisions with the first digit corresponding to a region in Iceland. The right regions in Iceland are Capital Region, Southern Peninsula, West, Westfjords, Northwest, Northeast, East, and South.