Stockholm Map
Stockholm, the capital city of Sweden, is a historical and welcoming city located on the east coast of Sweden.
The city itself is spread across 14 islands connected by 57 bridges.
Our map of Stockholm provides geographic information about the city's landmarks and transportation options.
Jump To: Interactive Map | Printable Road Map | 10 Things to Do | Reference Map
Stockholm map collection
Interactive Map of Stockholm
This interactive map has up-to-date information about Stockholm, Sweden. For example, you can find extensive public transportation systems, including buses, metro, trams, and ferries.
The subway system is particularly extensive, with three main lines (red, green, and blue) and over 100 stations, making it easy to navigate the city and reach all its attractions. On top of that, you can find everything from the top restaurants to all the best museums on this map.
Stockholm Road Map
Our Stockholm road map is a one-pager that shows all the main roads and highways. You'll also find street names and highway numbers of the major routes of the city. This includes those that connect Stockholm to the rest of Sweden and neighboring localities.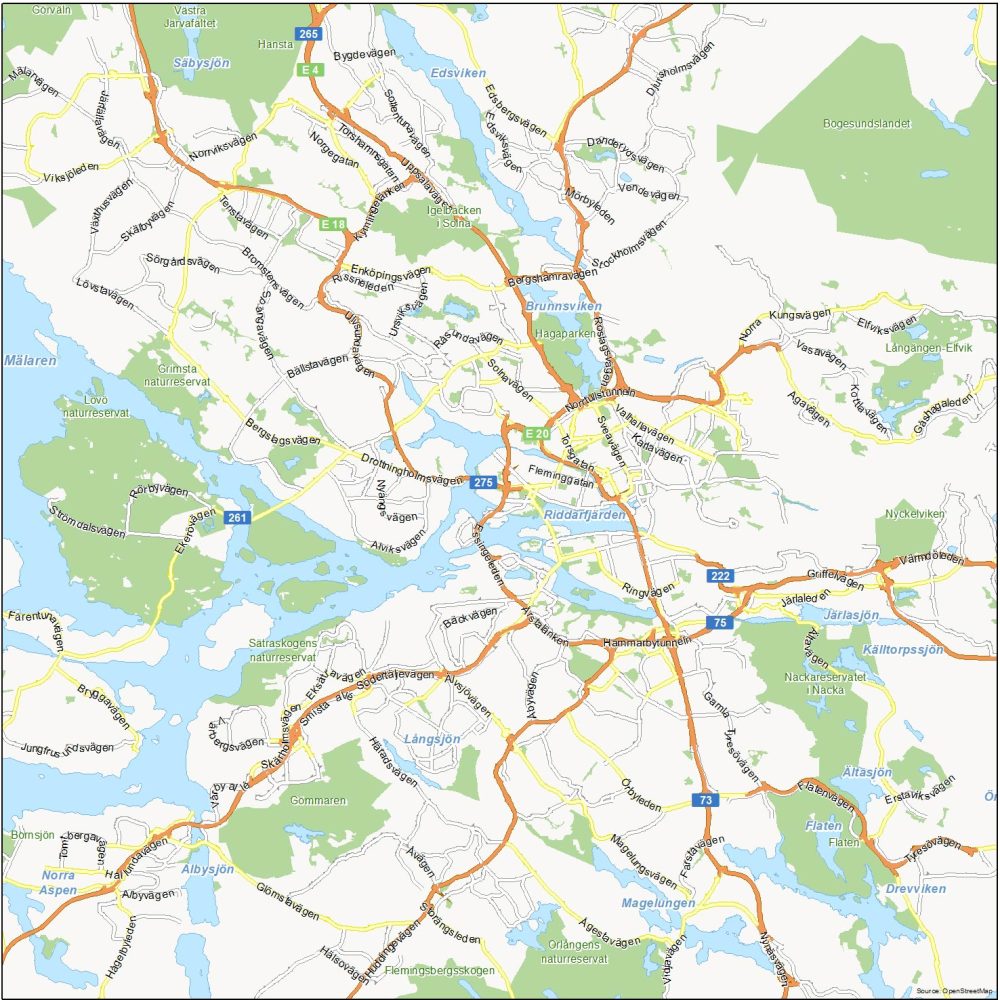 Highways: E4, E18, E20, 73, 75, 222, 261, 275
Major Roads: Solnavägen, Norrtullstunneln, Drottningholmsvägen, Torsgatan, Fleminggatan, Roslagsvägen, Ulvsundavägen, Södertäljevägen, Värmdöleden, Hammarbytunneln, Agavägen, Bäckvägen, Häradsvägen, Örbyleden, Flatenvägen, Järlaleden, Edsbergsvägen, Bergshamravägen, Hallundavägen, Häradsvägen
10 Things To Do in Stockholm
With so much to see and do, it can be overwhelming to navigate the city without a clear plan in place. Our attractions map provides an overview of the city's top things to do. All the way from the Royal Palace to the ABBA Museum, you should download this map today to get the latest whereabouts of places to visit in Stockholm.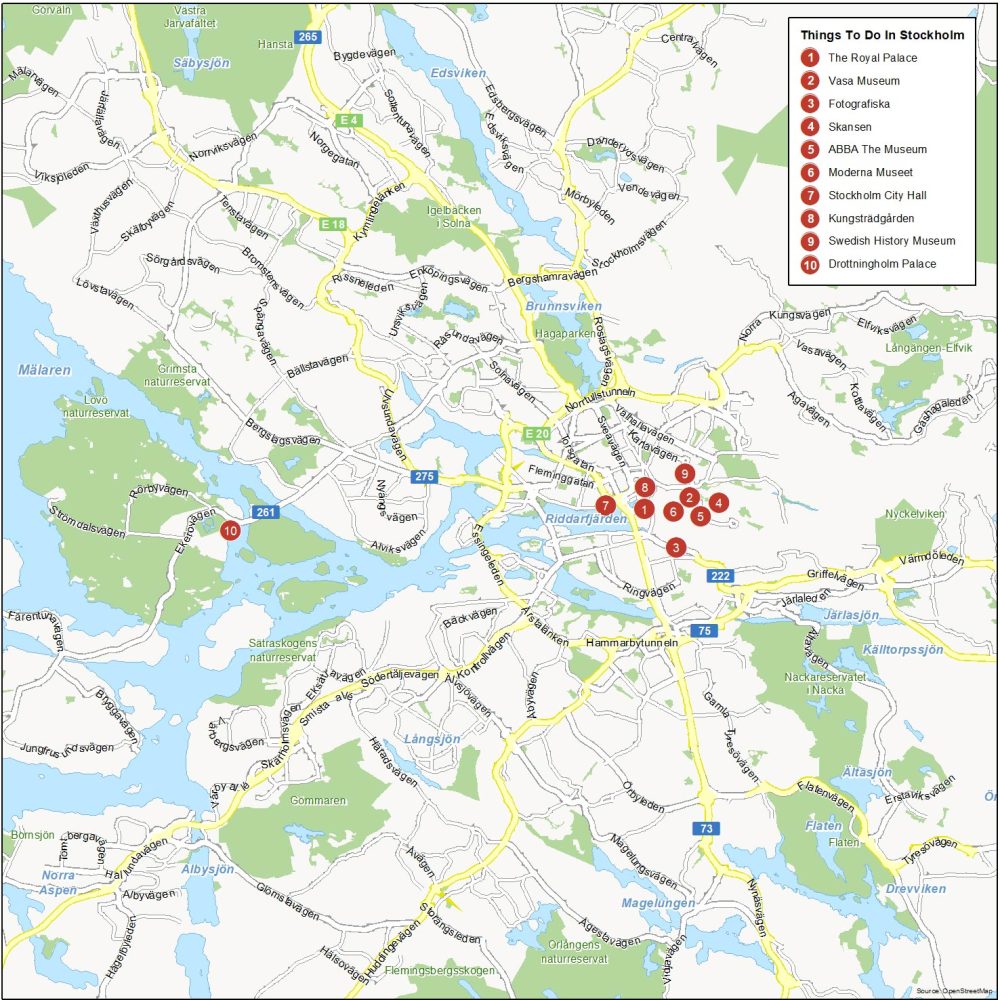 Stockholm is the most populous and capital city of Sweden. Here are the top 10 things to do that we recommend doing.
The Royal Palace
Vasa Museum
Fotografiska
Skansen
ABBA The Museum
Moderna Museet
Stockholm City Hall
Kungsträdgården
Swedish History Museum
Drottningholm Palace
Stockholm Reference Map
This map will guide you through Stockholm's unique neighborhoods and give you a sense of the city's layout. From the cobblestone streets of Gamla Stan to the lively cultural hub of Södermalm, this reference map will help you navigate the city with more efficiency.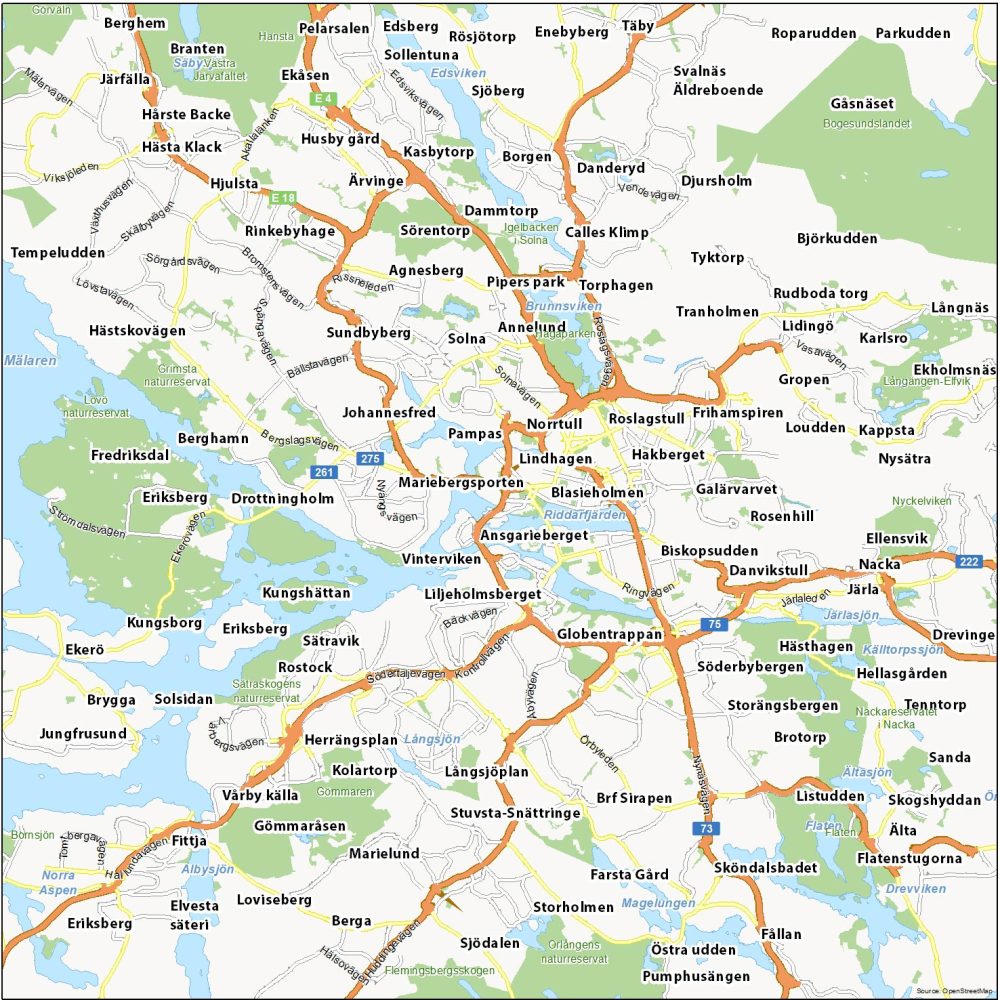 Water Features: Brunnsviken, Mälaren, Järlasjön, Drevviken, Albysjön, Norra Aspen, Edsviken, Riddarfjärden
Parks: Gömmaren, Bogesundslandet, Hansta, Orlångens, Grimsta, Görväln, Nackareservatet
Communities: Blasieholmen, Lindhagen, Mariebergsporten, Norrtull, Pampas, Hakberget, Roslagstull, Johannesfred, Globentrappan, Liljeholmsberget, Vinterviken, Söderbybergen, Hästhagen, Danvikstull, Biskopsudden, Rosenhill, Galärvarvet, Frihamspiren, Solna, Sundbyberg, Annelund, Agnesberg, Torphagen, Dammtorp, Sörentorp, Rinkebyhage, Listudden
References