Map of Sweden – Cities and Roads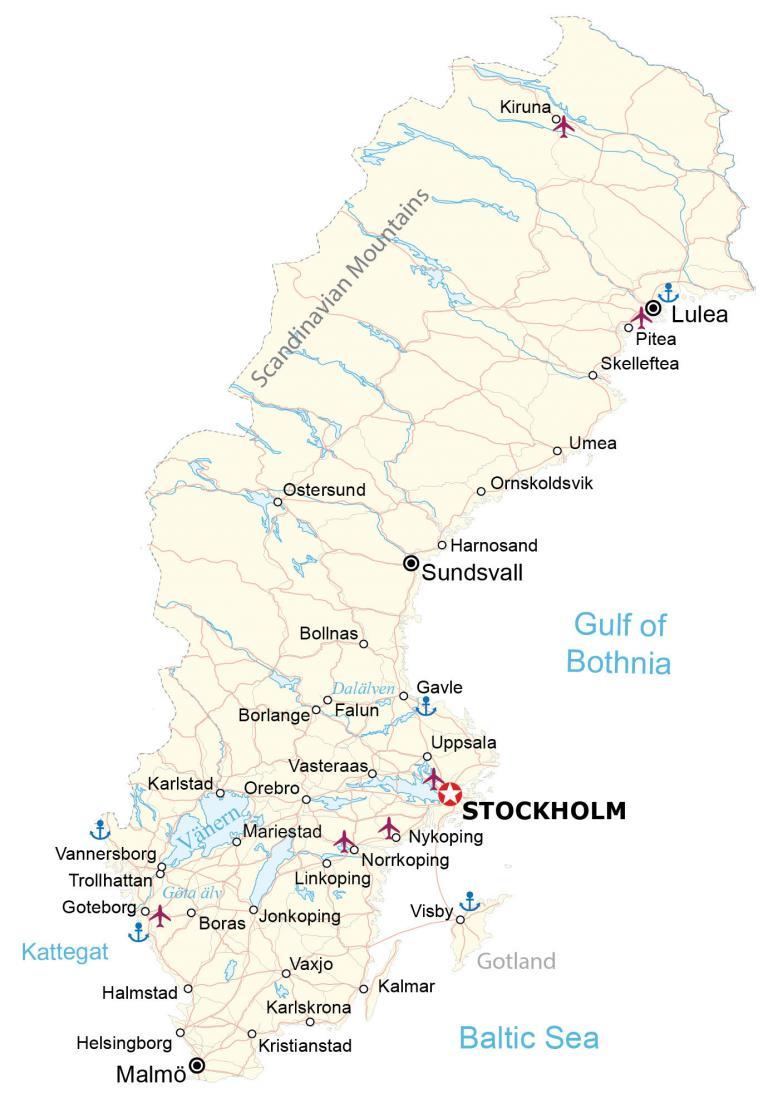 Download
A map of Sweden that displays cities, highways, roads, lakes, and rivers. The elevation and satellite map highlight the Scandinavian Mountains and its vast number of lakes like Vänern, the largest in Sweden.
You are free to use our Sweden map for educational and commercial uses. Attribution is required. How to attribute?
About the map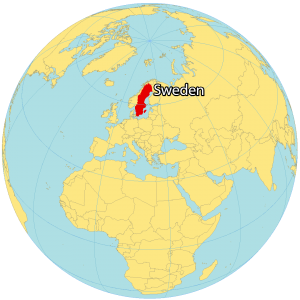 Sweden is located in Northern Europe and is part of the European sub-region of Scandinavia. It's situated between Finland to the east, and Norway to the west.
Located in Northern Europe, it's linked to Denmark to the southwest by the Öresund bridge. Also, Sweden shares maritime borders with Germany, Poland, Russia, Lithuania, Latvia, and Estonia.
Its east coast lies along the Gulf of Bothnia and the Baltic Sea. Whereas its west coast is located along the Öresund Strait and Kattegat Sea. Stockholm is the capital and largest city in Sweden, situated on the east coast. It almost triples the population of its second-largest city with over 1.5 million people.

Sweden in Google Maps
SATELLITE IMAGERY
Sweden Satellite Map
Altogether, Sweden occupies a total area of 450,295 square kilometers (173,860 sq mi), which makes it the largest country in Northern Europe. In comparison, it's larger than Germany but smaller than Spain.
Sweden has almost 100,000 lakes that are at least 2 acres in size. Overall, it has the fifth most lakes in the world. The largest is Lake Vänern, which is also the third-largest lake in all of Europe. Next, Lake Vättern is the second-largest directly situated to the east. Its longest rivers are the Torne River, Dalälven River, and Ångerman River.
PHYSICAL MAP
Sweden Elevation Map
The terrain in Sweden is mostly flat with gently rolling lowlands and mountains. Specifically, its major mountain chain, the Scandinavian Mountains, straddles its northwestern border with Norway.
Its mountainous region contains several national parks like Abisko, Sareks, and Padjelanta. At 2,111-meter (6,926 ft), Kebnekaise is Sweden's highest peak within the Scandinavian Mountains. This peak is located in the northwest of Sweden above the Arctic Circle.
POLITICAL MAP
Sweden Counties Map
Counties are Sweden's first-level administrative units, which are divided geographically and administratively. Currently, there are 21 provinces in Sweden. Counties in Sweden are divided into municipalities, the second-level administrative unit.
Stockholm is the most populous county. Whereas Gotland is the least populous. Norway to the west and Finland to the east. Altogether, its coastline stretches 3,218 kilometers (2,000 mi) on its east along the Baltic Sea and the Gulf of Bothnia.