Washington DC Map, District of Columbia

Map of Washington DC
If you're looking for a Washington DC map, we have more than one! Download these maps of Washington DC including a road map, a list of things to do, and a reference map.
Not only is Washington, D.C. one of the most densely populated places in the United States, but it is also one of the largest cities in the nation. With a population of 700,000 people, this city is the center of politics in the United States and hosts numerous foreign embassies.
Washington, DC is not a state. Instead, it's a federal district. Washington, DC is the capital city of the United States, it's where the president lives, and it's where congress assembles. Learn more about it in this Washington DC map collection.
Jump To: Interactive Map | Printable Road Map | 10 Things to Do | Reference Map
Washington DC map collection
Interactive Map of Washington DC
Explore Washington DC with this interactive map provided by Google Maps. Then, find all the best spots in Washington DC with this map such as the best spots for museums, restaurants, and hotels so you won't miss anything.
This Washington DC map is a perfect tool for anyone looking to explore the capital. With this map, you'll be able to pinpoint the exact locations of hotspots, find the best places for sightseeing, and explore hidden gems that are just waiting to be found.
Washington DC Road Map
Road maps are a great way to plan a trip, but Washington DC is a big city and it can be hard to find your way around. Having a Washington DC map will ensure you get all the most important sites on your trip.
Explore the best of Washington DC with this road map. You will have access to the best places to visit, plus find out the best routes to take to make your trip as easy as possible. No need to feel overwhelmed with a map of a city you are unfamiliar with.
Interstate Highways: I-66, I-295, I-395
US Highways: 1, 27, 29, 50, 66, Indian Head Hwy, Martin Luther King Jr Hwy, Southeast Fwy, Southwest Fwy, Street Expy, Whitehurst Fwy
Parkways: Clara Barton Pky, Dalecarlia Pky, George Washington Memorial Pky, Potomac Pky, Rock Creek Pky, Suitland Pky
Major Roads: 6th St, 7th St, 9th St, 11th St, 15th St, 16th St, 17th St, 22nd St, Alaska Ave, Arlington Memorial Bridge, Branch Ave, Brandywine St, Canal Rd, Capitol St, Carolina Ave, Connecticut Ave, Constitution Ave, Georgia Ave, Henry Bacon Dr, Independence Ave, Kalmia Rd, Lincoln Memorial, Maine Ave, Maryland Ave, Mass Ave, Massachusetts Ave, Memorial Ave, Military Rd, Missouri Ave, Mount Vernon Pl, Nebraska Ave, New York Ave, Pennsylvania Ave, Rhode Island Ave, River Rd, Washington Blvd, Wisconsin Ave
10 Things To Do in Washington DC
Find your way around the city from Lincoln Memorial to the Smithsonian Museum, from the Washington Monument to the White House. We've mapped out the best places, cultures, and history that Washington has to offer. Pre-plan your next DC visit with this map. This map of Washington DC will help you find the most popular attractions in the city and get you all the information you need to plan your trip.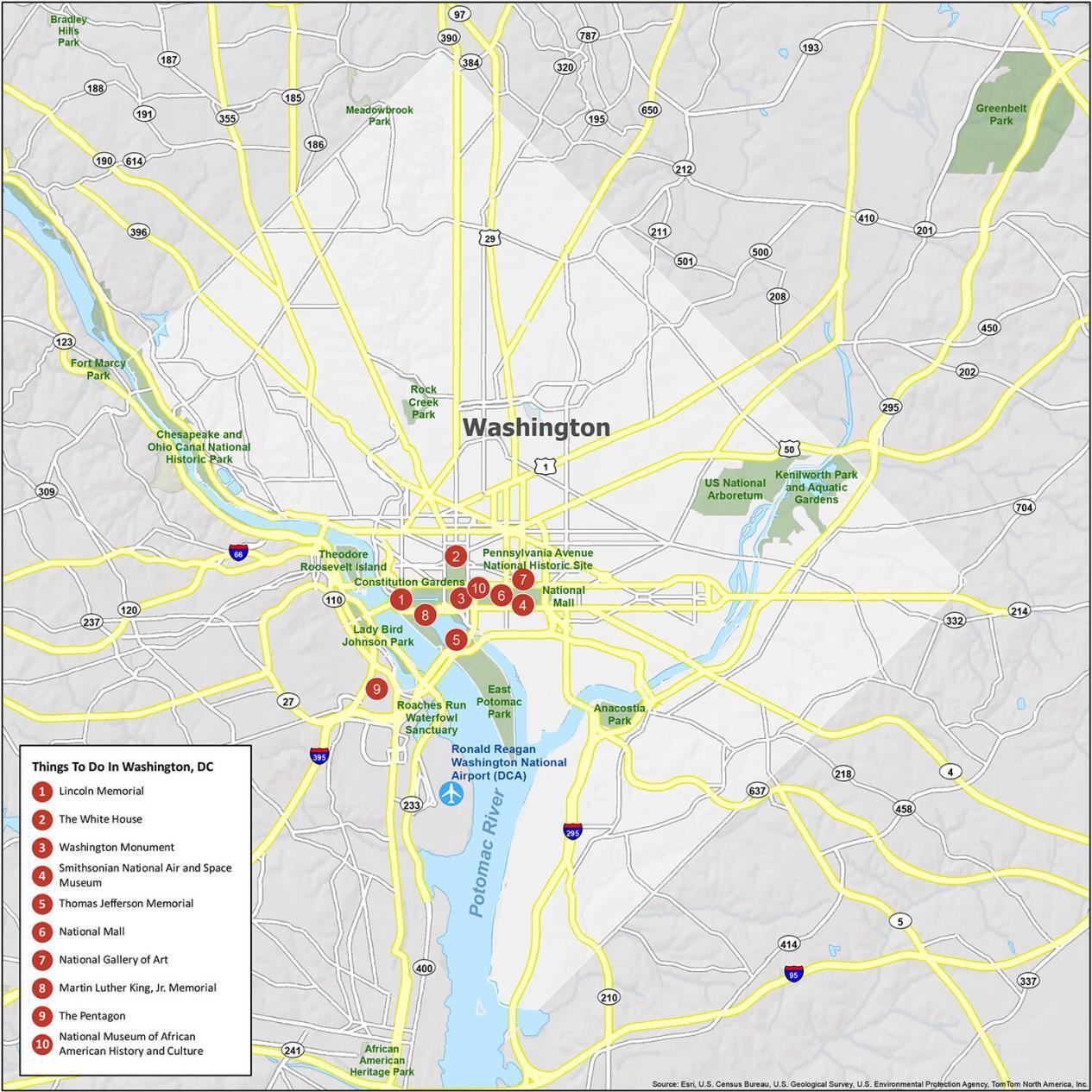 It's known for the Smithsonian museum, security, and the feeling that you're being constantly watched. If you could narrow the top sites in Washington DC, here are 10 things to do if you travel there.
Lincoln Memorial
The White House
Washington Monument
Smithsonian National Air and Space Museum
Thomas Jefferson Memorial
National Mall
National Gallery of Art
Martin Luther King, Jr. Memorial
The Pentagon
National Museum of African American History and Culture
Washington DC Reference Map
Explore the city in-depth with this map. Find airports, populated areas, and points of interest, or get directions to anywhere in the city with this reference map. Plan your trip using this map so you know where to go, how to get there, and what to see. With this map, you will have access to all the information you need to explore the city's most essential sites.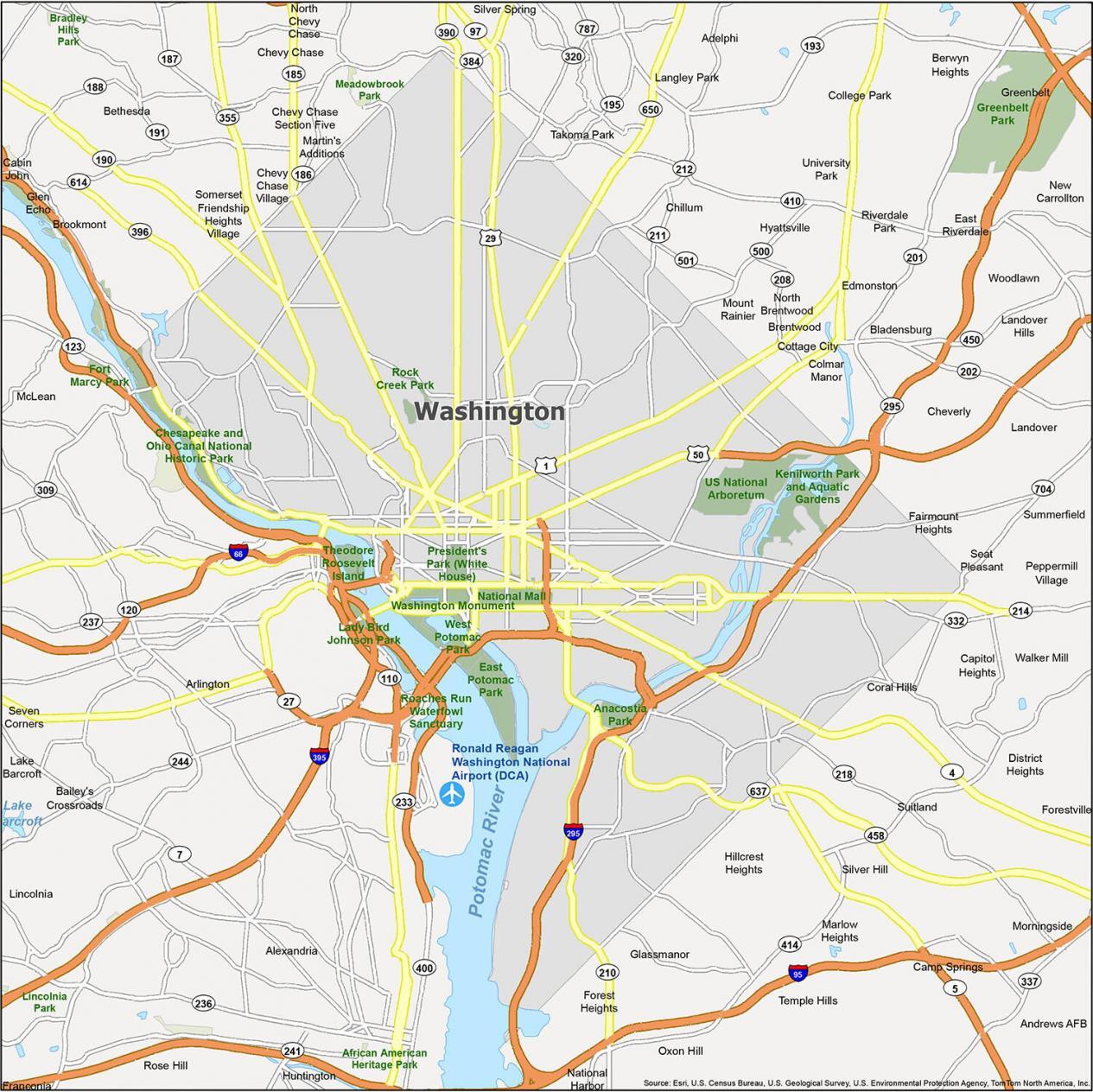 Airports: Ronald Reagan Washington National Airport (DCA)
Cities: Alexandria, College Park, District Heights, Greenbelt, Hyattsville, Mount Rainier, New Carrollton, Seat Pleasant, Takoma Park, Washington
Towns: Berwyn Heights, Bladensburg, Brentwood, Capitol Heights, Cheverly, Chevy Chase, Chevy Chase Village, Colmar Manor, Cottage City, Edmonston, Fairmount Heights, Forest Heights, Glen Echo, Landover Hills, Morningside, North Brentwood, Riverdale Park, Somerset, University Park
Villages: Chevy Chase Section Five, Chevy Chase Section Three, Martin's Additions, North Chevy Chase
Census-designated place (CDP): Adelphi, Andrews AFB, Arlington, Bailey's Crossroads, Bethesda, Brookmont, Cabin John, Camp Springs, Chevy Chase, Chillum, Clinton, Coral Hills, East Riverdale, Forestville, Franconia, Friendship Heights Village, Glassmanor, Hillcrest Heights, Huntington, Lake Barcroft, Landover, Langley Park, Lincolnia, Marlow Heights, McLean, National Harbor, Oxon Hill, Peppermill Village, Rose Hill, Seven Corners, Silver Hill, Silver Spring, Suitland, Summerfield, Temple Hills, Walker Mill, Woodlawn
Washington DC maps
References