Zagreb, Croatia Map
Our map of Zagreb can help you find your way around the capital and largest city of Croatia.
This map can be a useful tool for exploring the city and learning more about this historic city.
So download it and get ready for an adventure into Zagreb, Croatia.
Jump To: Interactive Map | Printable Road Map | 10 Things to Do | Reference Map
Zagreb map collection
Interactive Map of Zagreb
This interactive map has all the latest information you need to learn about Zagreb. One of its districts includes Donji Grad, which is the central business district of the city, as well as the cultural and artistic center.
This area has many museums, galleries, theaters, and other cultural institutions. To the north is the residential district of Maksimir, which is known for its beautiful parks and gardens, including the Maksimir Park and stadium. Use this interactive map to find any geographic location and places of interest.
Zagreb Road Map
Our road map of Zagreb can help you find important major roads as well as motorways and highways that connect Zagreb to other parts of Croatia and Europe. It labels important routes so you know where you're going. Download a copy of our map for free and start using it today.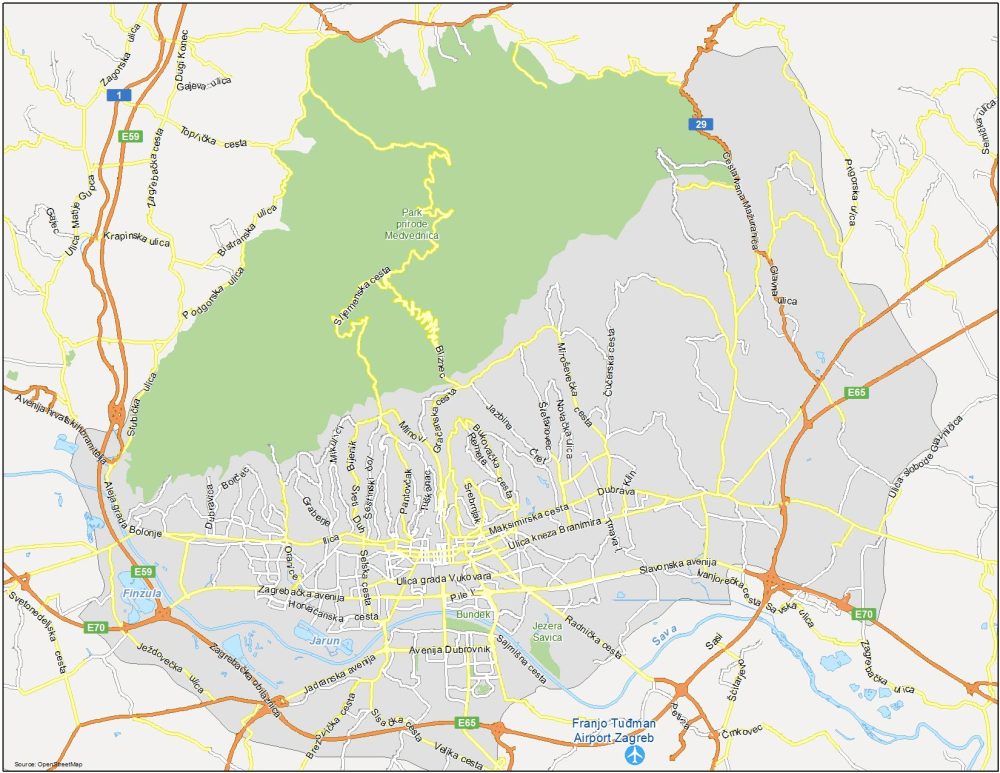 Highways: 1, 29, E59, E65, E70
Major Roads: Zagrebačka Obilaznica, CestaIvana Mažuranića, Radnička Cesta, Avenija Dubrovnik, Zagrebačka Avenija, Slavonska Avenija, Aleja Grada Bolonje, Stubička Ulica, Dubarvica, Pantovčak, Srebrnjak, Miroševečka, Sljemenska, Gajeva, Sljemenska, Svetonedeljska
10 Things To Do in Zagreb
One of the important places to visit in Zagreb is the center of the city, Ban Jelačić Square, which is surrounded by many important buildings, shops, restaurants, and cafes. From this square, you can explore the historic Upper Town, which is the oldest part of Zagreb. It's also home to many important cultural and historical landmarks, including the iconic Zagreb Cathedral, St. Mark's Church, the Croatian Parliament, and the Lotrščak Tower.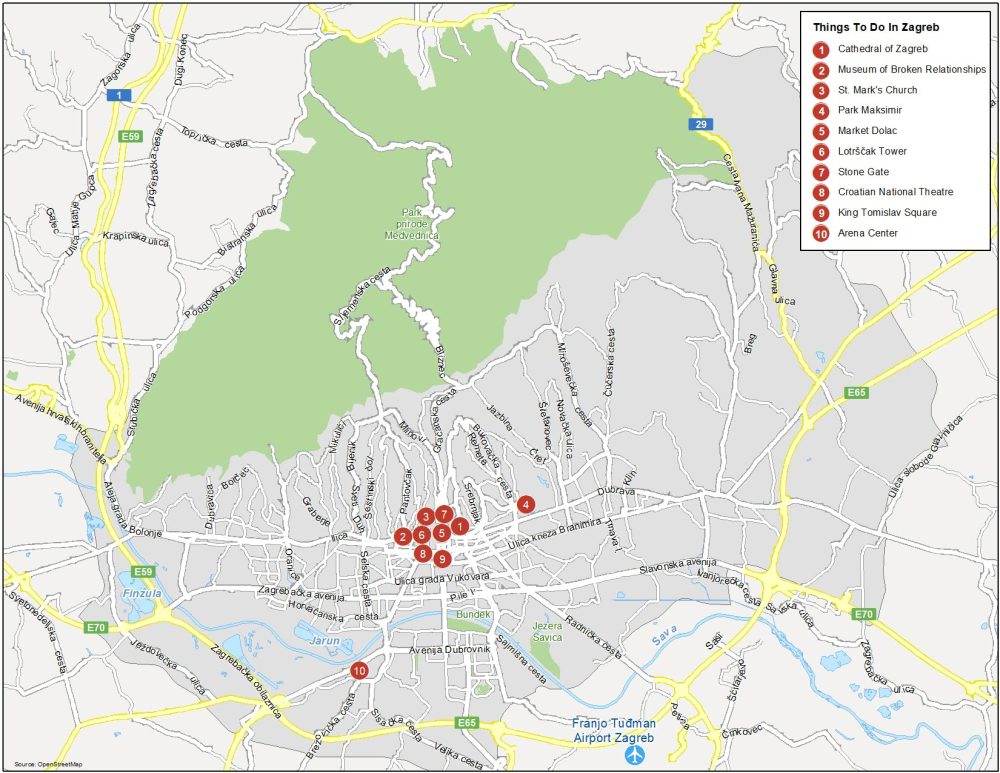 Zagreb is the capital and largest city of Croatia. Here are the top 10 things to do that we recommend doing.
Cathedral of Zagreb
Museum of Broken Relationships
St. Mark's Church
Park Maksimir
Market Dolac
Lotrščak Tower
Stone Gate
Croatian National Theatre in Zagreb
King Tomislav Square
Arena Center
Zagreb Reference Map
Zagreb, Croatia is divided into 17 districts altogether. Each district is unique in its own way and this map can help you navigate through them. This reference map will also highlight major waterways, airports, parks, and localities just outside the city.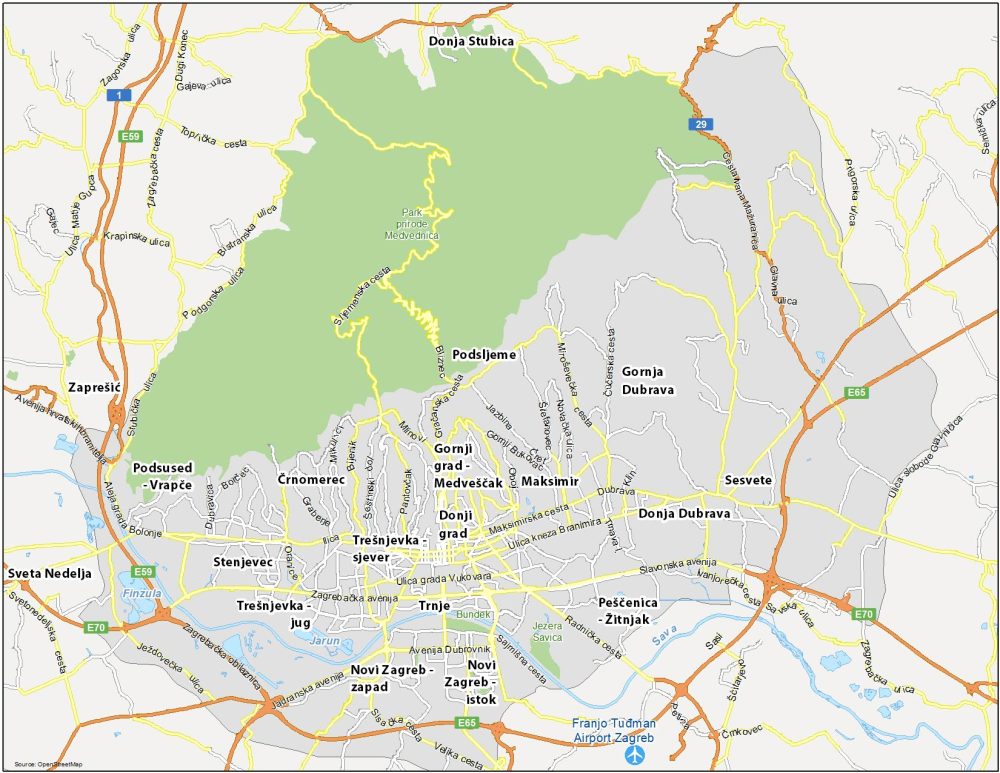 Airports: Franjo Tuđman Airport Zagreb
Water Features: Sava River, Jarun, Finzula
Parks: Bundek, Jezera Savica, Park Prirode Medvednica
Communities: Donji Grad, Gornji Grad–Medveščak, Črnomerec, Trešnjevka sjever, Trešnjevka – Jug, Stenjevec, Novi Zagreb – Nistok, Peščenica – Žitnjak, Donja Dubrava, Sesvete, Gornja Dubrava, Podsljeme, Novi Zagreb – zapad, Peščenica – Žitnjak, Sveta Nedelja, Zaprešić