Map of Croatia – Cities and Roads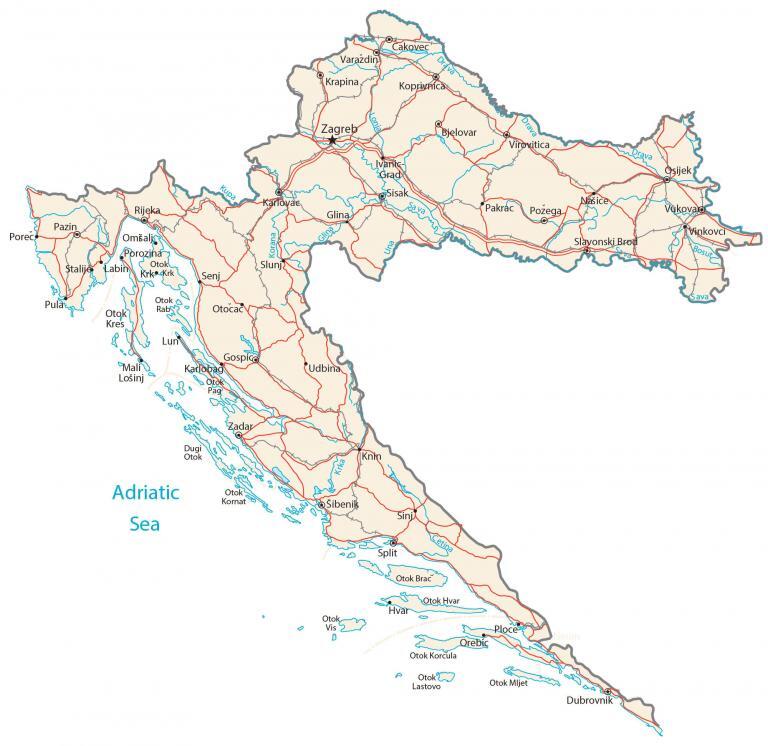 Download
This map of Croatia contains major cities, towns, highways, lakes, and rivers. It includes a satellite and physical map to see everything from the Pannonian Basin to the Dinaric Alps.
You are free to use our Croatia map for educational and commercial uses. Attribution is required. How to attribute?
About the map
Croatia is located in Southeast Europe next to the Adriatic Sea. It borders 5 other countries including Hungary to the northeast, Slovenia to the northwest, Serbia to the east, as well as Bosnia and Herzegovina and Montenegro to the southeast.
Croatia is known for being at the crossroads of Central and Southeast Europe because of its geographic position in Europe. Zagreb is the capital and largest city in Croatia. Other major cities include Split, Rijeka, and Osijek.

Croatia in Google Maps
IMAGERY
Croatia Satellite Map
Croatia occupies an area of 56,594 square kilometers (21,851 sq mi), which makes it larger than Bosnia and Herzegovina but smaller than Latvia. The country also has thousands of islands in the Adriatic Sea, and most are sparsely populated.
While forests cover 34% of Croatia, agriculture is another major land use at about 24%. At 30.7 square kilometers, Lake Vrana is the largest lake in Croatia. Its longest rivers are the Sava and Drava, which both drain into the Danube River.
PHYSICAL
Croatia Physical Map
The terrain in Croatia is diverse with a range of topographic features. For example, along the Hungarian border, it consists of mostly flat plains and low mountains. Then, near the Adriatic coastlines, its terrain is primarily highlands.
The Dinaric Alps extend through Croatia in the central-eastern region. At 1,913 m (6,276 ft), Dinara is Croatia's highest peak within the Dinaric Alps. Other mountain ranges in Croatia include the Biokovo, Papuk, and Žumberak Mountains.