Barcelona, Spain Map
Our Barcelona map collection includes a highway/road map, a reference map, and a list of things to do.
We encourage you to download any of them so you can have them as a helpful guide when you roam around this major city.
So grab any of our free maps of Barcelona, hit the road, and let the adventure begin!
Jump To: Interactive Map | Printable Road Map | 10 Things to Do | Reference Map
Barcelona map collection
Interactive Map of Barcelona
This interactive map can be especially helpful for planning a route or identifying points of interest in Barcelona. In addition, it includes traffic, public transportation options, and events happening in the city. Overall, you can use this interactive map to enhance your experience and make the most of your time in this dynamic city.
Barcelona Road Map
Whether you're planning a day trip or an extended stay, this Barcelona road map is an essential tool to help you navigate the city and its surrounding areas. This road map provides detailed information about the region's highways, roads, and streets, making it easy to plan your route and explore everything in Barcelona, Spain.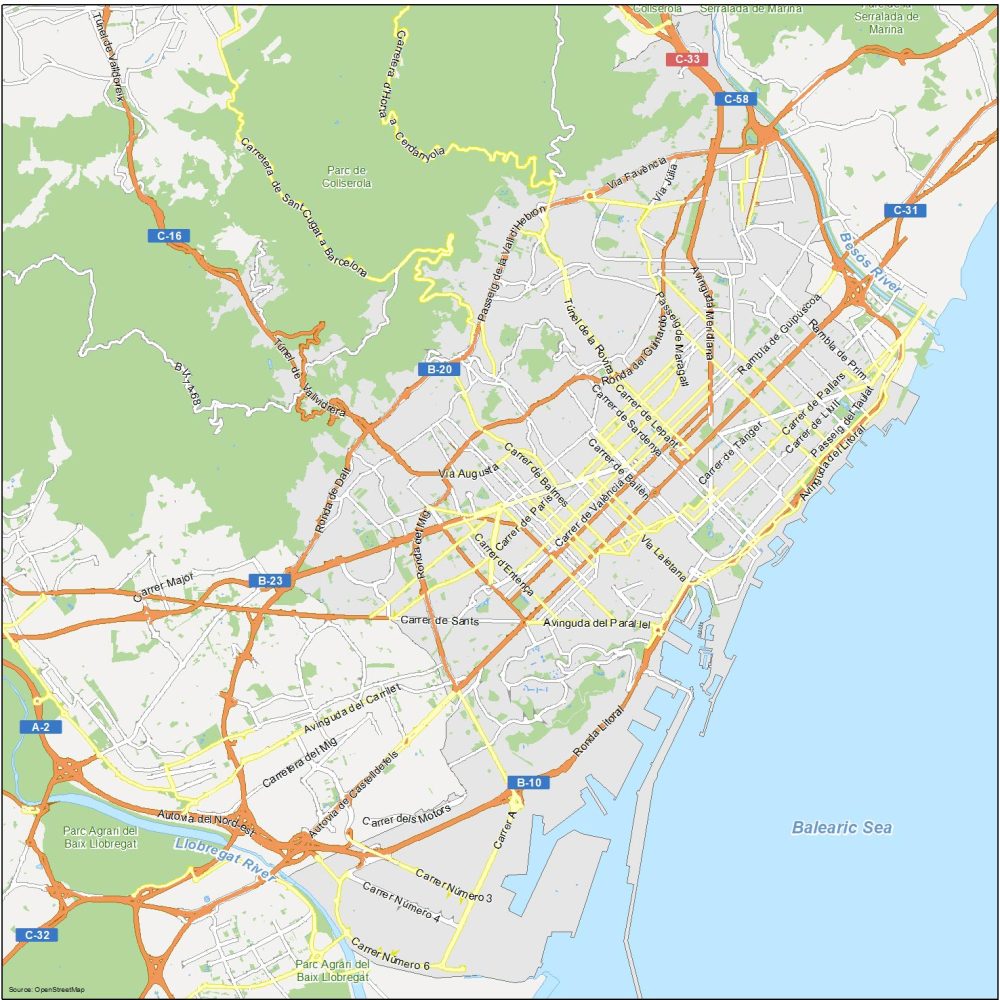 Highways: A-2, B-10, B-20, B-23, C-16, C-31, C-33, C-58
Major Roads: Ronda del Mig, Avinguda Meridiana, Passeig de la Vall d'Hebron, Carrer de Sants, Avinguda del Paral·lel, Carrer de Balmes, Carrer d'Entença, Via Laietana, Carrer de Bailèn, Carrer de Sardenya, Carrer de Lepan, Carrer de Pallars, Carrer de Llull, Avinguda del Litora, Rambla de Prim
10 Things To Do in Barcelona
Located on the northeast coast of Spain, Barcelona is renowned for its architecture, rich cultural heritage, and thriving arts and entertainment scene. As such, you'll find spectacles like the La Sagrada Familia, Casa Batlló, and La Pedrera-Casa Milà. Check out our list of 10 things to do in Barcelona using the map directly below.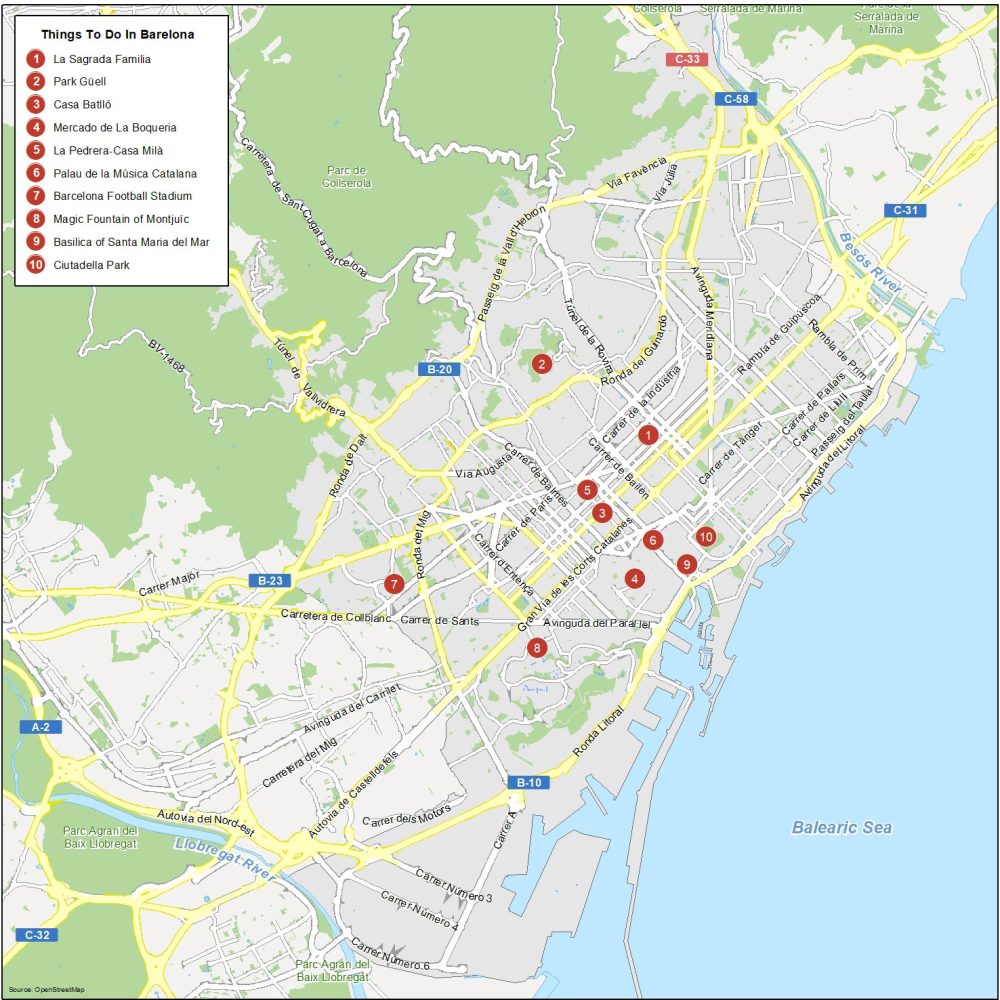 Barcelona is the second-largest city in Spain, located on the coast of northeastern Spain. The city is larger than Valencia but smaller than Madrid. Here are the top 10 things to do that we recommend seeing.
La Sagrada Familia
Park Güell
Casa Batlló
Mercado de La Boqueria
La Pedrera-Casa Milà
Palau de la Música Catalana
Barcelona Football Stadium
Magic Fountain of Montjuïc
Basilica of Santa Maria del Mar
Ciutadella Park
Barcelona Reference Map
For your personal reference, you can use this map to find important places and neighborhoods in Barcelona. You'll find highways, waterways, parks, and much more to help you understand the second-largest city in Spain.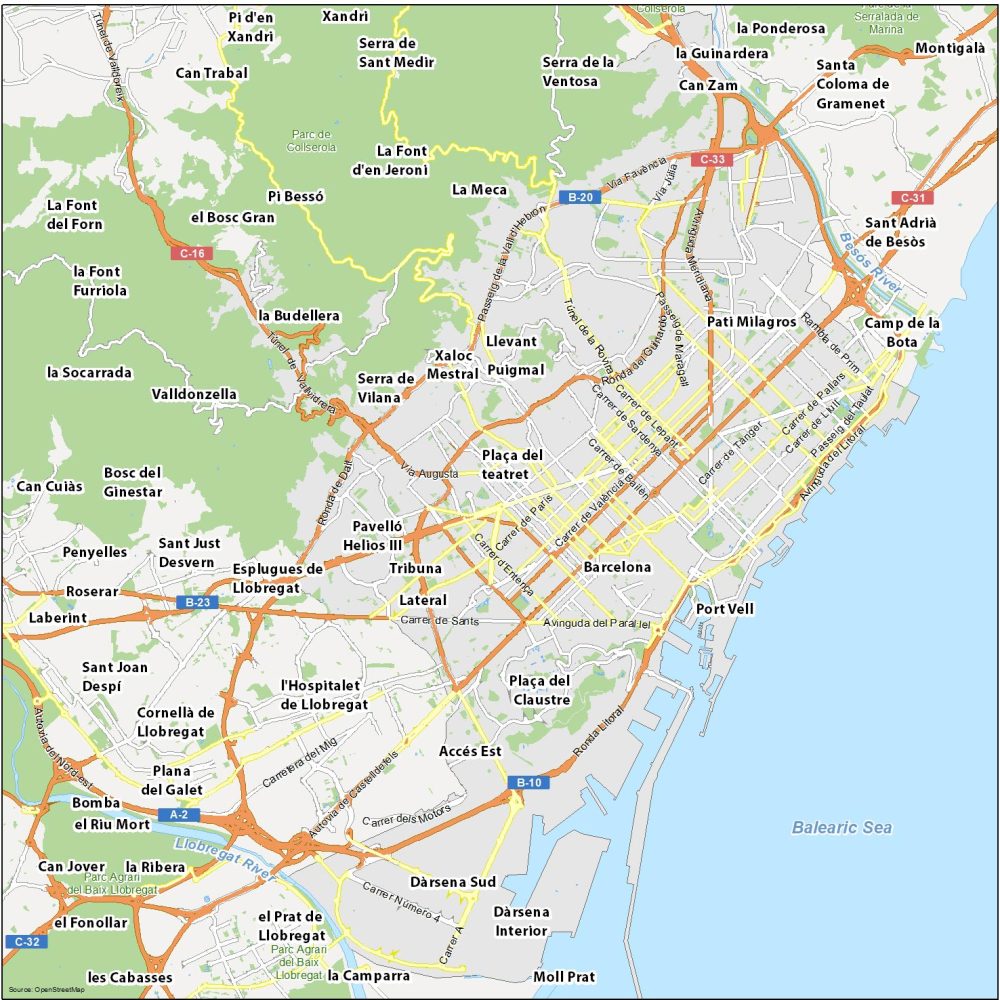 Water Features: Balearic Sea, Llobregat River, Besós River
Parks: Parc de Collserola, Parc Agrari del Baix Llobregat, Parc Agrari del Baix Llobregat
Communities: Plaça del Claustre, Port Vell, Dàrsena, L'Hospitalet de Llobregat, Plaça del teatret, Puigmal, Llevant, Pati Milagros, Tribuna, Pavelló Helios III, Esplugues de Llobregat, Sant Just Desvern, Sant Joan Despí, Cornellà de Llobregat, Penyelles, Can Cuiàs
References
Barcelona, Spain (Google Maps)
Spanish cities map collection