Map of Spain – Cities and Roads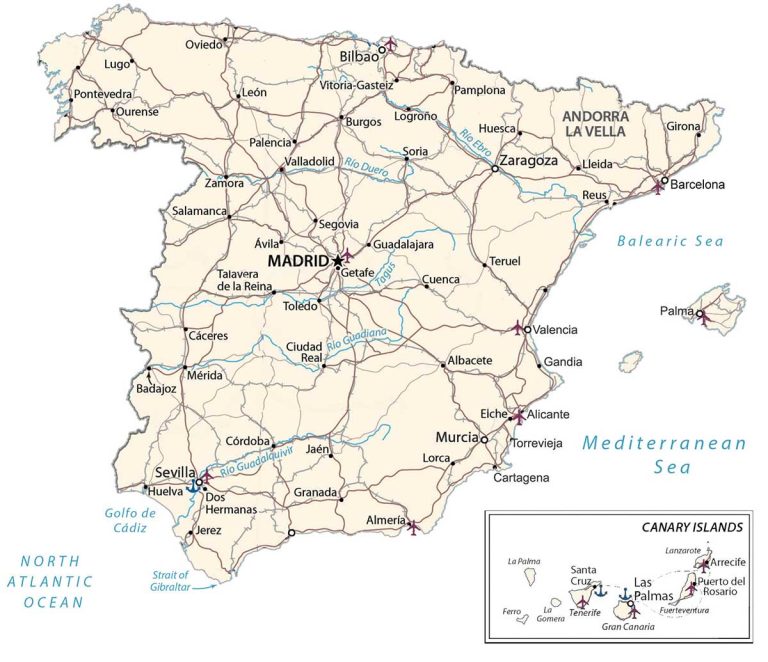 Download
This map of Spain displays major cities, towns, roads, lakes, rivers, and islands. It includes a reference map, satellite imagery, a physical map, and an administrative map of Spain.
You are free to use our Spain map for educational and commercial uses. Attribution is required. How to attribute?
About the map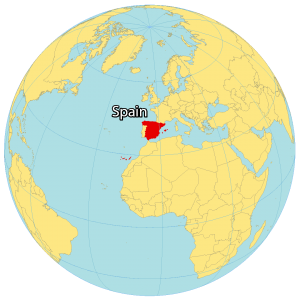 Spain is a country in Southwestern Europe. Its largest borders are with France and Andorra to the northeast and Portugal to the west. But because it's a transcontinental country with territory in both Europe and Africa, it also shares a border with Morocco and a small 1.2 km (0.75 mi) border with Gibraltar.
Additionally, it's situated along the Bay of Biscay to the north, the Balearic Sea to the east, and the Alboran Sea to the south. Spain is the fourth largest in size and fifth-most populous in Europe.
The country is known for having the third-highest number of UNESCO World Heritage Sites and its festivals like La Tomatina and the Running of the Bulls. Madrid is the capital and largest city of Spain. Other major cities are Barcelona, Valencia, and Seville. The country also has several large islands, such as the Balearic Islands and the Canary Islands.

Spain in Google Maps
SATELLITE IMAGERY
Spain Satellite Map
Spain occupies an area of 505,990 square kilometers (195,360 sq mi), which includes the Balearic Islands, the Canary Islands, and its uninhabited islands in the Mediterranean Sea. In comparison, it's larger than Sweden but smaller than France.
Spain lies between latitudes 27° and 44° N with a Mediterranean climate. In general, summers are hot and dry but winters are mild and rainy. The Tagus River is the longest in Spain, which flows westward, south of Madrid, and empties into the Atlantic Ocean. In contrast, its largest lake is Sanabria Lake, a glacial lake with a 3.68 square kilometers surface area.
PHYSICAL MAP
Spain Physical Map
The terrain in Spain is large, flat plains surrounded by rugged hills and plateaus. In the north of Spain, the Pyrenees Mountains are one of its most prominent landforms, separating the Iberian Peninsula. At 3,477 m (11,407 ft), Mulhacén is the highest peak on mainland Spain in the Iberian Peninsula.
But if you include all of its offshore territories, Mount Teide is Spain's highest peak at 3,718 meters (12,198 ft) on the Canary Islands. Additionally, it's the third-largest volcano in the world from its base. Whereas Spain's lowest point is the Mediterranean Sea at 0 m (0 ft) sea level.
POLITICAL MAP
Spain Regional Map
Autonomous communities are the first-level administrative units in Spain that are divided geographically and administratively. Currently, there are 17 autonomous communities in Spain. But 2 African autonomous cities account for Ceuta and Melilla. Next, provinces are the second-level administrative units in Spain, followed by municipalities.
Spanish cities map collection