Kansas State Map – Places and Landmarks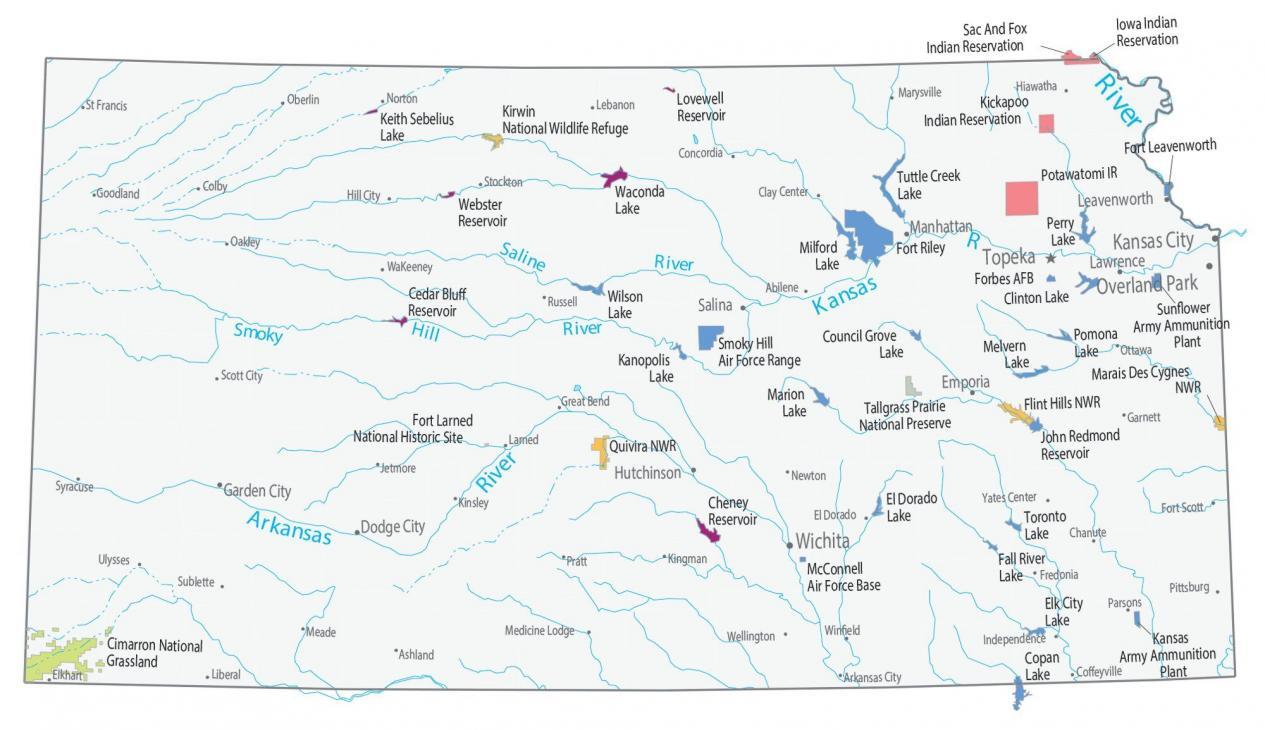 Download
Kansas map collection
About the map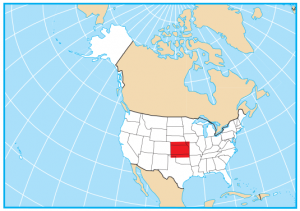 This Kansas State Map shows major landmarks and places. For example, it features national wildlife refuges, military bases, Indian reserves, and other federal lands in Kansas.
Forests cover about 10% of land in the state of Kansas. The state does not have any national parks, but it has several national wildlife refuges. For example, Kirwin, Quivira, Flint Hills, and Marais Des Cygnes are national wildlife refuges in the state.
Kansas also has tallgrass prairies such as the Tallgrass Prairie National Preserve and the Cimarron National Grassland. As farmers convert tallgrass prairies to agriculture, this ecosystem represents just 4% of the landscape.
Federal lands
National Wildlife Refuge (NWR)
Kirwin NWR
Quivira NWR
Flint Hills NWR
Marais Des Cygnes NWR
Other Landmarks
Tallgrass Prairie National Preserve
Cimarron National Grassland
Kansas lakes, rivers and reservoirs
Lakes and reservoirs
Keith Sebelius Lake
Waconda Lake
Lovewell Reservoir
Cedar Bluff Reservoir
Wilson Lake
Kanopolis Lake
Webster Reservoir
Perry Lake
Clinton Lake
Pomona Lake
Council Grove Lake
Milford Lake
Elk City Lake
Copan Lake
Toronto Lake
Fall River Lake
El Dorado Lake
Cheney Reservoir
Marion Lake
Melvern Lake
John Redmond Reservoir
Rivers and creeks
Saline River
Smoky Hill River
Kansas River
Arkansas River
Missouri River
Tuttle Creek
Indian Reserves (IR)
Kickapoo IR
Sac And Fox IR
Iowa IR
Potawatomi IR
Smoky Hill Air Force Range
Fort Leavenworth
Forbes Air Force Base
Sunflower Army Ammunition Plant
Fort Riley
Kansas Army Ammunition Plant
McConnell Air Force Base
Fort Larned National Historic Site
Kansas State Map – Landmarks and places
Kansas City
Overland Park
Wichita
Topeka
Ulysses
WaKeeney
Garden City
Hutchinson
Lawrence
Leavenworth
Manhattan
Salina
Dodge City
Emporia
Abilene
Arkansas City
Ashland
Chanute
Clay Center
Coffeyville
Colby
Concordia
El Dorado
Elkhart
Fort Scott
Fredonia
Garnett
Goodland
Great Bend
Hiawatha
Hill City
Independence
Jetmore
Kingman
Kinsley
Larned
Lebanon
Liberal
Marysville
Meade
Medicine Lodge
Newton
Norton
Oakley
Oberlin
Ottawa
Parsons
Pittsburg
Pratt
Russell
St Francis
Scott City
Stockton
Sublette
Syracuse
Wellington
Winfield
Yates Center
State capital
Topeka
References
Check out the US temperature map to visualize how climate varies across the United States of America. Each one is derived from NESDIS, a branch of NOAA.
How much rain falls in the United States? Take a close look at this US precipitation map to see where it falls the most and least. You'll see it fluctuates.
This map of USA displays states, cities and census boundaries. An elevation surface highlights major physical landmarks like mountains, lakes and rivers.
Free US Maps
Select a state to view its map