Map of Wichita
This Wichita map collection displays the city in three unique ways – a road map, things to do, and a reference map. Download our Wichita city map to help you navigate and play in Wichita, Kansas.
The city of Wichita is located in the center of Kansas, in the middle of the Great Plains. It's a small but fast-growing city with a population of approximately 390,000 people. That makes it the largest city in the state of Kansas.
Wichita, Kansas is known for aircraft production and Pizza Hut. From museums to parks and resorts, explore this city guide to learn about its top sights and activities.
Jump To: Interactive Map | Printable Road Map | 10 Things to Do | Reference Map
Wichita map collection
Interactive Map of Wichita
Explore Wichita, KS from the comfort of your home. This interactive map has the most accurate and up-to-date information on Wichita, Kansas available today. Discover the best of Wichita, Kansas from the best restaurants, coffee shops, parks, and more. It will show you the way to find attractions and local businesses in Wichita.
Wichita Road Map
If you are looking for a map, then this is the Wichita road map you need. Find your way around the city, or search for points of interest. Whether it is for business or pleasure, there is so much to see and do in Wichita.
It's great for anyone who is new to the area or is just plain lost. But if you're planning a road trip outside the city, download and print our Kansas road map for statewide highway information.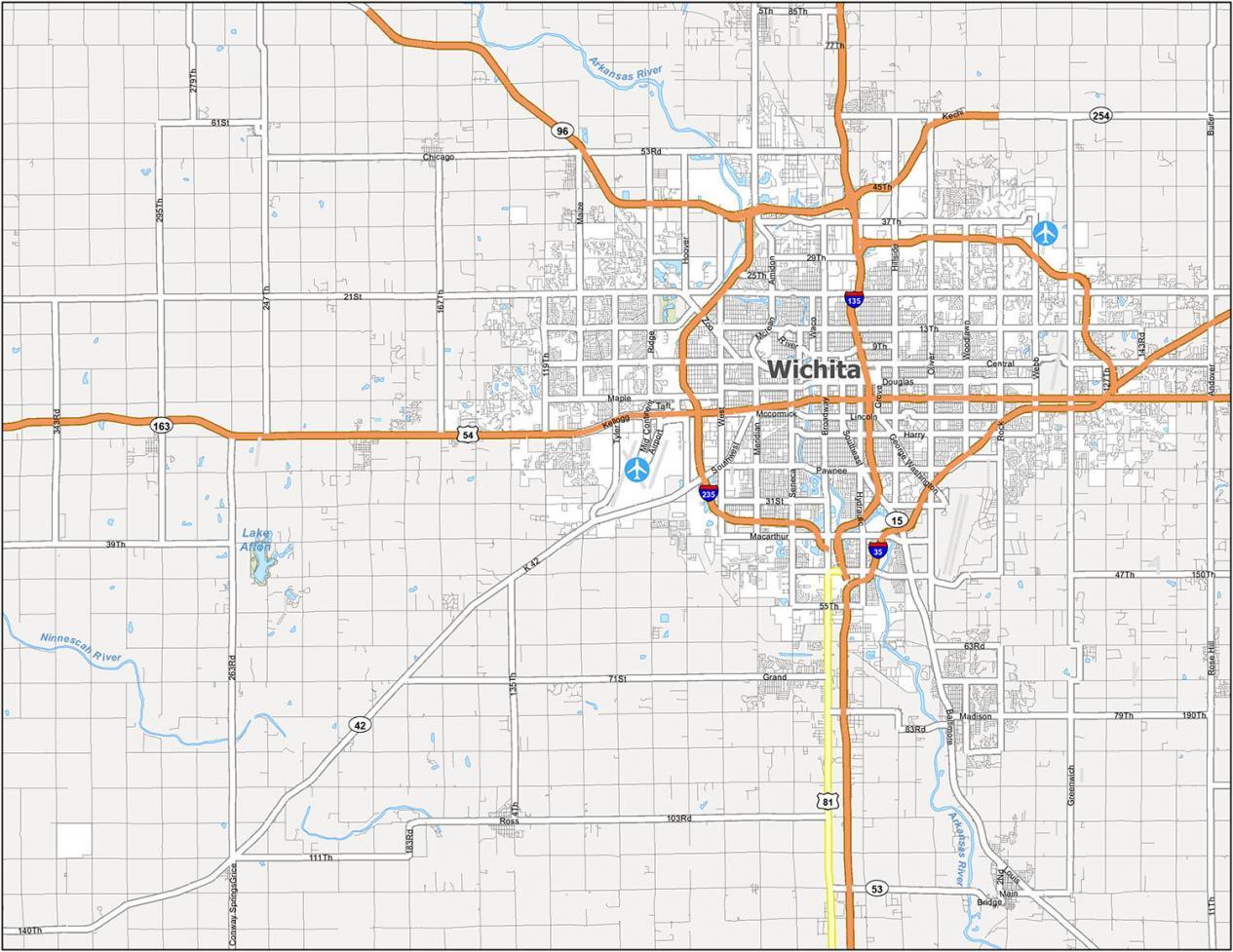 Interstate Highways: I-35, I-135, I-235
US Highways: 15, 42, 54, 81, 96, 254, K42 Hwy
Major Roads: 13th St, 47th St, Amidon Ave, Broadway St, Central Ave, Douglas Ave, Edwards St, Harry St, Kellogg St, Lincoln St, McCormick St, Meridian Ave, Murdock St, Pawnee St, Southeast Blvd, Southwest Blvd, Washington St
10 Things To Do in Wichita
This map will help you explore the city and find your way to all the important places in Wichita Kansas. Download this map and explore the best parts of Wichita Kansas like Old Cowtown Museum and Exploration Place. You'll learn about all of the great things Wichita has to offer so you can get out and explore the city.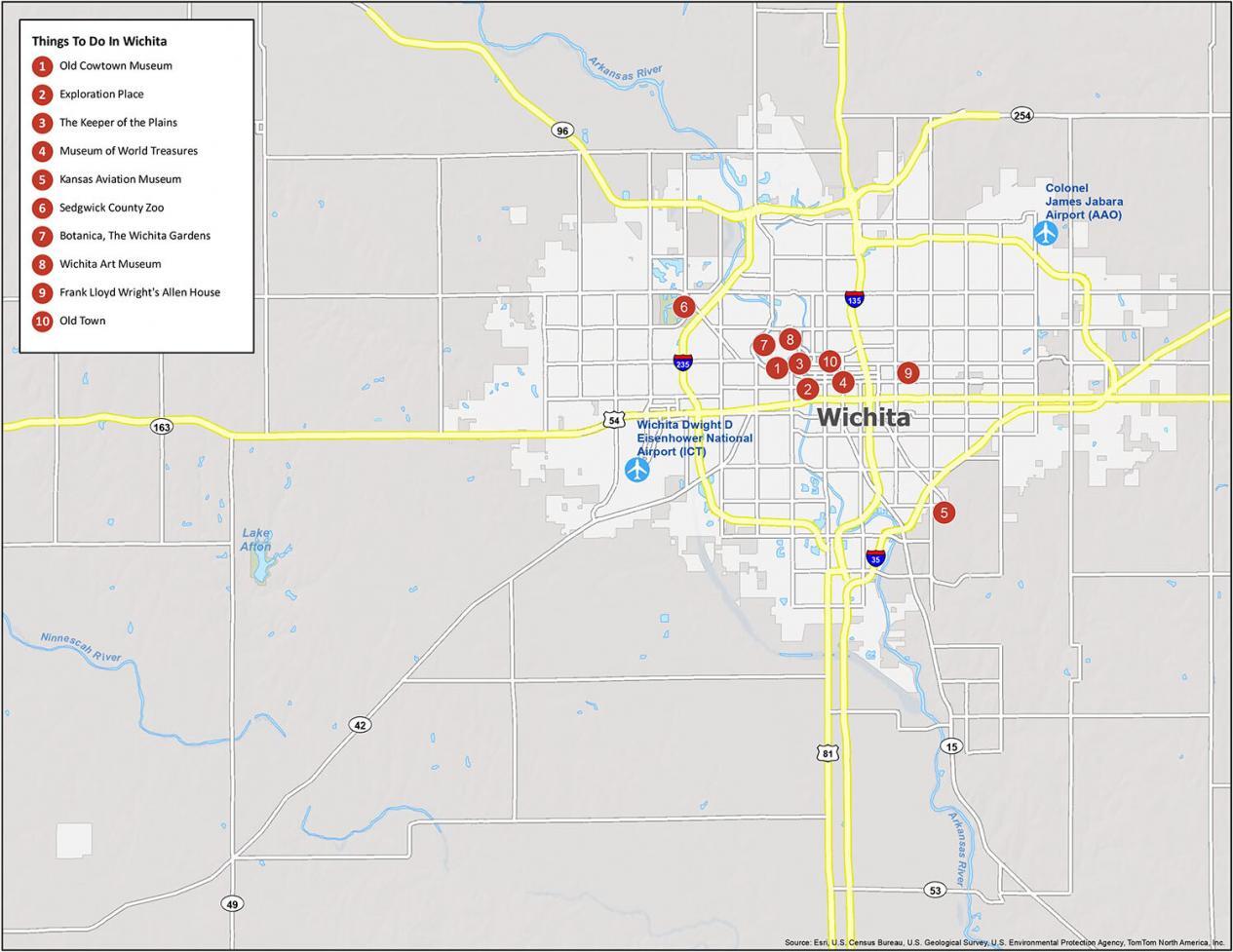 If you ever travel to Wichita, we highly recommend the following things to do.
Old Cowtown Museum
Exploration Place
The Keeper of the Plains
Museum of World Treasures
Kansas Aviation Museum
Sedgwick County Zoo
Botanica, The Wichita Gardens
Wichita Art Museum
Frank Lloyd Wright's Allen House
Old Town
Wichita Reference Map
Plan your trip by pinpointing the attractions you want to visit, then explore the city with an at-a-glance overview. With this map, you can find your way around Wichita for sightseeing and exploring. This reference map includes information on Wichita's most notable points of interest, from airports to populated areas.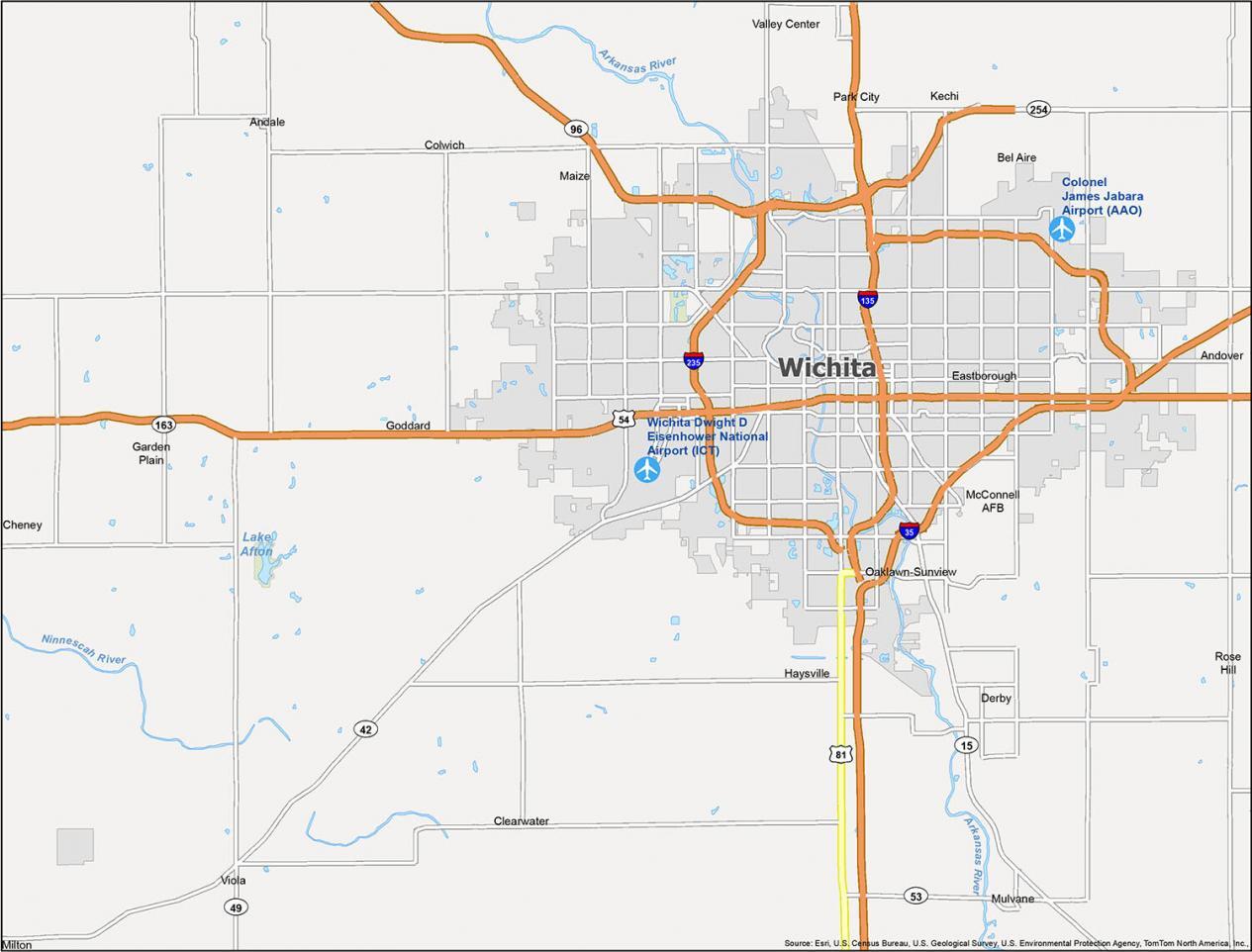 Airports: Wichita Dwight D Eisenhower National Airport (ICT), Colonel James Jabara Airport (AAO)
Cities: Andale, Andover, Bel Aire, Cheney, Clearwater, Colwich, Derby, Eastborough, Garden Plain, Goddard, Haysville, Kechi, Maize, Mulvane, Park City, Rose Hill, Valley Center, Viola, Wichita
Census-designated place (CDP): McConnell AFB, Milton, Oaklawn-Sunview
Kansas map collection