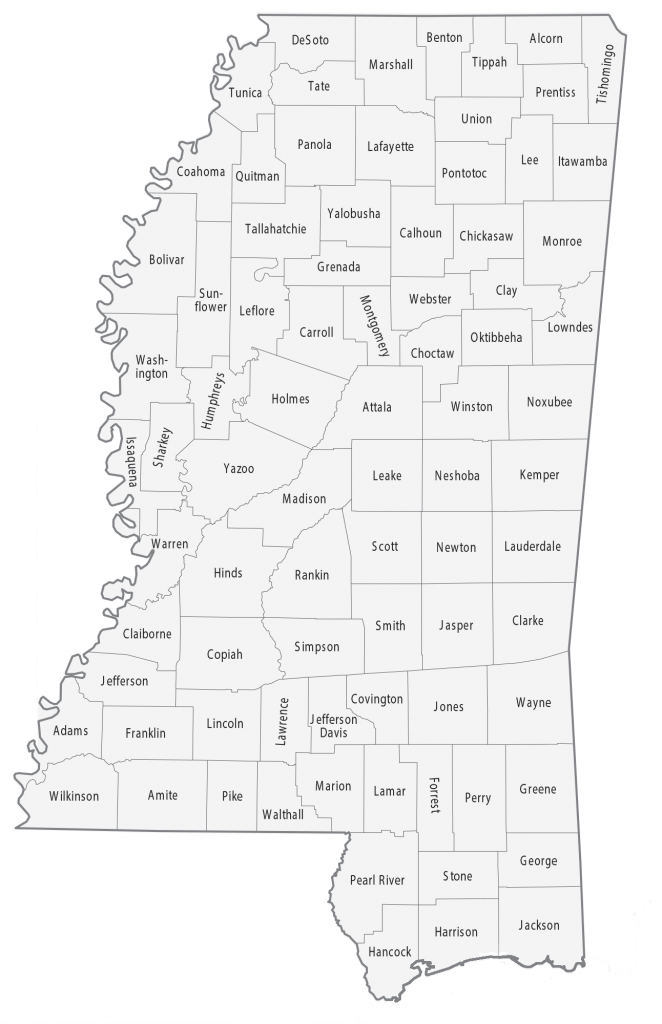 About the map
This Mississippi county map displays its 82 counties. Mississippi ranks 16th for the highest number of counties. The Mississippi River outlines the whole western boundary of the state of Mississippi. Likewise, the Big Black River and Pearl River help determine boundaries for several counties.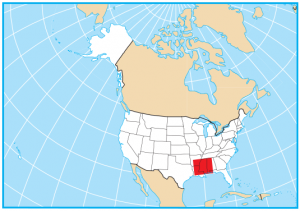 The county with the highest population in Mississippi is Hinds County, which is home to Jackson, the state capital of Mississippi. The least populated county in Mississippi is Issaquena County, with just under 1,350 people.
In terms of size, Yazoo County is the largest county in Mississippi occupying an area of 933.9 square miles. Conversely, Alcorn County is the smallest county with just over 400 square miles in size. Both Harrison and Jackson Counties include islands in the Gulf of Mexico like Cat Island, Horn Island, and Petit Bois Island.
Mississippi map collection
You are free to use our map of Mississippi for educational and commercial uses. Attribution is required. How to attribute?
Mississippi county list
| County Name | Population (2020 est) | County Map | Area (sq mi) | Locator Map | FIPS Code |
| --- | --- | --- | --- | --- | --- |
| Adams County | 30,275 | Adams County | 487.9 | Adams County Map | 28001 |
| Alcorn County | 36,889 | Alcorn County | 401.3 | Alcorn County Map | 28003 |
| Amite County | 12,205 | Amite County | 731.7 | Amite County Map | 28005 |
| Attala County | 18,004 | Attala County | 736.7 | Attala County Map | 28007 |
| Benton County | 8,351 | Benton County | 408.6 | Benton County Map | 28009 |
| Bolivar County | 30,142 | Bolivar County | 905.7 | Bolivar County Map | 28011 |
| Calhoun County | 14,241 | Calhoun County | 588 | Calhoun County Map | 28013 |
| Carroll County | 9,732 | Carroll County | 634.5 | Carroll County Map | 28015 |
| Chickasaw County | 16,951 | Chickasaw County | 504.3 | Chickasaw County Map | 28017 |
| Choctaw County | 8,063 | Choctaw County | 420.3 | Choctaw County Map | 28019 |
| Claiborne County | 8,911 | Claiborne County | 500.9 | Claiborne County Map | 28021 |
| Clarke County | 15,299 | Clarke County | 693.4 | Clarke County Map | 28023 |
| Clay County | 19,352 | Clay County | 415.9 | Clay County Map | 28025 |
| Coahoma County | 21,564 | Coahoma County | 583.1 | Coahoma County Map | 28027 |
| Copiah County | 27,933 | Copiah County | 779.4 | Copiah County Map | 28029 |
| Covington County | 18,518 | Covington County | 414.9 | Covington County Map | 28031 |
| DeSoto County | 188,275 | DeSoto County | 497.2 | DeSoto County Map | 28033 |
| Forrest County | 75,009 | Forrest County | 470.2 | Forrest County Map | 28035 |
| Franklin County | 7,657 | Franklin County | 566.5 | Franklin County Map | 28037 |
| George County | 24,425 | George County | 483.6 | George County Map | 28039 |
| Greene County | 13,477 | Greene County | 718.7 | Greene County Map | 28041 |
| Grenada County | 20,610 | Grenada County | 449.4 | Grenada County Map | 28043 |
| Hancock County | 48,000 | Hancock County | 484 | Hancock County Map | 28045 |
| Harrison County | 208,801 | Harrison County | 584.5 | Harrison County Map | 28047 |
| Hinds County | 227,966 | Hinds County | 877.3 | Hinds County Map | 28049 |
| Holmes County | 16,726 | Holmes County | 764.5 | Holmes County Map | 28051 |
| Humphreys County | 7,827 | Humphreys County | 431.3 | Humphreys County Map | 28053 |
| Issaquena County | 1,220 | Issaquena County | 436.7 | Issaquena County Map | 28055 |
| Itawamba County | 23,261 | Itawamba County | 540.4 | Itawamba County Map | 28057 |
| Jackson County | 143,802 | Jackson County | 740.8 | Jackson County Map | 28059 |
| Jasper County | 16,332 | Jasper County | 677.4 | Jasper County Map | 28061 |
| Jefferson County | 6,997 | Jefferson County | 527.1 | Jefferson County Map | 28063 |
| Jefferson Davis County | 10,890 | Jefferson Davis County | 409.2 | Jefferson Davis County Map | 28065 |
| Jones County | 67,993 | Jones County | 699.7 | Jones County Map | 28067 |
| Kemper County | 9,521 | Kemper County | 767 | Kemper County Map | 28069 |
| Lafayette County | 54,408 | Lafayette County | 679.3 | Lafayette County Map | 28071 |
| Lamar County | 64,165 | Lamar County | 500.4 | Lamar County Map | 28073 |
| Lauderdale County | 73,751 | Lauderdale County | 715.3 | Lauderdale County Map | 28075 |
| Lawrence County | 12,480 | Lawrence County | 435.8 | Lawrence County Map | 28077 |
| Leake County | 22,741 | Leake County | 585.4 | Leake County Map | 28079 |
| Lee County | 85,466 | Lee County | 453.1 | Lee County Map | 28081 |
| Leflore County | 27,854 | Leflore County | 606.3 | Leflore County Map | 28083 |
| Lincoln County | 33,936 | Lincoln County | 588.2 | Lincoln County Map | 28085 |
| Lowndes County | 58,309 | Lowndes County | 516.3 | Lowndes County Map | 28087 |
| Madison County | 106,871 | Madison County | 742.2 | Madison County Map | 28089 |
| Marion County | 24,441 | Marion County | 548.7 | Marion County Map | 28091 |
| Marshall County | 35,301 | Marshall County | 709.7 | Marshall County Map | 28093 |
| Monroe County | 35,123 | Monroe County | 772.1 | Monroe County Map | 28095 |
| Montgomery County | 9,661 | Montgomery County | 407.8 | Montgomery County Map | 28097 |
| Neshoba County | 28,996 | Neshoba County | 571.7 | Neshoba County Map | 28099 |
| Newton County | 20,866 | Newton County | 579.6 | Newton County Map | 28101 |
| Noxubee County | 10,236 | Noxubee County | 700.1 | Noxubee County Map | 28103 |
| Oktibbeha County | 49,789 | Oktibbeha County | 462 | Oktibbeha County Map | 28105 |
| Panola County | 33,848 | Panola County | 705.2 | Panola County Map | 28107 |
| Pearl River County | 55,876 | Pearl River County | 819.1 | Pearl River County Map | 28109 |
| Perry County | 11,862 | Perry County | 650.2 | Perry County Map | 28111 |
| Pike County | 38,997 | Pike County | 410.6 | Pike County Map | 28113 |
| Pontotoc County | 32,461 | Pontotoc County | 501 | Pontotoc County Map | 28115 |
| Prentiss County | 25,013 | Prentiss County | 418.2 | Prentiss County Map | 28117 |
| Quitman County | 6,760 | Quitman County | 406.4 | Quitman County Map | 28119 |
| Rankin County | 155,975 | Rankin County | 805.9 | Rankin County Map | 28121 |
| Scott County | 28,061 | Scott County | 610.4 | Scott County Map | 28123 |
| Sharkey County | 4,160 | Sharkey County | 435.3 | Sharkey County Map | 28125 |
| Simpson County | 26,629 | Simpson County | 590.5 | Simpson County Map | 28127 |
| Smith County | 15,779 | Smith County | 637.3 | Smith County Map | 28129 |
| Stone County | 18,360 | Stone County | 448.1 | Stone County Map | 28131 |
| Sunflower County | 24,740 | Sunflower County | 706.9 | Sunflower County Map | 28133 |
| Tallahatchie County | 13,707 | Tallahatchie County | 652.2 | Tallahatchie County Map | 28135 |
| Tate County | 28,539 | Tate County | 411 | Tate County Map | 28137 |
| Tippah County | 21,748 | Tippah County | 459.9 | Tippah County Map | 28139 |
| Tishomingo County | 19,275 | Tishomingo County | 444.6 | Tishomingo County Map | 28141 |
| Tunica County | 9,392 | Tunica County | 480.8 | Tunica County Map | 28143 |
| Union County | 28,866 | Union County | 416.9 | Union County Map | 28145 |
| Walthall County | 14,294 | Walthall County | 404.3 | Walthall County Map | 28147 |
| Warren County | 44,841 | Warren County | 620.1 | Warren County Map | 28149 |
| Washington County | 42,837 | Washington County | 760.9 | Washington County Map | 28151 |
| Wayne County | 20,317 | Wayne County | 813.5 | Wayne County Map | 28153 |
| Webster County | 9,676 | Webster County | 422.8 | Webster County Map | 28155 |
| Wilkinson County | 8,351 | Wilkinson County | 687.2 | Wilkinson County Map | 28157 |
| Winston County | 17,845 | Winston County | 610.1 | Winston County Map | 28159 |
| Yalobusha County | 11,982 | Yalobusha County | 495 | Yalobusha County Map | 28161 |
| Yazoo County | 26,982 | Yazoo County | 933.9 | Yazoo County Map | 28163 |
References
US State Maps
Select a state to view its map