About the map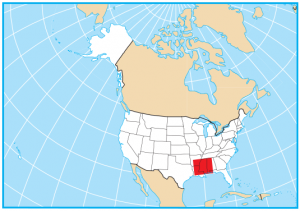 This Mississippi county map displays its 82 counties. Mississippi ranks 16th for the highest number of counties. The Mississippi River outlines the whole western boundary for the state of Mississippi. Likewise, the Big Black River and Pearl River helps determine boundaries for several counties.
The county with the highest population in Mississippi is Hinds County, which is home to Jackson, the state capital of Mississippi. The least populated county is Issaquena County, with just under 1,350 people.
In terms of size, Yazoo County is the largest county in Mississippi occupying an area of 933.9 square miles. Conversely, Alcorn County is the smallest county with just over 400 square miles in size. Both Harrison and Jackson County includes islands in the Gulf of Mexico like Cat Island, Horn Island and Petit Bois Island.
Mississippi county map
References
Free US Maps
Select a state to view its map
Still looking for a real map?
National Geographic
carries a full range of Country Maps, US Maps, World Maps, Regional Maps, Historical Maps and Celestial Maps.