Mississippi State Map – Places and Landmarks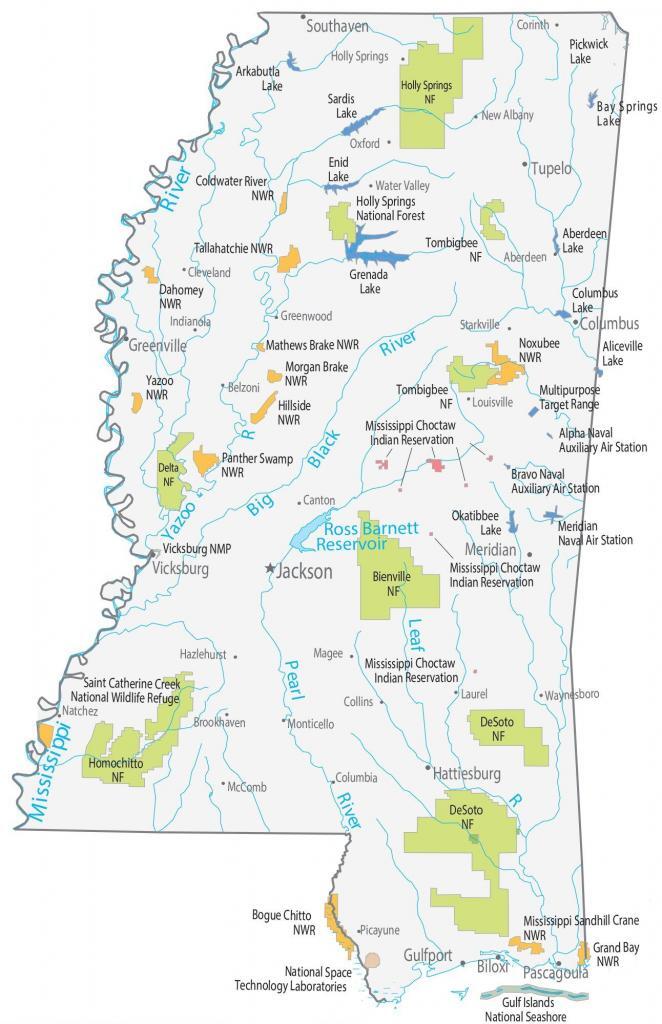 About the map
This Mississippi State Map shows major landmarks and places in Mississippi. For example, it features national forests, wildlife refuges, and other federal lands in Mississippi.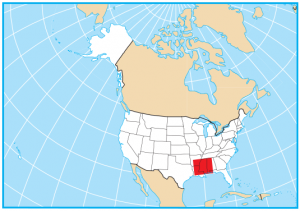 Mississippi has six national forests with the largest one being DeSoto National Forest. The state also has 13 national wildlife refuges designed to conserve fish, wildlife, and various types of habitats. There are lots of places to visit throughout Mississippi that will give you a one-of-a-kind experience.
There is no shortage of things to do if you go to Mississippi. For instance, the Gulf Islands National Seashore offers recreation, sandy beaches, and historic preservation along the Gulf of Mexico. Next, Vicksburg National Military Park is a historic battle site dating back to the Civil War of 1863, involving cannons and artillery batteries.
Mississippi map collection
You are free to use our map of Mississippi for educational and commercial uses. Attribution is required. How to attribute?
Federal lands
National Forests (NF)
Holly Springs NF
Tombigbeen NF
Bienville NF
Delta NF
Homochitto NF
DeSoto NF
National Wildlife Refuge (NWR)
Coldwater River NWR
Dahomey NWR
Tallahatchie NWR
Mathews Brake NWR
Morgan Brake NWR
Yazoo NWR
Mississippi Sandhill Crane NWR
Hillside NWR
Noxubee NWR
Panther Swamp NWR
Bogue Chitto NWR
Grand Bay NWR
Saint Catherine Creek NWR
Mississippi landmarks
Vicksburg NMP
Gulf Islands National Seashore
National Space Technology Laboratories
Mississippi lakes, rivers and reservoirs
Lakes and reservoirs
Okatibbee Lake
Aliceville Lake
Pickwick Lake
Sardis Lake
Enid Lake
Ross Barnett Reservoir
Bay Springs Lake
Grenada Lake
Columbus Lake
Aberdeen Lake
Arkabutla Lake
Rivers and streams
Mississippi River
Pearl River
Big Black River
Indian Reserves (IR)
Mississippi Choctaw Indian Reservation
Army, naval and military
Meridian Naval Air Station
Multipurpose Target Range
Bravo Naval Auxiliary Air Station
Alpha Naval Auxiliary Air Station
Mississippi populated places
Jackson
Biloxi
Greenville
Gulfport
Hattiesburg
Meridian
Pascagoula
Tupelo
Vicksburg
Columbus
Southaven
Aberdeen
Belzoni
Brookhaven
Canton
Cleveland
Collins
Columbia
Corinth
Greenwood
Hazlehurst
Holly Springs
Indianola
Laurel
Louisville
Magee
McComb
Monticello
New Albany
Oxford
Picayune
Starkville
Water Valley
Waynesboro
Natchez
State capital
Jackson
References