Map of Mississippi – Cities and Roads
About the map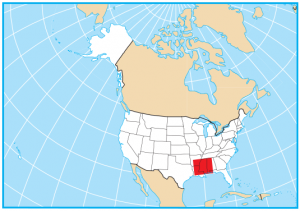 This Mississippi map contains cities, roads, rivers, and lakes. For example, Jackson, Biloxi, and Southaven are some of the major cities shown on this map of Mississippi.
The state of Mississippi is located in the south of the United States. It borders Alabama, Tennessee, Arkansas and Louisiana.
Mississippi is America's truest, deepest southern state. It's known for butter on grits, churches, and pecans. Also, it's the most obese state. Finally, Oprah and Elvis were born here.
State capital
Jackson
Major cities and towns
Jackson
Biloxi
Greenville
Gulfport
Hattiesburg
Meridian
Pascagoula
Tupelo
Vicksburg
Columbus
Southaven
Aberdeen
Batesville
Belzoni
Brookhaven
Canton
Clarksdale
Cleveland
Collins
Columbia
Corinth
Forest
Greenwood
Hazlehurst
Holly Springs
Indianola
Kosciusko
Laurel
Louisville
Magee
McComb
Monticello
Natchez
New Albany
Oxford
Philadelphia
Picayune
Senatobia
Starkville
Water Valley
Yazoo City
Waynesboro
Grenada
Interstate highways
Interstate-59 (I-59)
Interstate-55 (I-55)
Interstate-10 (I-10)
Interstate-20 (I-20)
Lakes, rivers and creeks
Mississippi River
Pearl River
Big Black River
Yazoo River
Leaf River
Ross Barnett Reservoir
Gulf of Mexico
Pickwick Lake
Sardis Lake
Grenada Lake
Landmarks in Mississippi
Woodall Mountains
References
A US road map that displays major interstate highways, limited-access highways and principal roads in the United States including states and capital cities.
A USA map with states and cities that colorizes all 50 states in the United States of America. It includes selected major, minor and capital cities.
How much rain falls in the United States? Take a close look at this US precipitation map to see where it falls the most and least. You'll see it fluctuates.
US State Maps