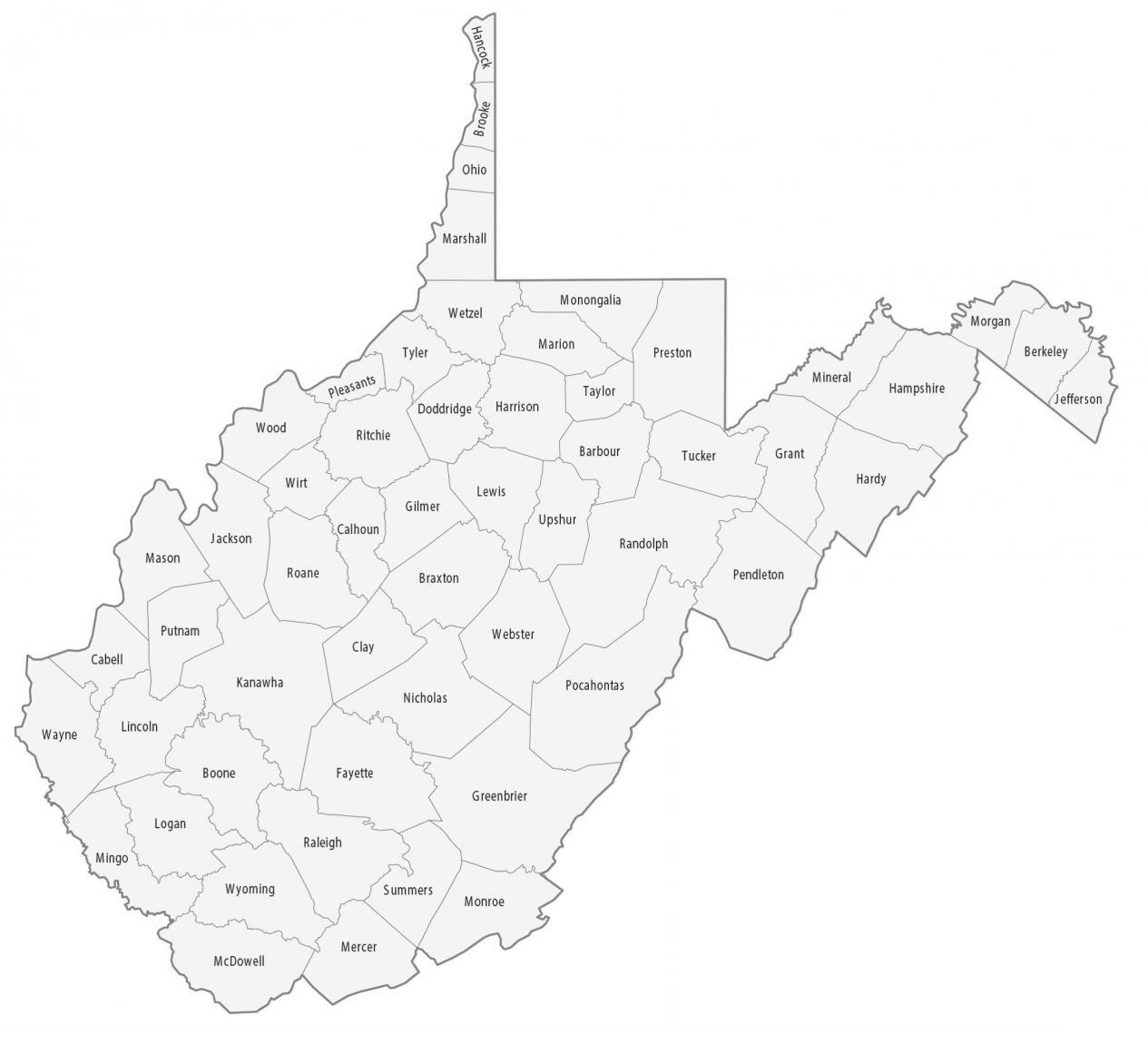 About the map
This West Virginia county map displays its 55 counties. Kanawha, Monongalia, and Cabell counties are some of the largest counties in West Virginia in terms of population.
For size, Randolph County is the largest, occupying an area of close to 1,040 square miles. But its neighbor, Greenbrier County, is a close second, just under 1,025 square miles. On the other hand, Hancock County in the north of West Virginia is the smallest occupying an area of 86.8 square miles.
The most populated county in West Virginia is Kanawha County with over 175,000 residents. It's home to Charleston, which is the state capital of West Virginia. Conversely, Wirt County is the least populated county with under 6,000 people.
West Virginia map collection
You are free to use our county map of West Virginia for educational and commercial uses. Attribution is required. How to attribute?
West Virginia County List
| County Name | Population (2020 est) | County Map | Area (sq mi) | Locator Map | FIPS Code |
| --- | --- | --- | --- | --- | --- |
| Barbour County | 16,444 | Barbour County | 342.7 | Barbour County Map | 54001 |
| Berkeley County | 122,125 | Berkeley County | 321.6 | Berkeley County Map | 54003 |
| Boone County | 21,055 | Boone County | 502.7 | Boone County Map | 54005 |
| Braxton County | 13,702 | Braxton County | 515.5 | Braxton County Map | 54007 |
| Brooke County | 21,674 | Brooke County | 91 | Brooke County Map | 54009 |
| Cabell County | 91,589 | Cabell County | 286.3 | Cabell County Map | 54011 |
| Calhoun County | 6,945 | Calhoun County | 280.8 | Calhoun County Map | 54013 |
| Clay County | 8,341 | Clay County | 343.8 | Clay County Map | 54015 |
| Doddridge County | 8,368 | Doddridge County | 320.5 | Doddridge County Map | 54017 |
| Fayette County | 42,062 | Fayette County | 669.7 | Fayette County Map | 54019 |
| Gilmer County | 7,811 | Gilmer County | 340.1 | Gilmer County Map | 54021 |
| Grant County | 11,510 | Grant County | 480.4 | Grant County Map | 54023 |
| Greenbrier County | 34,319 | Greenbrier County | 1024.3 | Greenbrier County Map | 54025 |
| Hampshire County | 23,190 | Hampshire County | 645.2 | Hampshire County Map | 54027 |
| Hancock County | 28,571 | Hancock County | 86.8 | Hancock County Map | 54029 |
| Hardy County | 13,633 | Hardy County | 584.3 | Hardy County Map | 54031 |
| Harrison County | 66,870 | Harrison County | 416.6 | Harrison County Map | 54033 |
| Jackson County | 28,453 | Jackson County | 469.5 | Jackson County Map | 54035 |
| Jefferson County | 57,486 | Jefferson County | 211.6 | Jefferson County Map | 54037 |
| Kanawha County | 176,253 | Kanawha County | 910.8 | Kanawha County Map | 54039 |
| Lewis County | 15,805 | Lewis County | 390.3 | Lewis County Map | 54041 |
| Lincoln County | 20,043 | Lincoln County | 439.3 | Lincoln County Map | 54043 |
| Logan County | 31,688 | Logan County | 455.7 | Logan County Map | 54045 |
| Marion County | 55,962 | Marion County | 311.5 | Marion County Map | 54049 |
| Marshall County | 30,103 | Marshall County | 309.8 | Marshall County Map | 54051 |
| Mason County | 26,335 | Mason County | 442.3 | Mason County Map | 54053 |
| McDowell County | 16,916 | McDowell County | 535.1 | McDowell County Map | 54047 |
| Mercer County | 58,258 | Mercer County | 420.8 | Mercer County Map | 54055 |
| Mineral County | 26,722 | Mineral County | 330.4 | Mineral County Map | 54057 |
| Mingo County | 22,951 | Mingo County | 427.6 | Mingo County Map | 54059 |
| Monongalia County | 106,819 | Monongalia County | 365.7 | Monongalia County Map | 54061 |
| Monroe County | 13,229 | Monroe County | 475.2 | Monroe County Map | 54063 |
| Morgan County | 17,873 | Morgan County | 233.1 | Morgan County Map | 54065 |
| Nicholas County | 24,340 | Nicholas County | 654.1 | Nicholas County Map | 54067 |
| Ohio County | 41,182 | Ohio County | 107.9 | Ohio County Map | 54069 |
| Pendleton County | 6,932 | Pendleton County | 699 | Pendleton County Map | 54071 |
| Pleasants County | 7,438 | Pleasants County | 133 | Pleasants County Map | 54073 |
| Pocahontas County | 8,190 | Pocahontas County | 941.6 | Pocahontas County Map | 54075 |
| Preston County | 33,380 | Preston County | 652.1 | Preston County Map | 54077 |
| Putnam County | 56,428 | Putnam County | 350.4 | Putnam County Map | 54079 |
| Raleigh County | 72,920 | Raleigh County | 607.9 | Raleigh County Map | 54081 |
| Randolph County | 28,387 | Randolph County | 1039.7 | Randolph County Map | 54083 |
| Ritchie County | 9,499 | Ritchie County | 454 | Ritchie County Map | 54085 |
| Roane County | 13,482 | Roane County | 483.6 | Roane County Map | 54087 |
| Summers County | 12,444 | Summers County | 368.3 | Summers County Map | 54089 |
| Taylor County | 16,699 | Taylor County | 175.7 | Taylor County Map | 54091 |
| Tucker County | 6,816 | Tucker County | 421.2 | Tucker County Map | 54093 |
| Tyler County | 8,533 | Tyler County | 259.6 | Tyler County Map | 54095 |
| Upshur County | 24,230 | Upshur County | 355 | Upshur County Map | 54097 |
| Wayne County | 39,054 | Wayne County | 512.6 | Wayne County Map | 54099 |
| Webster County | 8,058 | Webster County | 556.1 | Webster County Map | 54101 |
| Wetzel County | 14,904 | Wetzel County | 360.9 | Wetzel County Map | 54103 |
| Wirt County | 5,705 | Wirt County | 234.3 | Wirt County Map | 54105 |
| Wood County | 82,938 | Wood County | 374.3 | Wood County Map | 54107 |
| Wyoming County | 20,123 | Wyoming County | 501.8 | Wyoming County Map | 54109 |
References