You are free to use our counties map of Alaska for educational and commercial uses. Attribution is required. How to attribute?
About the map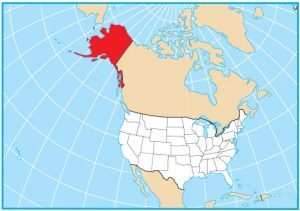 In terms of administrative boundaries, Alaska is completely unique because it doesn't have counties. Instead, it consists of boroughs, census areas, cities, and municipalities.
Because land is so large and the population is sparse, boroughs act with an organized area-wide government. But census areas don't have an organized government and are for statistical purposes.
This Alaska county map displays all of its 29 administrative areas in total for the state of Alaska. In terms of population, Anchorage is the largest administrative boundary. Despite having one of the lowest populations, Yukon-Koyukuk has the largest area of any county or county-equivalent in the United States.
Alaska map collection
Alabama boroughs, census areas, and municipalities list
| Name | Population (2020 est) | Alaska Map | Area (sq mi) | Locator Map | FIPS Code |
| --- | --- | --- | --- | --- | --- |
| Aleutians East | 3,401 | | 6800.6 | Aleutians East Borough Map | 2013 |
| Aleutians West | 5,680 | | 4676.3 | Aleutians West Census Area Map | 2016 |
| Anchorage | 287,095 | | 1728.7 | Anchorage Municipality Map | 2020 |
| Bethel | 18,437 | | 41607.3 | Bethel Census Area Map | 2050 |
| Bristol Bay | 788 | | 525.1 | Bristol Bay Borough Map | 2060 |
| Denali | 2,081 | | 12776.6 | Denali Borough Map | 2068 |
| Dillingham | 4,833 | | 19192.2 | Dillingham Census Area Map | 2070 |
| Fairbanks North Star | 95,651 | | 7442.6 | Fairbanks North Star Borough Map | 2090 |
| Haines | 2,614 | | 2376.3 | Haines Borough Map | 2100 |
| Hoonah-Angoon | 2,141 | | 7484.1 | Hoonah Angoon Census Area Map | 2232 |
| Juneau | 31,849 | | 2760.2 | Juneau Borough Map | 2110 |
| Kenai Peninsula | 59,414 | | 16428.2 | Kenai Peninsula Borough Map | 2122 |
| Ketchikan Gateway | 13,747 | | 4886.6 | Ketchikan Gateway Borough Map | 2130 |
| Kodiak Island | 12,992 | | 6626.7 | Kodiak Island Borough Map | 2150 |
| Lake and Peninsula | 1,592 | | 26180.6 | Lake and Peninsula Borough Map | 2164 |
| Matanuska-Susitna | 108,317 | | 24965.6 | Matanuska Susitna Borough Map | 2170 |
| Nome | 9,909 | | 23112.3 | Nome Census Area Map | 2180 |
| North Slope | 9,294 | | 89499.3 | North Slope Borough Map | 2185 |
| Northwest Arctic | 7,644 | | 36450 | Northwest Arctic Borough Map | 2188 |
| Petersburg | 3,296 | | 3318.1 | Petersburg Census Area Map | 2280 |
| Prince of Wales-Hyder | 6,147 | | 3877 | Prince of Wales Hyder Census Area Map | 2198 |
| Sitka | 8,405 | | 2911.9 | Sitka Borough Map | 2220 |
| Skagway | 1,179 | | 446.4 | Skagway City and Borough Map | 2230 |
| Southeast Fairbanks | 6,957 | | 25071.1 | Southeast Fairbanks Census Area Map | 2240 |
| Valdez-Cordova | 9,202 | | 34869.5 | Valdez Cordova Census Area Map | 2261 |
| Wade Hampton | 8,314 | | 17862.8 | Wade Hampton Census Area Map | 2270 |
| Wrangell | 2,510 | | 2593.8 | Wrangell Borough Map | 2275 |
| Yakutat | 637 | | 7762.1 | Yakutat Borough Map | 2282 |
| Yukon-Koyukuk | 5,077 | | 147808.8 | Yukon Koyukuk Census Area Map | 2290 |
References
US State Maps
Select a state to view its map