Map of Anchorage
Anchorage, Alaska is a place for people from all walks of life. If you're looking to see what this city is all about, check out this Anchorage map collection. It includes a highway/road map, the top 10 things to do, and nearby places with neighborhoods.
This is a great place for anyone who loves a big city living with a smaller town's charm and culture. From hiking to fishing, from camping to skiing, Anchorage has something for everyone. Many visitors come here on vacation or are looking for a place to retire.
Anchorage is the largest city in Alaska by far, it's a gateway to exploring some of the most remote regions of the United States. The entire state of Alaska is a wild land of adventure, wonder, and beauty. It's for those who seek the unknown.
Jump To: Interactive Map | Printable Road Map | 10 Things to Do | Reference Map
Anchorage map collection
Interactive Map of Anchorage
This interactive Anchorage map is a great tool for when you need to travel to Anchorage. With its interactive nature, you can easily see what attractions are nearby or plan your trip accordingly. This map aims to provide the best possible experience for visitors to the city and is updated frequently with new information.
Anchorage Road Map
Anchorage is the most populous city in Alaska. It is located near the eastern edge of Knik Arm, with the Chugach Mountains stretching to the east. Anchorage is on a peninsula split along the Cook Inlet. Anchorage is located 370 miles (600 km) south of the Arctic Circle at 61 degrees north latitude. If you're looking for more road and highway information for the state of Alaska, take a look at our Alaska road map.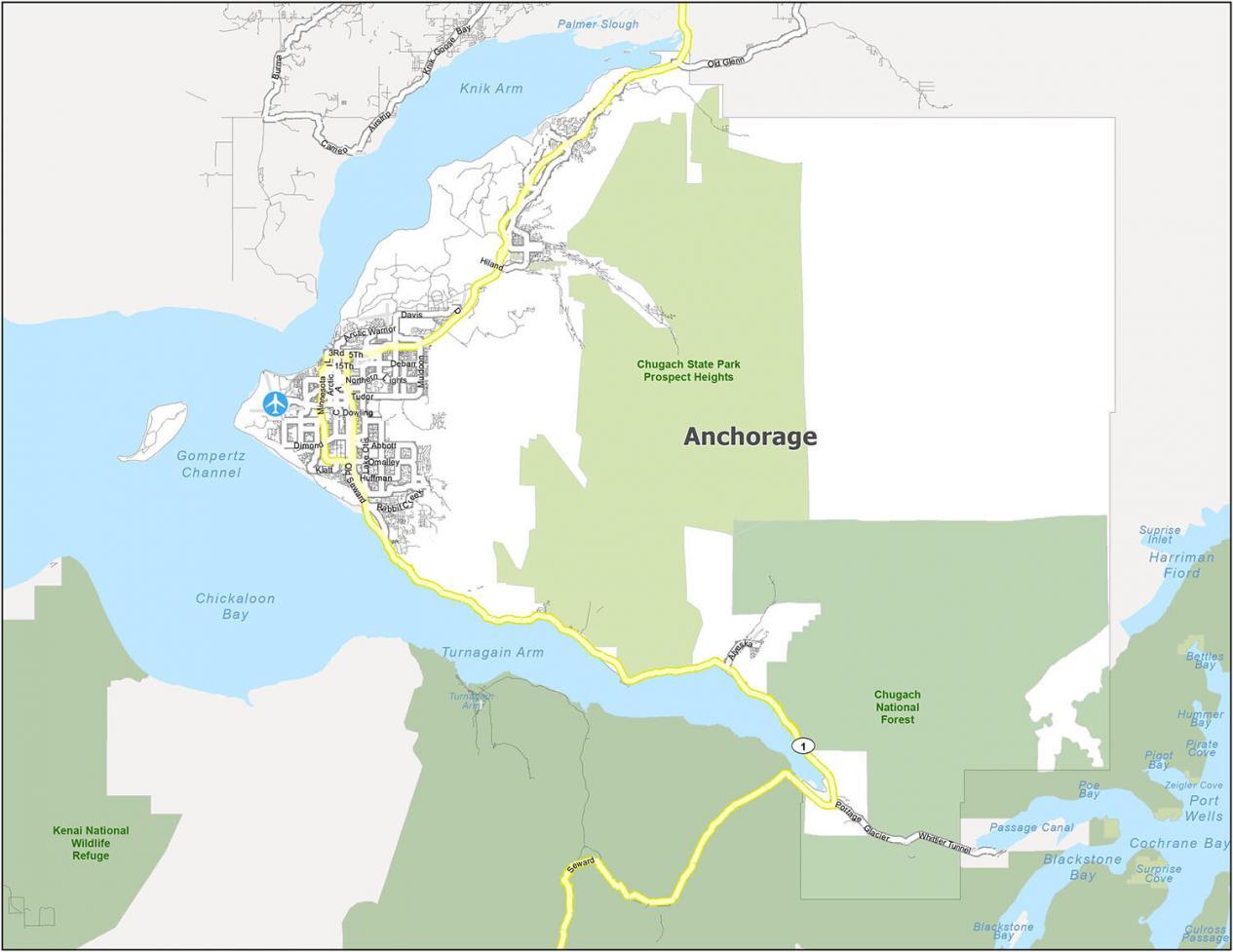 Major Highways: Highway 1
Highways: Alyeska Hwy, Davis Hwy, Old Glenn Hwy, Old Seward Hwy, Seward Hwy
Parkways: Boniface Pky, Lake Otis Pky, Penland Pky
Major Roads: 36Th Ave, 5Th Ave, 6Th Ave, Brayton Dr, Gambell St, Ingra St, Minnesota Dr, Omalley Rd, Spenard Rd, Walter J. Hickel Pkwy
10 Things To Do in Anchorage
Anchorage is a vibrant city that has many different activities to offer. If you're visiting Anchorage and want to get outside, there are five state parks located in or near Anchorage for hiking and camping adventures. In the winter, many people head south to escape the cold. But if you are looking for an adventure, Alaska is the place to be and is known for its skiing, cruises, and snowshoeing.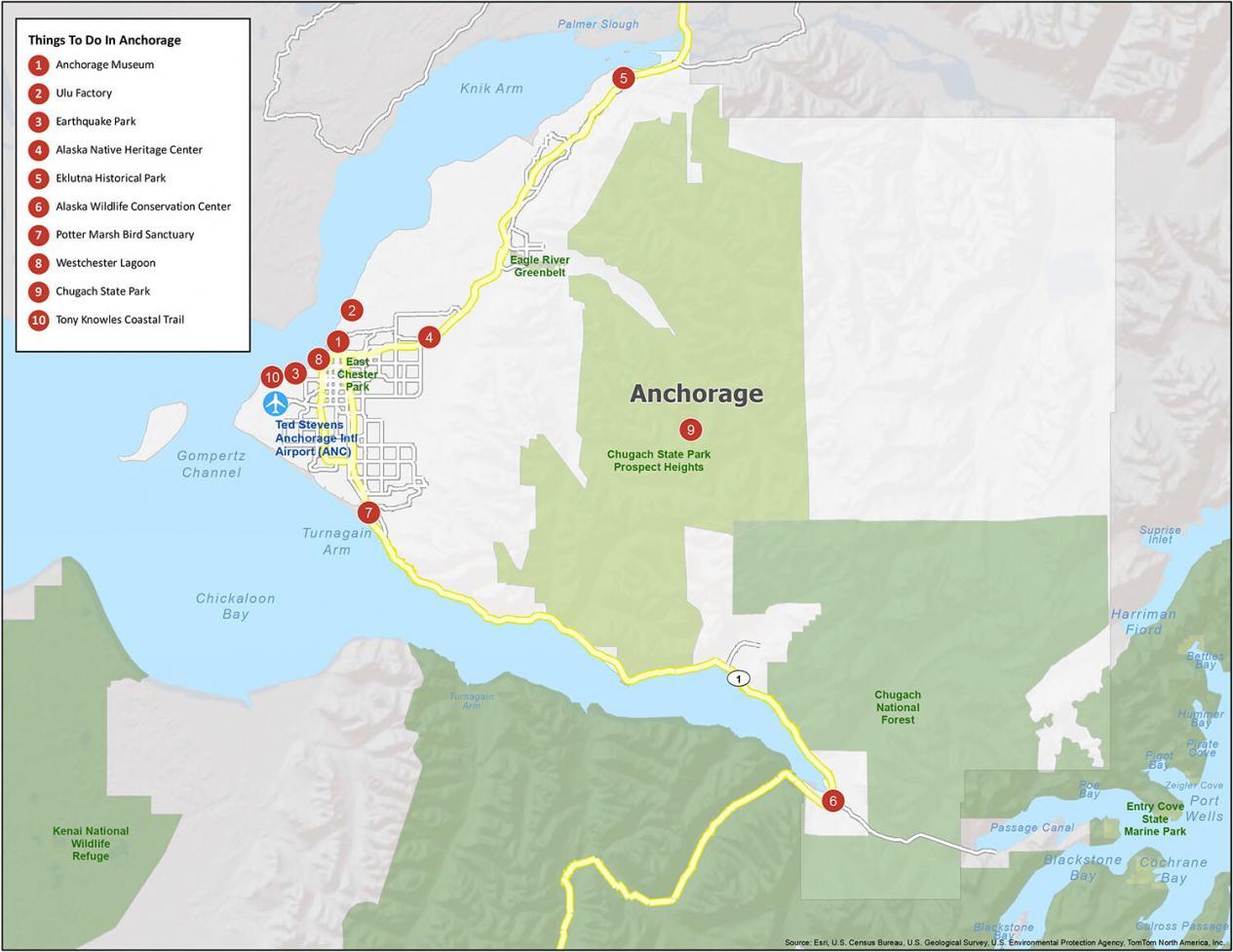 Anchorage Museum
Ulu Factory
Earthquake Park
Alaska Native Heritage Center
Eklutna Historical Park
Alaska Wildlife Conservation Center
Potter Marsh Bird Sanctuary
Westchester Lagoon
Chugach State Park
Tony Knowles Coastal Trail
Anchorage Alaska Reference Map
Anchorage is not just a great place to live, but also provides a rich cultural experience. It's home to many historical sites, a large military base, and enough natural wonders to fill a lifetime of exploration. Although its natural resources in this area include forests, it also has abundant wildlife that includes moose, brown bears, caribou, and black bears.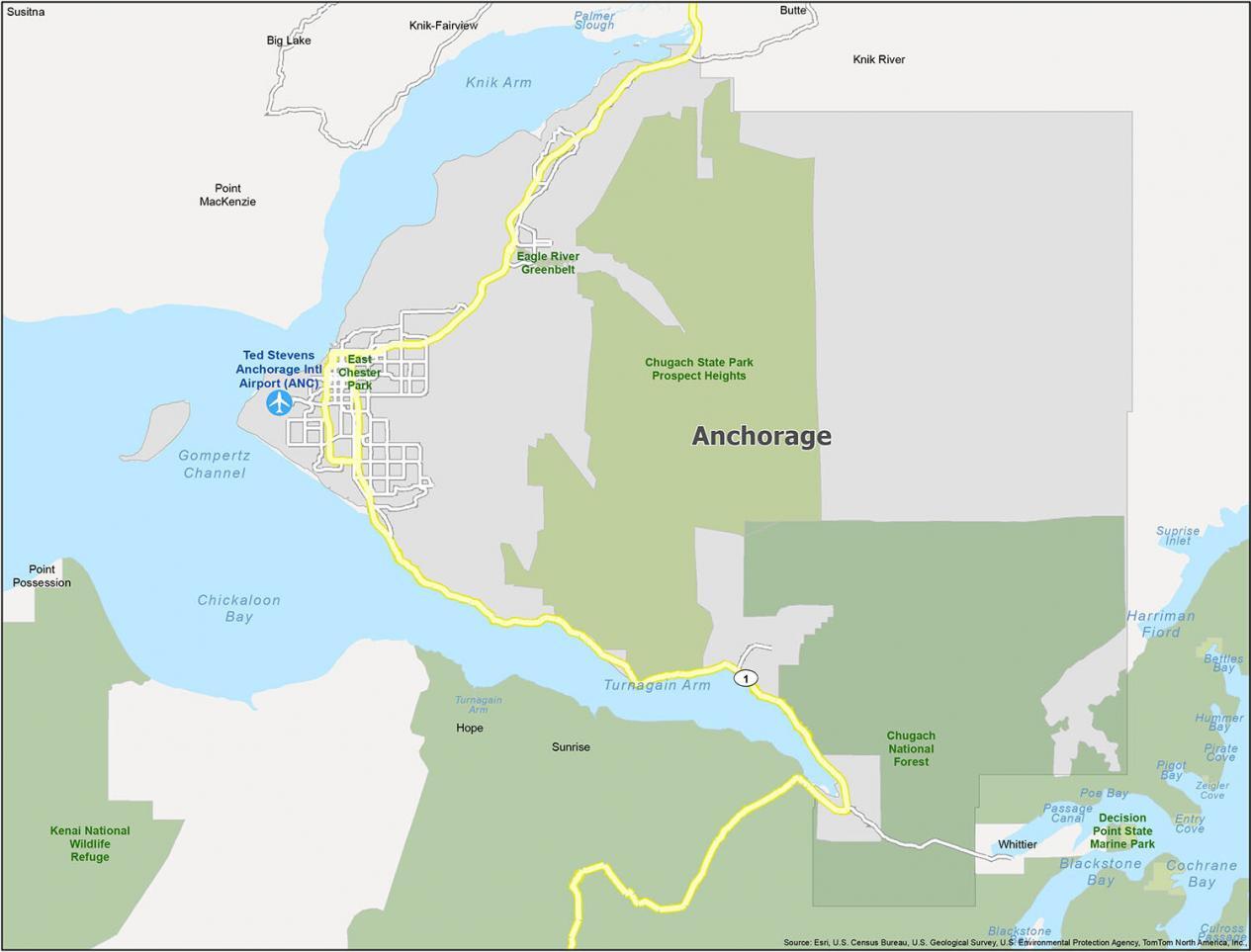 Census Designated Place (CDP): Big Lake, Butte, Hope, Knik River, Knik-Fairview, Point MacKenzie, Point Possession, Sunrise, Susitna
City: Whittier
Municipality: Anchorage
Anchorage, Alaska maps
Alaska map collection
References
Government of Alaska (Official Website)
USGS National Map Viewer