Map of Alaska – Cities and Roads
About the map
This map of Alaska displays major cities, towns, rivers, mountains, and water features. For example, Anchorage, Fairbanks, and Juneau are the major cities in the state of Alaska. Alaska is the largest state, the coldest, and has the most glaciers.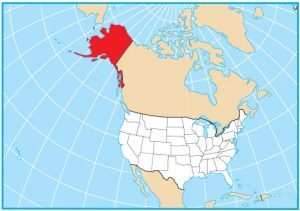 It's so cold that it's as if you're living in a refrigerator. Alaska is known for glaciers, polar bears, and mountains. In fact, the highest mountain in the United States is Denali in Alaska, which reaches heights up to 6,190 meters (20,310 feet) above sea level.
Alaska is home to 7 of the 9 largest national parks which are famous for glaciers, springs, and forests. In fact, Wrangell–St. Elias in Alaska is over 8 million acres (32,375 km2). There are sometimes big disconnects between cities, villages, and towns. For example, Juneau has no roads connecting it to the rest of Alaska.
You are free to use our map of Alaska for educational and commercial uses. Attribution is required. How to attribute?
Alaska map collection
Alaska state capital
Juneau
Cities, towns and villages
Anchorage
Fairbanks
Ketchikan
Sitka
Wrangell
Skagway
Valdez
Palmer
Kenai
Homer
Seward
Dillingham
Kodiak
Bethel
Holy Cross
Nome
Gambell
Galena
Unalakleet
Selawik
Kotzebue
Barrow
Wainwright
Nenana
Chignik
Unalaska
Adak
Attu
Prudhoe Bay
Glennallen
Tok
Circle
Bettles
King Salmon
Oceans, seas and rivers
Arctic Ocean
Bering Sea
Pacific Ocean
Gulf of Alaska
Chukchi Sea
Beaufort Sea
Yukon River
Notable landmarks in Alaska
Arctic Circle
Islands
Aleutian Island
St Lawrence Island
St Matthew Island
Nunivak Island
St Paul Island
St George Island
Unimak Island
Kodiak Island
Mountains and volcanoes
Brooks Range
Mt Fairweather
Mt St Elias
Mt McKinley
Shishaldin Volcano
Alaska Range
Brooks Range
References
Government of Alaska (Official Website)
USGS National Map Viewer