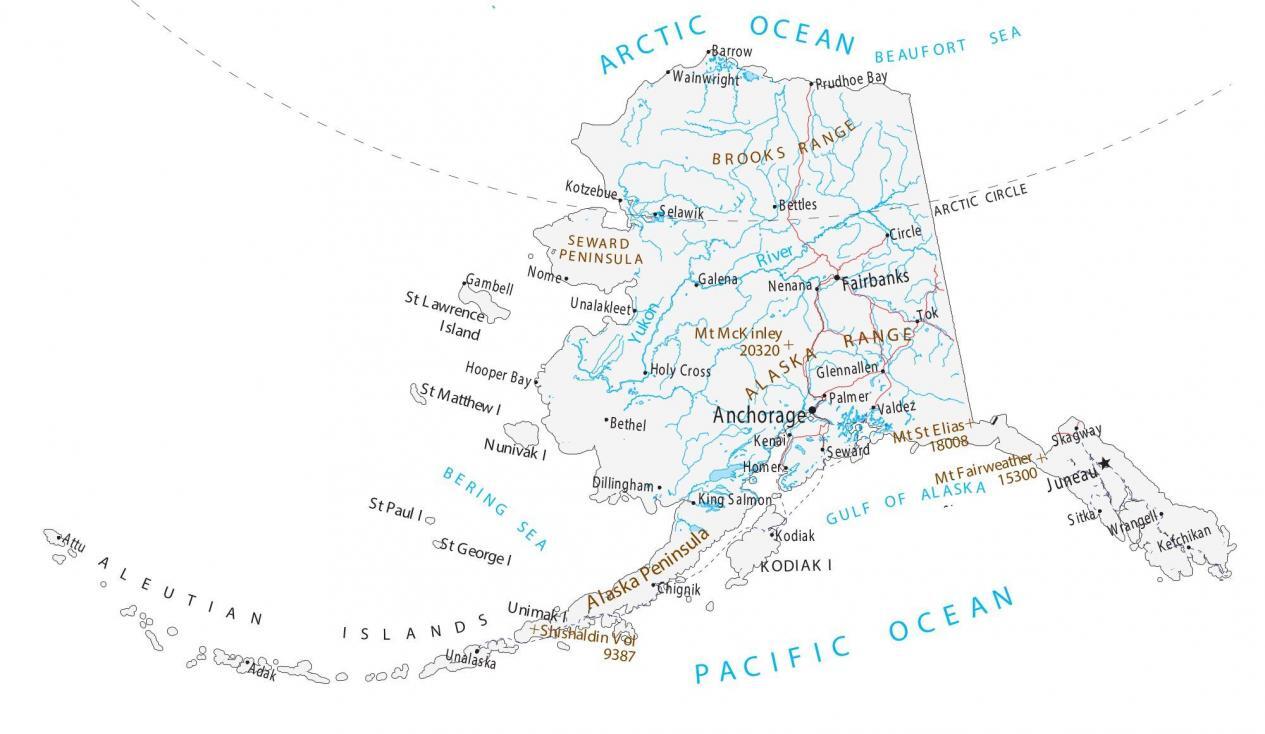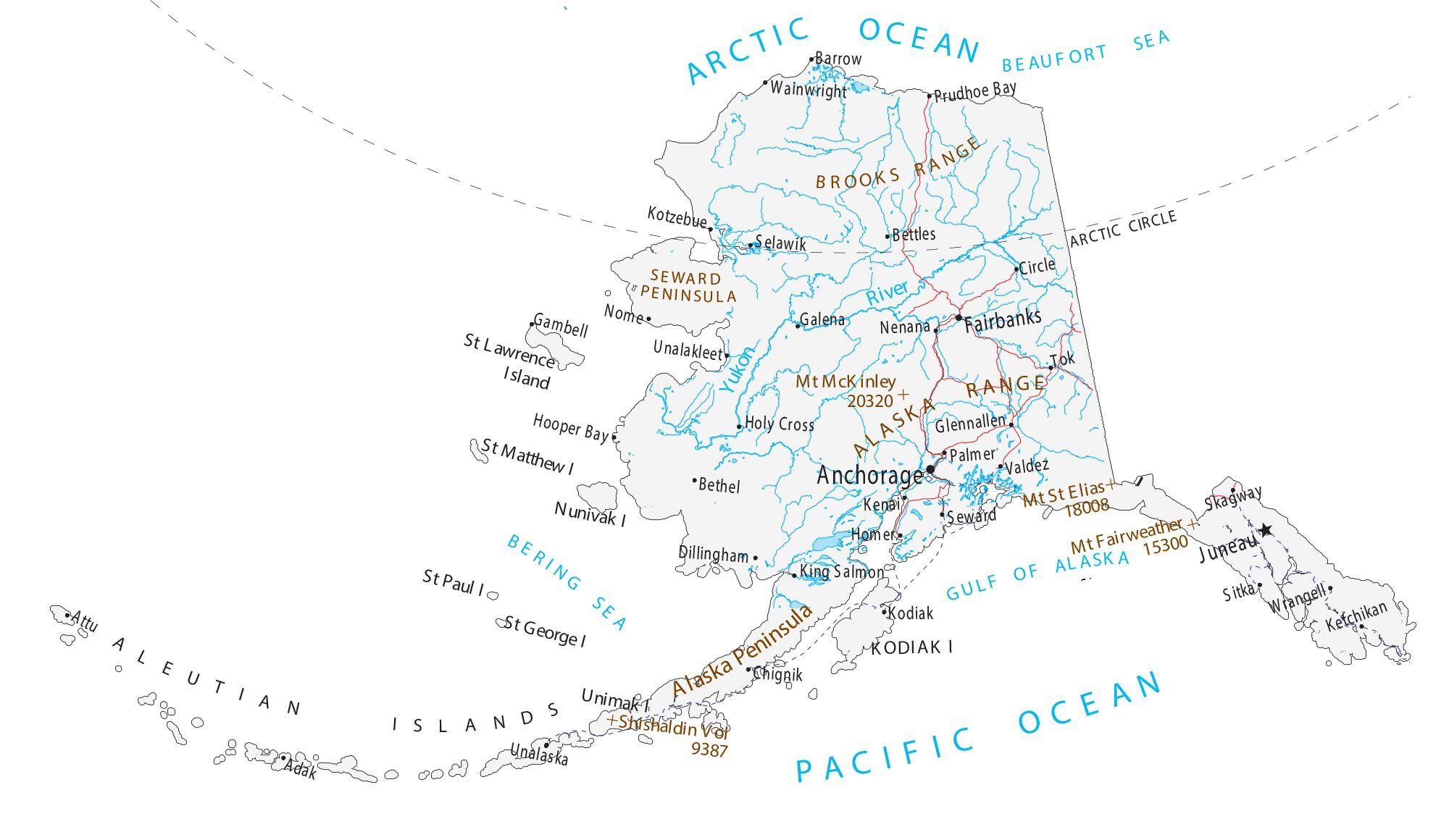 About the map
This map of Alaska displays major cities, rivers and mountains. For example, Anchorage, Fairbanks and Juneau are the major cities in the state of Alaska.
The original source of this map of Alaska is from the National Map. But it's been revised in a way so it's easy to understand. Because the source is from the National Map, you are free to use the map (as it's in the public domain).
If you would like to use the original source of the map of Alaska, you can download the PDF below. Because the PDF below contains the original map of Alaska, it includes surrounding water bodies and territories.
Alaska map collection





Alaska state capital
Juneau
Cities, towns and villages
Anchorage
Fairbanks
Ketchikan
Sitka
Wrangell
Skagway
Valdez
Palmer
Kenai
Homer
Seward
Dillingham
Kodiak
Bethel
Holy Cross
Nome
Gambell
Hooper Bay
Galena
Unalakleet
Selawik
Kotzebue
Barrow
Wainwright
Nenana
Chignik
Unalaska
Adak
Attu
Prudhoe Bay
Glennallen
Tok
Circle
Bettles
King Salmon
Oceans, seas and rivers
Arctic Ocean
Bering Sea
Pacific Ocean
Gulf of Alaska
Chukchi Sea
Beaufort Sea
Yukon River
Notable landmarks in Alaska
Arctic Circle
Islands
Aleutian Island
St Lawrence Island
St Matthew Island
Nunivak Island
St Paul Island
St George Island
Unimak Island
Kodiak Island
Mountains and volcanoes
Brooks Range
Mt Fairweather
Mt St Elias
Mt McKinley
Shishaldin Volcano
Alaska Range
Brooks Range
Cities, towns and villages
| NAME | LATITUDE | LONGITUDE | POPULATION |
| --- | --- | --- | --- |
| Anchorage | 61.218056 | -149.900278 | 291826 |
| Fairbanks | 64.837778 | -147.716389 | 31535 |
| Juneau | 58.301944 | -134.419722 | 31275 |
| Sitka | 57.053056 | -135.33 | 8881 |
| Ketchikan | 55.342222 | -131.646111 | 8050 |
| Wasilla | 61.581389 | -149.439444 | 7831 |
| Kenai | 60.554444 | -151.258333 | 7100 |
| Kodiak | 57.79 | -152.407222 | 6130 |
| Bethel | 60.792222 | -161.755833 | 6080 |
| Palmer | 61.599722 | -149.112778 | 5937 |
| Homer | 59.6425 | -151.548333 | 5003 |
| Unalaska | 53.873611 | -166.536667 | 4376 |
| Barrow | 71.290556 | -156.788611 | 4212 |
| Soldotna | 60.487778 | -151.058333 | 4163 |
| Valdez | 61.130833 | -146.348333 | 3976 |
| Nome | 64.501111 | -165.406389 | 3598 |
| Kotzebue | 66.898333 | -162.596667 | 3201 |
| Petersburg | 56.811267 | -132.951243 | 2948 |
| Seward | 60.104167 | -149.442222 | 2693 |
| Dillingham | 59.039722 | -158.4575 | 2329 |
| Cordova | 60.542778 | -145.7575 | 2239 |
| North Pole | 64.751111 | -147.349444 | 2117 |
| Houston | 61.630278 | -149.818056 | 1912 |
| Hooper Bay | 61.531111 | -166.096667 | 1093 |
| Akutan | 54.135556 | -165.773056 | 1027 |
| Sand Point | 55.339722 | -160.497222 | 976 |
| Delta Junction | 64.037778 | -145.732222 | 958 |
| King Cove | 55.061667 | -162.310278 | 938 |
| Chevak | 61.527778 | -165.586389 | 938 |
| Selawik | 66.603889 | -160.006944 | 829 |
| Togiak | 59.061944 | -160.376389 | 817 |
| Mountain Village | 62.085556 | -163.729444 | 813 |
| Emmonak | 62.777778 | -164.523056 | 762 |
| Hoonah | 58.11 | -135.443611 | 760 |
| Klawock | 55.552222 | -133.095833 | 755 |
| Kwethluk | 60.812222 | -161.435833 | 721 |
| Unalakleet | 63.873056 | -160.788056 | 688 |
| Gambell | 63.779722 | -171.741111 | 681 |
| Alakanuk | 62.688889 | -164.615278 | 677 |
| Point Hope | 68.348611 | -166.734722 | 674 |
| Savoonga | 63.694167 | -170.478889 | 671 |
| Quinhagak | 59.748889 | -161.915833 | 669 |
| Noorvik | 66.838333 | -161.032778 | 668 |
| Toksook Bay | 60.533775 | -165.103663 | 590 |
| Fort Yukon | 66.564722 | -145.273889 | 583 |
| Kotlik | 63.034167 | -163.553333 | 577 |
| Pilot Station | 61.938889 | -162.875 | 568 |
| Shishmaref | 66.256667 | -166.071944 | 563 |
| Kake | 56.975833 | -133.947222 | 557 |
| Wainwright | 70.636944 | -160.038333 | 556 |
| New Stuyahok | 59.452778 | -157.311944 | 510 |
| Saint Mary's | 62.070674 | -163.273779 | 507 |
| Aniak | 61.578333 | -159.522222 | 501 |
| Nunapitchuk | 60.896944 | -162.459444 | 496 |
| Saint Paul | 57.122222 | -170.275 | 479 |
| Scammon Bay | 61.842778 | -165.581667 | 474 |
| Kachemak | 59.674153 | -151.437364 | 472 |
| Thorne Bay | 55.687778 | -132.522222 | 471 |
| Galena | 64.733333 | -156.9275 | 470 |
| Manokotak | 58.981389 | -159.058333 | 442 |
| Gustavus | 58.413333 | -135.736944 | 442 |
| Chefornak | 60.16 | -164.265833 | 418 |
| Buckland | 65.979722 | -161.123056 | 416 |
| Marshall | 61.877778 | -162.081111 | 414 |
| Saxman | 55.318333 | -131.595833 | 411 |
| Napaskiak | 60.708056 | -161.766111 | 405 |
| Nuiqsut | 70.2175 | -150.976389 | 402 |
| Saint Michael | 63.478056 | -162.039167 | 401 |
| Brevig Mission | 65.334722 | -166.489167 | 388 |
| Nenana | 64.563889 | -149.093056 | 378 |
| Hydaburg | 55.208056 | -132.826667 | 376 |
| Kivalina | 67.726944 | -164.533333 | 374 |
| Kiana | 66.975 | -160.422778 | 361 |
| Napakiak | 60.696667 | -161.951944 | 354 |
| Akiak | 60.912222 | -161.213889 | 346 |
| McGrath | 62.956389 | -155.595833 | 346 |
| Koyuk | 64.931944 | -161.156944 | 332 |
| Elim | 64.6175 | -162.260556 | 330 |
| Adak | 51.88 | -176.658056 | 326 |
| Anaktuvuk Pass | 68.143333 | -151.735833 | 324 |
| Russian Mission | 61.785 | -161.320278 | 312 |
| Eek | 60.218889 | -162.024444 | 296 |
| Lower Kalskag | 61.512222 | -160.358056 | 282 |
| Nightmute | 60.479444 | -164.723889 | 280 |
| Huslia | 65.698611 | -156.399722 | 275 |
| Nulato | 64.719444 | -158.103056 | 264 |
| Shungnak | 66.888056 | -157.136389 | 262 |
| Ambler | 67.086111 | -157.851389 | 258 |
| Seldovia | 59.438056 | -151.711389 | 255 |
| Shaktoolik | 64.333889 | -161.153889 | 251 |
| Anderson | 64.344167 | -149.186944 | 246 |
| Tanana | 65.171944 | -152.078889 | 246 |
| Goodnews Bay | 59.118889 | -161.5875 | 243 |
| Kaktovik | 70.131944 | -143.623889 | 239 |
| Atqasuk | 70.469167 | -157.399444 | 233 |
| Teller | 65.263611 | -166.360833 | 229 |
| Whittier | 60.773056 | -148.683889 | 220 |
| Aleknagik | 59.273056 | -158.617778 | 219 |
| Old Harbor | 57.202778 | -153.303889 | 218 |
| Upper Kalskag | 61.541881 | -160.333852 | 210 |
| Port Lions | 57.8675 | -152.882222 | 194 |
| Grayling | 62.903611 | -160.064722 | 194 |
| Newhalen | 59.72 | -154.897222 | 190 |
| Kaltag | 64.327222 | -158.721944 | 190 |
| White Mountain | 64.681389 | -163.405556 | 190 |
| Holy Cross | 62.199444 | -159.771389 | 178 |
| Coffman Cove | 56.013889 | -132.827778 | 176 |
| Ruby | 64.739444 | -155.486944 | 166 |
| Nondalton | 59.973611 | -154.845833 | 164 |
| Ouzinkie | 57.923611 | -152.502222 | 161 |
| Golovin | 64.543333 | -163.029167 | 156 |
| Kobuk | 66.907222 | -156.881111 | 151 |
| Wales | 65.609167 | -168.0875 | 145 |
| Tenakee Springs | 57.780833 | -135.218889 | 131 |
| Deering | 66.075556 | -162.717222 | 122 |
| Chuathbaluk | 61.571944 | -159.245 | 118 |
| Ekwok | 59.349722 | -157.475278 | 115 |
| Diomede | 65.7581 | -168.952 | 115 |
| Cold Bay | 55.185833 | -162.721111 | 108 |
| Allakaket | 66.565556 | -152.645556 | 105 |
| Saint George | 56.6 | -169.541667 | 102 |
| Port Heiden | 56.932561 | -158.62497 | 102 |
| Koyukuk | 64.880278 | -157.700833 | 96 |
| Nikolai | 63.013333 | -154.375 | 94 |
| Chignik | 56.295278 | -158.402222 | 91 |
| Pelican | 57.960833 | -136.2275 | 88 |
| Larsen Bay | 57.54 | -153.978611 | 87 |
| Eagle | 64.788056 | -141.2 | 86 |
| Anvik | 62.656111 | -160.206667 | 85 |
| Shageluk | 62.682222 | -159.561944 | 83 |
| Hughes | 66.048889 | -154.255556 | 77 |
| Akhiok | 56.945556 | -154.170278 | 71 |
| Pilot Point | 57.564167 | -157.579167 | 68 |
| Clark's Point | 58.844167 | -158.550833 | 62 |
| Atka | 52.196111 | -174.200556 | 61 |
| Platinum | 59.013056 | -161.816389 | 61 |
| False Pass | 54.850833 | -163.415 | 35 |
| Bettles | 66.918889 | -151.516111 | 12 |