About the map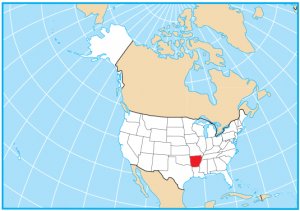 This county map of Arkansas displays the 75 counties in Arkansas. Arkansas' count of 75 counties represents the 18th highest out of any state in the United States.
The state capital, Little Rock, is in the most populated county of Pulaski. Pulaski County has just under 400,000 people and is located smack dab in the middle of Arkansas. Conversely, Calhoun County is the least populated county with about 5200 residents.
In terms of size, Union county in southern Arkansas is the largest. But Lafayette County occupies the smallest area at 545.1 square miles. Benton County holds the headquarters of Walmart in the city of Bentonville. Also notable, there is a county "Arkansas County" with the same name as the state.
Arkansas county list
References
Free US Maps
Select a state to view its map
Still looking for a real map?
National Geographic
carries a full range of Country Maps, US Maps, World Maps, Regional Maps, Historical Maps and Celestial Maps.