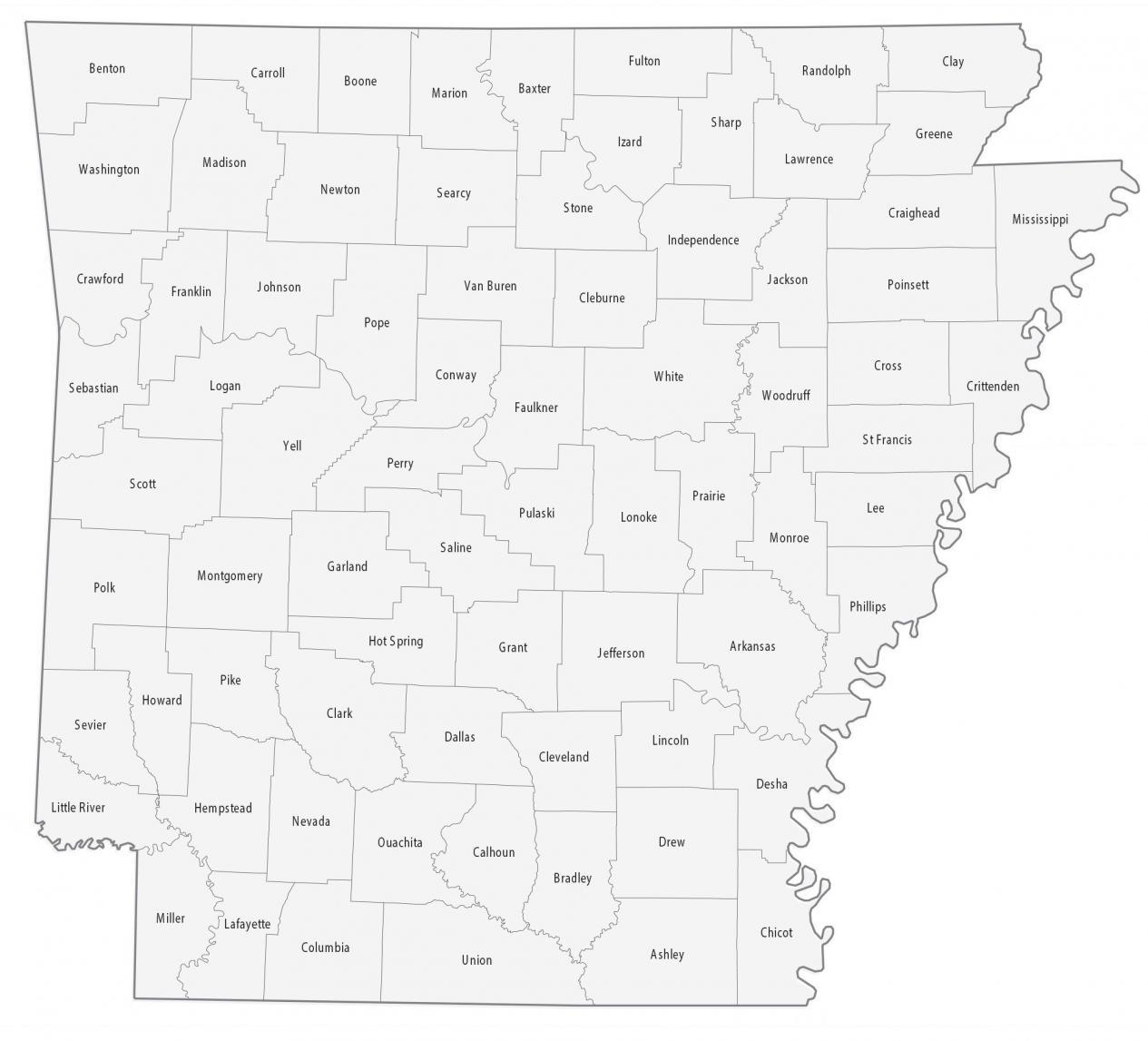 About the map
This county map of Arkansas displays the 75 counties in Arkansas. Arkansas' count of 75 counties represents the 18th highest out of any state in the United States.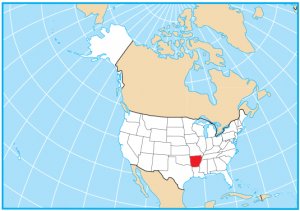 The state capital, Little Rock, is in the most populated county of Pulaski. Pulaski County has just under 400,000 people and is located smack dab in the middle of Arkansas. Conversely, Calhoun County is the least populated county with about 5200 residents.
In terms of size, Union County in southern Arkansas is the largest. But Lafayette County occupies the smallest area at 545.1 square miles. Benton County holds the headquarters of Walmart in the city of Bentonville. Also notable, there is a county "Arkansas County" with the same name as the state.
Arkansas map collection
You are free to use our county map of Arkansas for educational and commercial uses. Attribution is required. How to attribute?
Arkansas county list
| County Name | Population (2020 est) | County Map | Area (sq mi) | County Locator | FIPS Code |
| --- | --- | --- | --- | --- | --- |
| Arkansas County | 17,383 | Arkansas County | 1033.9 | Arkansas County Map | 5001 |
| Ashley County | 19,339 | Ashley County | 940.2 | Ashley County Map | 5003 |
| Baxter County | 42,242 | Baxter County | 587.5 | Baxter County Map | 5005 |
| Benton County | 288,774 | Benton County | 883 | Benton County Map | 5007 |
| Boone County | 37,625 | Boone County | 601.8 | Boone County Map | 5009 |
| Bradley County | 10,639 | Bradley County | 653.1 | Bradley County Map | 5011 |
| Calhoun County | 5,113 | Calhoun County | 632.2 | Calhoun County Map | 5013 |
| Carroll County | 28,276 | Carroll County | 639.7 | Carroll County Map | 5015 |
| Chicot County | 9,924 | Chicot County | 691.2 | Chicot County Map | 5017 |
| Clark County | 22,103 | Clark County | 882.8 | Clark County Map | 5019 |
| Clay County | 14,375 | Clay County | 641.9 | Clay County Map | 5021 |
| Cleburne County | 24,935 | Cleburne County | 591.9 | Cleburne County Map | 5023 |
| Cleveland County | 7,957 | Cleveland County | 598.9 | Cleveland County Map | 5025 |
| Columbia County | 23,331 | Columbia County | 766.8 | Columbia County Map | 5027 |
| Conway County | 21,037 | Conway County | 566.6 | Conway County Map | 5029 |
| Craighead County | 112,245 | Craighead County | 712.7 | Craighead County Map | 5031 |
| Crawford County | 63,409 | Crawford County | 603.8 | Crawford County Map | 5033 |
| Crittenden County | 47,616 | Crittenden County | 636.9 | Crittenden County Map | 5035 |
| Cross County | 16,142 | Cross County | 622.3 | Cross County Map | 5037 |
| Dallas County | 6,802 | Dallas County | 668.1 | Dallas County Map | 5039 |
| Desha County | 11,110 | Desha County | 820.2 | Desha County Map | 5041 |
| Drew County | 17,977 | Drew County | 835.6 | Drew County Map | 5043 |
| Faulkner County | 126,919 | Faulkner County | 663.7 | Faulkner County Map | 5045 |
| Franklin County | 17,897 | Franklin County | 619.7 | Franklin County Map | 5047 |
| Fulton County | 12,381 | Fulton County | 620.3 | Fulton County Map | 5049 |
| Garland County | 99,789 | Garland County | 734.6 | Garland County Map | 5051 |
| Grant County | 18,449 | Grant County | 633.1 | Grant County Map | 5053 |
| Greene County | 45,597 | Greene County | 580.1 | Greene County Map | 5055 |
| Hempstead County | 21,253 | Hempstead County | 741 | Hempstead County Map | 5057 |
| Hot Spring County | 33,787 | Hot Spring County | 622.2 | Hot Spring County Map | 5059 |
| Howard County | 13,109 | Howard County | 595.4 | Howard County Map | 5061 |
| Independence County | 37,757 | Independence County | 771.3 | Independence County Map | 5063 |
| Izard County | 13,613 | Izard County | 584.5 | Izard County Map | 5065 |
| Jackson County | 16,636 | Jackson County | 641.6 | Jackson County Map | 5067 |
| Jefferson County | 65,377 | Jefferson County | 913 | Jefferson County Map | 5069 |
| Johnson County | 26,513 | Johnson County | 682.4 | Johnson County Map | 5071 |
| Lafayette County | 6,596 | Lafayette County | 545.1 | Lafayette County Map | 5073 |
| Lawrence County | 16,410 | Lawrence County | 593 | Lawrence County Map | 5075 |
| Lee County | 8,513 | Lee County | 619.6 | Lee County Map | 5077 |
| Lincoln County | 12,944 | Lincoln County | 572.4 | Lincoln County Map | 5079 |
| Little River County | 12,180 | Little River County | 561.4 | Little River County Map | 5081 |
| Logan County | 21,410 | Logan County | 731.8 | Logan County Map | 5083 |
| Lonoke County | 73,921 | Lonoke County | 802.5 | Lonoke County Map | 5085 |
| Madison County | 16,644 | Madison County | 837 | Madison County Map | 5087 |
| Marion County | 16,790 | Marion County | 639.6 | Marion County Map | 5089 |
| Miller County | 43,177 | Miller County | 639.2 | Miller County Map | 5091 |
| Mississippi County | 40,066 | Mississippi County | 922.7 | Mississippi County Map | 5093 |
| Monroe County | 6,584 | Monroe County | 621.3 | Monroe County Map | 5095 |
| Montgomery County | 9,006 | Montgomery County | 800.3 | Montgomery County Map | 5097 |
| Nevada County | 8,099 | Nevada County | 620.7 | Nevada County Map | 5099 |
| Newton County | 7,602 | Newton County | 823.2 | Newton County Map | 5101 |
| Ouachita County | 23,167 | Ouachita County | 739.7 | Ouachita County Map | 5103 |
| Perry County | 10,327 | Perry County | 560.7 | Perry County Map | 5105 |
| Phillips County | 17,299 | Phillips County | 727.1 | Phillips County Map | 5107 |
| Pike County | 10,643 | Pike County | 614 | Pike County Map | 5109 |
| Poinsett County | 23,283 | Poinsett County | 763.5 | Poinsett County Map | 5111 |
| Polk County | 19,707 | Polk County | 862.4 | Polk County Map | 5113 |
| Pope County | 64,334 | Pope County | 830.9 | Pope County Map | 5115 |
| Prairie County | 7,966 | Prairie County | 676.1 | Prairie County Map | 5117 |
| Pulaski County | 392,980 | Pulaski County | 807.8 | Pulaski County Map | 5119 |
| Randolph County | 18,247 | Randolph County | 655.4 | Randolph County Map | 5121 |
| Saint Francis County | 24,682 | Saint Francis County | 642.4 | Saint Francis County Map | 5123 |
| Saline County | 123,968 | Saline County | 730.5 | Saline County Map | 5125 |
| Scott County | 10,164 | Scott County | 898.1 | Scott County Map | 5127 |
| Searcy County | 7,842 | Searcy County | 668.5 | Searcy County Map | 5129 |
| Sebastian County | 127,590 | Sebastian County | 546.6 | Sebastian County Map | 5131 |
| Sevier County | 16,702 | Sevier County | 581.3 | Sevier County Map | 5133 |
| Sharp County | 17,424 | Sharp County | 606.4 | Sharp County Map | 5135 |
| Stone County | 12,674 | Stone County | 609 | Stone County Map | 5137 |
| Union County | 38,219 | Union County | 1055.3 | Union County Map | 5139 |
| Van Buren County | 16,541 | Van Buren County | 724.3 | Van Buren County Map | 5141 |
| Washington County | 243,216 | Washington County | 952.4 | Washington County Map | 5143 |
| White County | 78,729 | White County | 1042 | White County Map | 5145 |
| Woodruff County | 6,264 | Woodruff County | 594.1 | Woodruff County Map | 5147 |
| Yell County | 21,181 | Yell County | 948.8 | Yell County Map | 5149 |
References