Map of Little Rock, Arkansas
Map of Little Rock
This Little Rock map shows major highways, roads, reference information, and things to do in the city. Little Rock is the capital of Arkansas. It is the largest city in the state and is home to approximately 200,000 people
The city is located in Central Arkansas in Pulaski County. The first major feature you'll notice is how the Arkansas River splits North Little Rock in the north.
Find everything you need to know about the city in one place. This Little Rock map collection is the perfect tool to help you get the most out of your trip. But let's start things off with an interactive map of Little Rock, provided by Google Maps.
Jump To: Interactive Map | Printable Road Map | 10 Things to Do | Reference Map
Little Rock map collection
Interactive Map of Little Rock
Whether it's for business or pleasure, this interactive map is the perfect companion. It includes points of interest and the best places to stay and eat, as well as information on the airport, downtown, and more. This interactive Google map is the first step to experiencing the city and all its attractions.
Little Rock Road Map
If you're looking for a way to explore, this map is the perfect tool to help you navigate your way around town. This map provides an overview of the transportation system of the city. Whether you want to find your way around or just access places of interest in the city, this map is a great way to learn about the city. But if you're traveling outside the city, take a look at this Arkansas road map for more highway information.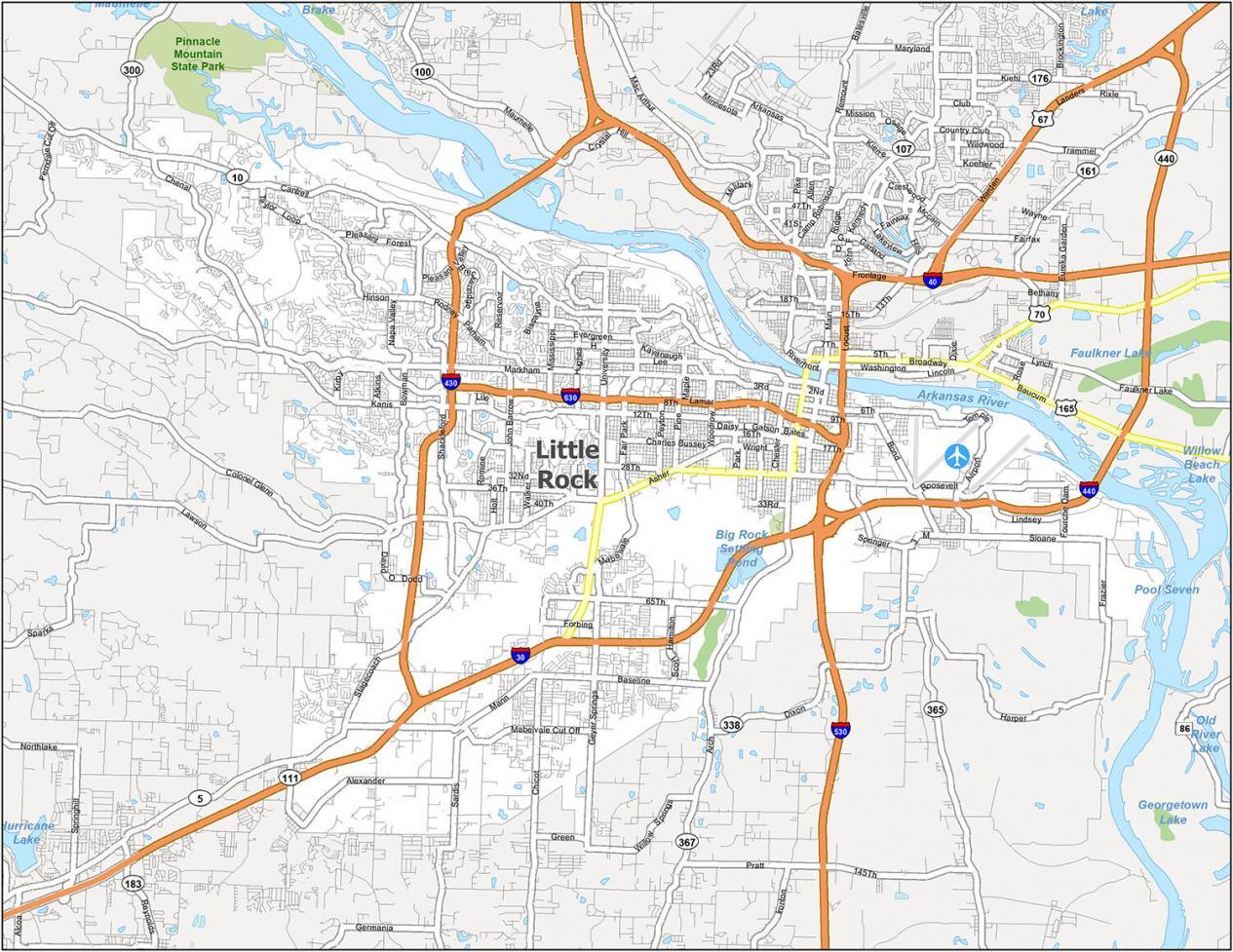 Interstate Highways: I-30, I-430, I-440, I-530, I-630
US Highways: 5, 10, 27, 30, 67, 300, 365, 367,
Parkways: Chenal Pky, Financial Centre Pky
Major Roads: 2nd St, 65th St, 9th St, Arch St, Asher Ave, Broadway St, Cantrell Rd, College St, Colonel Glenn Rd, Confederate Blvd, Cumberland St, Dixon Rd, Frontage Rd, Geyer Springs Rd, La Harpe Blvd, Robinwood Dr, Roosevelt Rd, Springer Blvd, Stagecoach Rd, University Ave
10 Things To Do in Little Rock
With a culture and history all its own, the city is a great place to live and visit. Discover some of the best-kept secrets in and around Little Rock with this detailed map of Little Rock. This map is great for planning your trip to Little Rock and gives a unique perspective as to what attractions are available and where they are located.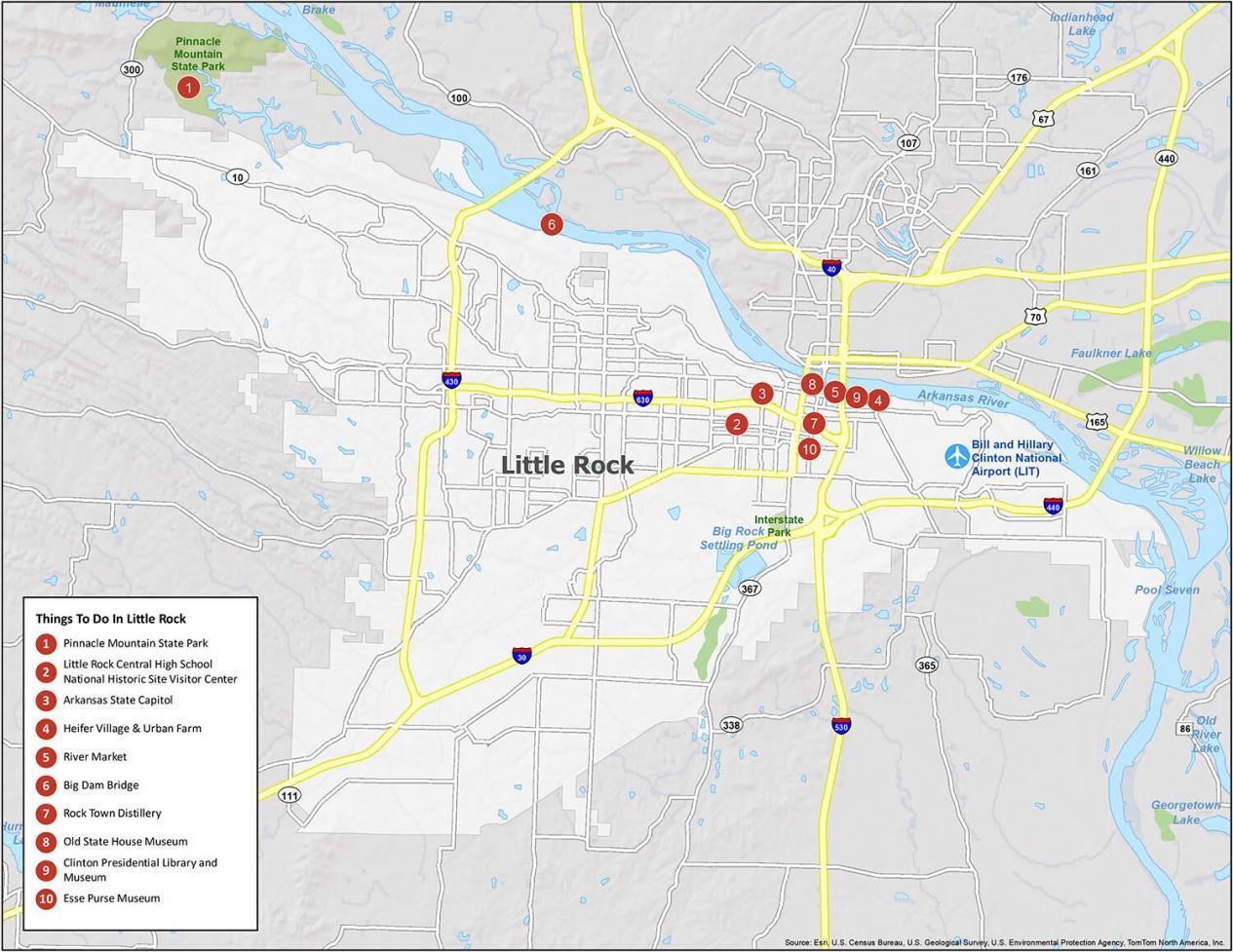 Little Rock is known for playing a pivotal role in the American Civil Rights movement when nine African American students were denied enrollment. Little Rock Central High School National Historic Site is now a museum and is listed as the second top attraction in Little Rock, Arkansas.
If you ever decide to go to Little Rock, be sure to check out its top 10 things to do. And it all starts with Pinnacle Mountain State Park tucked away in central Arkansas.
Pinnacle Mountain State Park
Little Rock Central High School National Historic Site Visitor Center
Arkansas State Capitol
Heifer Village & Urban Farm
River Market
Big Dam Bridge
Rock Town Distillery
Old State House Museum
Clinton Presidential Library and Museum
Esse Purse Museum
Little Rock Reference Map
The map below is a general map of the city of Little Rock. It highlights some of the most prominent landmarks and places of interest. You can also find some of Little Rock's parks, historic sites, lakes, and populated areas.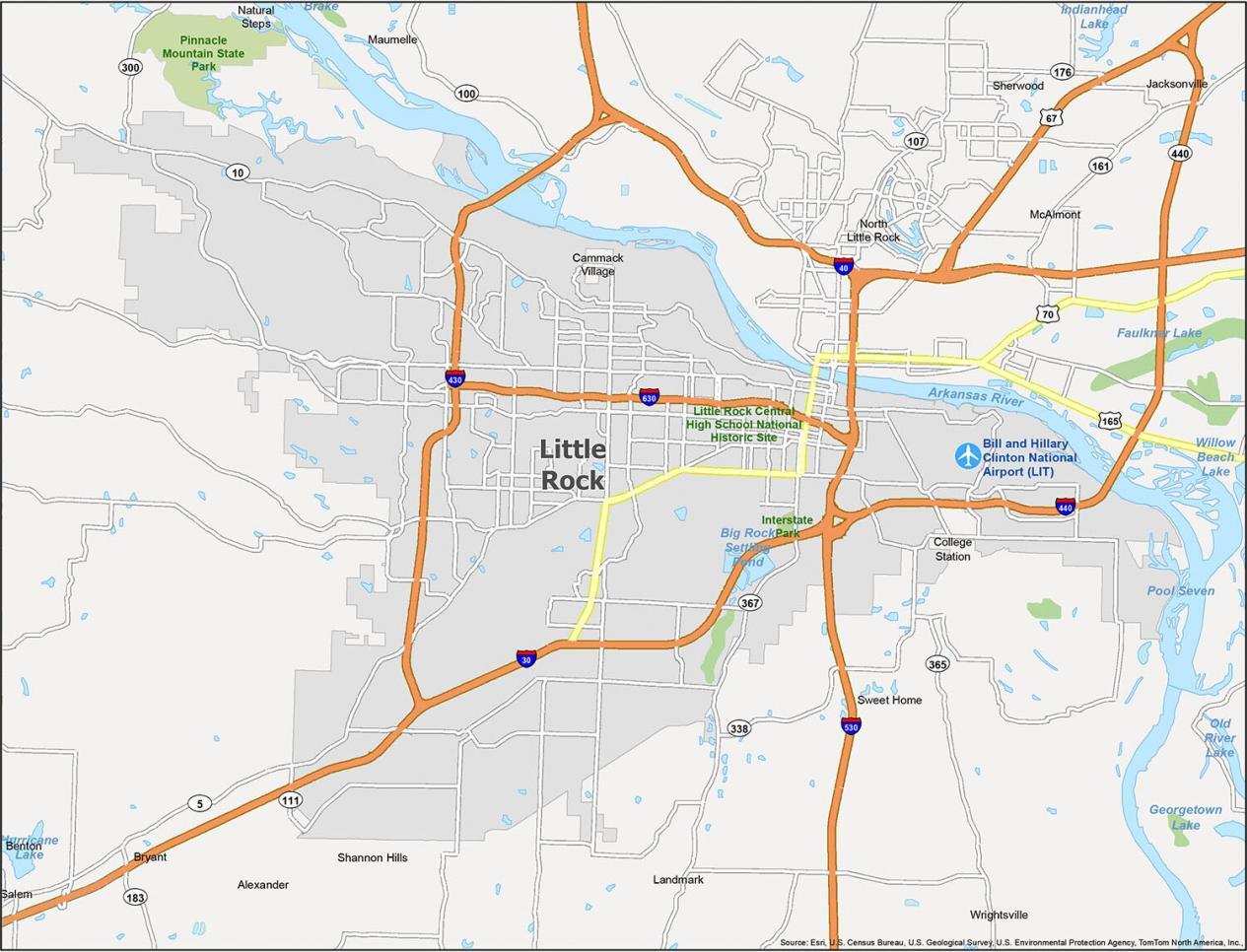 Airports: Bill and Hillary Clinton National Airport (LIT)
Cities: Alexander, Benton, Bryant, Cammack Village, Jacksonville, Little Rock, Maumelle, North Little Rock, Shannon Hills, Sherwood, Wrightsville
Census-designated place (CDP): College Station, Landmark, McAlmont, Natural Steps, Salem, Sweet Home
Water Features: Arkansas River, Big Rock Settling Pond, Old River Lake, Pool Seven, Willow Beach Lake
Arkansas map collection
References