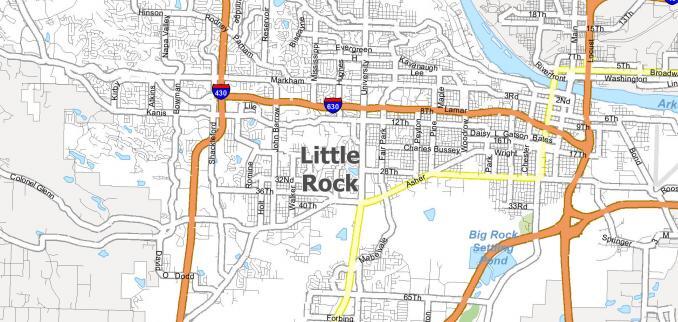 Little Rock Road Map
Interstate Highways: I-30, I-430, I-440, I-530, I-630
US Highways: 5, 10, 27, 30, 67, 300, 365, 367,
Parkways: Chenal Pky, Financial Centre Pky
Major Roads: 2nd St, 65th St, 9th St, Arch St, Asher Ave, Broadway St, Cantrell Rd, College St, Colonel Glenn Rd, Confederate Blvd, Cumberland St, Dixon Rd, Frontage Rd, Geyer Springs Rd, La Harpe Blvd, Robinwood Dr, Roosevelt Rd, Springer Blvd, Stagecoach Rd, University Ave
10 Things To Do In Little Rock
Little Rock is known for playing a pivotal role in American Civil Rights movement when nine African American students were denied enrollment. In fact, this is why Little Rock Central High School is #2 on the list of things to do in Little Rock. If you ever decide to go to Little Rock, be sure to check out its top 10 things to do.
1. Pinnacle Mountain State Park
2. Little Rock Central High School National Historic Site Visitor Center
3. Arkansas State Capitol
4. Heifer Village & Urban Farm
5. River Market
6. Big Dam Bridge
7. Rock Town Distillery
8. Old State House Museum
9. Clinton Presidential Library and Museum
10. Esse Purse Museum
Little Rock Map of Places
Airports: Bill and Hillary Clinton National Airport (LIT)
Cities: Alexander, Benton, Bryant, Cammack Village, Jacksonville, Little Rock, Maumelle, North Little Rock, Shannon Hills, Sherwood, Wrightsville
Census-designated place (CDP): College Station, Landmark, McAlmont, Natural Steps, Salem, Sweet Home
Water Features: Arkansas River, Big Rock Settling Pond, Old River Lake, Pool Seven, Willow Beach Lake