About the map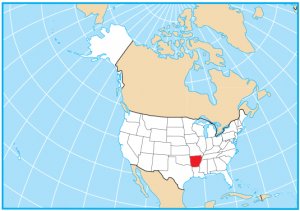 This Arkansas State Map shows landmarks and places. For example, it features national parks, major lakes, wildlife refuges and other types of federal lands.
If you ever want to be surrounded by spas and hot springs, then Arkansas is the state gifted with naturally heated springs. In fact, that's how Hot Springs National Park earned its name, nestled in Ouachita National Forest and River.
Also unique to Arkansas is its mountains, forests and horse back riding. It has over 600,000 acres of lakes and rivers. For example, Lake Ouachita, Bull Shoals Lake and Lake Dardanelle are some of the largest in Arkansas as shown in this Arkansas lakes and rivers map.
National parks, forests and landmarks
National Park (NP)
Hot Springs NP
National Forests (NF)
Ozark NF
Saint Francis NF
Ouachita NF
National Wildlife Refuge (NWR)
Pond Creek NWR
Holla Bend NWR
Overflow NWR
Felsenthal NWR
White River NWR
Bald Knob NWR
Cache River NWR
Wapanocca NWR
Big Lake NWR
Arkansas rivers and lakes
Lakes and reservoirs
Millwood Lake
DeQueen Reservoir
Dierks Reservoir
Gillham Lake
Lake Greeson
DeGray Lake
Ozark Lake
Beaver Lake
Table Rock Lake
Bull Shoals Lake
Norfork Lake
Dardanelle Lake
Nimrod Lake
Lake Ouachita
Blue Mountain Lake
Greers Ferry Lake
Rivers and streams
Buffalo National River
Arkansas River
Mississippi River
White River
Black River
Cache River
St Francis River
Ouachita River
Fort Chaffee (Closed)
Pea Ridge National Military Park
Pine Bluff Arsenal
Camp Joseph T Robinson
Little Rock Air Force Base
Arkansas Post National Memorial
Eaker Air Force Base (Closed)
Arkansas State Map – Cities and populated places
Little Rock
Conway
Fayetteville
Fort Smith
Jonesboro
Pine Bluff
Rogers
Springdale
West Memphis
Hot Springs
Texarkana,
Arkadelphia
Ashdown
Bald Knob
Batesville
Benton
Camden
Clarksville
El Dorado
Fordyce
Forrest City
Harrison
Helena
Hope
Lake Village
Magnolia
Malvern
Mena
Monticello
Mountain Home
Newport
Paragould
Stuttgart
Walnut Ridge
Warren
Russellville
State capital
Little Rock
Free US Maps
Select a state to view its map
Still looking for a real map?
National Geographic
carries a full range of Country Maps, US Maps, World Maps, Regional Maps, Historical Maps and Celestial Maps.