Map of Arkansas – Cities and Roads
Arkansas Maps
Arkansas Cities
About the map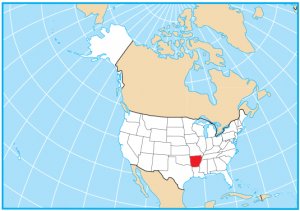 This Arkansas map shows cities, roads, rivers, and lakes. For example, Little Rock, Fayetteville, and Fort Smith are some of the major cities. Arkansas River is a major tributary that cuts through the city of Little Rock, splitting it into north and south sections.
Arkansas is known for spas, red ferns, and horseback riding. It's also filled with mountains, forests and naturally-occurring hot springs. Another little-known fact is that it has the highest dog ownership.
Magazine Mountain is the highest mountain in Arkansas at about 2,753 feet above sea level. In general, Arkansas is split into two types of terrain. In the northwest half, it's the highlands. But in the southeastern half, it's mostly all lowlands.
State capital
Little Rock
Cities, towns and villages
Little Rock
Conway
Fayetteville
Fort Smith
Jonesboro
Pine Bluff
Rogers
Springdale
West Memphis
Hot Springs
Texarkana
Arkadelphia
Ashdown
Bald Knob
Batesville
Benton
Camden
Clarksville
El Dorado
Fordyce
Forrest City
Harrison
Helena
Hope
Lake Village
Magnolia
Malvern
Mena
Monticello
Mountain Home
Newport
Paragould
Stuttgart
Walnut Ridge
Warren
Russellville
Interstate highways
Interstate-30 (I-30)
Interstate-40 (I-40)
Interstate-55 (I-55)
Arkansas rivers and lakes
Lakes and reservoirs
Bull Shoals Lake
Norfork Lake
Beaver Lake
Greers Ferry Lake
DeGray Lake
Millwood Lake
Rivers and streams
Mississippi River
Arkansas River
Black River
Cache River
St Francis River
Ouachita River
White Buffalo River
Saline River
There are really several ways to see elevation in the United States. But the most common way to see a US elevation map is through a digital elevation model.
A US county map that displays the 3,142 counties and equivalents including parishes, boroughs, census areas, independent cities and the District of Columbia.
How much rain falls in the United States? Take a close look at this US precipitation map to see where it falls the most and least. You'll see it fluctuates.
US State Maps
Select a state to view its map