Map of Boise
We offer a range of maps that cover Boise, Idaho. It features a highway/road map, things to do, and a reference map of Boise. We've included an interactive map to explore the city in detail including its many amenities.
Boise is the capital of Idaho and is the most populous city in the state. It's nicknamed "The City of Trees" because of its canopy density and variety of trees in the city. Most notably, the Boise Greenbelt runs through the heart of the city with a tree-lined pathway and scenic views.
The city offers lots of amenities such as museums, libraries, parks, and restaurants. With a population of around 230,000 residents, it is also one of America's fastest-growing urban areas. Get to know the best places to visit in Boise, Idaho with our Boise map collection.
Jump To: Interactive Map | Printable Road Map | 10 Things to Do | Reference Map
Boise map collection
Interactive Map of Boise
Explore the city with this interactive map that displays everything from attractions and parks to businesses, restaurants, and places to stay. With information on every street, you'll have everything you need when planning your next Boise adventure. Use our interactive map to find the best places to visit, stay and eat in Boise.
Boise Road Map
Whether you're heading out for a day trip or a week-long vacation, this printable map will be your guide to the major roads of the city. The two interstate highways that cut through Boise are the I-84 and I-184. With this road map of Boise, you can explore a city that is perfect for your next getaway. Boise is becoming a hub for outdoor recreational pursuits with its proximity to nature so be sure to also print our Idaho road map.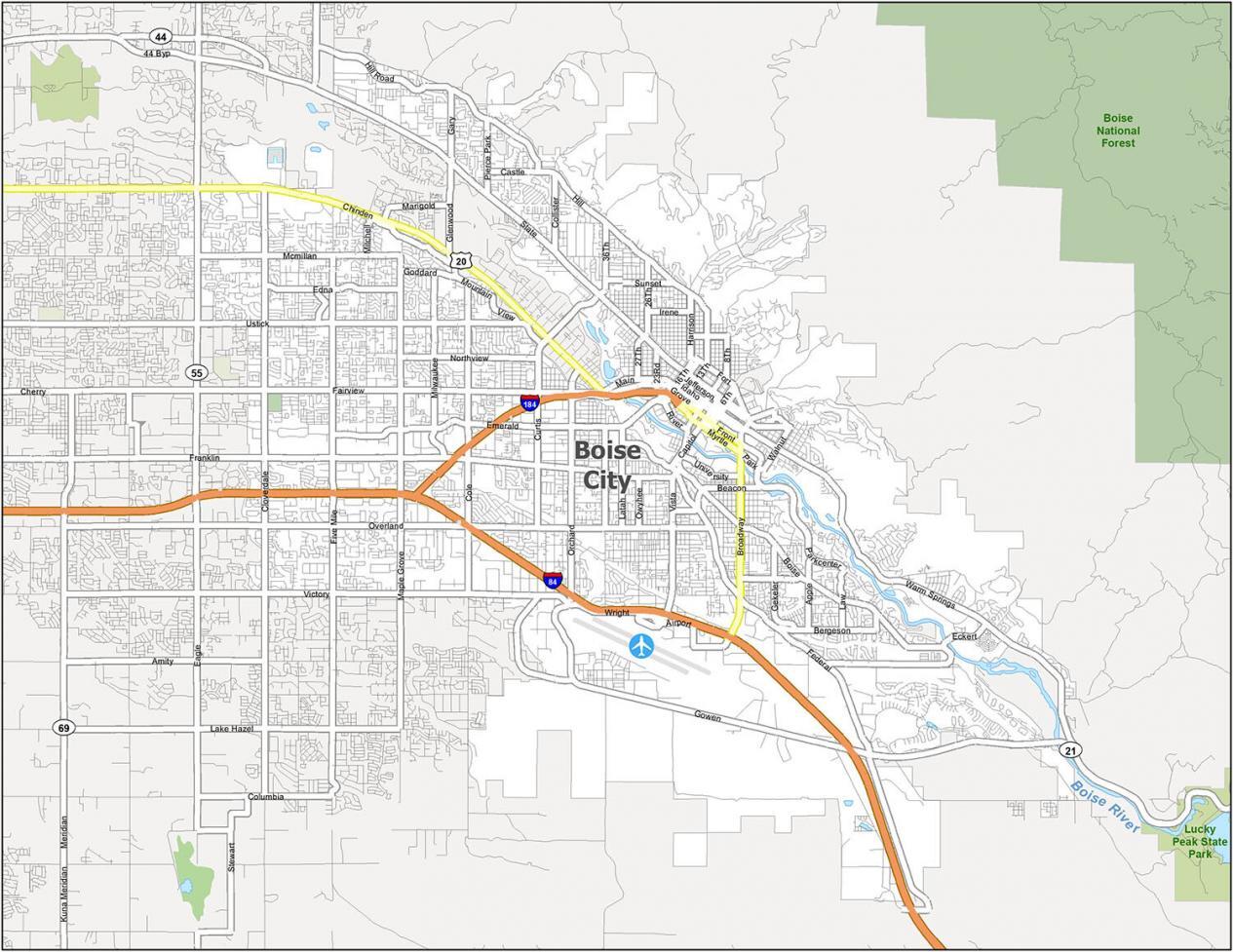 Interstate Highways: I-84, I-184
US Highways: 20, 21, 55
Major Roads: 27th St, 36th, Boise Ave, Broadway Ave, Chinden Blvd, Eagle Rd, Emerald St, Franklin Rd, Front St, Gekeler Ln, Gowen Rd, Myrtle St, Linden St, Orchard St, Overland Rd, Parkcenter Blvd, Northview St, Rose Hill St, State St, Vista Ave, Warm Springs Ave
10 Things To Do in Boise
Boise is a city with gorgeous scenery and rich history. Today, it is home to many historic buildings throughout the downtown area and beyond. From the spectacular Boise River to its famous historic district, the city's borders are open and inviting. The city is located in the Boise Valley with a variety of attractions both natural and man-made throughout.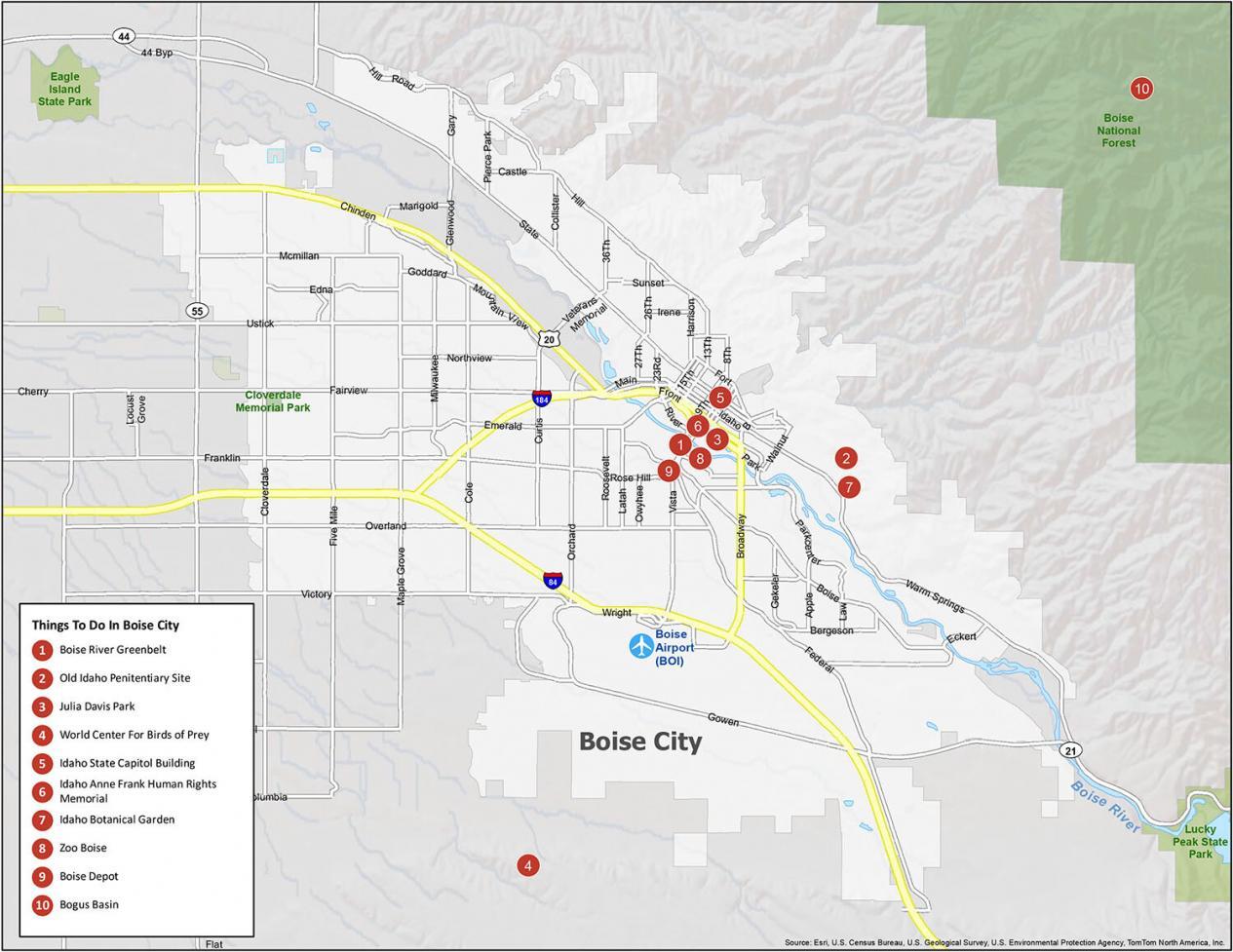 Boise River Greenbelt
Old Idaho Penitentiary Site
Julia Davis Park
World Center For Birds of Prey
Idaho State Capitol Building
Idaho Anne Frank Human Rights Memorial
Idaho Botanical Garden
Zoo Boise
Boise Depot
Bogus Basin
Boise Reference Map
The city of Boise, Idaho is known for its green landscape, refreshing mountain air, and low cost of living. With over 200 days of sunshine each year, the city has been able to attract a diverse population that includes retirees, entrepreneurs, and outdoor enthusiasts. The city also plays host to several major software and hardware development companies. Wherever you are in Boise, you are always within reach of that perfect photo opportunity.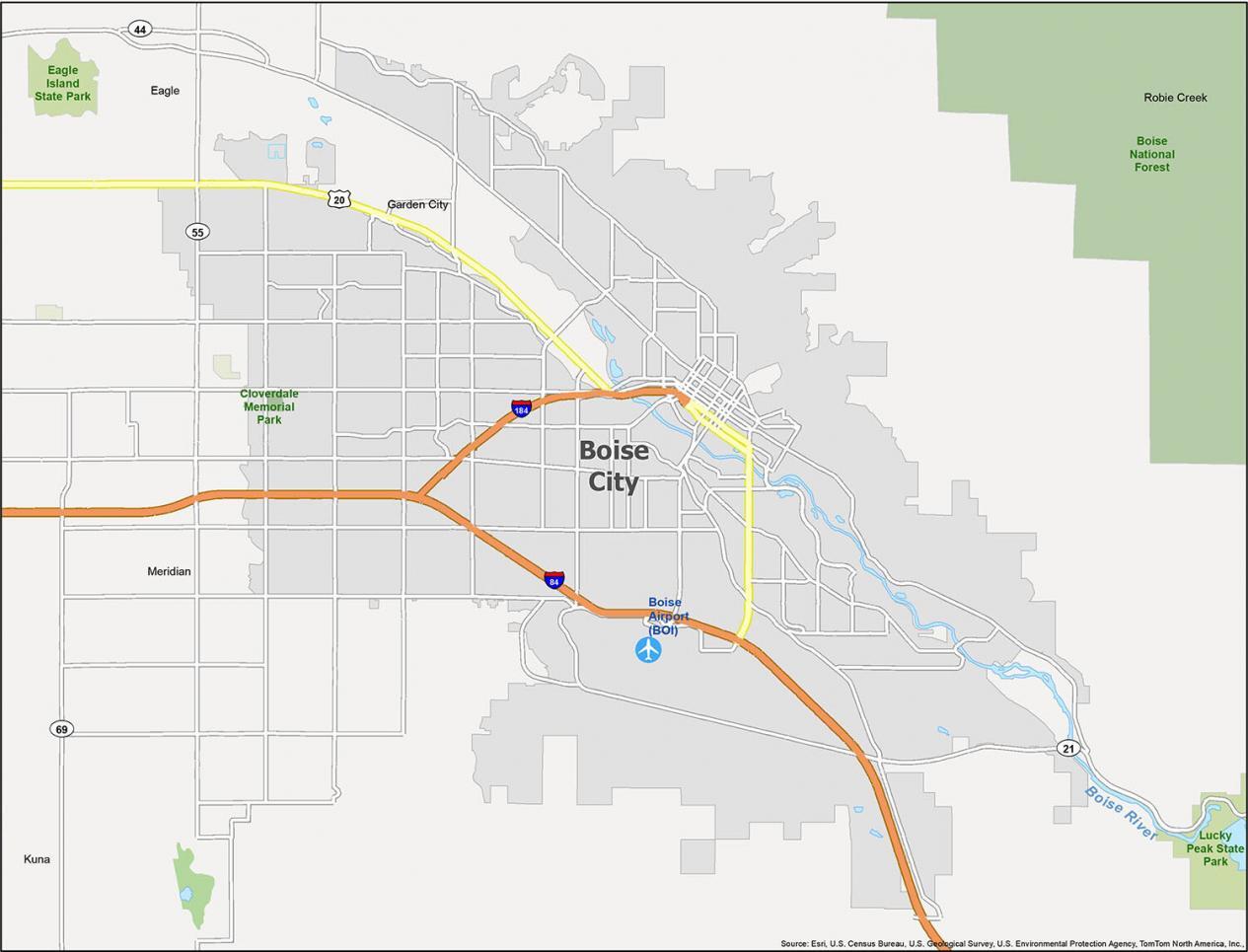 Airport: Boise Airport (BOI)
Cities: Boise City, Eagle, Garden City, Kuna, Meridian
Census-Designated Places (CDP): Robie Creek
Boise, Idaho maps
Idaho map collection
References