Idaho State Map – Places and Landmarks
About the map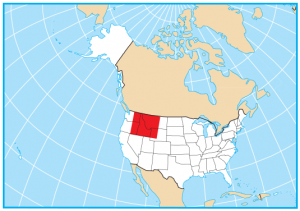 This Idaho State Map includes national parks, forests, military stations, national monuments, wildlife refuges, and other federal lands.
Idaho has one of the largest percentage of its land in national forests at 20.4 million acres (or 38.2%). For example, Idaho's largest is Salmon-Challis National Forest with 4.2 million acres of pristine forest.
If you're in Idaho, don't forget that part of Yellowstone National Park is in the southeast of Idaho. Just like in Wyoming and Montana, you can view colorful hydrothermal pools and geysers shooting up.
Federal lands
National Park (NP)
Yellowstone National Park
National Forests (NF)
Caribou NF
Sawtooth NF
Cache NF
Targhee NF
Challis NF
Boise NF
Targhee NF
Saint Joe NF
Clearwater NF
Nezperce NF
Payette NF
Bitterroot NF
Salmon NF
Kaniksu NF
Kootenai NF
Coeur d'Alene NF
National Wildlife Refuge (NWR)
Minidoka NWR
Grays Lake NWR
Bear Lake NWR
Camas NWR
Deer Flat NWR
Kootenai NWR
National Conservation Area (NCA)
Snake River Birds of Prey National Conservation Area
National Recreation (NRA)
Sawtooth NRA
Hells Canyon NRA
National Monuments (NM)
Craters of the Moon National Monument
Hagerman Fossil Beds National Monument
Other Landmarks
Curlew National Grassland
Dubois Sheep Experiment Station
Idaho National Engineering Laboratory
Nez Perce NHP
City of Rocks National Reserve
Idaho lakes, rivers and reservoirs
Lakes and reservoirs
American Falls Reservoir
Blackfoot Reservoir
Island Park Reservoir
Palisades Reservoir
Anderson Ranch Reservoir
Little Wood Reservoir
Deadwood Reservoir
Black Canyon Reservoir
Arrowrock Reservoir
Lucky Peak Lake
Cascade Reservoir
Dworshak Reservoir
Lake Pend Oreille
Rivers and streams
Salmon River
Snake River
Indian Reserves (IR)
Fort Hall IR
Duck Valley IR
Nez Perce IR
Kootenai IR
Coeur d'Alene IR
Saylor Creek Air Force Range
Mountain Home Small Arms Range Annex
Mountain Home Air Force Base
Idaho landmarks and places
Boise
Coeur d'Alene
Idaho Falls
Lewiston
Pocatello
Twin Falls
Caldwell
Arco
Blackfoot
Burley
Cascade
Challis
Dubois
Idaho City
Kellogg
McCall
Moscow
New Meadows
Preston
Rexburg
Rupert
St Anthony
St Maries
Salmon
Sandpoint
Soda Springs
Sun Valley
Wallace
Weiser
Downey
Hailey
Ketchum
State capital
Boise
A US county map that displays the 3,142 counties and equivalents including parishes, boroughs, census areas, independent cities and the District of Columbia.
From Alabama to Wyoming, we display all 50 US states and capital cities. This United States map with capitals is a simple representation of continental US.
A physical map of the United States that features mountains, plateaus, lakes, rivers, cities and capitals. It includes inset maps for Hawaii and Alaska.
US State Maps