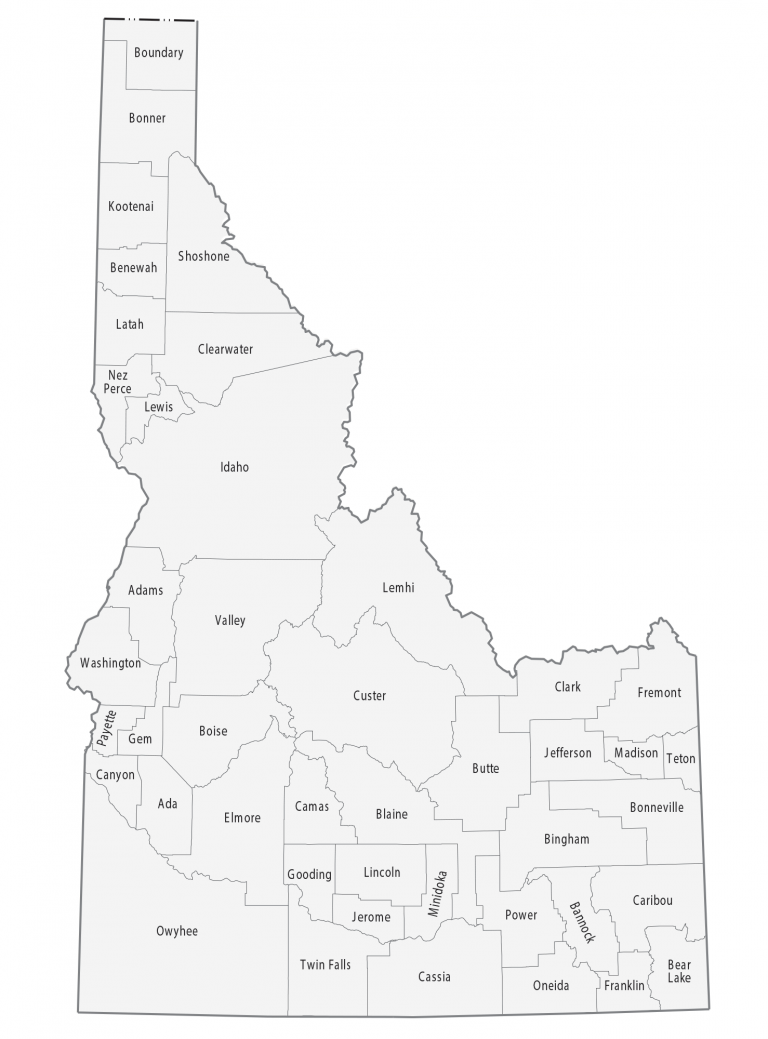 About the map
This Idaho county map displays its 44 counties. We have created individual maps for all counties in Idaho. Also, you get a perspective of where the county is in the state of Idaho with our locator maps below.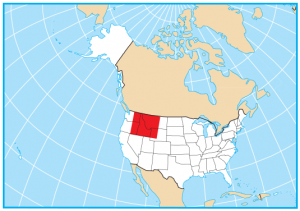 Ada is the largest county in Idaho in terms of population with over 480,000 people. Boise is the capital city of Idaho and is located in Ada County. Find the Boise map collection here. The least populated county in Idaho is Clark County with small rural communities like Dubois.
Idaho County is the largest in terms of size with an area of about 8503.2 square miles. This is followed by Owyhee County in the southwest and Custer County in the center. Conversely, Payette County is the smallest size county in Idaho and is just 409.4 square miles.
Idaho map collection
You are free to use our county map of Idaho for educational and commercial uses. Attribution is required. How to attribute?
Idaho county list
| County Name | Population (2020 est) | County Map | Area (sq mi) | Locator Map | FIPS Code |
| --- | --- | --- | --- | --- | --- |
| Ada County | 494,399 | Ada County | 1060.5 | Ada County Map | 16001 |
| Adams County | 4,447 | Adams County | 1368.8 | Adams County Map | 16003 |
| Bannock County | 88,795 | Bannock County | 1147.5 | Bannock County Map | 16005 |
| Bear Lake County | 6,143 | Bear Lake County | 1051.8 | Bear Lake County Map | 16007 |
| Benewah County | 9,430 | Benewah County | 784 | Benewah County Map | 16009 |
| Bingham County | 47,202 | Bingham County | 2120.2 | Bingham County Map | 16011 |
| Blaine County | 23,426 | Blaine County | 2660.6 | Blaine County Map | 16013 |
| Boise County | 8,065 | Boise County | 1907.8 | Boise County Map | 16015 |
| Bonner County | 46,817 | Bonner County | 1920.9 | Bonner County Map | 16017 |
| Bonneville County | 122,134 | Bonneville County | 1901.6 | Bonneville County Map | 16019 |
| Boundary County | 12,656 | Boundary County | 1279.4 | Boundary County Map | 16021 |
| Butte County | 2,646 | Butte County | 2233.9 | Butte County Map | 16023 |
| Camas County | 1,130 | Camas County | 1079.1 | Camas County Map | 16025 |
| Canyon County | 237,053 | Canyon County | 602.9 | Canyon County Map | 16027 |
| Caribou County | 7,123 | Caribou County | 1799.7 | Caribou County Map | 16029 |
| Cassia County | 24,277 | Cassia County | 2573.5 | Cassia County Map | 16031 |
| Clark County | 852 | Clark County | 1765.3 | Clark County Map | 16033 |
| Clearwater County | 8,846 | Clearwater County | 2488.5 | Clearwater County Map | 16035 |
| Custer County | 4,249 | Custer County | 4938.3 | Custer County Map | 16037 |
| Elmore County | 27,448 | Elmore County | 3099.1 | Elmore County Map | 16039 |
| Franklin County | 14,215 | Franklin County | 668.9 | Franklin County Map | 16041 |
| Fremont County | 13,218 | Fremont County | 1897.5 | Fremont County Map | 16043 |
| Gem County | 18,703 | Gem County | 565.4 | Gem County Map | 16045 |
| Gooding County | 15,618 | Gooding County | 732.8 | Gooding County Map | 16047 |
| Idaho County | 16,823 | Idaho County | 8503.2 | Idaho County Map | 16049 |
| Jefferson County | 30,581 | Jefferson County | 1105.6 | Jefferson County Map | 16051 |
| Jerome County | 24,578 | Jerome County | 601.7 | Jerome County Map | 16053 |
| Kootenai County | 170,628 | Kootenai County | 1315.7 | Kootenai County Map | 16055 |
| Latah County | 40,830 | Latah County | 1077 | Latah County Map | 16057 |
| Lemhi County | 8,054 | Lemhi County | 4570.2 | Lemhi County Map | 16059 |
| Lewis County | 3,838 | Lewis County | 479.8 | Lewis County Map | 16061 |
| Lincoln County | 5,358 | Lincoln County | 1205.9 | Lincoln County Map | 16063 |
| Madison County | 40,318 | Madison County | 473.3 | Madison County Map | 16065 |
| Minidoka County | 21,216 | Minidoka County | 762.9 | Minidoka County Map | 16067 |
| Nez Perce County | 40,755 | Nez Perce County | 856.3 | Nez Perce County Map | 16069 |
| Oneida County | 4,520 | Oneida County | 1207.9 | Oneida County Map | 16071 |
| Owyhee County | 12,133 | Owyhee County | 7694.1 | Owyhee County Map | 16073 |
| Payette County | 24,771 | Payette County | 409.4 | Payette County Map | 16075 |
| Power County | 7,643 | Power County | 1442.7 | Power County Map | 16077 |
| Shoshone County | 12,911 | Shoshone County | 2637.1 | Shoshone County Map | 16079 |
| Teton County | 12,501 | Teton County | 452.1 | Teton County Map | 16081 |
| Twin Falls County | 88,411 | Twin Falls County | 1928.9 | Twin Falls County Map | 16083 |
| Valley County | 11,792 | Valley County | 3733.1 | Valley County Map | 16085 |
| Washington County | 10,360 | Washington County | 1471.3 | Washington County Map | 16087 |
References