Map of Boston, Massachusetts
Map of Boston
Do you want a map of Boston, Massachusetts? Yes? Because we have quite a set of maps, which includes major highways and roads, things to do, landmarks, and an interactive map. Just download and print.
Boston has a rich history as it was a center of conflict during the American Revolution. But now, it's best known for its baseball, marathon, the bar from Cheers (the Bull & Finch Pub), and much more!
From the famed Harvard University to the historical churches and parks, this city has it all. This Boston map collection provides maps of New England's most historic city so you have everything you need to know without ever having to leave your home.
Jump To: Interactive Map | Printable Road Map | 10 Things to Do | Reference Map
Boston map collection
Interactive Map of Boston
This Boston interactive map shows you everything in Boston. From the best places to eat and shop to the best things to do every day all year long, this map will help you find what you want quickly and easily. Explore the city of Boston in so many ways to find out what's going on in Boston and the surrounding area.
Boston Road Map
Find your way around with this comprehensive road map of Boston. At times, it can be difficult to navigate the traffic and find your way around town. To help you on your next road trip, we put together this Boston road and highway map. This handy tool can help you navigate around Boston with major highways like I-90 and I-93. This map will help when traveling in unfamiliar areas or when you're just trying to get around the city. Try this Massachusetts road map if you're looking to get around outside of Boston.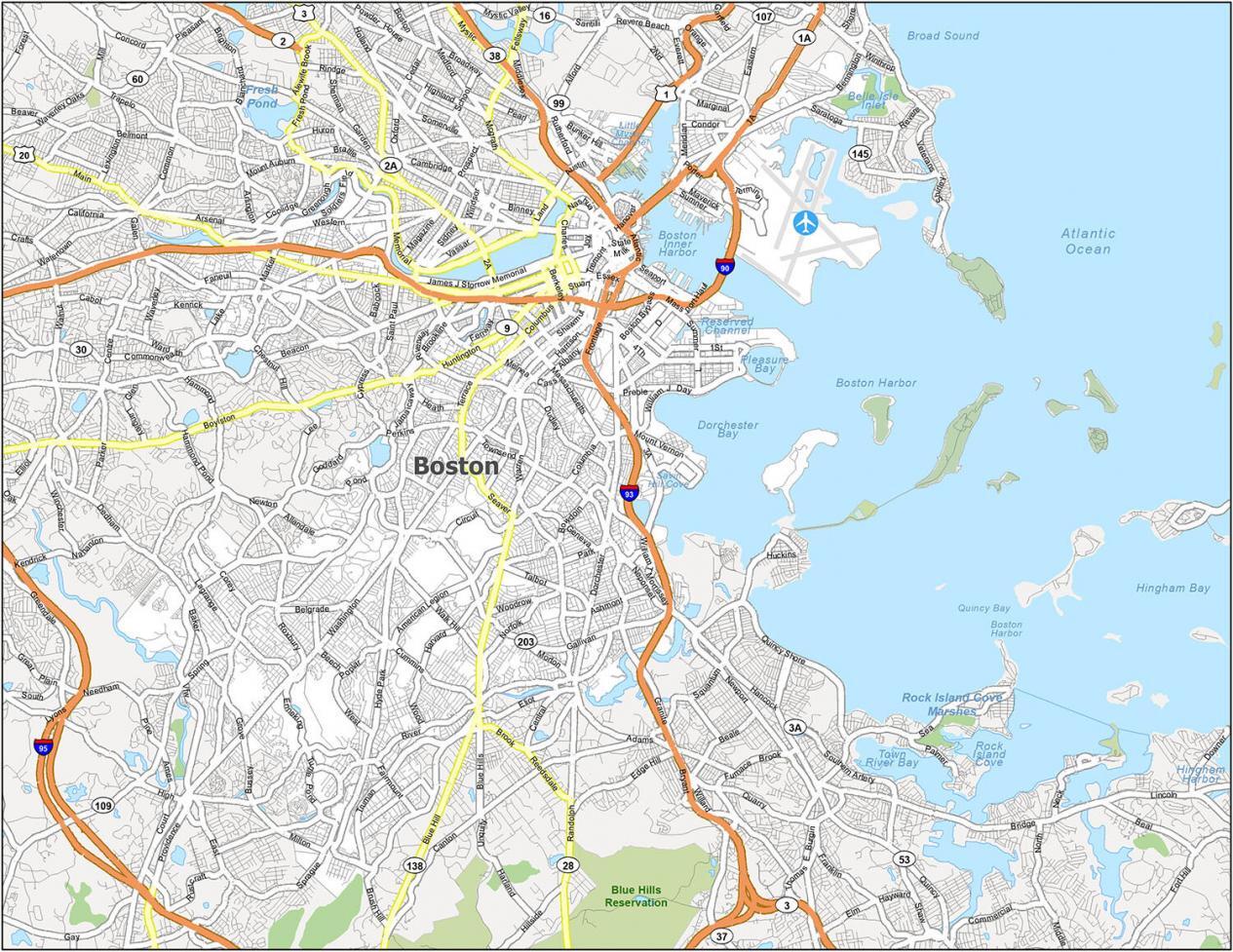 Interstate Highways: I-90, I-93
US Highways: 1, 1A, 2, 2A, 3, 3A, 9, 20, 28, 90, 99, 109, 203, William F Mcclellan Hwy,
Parkways: Jamaicaway, Veterans of Foreign Wars Parkway (VFW) Pky
Major Roads: Adams St, Alford St, Arborway, Arlington St, Beacon St, Blue Hill Ave, Boylston St, Bridge, Broadway, Brookline Ave, Cambridge St, Carlton St, Causeway St, Centre St, Charles St, Charlestown Bridge, Chelsea St, Clarendon St, Columbus Ave, Commonwealth Ave, Dartmouth St, Dorchester Ave, Essex St, Fenway, Frontage Rd, Gallivan Blvd, Granite Ave, Harvard St, Huntington Ave, Leverett Cir, Lomasney Way, Longfellow Bridge, Martha Rd, Massachusetts Ave, Merrimac St, Morrissey Blvd, Morton St, Mountfort St, Nashua St, Park Dr, River Rd, Riverway St, Rutherford Ave, Saint James Ave, Seaver St, Soldiers Field Rd
10 Things To Do in Boston
Boston is a great destination for any kind of traveler. Whether you're in town for business, sightseeing, or just passing through, this city has something for everyone. For example, it's home of the Bruins, Red Sox, Patriots, and Celtics.
You can walk around Cambridge and Harvard Square or taste food from world-class restaurants, or shop on Newbury Street. Finally, you can visit historic sites such as Bunker Hill, Fenway Park, and Paul Revere's House. This map is a great way to get to know the city and find your way around Beantown.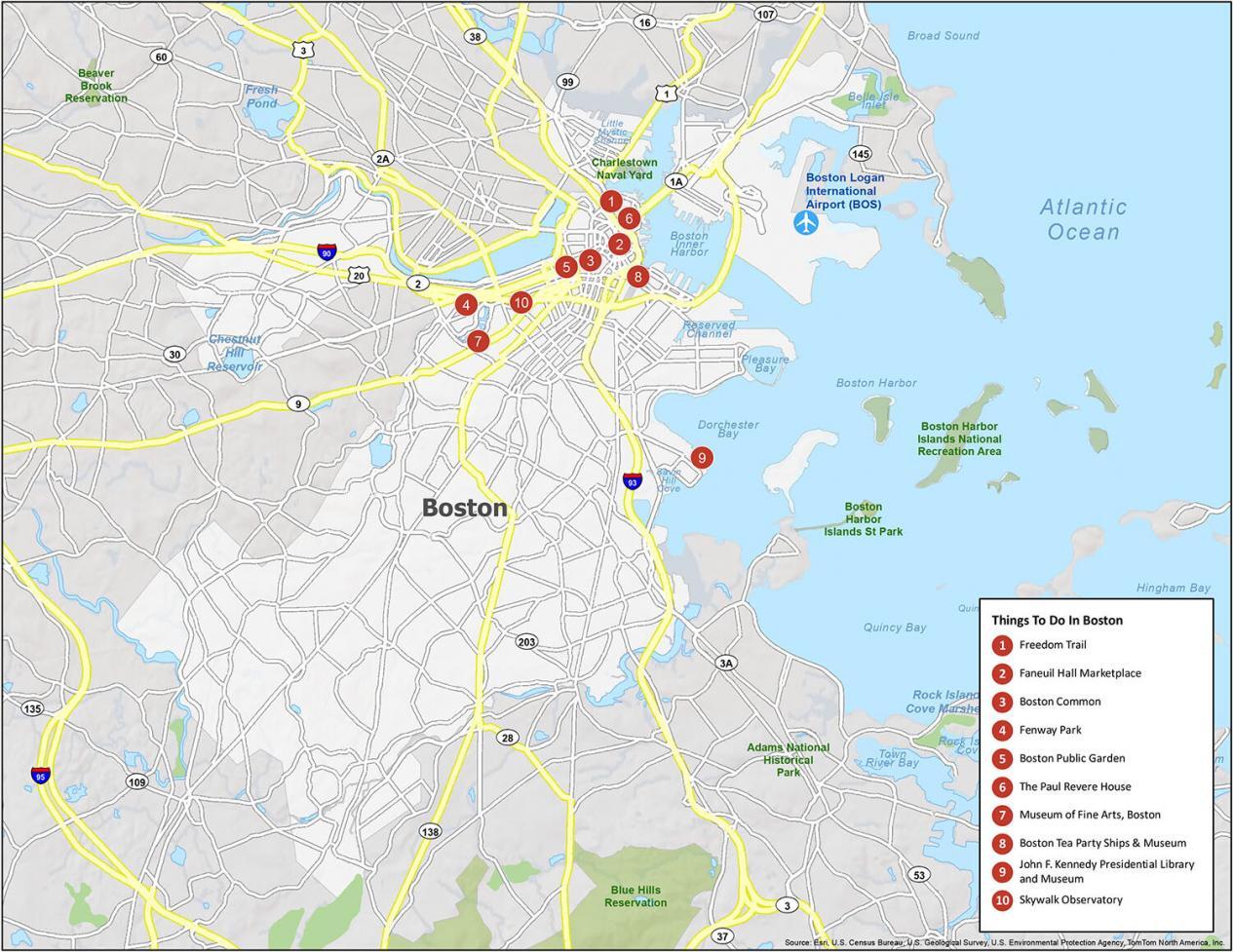 If you go to Boston, you should try to check out a Red Sox game at Fenway Park. The atmosphere is vibrant and is an experience of a lifetime. Otherwise, Freedom Trail tops the list because of its historical significance. This 2.5 mile-long trail weaves through downtown Boston, entering Boston Common to the Bunker Hill Monument in Charlestown.
Freedom Trail
Faneuil Hall Marketplace
Boston Common
Fenway Park
Boston Public Garden
The Paul Revere House
Museum of Fine Arts, Boston
Boston Tea Party Ships & Museum
John F. Kennedy Presidential Library and Museum
Skywalk Observatory
Boston Reference Map
Boston is the most populous city in Massachusetts with over 675,000 people. It's been a favorite among visitors for decades. It is now one of the most visited cities in the United States, with tourists coming from all around the world to experience what it has to offer. It's full of museums, monuments, and historic landmarks that are just waiting to be explored. Get a detailed view of Boston's neighborhoods and discover the must-see places.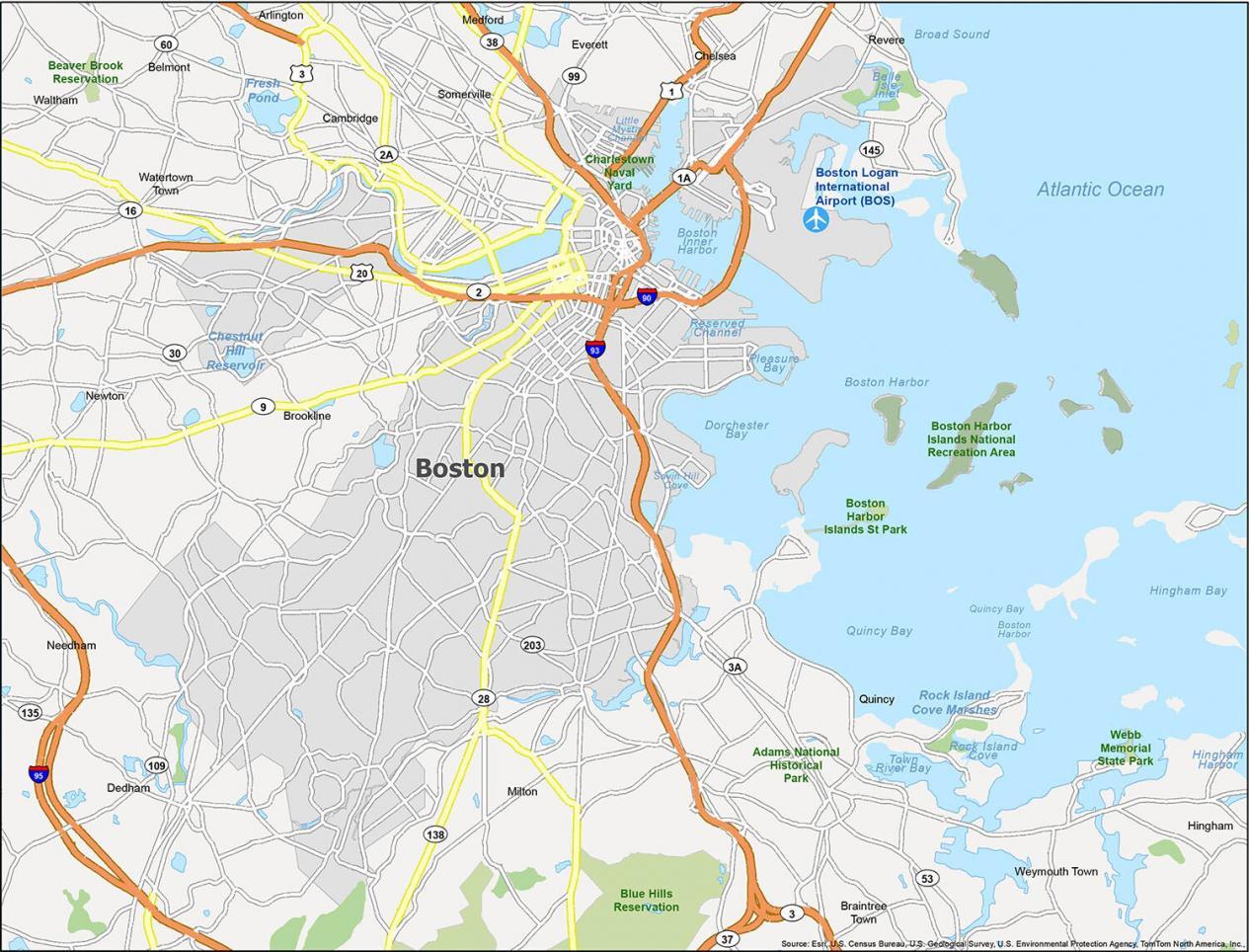 Airport: Boston Logan International Airport (BOS)
Cities: Boston, Braintree Town, Cambridge, Chelsea, Everett, Medford, Newton, Quincy, Revere, Somerville, Waltham, Watertown Town, Weymouth Town, Winthrop Town
Census-Designated Places (CDP): Arlington, Belmont, Brookline, Dedham, Hingham, Hull, Milton, Nahant, Needham
Boston map collection
Massachusetts map collection
References