Map of Cape Coral
If you're looking for a Cape Coral Florida map, we have what you're looking for. This map collection features a road map, things to do, and a reference map. But first, we have an interactive map to get more details about its streets and canal system.
Cape Coral, Florida is principally a family tourist destination. It's home to pristine beaches along the Gulf Coast and family-fun waterparks. Also, it has some of the most appealing golf courses in the United States.
So if you're looking for a getaway with family or friends, Cape Coral, Florida might be just what you're looking for. Take a look at our printable maps and further information about this hidden treasure that's waiting to be discovered.
Jump To: Interactive Map | Printable Road Map | 10 Things to Do | Reference Map
Cape Coral map collection
Interactive Map of Cape Coral
This Cape Coral Florida interactive map will help you find the nearest gas station, restaurant, or airport. The city is located on the southern Gulf Coast of Florida near Fort Myers, Naples, and Sanibel Island. This interactive map shows you a detailed view of the town, highlighting attractions, nearby hotels, restaurants, and more. Learn more and explore this beautiful city.
Cape Coral Road Map
With a "big city feel" and a "small-town atmosphere", there is plenty to do and see in this charming little city. This free road map of Cape Coral will come in handy during your travels and before your next visit to the area. Find out more about its transportation network including interstates, highways, and major roads.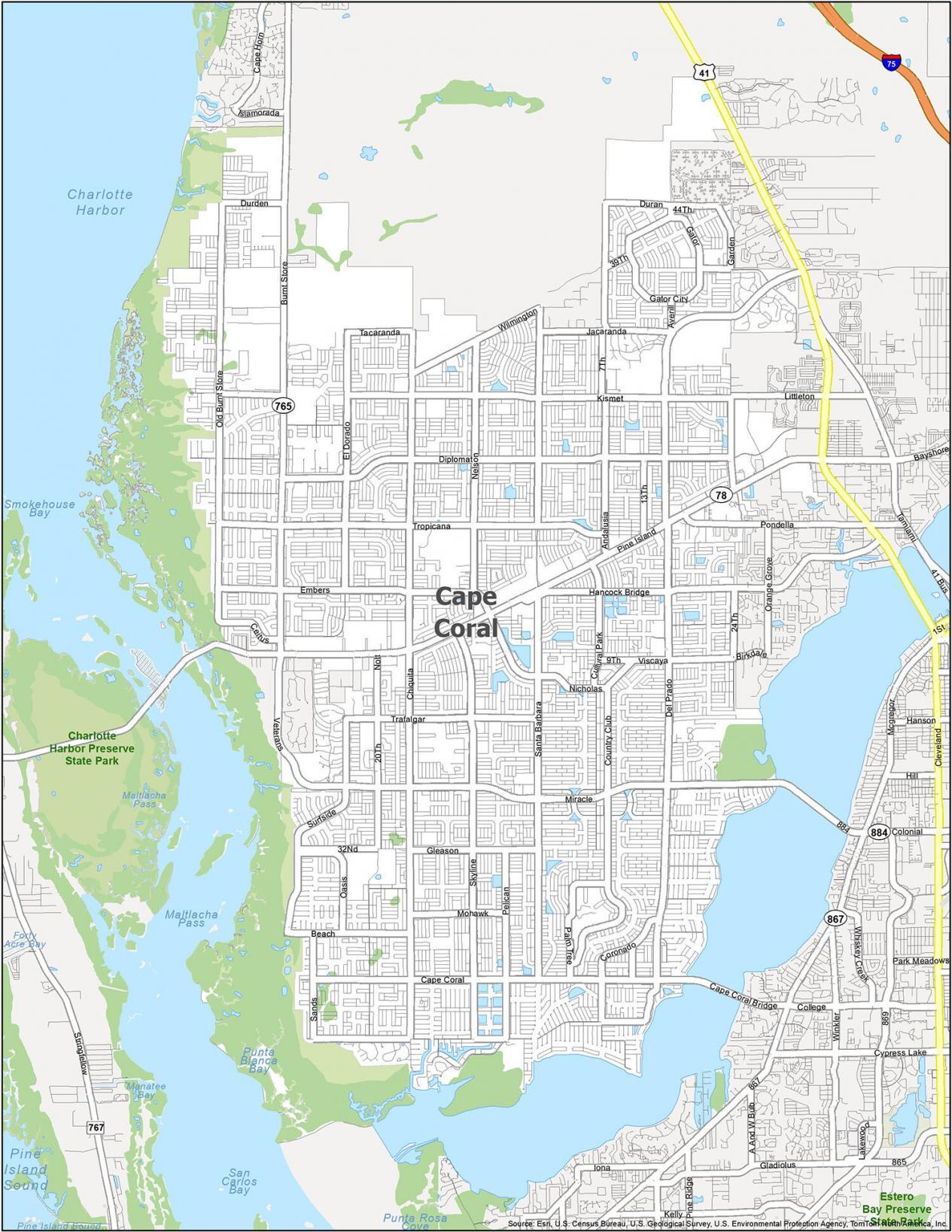 US Highways: 78, 765,
Parkways: Beach Pky, Cape Coral Pky, Ceitus Pky, Coronado Pky, Del Navarra Pky, Diplomat Pky, Duran Pky, Durden Pky, El Dorado Pky, Embers Pky, Gleason Pky, Hancock Bridge Pky, Jacaranda Pky, Kismet Pky, Miracle Pky, Mohawk Pky, Nicholas Pky, Tacaranda Pky, Trafalgar Pky, Tropicana Pky, Veterans Pky, Viscaya Pky, Wildwood Pky, Wilmington Pky
Major Roads: 13th Ave, 20th Ave, 24th Ave, 32nd St, 39th St, 44th Ter, 6th Ct, 7th Pl, 9th St, Academy Blvd, Andalusia Blvd, Averill Blvd, Birkdale Ave, Burnt Store Rd, Chiquita Blvd, Country Club Blvd, Cultural Park Blvd, Del Prado Blvd, El Dorado Blvd, Garden Blvd, Gator City, Hancock Creek South Blvd, Hunter Blvd, Juanita Blvd, Midpoint Bridge, Nelson Rd, Nott Rd, Oasis Blvd, Old Burnt Store Rd, Palm Tree Blvd, Pelican Blvd, Pine Island Rd, Pondella Rd, Ramsey Blvd, Sands Blvd, Santa Barbara Blvd, Skyline Blvd, Surfside Blvd, Vincennes Blvd
10 Things To Do in Cape Coral
Looking for a vacation destination in Florida? If so, Cape Coral Florida might be the place for you. It's known for its beautiful beaches and natural environment. Whether you are looking for the best beaches, parks, or ecological preserves, print this map for a quick overview of the area's features and attractions.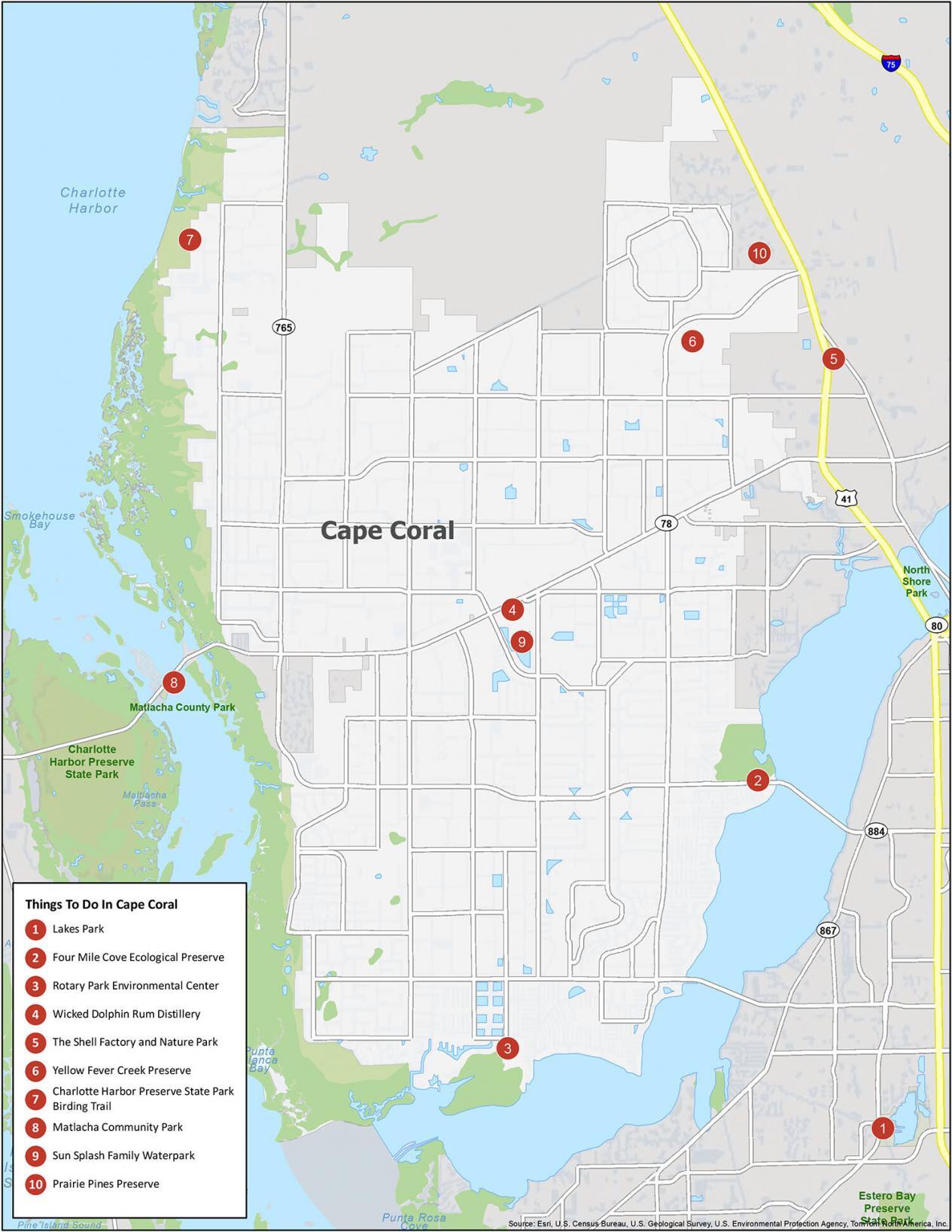 Lakes Park
Four Mile Cove Ecological Preserve
Rotary Park Environmental Center
Wicked Dolphin Rum Distillery
The Shell Factory and Nature Park
Yellow Fever Creek Preserve
Charlotte Harbor Preserve State Park Birding Trail
Matlacha Community Park
Sun Splash Family Waterpark
Prairie Pines Preserve
Cape Coral Reference Map
Cape Coral has an estimated population of 185,000 and the weather is almost always warm and sunny. If you're interested in traveling here, a map is an essential tool for any traveler. Get the most important information at your fingertips with this map. This reference map will help you explore the bays, parks, harbors, and neighborhoods of Cape Coral Florida.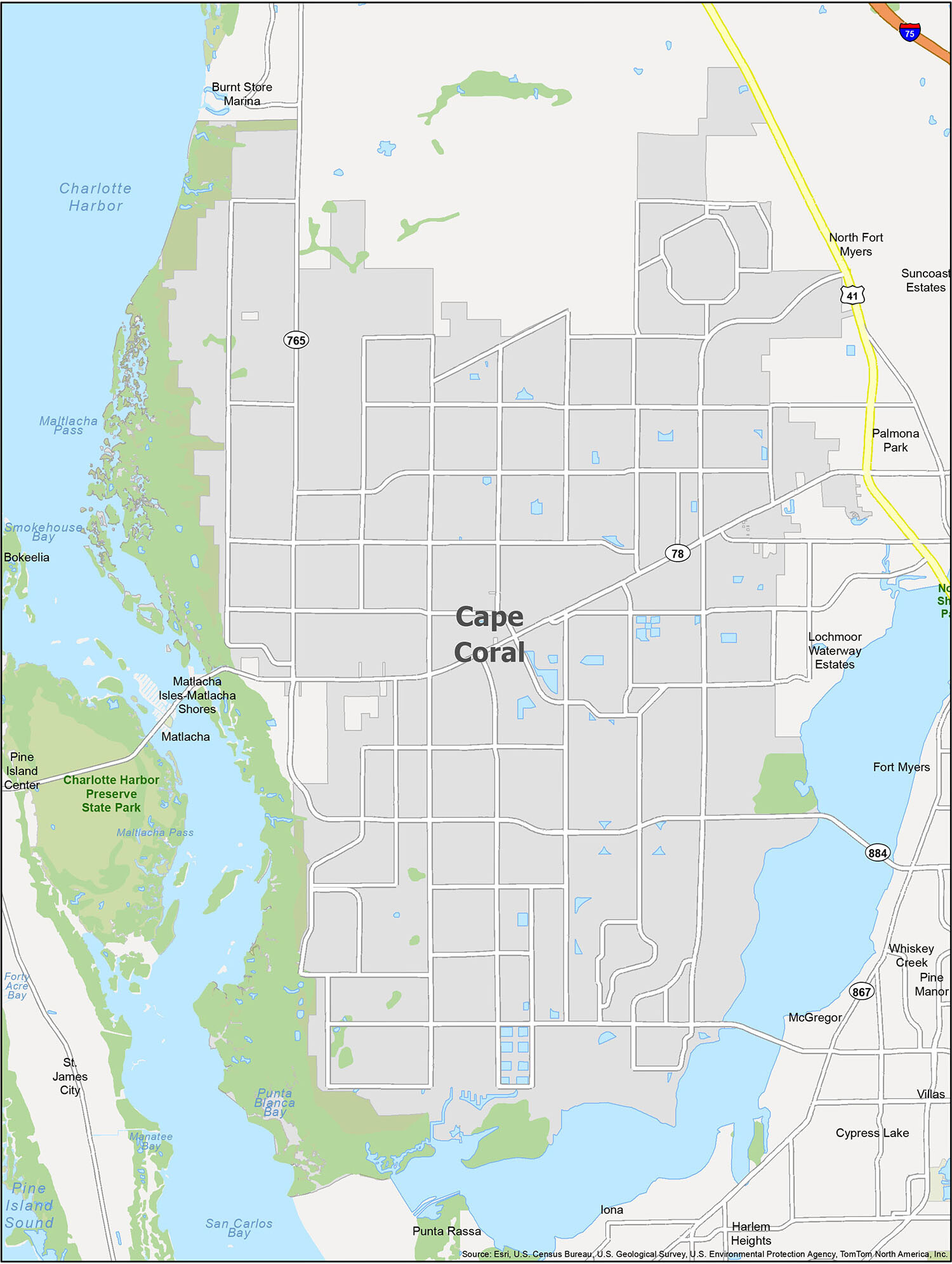 Cities: Cape Coral, Fort Myers
Census-designated place (CDP): Bokeelia, Burnt Store Marina, Cypress Lake, Harlem Heights, Iona, Lochmoor Waterway Estates, Matlacha, Matlacha Isles-Matlacha Shores, McGregor, North Fort Myers, Palmona Park, Pine Island Center, Pine Manor, Punta Rassa, St. James City, Suncoast Estates, Villas, Whiskey Creek
Water Features: Charlotte Harbor, Matlacha Pass, Smokehouse Bay, San Carlos Bay
Cape Coral, Florida maps
Florida map collection