About the map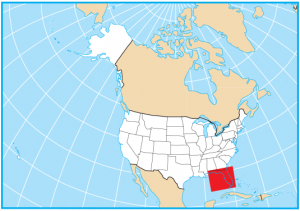 This Florida map shows cities, roads, rivers and lakes. For example, Miami, Orlando and Jacksonville are some of the major cities shown in this map of Florida.
Florida is America's swampy playground. Houses don't have basements in Florida because you hit groundwater so easily. It's also surrounded by miles and miles of beaches.
Florida is home of Disney World in Orlando. It's not only this theme park, but it has Epcot, Universal Studios, and Busch Gardens. Florida is like a theme park playground for both adults and kids.
State capital
Tallahassee
Major cities and towns
Jacksonville
Tallahassee
Miami
Orlando
St Petersburg
Tampa
Fort Lauderdale
Clearwater
Hialeah
Hollywood
Coral Springs
Cape Coral
Daytona Beach
Interstate highways
Interstate-95 (I-95)
Interstate-75 (I-75)
Interstate-10 (I-10)
Interstate-4 (I-4)
Lakes, rivers and creeks
Atlantic Ocean
Gulf of Mexico
Florida Bay
Tampa Bay
Lake Okeechobee
The Everglades
Big Cypress Swamp
Biscayne Bay
Apalachee Bay
Waccasassa Bay
Straits of Florida
St Johns River
Suwannee River
Apalachicola River
Landmarks in Florida
Santa Rosa Island
Cape San Blas
St George Island
Dog Island
Cedar Keys
Sanibel Island
Cape Romano
Cape Sable
Dry Tortugas
Marquesas Keys
Florida Keys
Cape Canaveral
Populated places in Florida
Boca Raton
Bradenton
Delray Beach
Fort Myers
Fort Pierce
Gainesville
Homestead
Key West
Kissimmee
Lakeland
Miami Beach
Ocala
Ormond Beach
Palm Bay
Panama City
Pensacola
Pompano Beach
Sanford
Sarasota
Titusville
West Palm
Beach
Winter Haven
Deltona
Melbourne
Spring Hill
Largo
Kendall
Merritt Island
Port Charlotte
Port St Lucie
Jupiter
Bonita Springs
Palm Coast
Apalachicola
Arcadia
Avon Park
Bartow
Belle Glade
Brooksville
Crestview
Dade City
De Funiak Springs
De Land
Eustis
Fernandina Beach
Fort Walton Beach
Jacksonville Beach
Lake City
Lake Wales
Leesburg
Live Oak
Madison
Marianna
Naples
New Smyrna Beach
Okeechobee
Pahokee
Palatka
Perry
Punta Gorda
St Augustine
Sebring
Starke
Valparaiso
Vero Beach
Port St Joe
Moore Haven
Everglades City
Islamorada
Key Largo
Marathon
Free US Maps
Select a state to view its map