About the map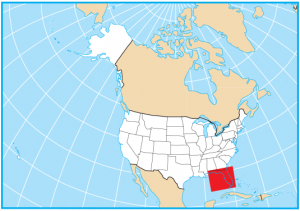 In this Florida State Map, it displays major landmarks, federal lands and populated places. For example, it includes national forests, military bases, preserves, wildlife refuges in Florida.
Everglades National Park is the largest subtropical wilderness in the United States and World Heritage Site. It consists of 1.5 million acres wetland landscape providing habitat for species like the manatee, American crocodile and Florida panther.
This Florida landmark map features 2 other national parks in Florida. First, Dry Tortugas is a small group of islands situated in the Gulf of Mexico. Finally, Biscayne protects coral reefs, mangrove forests in Biscayne Bay – dating back to 10,000 years of human history.
Federal lands
National Park (NP)
Dry Tortugas NP
Biscayne NP
Everglades NP
National Forests (NF)
Apalachicola NF
Osceola NF
Ocklawaha Ocala NF
National Wildlife Refuge (NWR)
Saint Vincent NWR
Saint Marks NWR
Okefenokee NWR
Key West NWR
Great White Heron NWR
National Key Deer NWR
Crocodile Lake NWR
Florida Panther NWR
Ten Thousand Islands NWR
Pine Island NWR
Arthur R. Marshall-Loxahatchee NWR
J.N. "Ding" Darling NWR
Archie Carr NWR
Pelican Island NWR
Pinellas NWR
Egmont Key NWR
Hobe Sound NWR
Merritt Island NWR
Saint Johns NWR
Chassahowitzka NWR
Lake Woodruff NWR
Cedar Keys NWR
Lower Suwannee NWR
Lake Wales Ridge NWR
Other Landmarks
Gulf Islands National Seashore
Timucuan Ecological and Historic Preserve
Big Cypress National Preserve
Florida lakes, rivers and reservoirs
Lakes, rivers and reservoirs
Atlantic Ocean
Gulf Of Mexico
Okefenokee Swamp
Cape San Blas
Cape Sable
Lake Okeechobee
St Johns River
Suwannee River
Indian Reserves (IR)
Big Cypress IR
Miccosukee IR
Hollywood IR
Brighton IR
Lake Seminole Whiting Field Naval Air Station
Stevens Lake Bombing Range
Eglin Air Force Base
Pensacola Naval Air Station
Tyndall Air Force Base
Whitehouse Field Naval
Cecil Field Naval Air Station (Closed)
Mayport Naval Station
Jacksonville Naval Air Station
Key West Naval Air Station
Homestead AFB (Closed)
MacDill AFB
Avon Park Air Force Bombing Range
Cape Canaveral Air Force Station
McCoy Annex NTC
Patrick Air Force Base
Canaveral National Seashore
Pinecastle Impact Range
Rodman Bombing Range Lake
Populated places
Major cities
Tallahassee
Miami
Orlando
St Petersburg
Fort Lauderdale
Tampa
Cape Coral
Jacksonville
Hialeah
Cities and towns
Apalachicola
Arcadia
Crestview
De Funiak Springs
Eustis
Fernandina Beach
Fort Walton Beach
Leesburg
Live Oak
Madison
Marianna
Naples
New Smyrna Beach
Okeechobee
Pahokee
Perry
Punta Gorda
St Augustine
Vero Beach
Port St Joe
Moore Haven
Everglades City
Islamorada
Key Largo
Bradenton
Daytona Beach
Delray Beach
Fort Myers
Fort Pierce
Gainesville
Homestead
Key West
Kissimmee
Ocala
Panama City
Pensacola
Brandon
Sarasota
Titusville
West Palm Beach
Winter Haven
Deltona
Melbourne
Spring Hill
Ferry Pass
Altamonte Springs
Port Charlotte
Port St Lucie
Bonita Springs
Palm Coast
Clearwater
Hollywood
Waccasassa Bay
Florida state capital
Tallahassee
Free US Maps
Select a state to view its map